Canon Well Log Printer - the PRO-LOG
Developed for high-performance, the Azon PRO-LOG well log print solution is an engineered combination of Canon printing hardware and SDI software technology. The result is a low maintenance, portable printing solution that is specifically designed for cost effective well logs up to 17 inches wide by unlimited length.
The Canon well log printer ultilizes low cost roll or fan fold media. This large paper capacity is combined with a five color ink jet platform and powerful software to produce excellent results.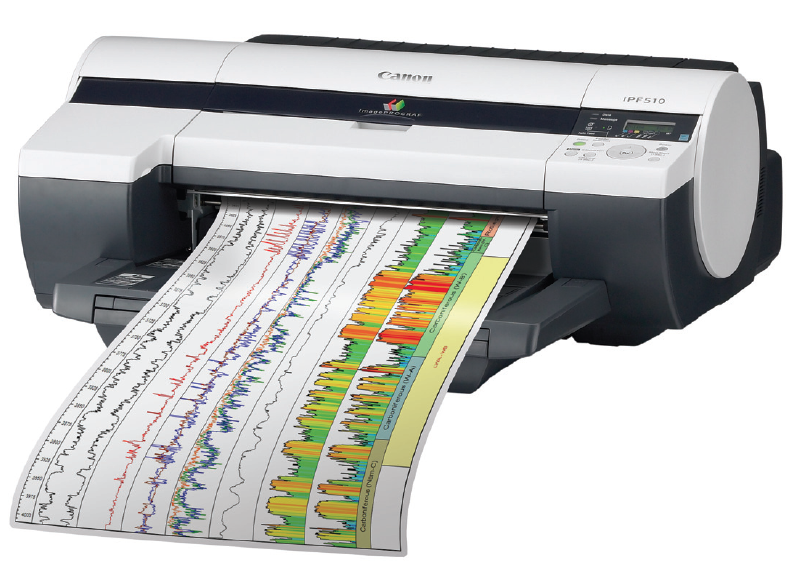 Canon technology, quality and value
SDI technology and industry experience
Innovative, highly efficient and productive
High resolution printing - 2400 x 1200 dpi
Print multiple file types: TIF, PDG, CGM, etc.
Easy to use, highly intuitive user interface
Long life printhead keeps maintenance low
Lowest overall cost per page in the industry
Sharp details, crisp fine lines, legible small text
Low space requirements, highly portable
Print multiple logs without having to reload or re-register the paper
Of all the functions that the PRO-LOG well log printer is capable of, Top of Form is one of the strongest. Simply put, the ProLog system allows you to calibrate the system to your specific log paper sheet size so that the PRO-LOG will automatically advance to the next fold in the log paper after printing a well log.
Never again will you have to experience the frustration of a log beginning in the middle of a sheet. The paper calibration will automatically advance to the form to the top of the next sheet (the next fold line). So, even if you print multiple log files, every one of them will position correctly, beginning at the top a page. This feature is called Top of Form.
Access to this functionality has traditionally cost you much more. You'll be amazed at the price difference compared to the competition. The Canon PRO-LOG well log system gives you the highest level of functionality for the price.
Want to find out more?