I often get asked, "What is the best way to pick out a plotter?" That is the type of question that would result in 100 different answers if you asked 100 different people. For instance, you'll find that there are many users who are loyal to a particular brand. A few years ago, you could throw a rock and hit any random HP Designjet out there. But, the market has changed and there many more choices--further exasperating the decision making process.
When considering a plotter purchase, the first thing you should do is take a hard look at the application of the printer in your company's workflow. Here are a few questions to ponder:
Are you looking for a CAD plotter or graphics machine?
Inkjet or toner-based technology?
Do you need to print color, B/W, or both?
What types of print media would you like to print on?
What is your estimated print volume? (Usually stated in either sheets or square feet)
Do you want 36-inch output or perhaps another size?
What kind of print speed would serve you best?
How many users will access the printer?
Do you need multifunction (copy/scan) functionality?
From here - the best plan of action would be to find the perfect system that answers those questions best for your unique requirements. If you are considering used equipment, make sure that it is still supported by the manufacturer. Getting a great deal on a used plotter doesn't do you any good if you have a hardware failure 6 months later and can't get a replacement part.
Be sure to at least take a look at new equipment. The prices may not be a scary as you may think. There have been many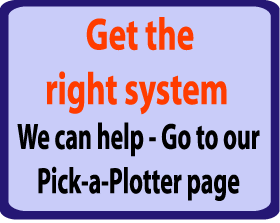 improvements to both printing and processing technologies over the years. Plus, many new wide-format printers boast increased speeds and a lower cost per print. You'll have to calculate the differences based on how you will use it, specifically. But, a new plotter might actually save you more than buying a bargain used system. It's worth checking out.
Unless you are honestly trying to put a short-term band-aid on your wide-format printing needs, be sure to use some foresight in your purchasing decision. Spending a little more now might save you a lot later.
Thinking photo: Eneas