Large Format Web Resources & Websites

Here you will find a collection of articles and websites related in some way to the large format printer or wide-format scanner industry. If you have a website or company that you feel would be a good complement to this page, please contact us.
TAVCO Downloads - Papers and Guides
Learn how all large-format scanners are not made the same. There are different technologies to consider. Get top-notch advice for finding the perfect large-format scanner for your specific set of needs.
This informative guide will show you the different 3D print technologies and educate you how to match them up to your specific application. Need a full-color, visual prototype? Then a low-end, plastic jetting printer will not be the right solution. Download the guide and get up to speed.
Examines the cost variance between the two. This white paper details when an LED toner unit is worth the investment over an entry level inkjet plotter.
Covers all the variables of equipment leasing. This is a good place to start when considering an equipment lease over a cash purchase.
This Canon Solutions America Guide details how to get the most from GIS print file. This includes best practices for printing techniques, choosing the right quality, the importance of the print media and more.
In this informative white paper, learn how incorporating color into your wide-format construction plans, you can significantly lower mistakes and dramatically reduce costs.
Equipment Slideshow presentations
Learn more about the awesome power of the Océ ColorWave 650 system. The unique TonerPearl CrystalPoint Technology is unlike anything else on the market. Take a moment to watch the slide show presentation and get a deeper understanding of the ColorWave 650 wide-format color system.
Plotter and Scanner Hardware Manufacturers
A global leader in digital document management and delivery technology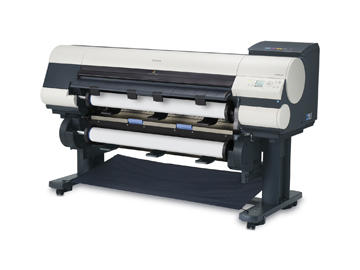 offering software solutions, digital printers, copiers, plotters, and scanners.
Canon offers state-of-the-art large-format printing solutions designed with exceptional speed, flexibility, and quality. With three distinct lines of printers; 12-color for the Photography and Graphics markets, 8-color for the Production market and 5-color for the Technical Documents and General Use markets, Canon has a large format solution to fit your needs.
Contex large format scanners and large format scanning software for color and monochrome wide format scanning solutions.
Other web resources
A TopGun PC & Networking Services - provides a range of top-notch IT services guaranteed to keep you and your staff computing and connecting at peak efficiency. As small business network experts with 20+ years of IT experience under our belts. We provide cyber security protection, PCI Gap Analysis analysis to make sure you are PCI DSS compliant (Companies in Texas must comply if you accept customer credit cards). Let us protect your precious data and network so you attend to your customers safely and more efficiently.
Print 4 Pay Hotel - a valuable resource for companies who work in the professional printing industries, specifically selling and support professional printing and imaging systems.
Sample Print - provides you with a free large format printer print sample to enable you to make the best, and most informed, decision on which wide or large format printer to buy or consider. Just choose from one of our stunning images and request which printer you would like the image to be produced on, and we will do the rest.
Free Links Directory - Web directory of related industry links
Your 3D Design - Directory of useful links including content for 3D design and technology
ListedIn Directory - List of business offering various products and services