Many times an issue with a large format plotter can be resolved by rebooting the system. Some examples of what you can resolve are; plots getting stuck in the queue, plots not completing and giving a paper jam error or a blank user panel.
Before rebooting, if possible, look at the entire display screen of the large format printer scanner and/or controller and see if there are any error codes or messages. If so, write these down.
After making note of any messages from the components of your system, you can reboot. Remember, if your system has multiple components; printer, scanner and controller, you need to turn them all off. Once everything is off wait a minute or two. Next, turn on the controller(computer) and let it boot completely. You can now turn on the print engine and scanner.
If this doesn't work, take the error messages you wrote down to the nearest phone and call your service technician. He or she, at least if its a Tavco technician, will be very happy to assist you. It is also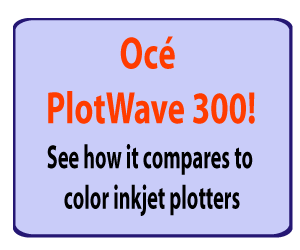 a good idea to let your service technician know any time you see an error message on your machine. This information helps the technician keep your machine in top running condition.
Many problems can be avoided by rebooting your system weekly.
On a lighter note, check out this link to see a graph representing the likelihood of rebooting fixing a problem .vs. other methods.
For Oce or Canon technical support answers, email us at service@tavco.net.