Oce 705* Copier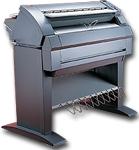 How can I get a clean edge on a new or torn roll of paper without using a knife or scissors? It is simple and fast! Just follow these instructions with your Oce 7050 series copier.
Open drawer
Manually feed roll up & pull until desired cut
Close roll drawer
Select Standard cut length – screen shows a number, ie "48"
Press "+" several times until screen displays "test"
Press START
Machine will feed a few inches of paper and then cut the sheet
Screen will display "E 3" error and red "paper path" light will flash
Open roll drawer
Roll paper back to green arrow
Error code goes away, you are ready to copy
Need a new source for plotter supplies? Give us a try.