[ Watch the recorded webinar ]
TAVCO and Bricsys joined forces to co-host a webinar showcasing the powerful AI and machine learning tools included with BricsCAD that essentially eliminate wasted time designing plans.
The focal point of the presentation was the live demonstration performed by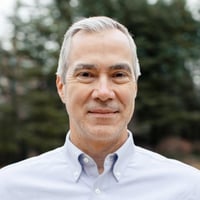 John, Ade – BricsCAD Software Specialist, Bricsys
John is a registered architect (GA) with 23 years industry experience as project architect and project manager. He has worked on commercial office developments, hospitality, multi-family, campus, commercial interiors, government (GSA), defense (USACE) and transportation projects.
John now uses his skills to provide CAD/BIM consulting services for implementation of design technology (CAD/BIM), change management, standards development, training, and support for Bricsys.
What is BricsCAD?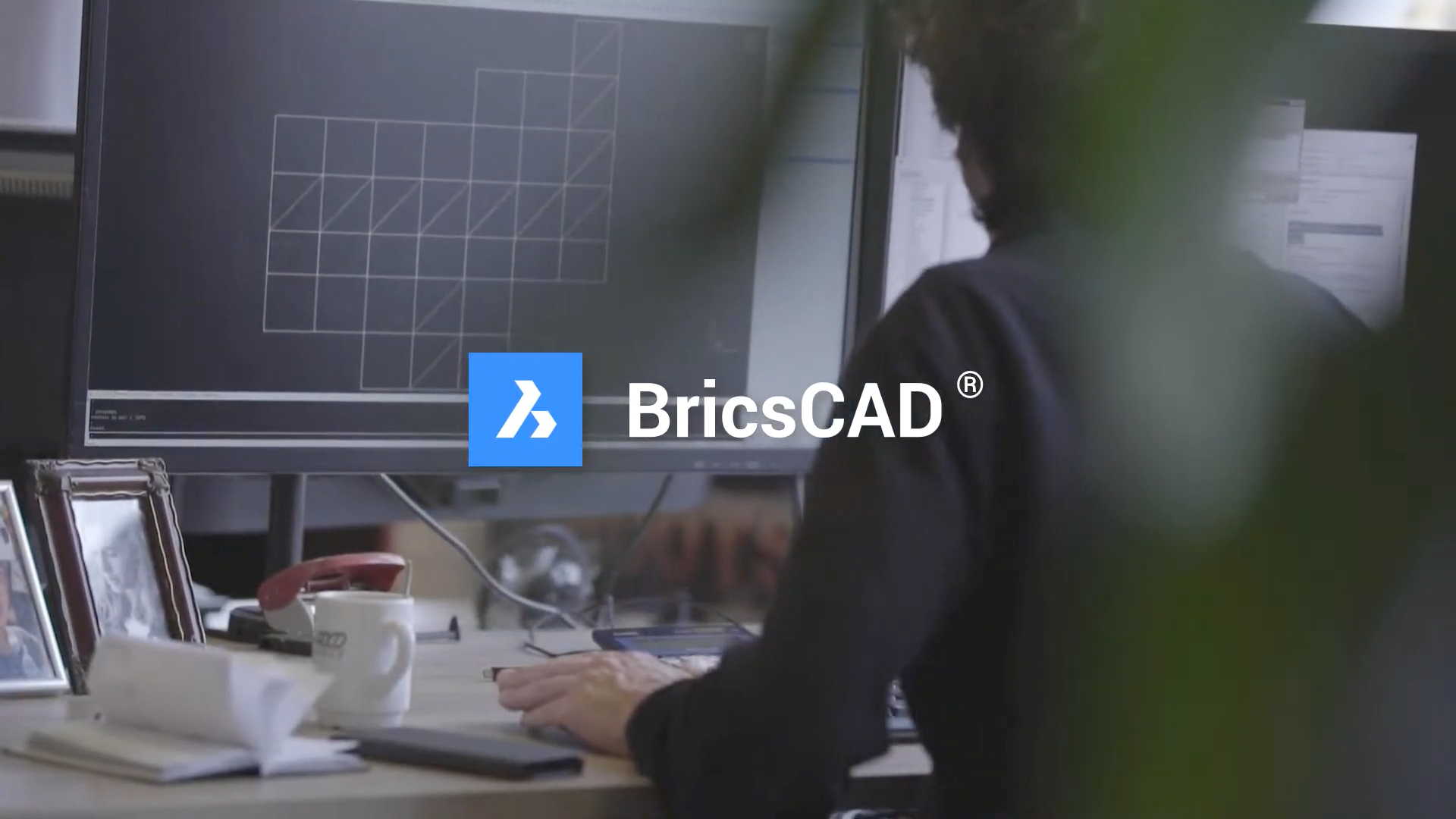 BricsCAD is a CAD software that is the next stage in the evolution working with DWG files and it is the perfect solution for anyone who creates and edits 2D and 3D plans. It is part of the full BricsCAD DWG design platform, that is extremely cost-effective.
It is fully customizable, with its own LISP capability and features some amazing functionality that provides a boost in productivity. BricsCAD is also ever-evolving with new AI-powered features continually being added.
BricsCAD is developed by Bricsys, who have been creating innovative 2D and 3D design tools for the last two decades. Bricsys is part of the global technology company Hexagon AB, who sees the future potential of BricsCAD and is investing to help to provide designers with more powerful tools to optimize their workflows.
Powerful Intelligent Tools Optimize Your Workflow
There are several incredibly powerful and intelligent tools built into BricsCAD to help you automate processes, potentially saving you huge amounts of time and effort.
Blockify lets you create a block from a set of geometry, and BricsCAD will look for all other similar geometry and automatically replace it with that block, cleaning up drawings and dramatically reducing file sizes.
Copy Guided allows you to copy entities using surrounding geometry as a guide for where they will be placed, automatically adjusting geometry in the copied location to suit. Move Guided is similar, but moves the entities, and heals the geometry around from where they were moved.
The Most Flexible CAD Licensing Model
When it comes to licensing, BricsCAD has the most flexible license in model in the industry. Users can choose between renewable annual subscriptions like Autodesk, or with BricsCAD, you can still purchase perpetual licenses. Buy them once and own them forever. And, like other software, users can keep perpetual licenses current with annual maintenance.

Network licenses are also available. These are licenses that can be shared among users on the same network. This is something AutoCAD is getting away from, much to the displeasure of many AutoCAD users.
One area where BricsCAD Network Licenses have made a significant impact is with virtual environments. The COVID-19 pandemic completely transformed the workplace, with many working relying on remote or home offices. This inspired some companies to rely on virtual machines that can host a wide range of applications, including CAD software.
No matter the virtual platform, BricsCAD network license work great and allow designers and estimators to share network licenses easily.
BricsCAD Demonstration Highlights
Notice that if you are an AutoCAD user how familiar BricsCAD is and how you can use it the same way as AutoCAD. And more importantly, BricsCAD also provides a whole set of additional intelligence tools to help you be more productive and make your work easier.
It is important to note that the native file format for BricsCAD is DWG (2018 DWG standard). So, you can open any AutoCAD drawing and start working with it right away. It opens drawings very fast because it is leveraging the latest technologies including artificial intelligence and machine learning.
The program is that the interface is almost identical to what you see in AutoCAD. There is a very familiar ribbon with a different tabs and different panels available. If you like using toolbars, you can access them through the pull-down menus, and if you want to use more toolbars you can right-click on any toolbar on the ribbon and get access to the compliment, which is extensive, of all the different available toolbars.
BricsCAD also has full LISP support. You can run routines developed in AutoCAD and similar CAD applications. And develop your own in the BricsCAD LISP Advanced Development Environment (BLADE).

Top 5 Revolutionary AI Tools
QUAD Cursor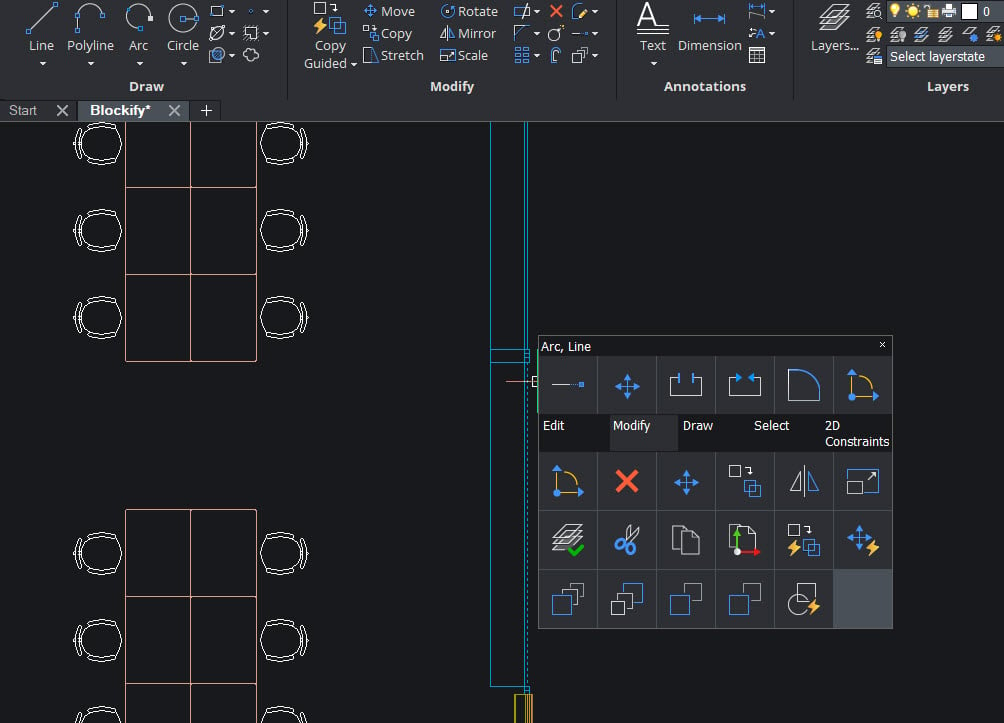 The Quad cursor menu, or QUAD for short, is an alternative to the command line or toolbars, offering a rich set of tools while requiring fewer clicks, without cluttering the screen with loads of grip-glyphs. The rollover tips are a limited set of properties displayed when selecting or hovering over an entity.
To activate the quad, simply hover over an entity, the entity highlights, and the QUAD displays as a single button. The command displayed in this single button is the icon of the last-used command. You can either click this to quickly repeat the last command, as many times as you like. Or you can choose to expand the QUAD to show additional buttons of commands that are commonly used with the highlighted entity.
Using the QUAD might take a little time to get used to it, but it can ultimately save you a bunch of keystrokes as your most common commands are always readily accessible via your mouse.
Manipulator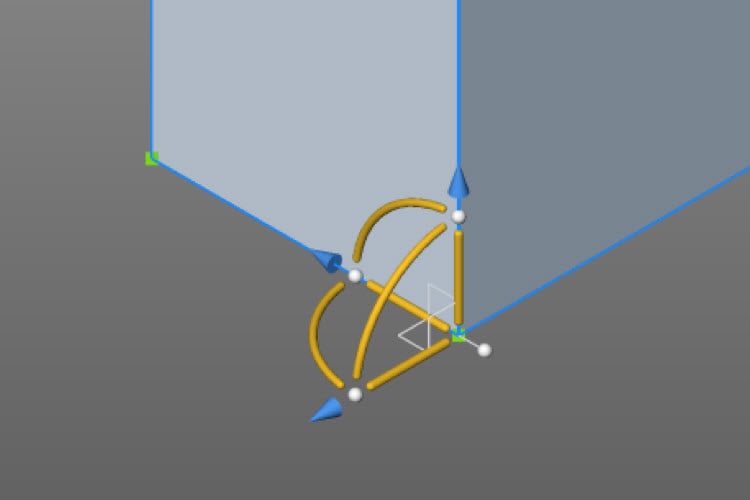 The manipulator is a versatile grip tool to swiftly move, rotate, scale and mirror selected entities. It allows for very fast and precise intuitive manipulation of an object. It can be used for both 2D and 3D drawings.
Activate the Manipulator by left-clicking on an object, using a slightly longer click than usual. Just click and hold for a moment.
Once the manipulator appears, it has controls to allow you to move it quickly along established axes, or along the radius of an arc. That latter allows you to rotate the object either with a specific degree increment or predefined increments.
The Manipulator also give you the ability to mirror objects to create copies and/or multiple versions.
Copy Guided/Move Guided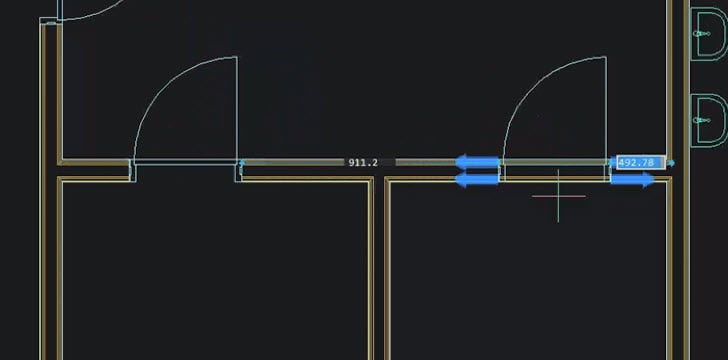 These are AI Guided tools that enable you to automatically align moved/copied entities with relevant geometry using temporary guide curves. You can explicitly select entities to use as guide curves or let BricsCAD determine them based on your selection window.
For example, if you use MOVEGUIDED to move a door from one wall to another wall, BricsCAD will automatically orientate, and snap, the door to the new wall. Simultaneously, it will heal the wall's geometry at the location where the door used to be and create a doorway at the new location.
Lines or hatches will be healed in the area from where the object was removed. This is done very neatly as BricsCAD creates continuous lines and hatches.
Blockify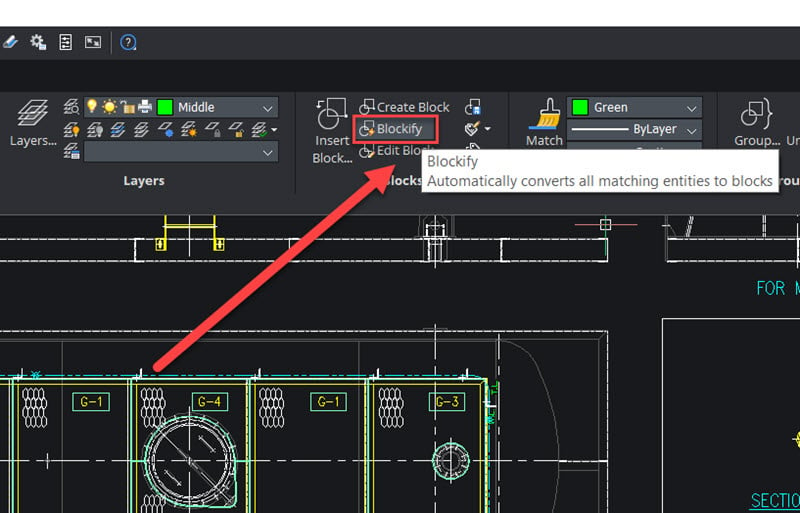 An amazingly powerful tool that automatically takes objects made of polylines and lines and converts them into blocks. This can be applied to 2D entities as well as to 3D solids. Plus, the Blockify tool can search your entire drawing for similar geometries to batch convert these repetitive sets of entities to blocks definitions. Ultimately it can do a lot of work for you in a matter of seconds.
Parametric Blocks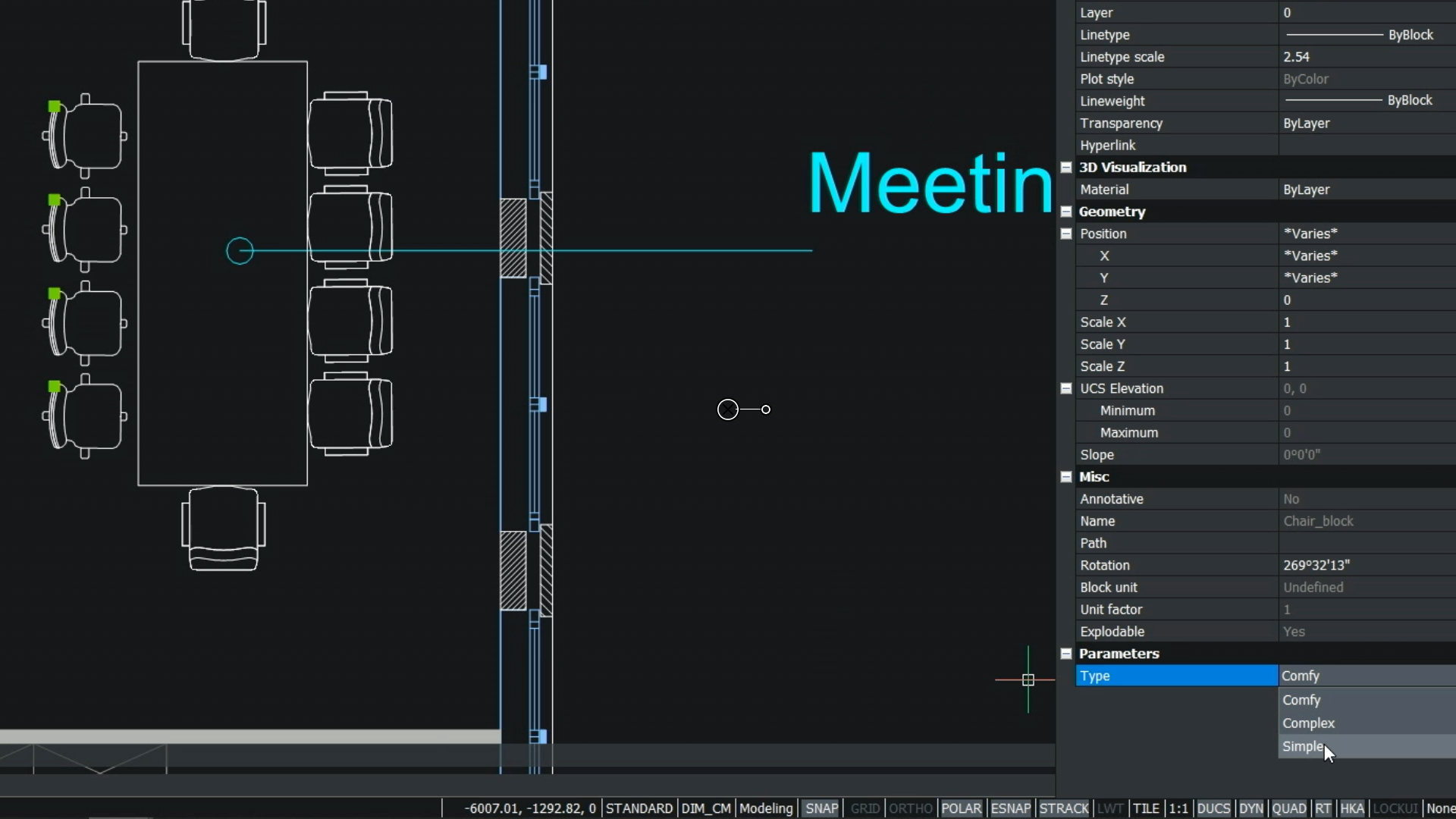 A better alternative to Dynamic Blocks. Parametric Blocks work in both 2D and 3D and deliver re-usable geometry that can be defined once and used repeatedly. You can adjust each insert of a parametric block to display with a different length, width and even, visibility state. All from a single block definition.
As explained in the video demonstration, you could use the same parametric block definition for a chair of different seat depths. Editing these blocks is accomplished in the Properties Panel.
Summary
Getting the right tools for 2D drafting and 3D modeling is a fine balance between capability and cost. Luckily, with BricsCAD, you can get that balance just right. Plus, the BricsCAD price is right.
The built-in AI and machine learning tools provide advanced functions to speed up your DWG workflows. These tools do a lot to automate time-consuming tasks. Plus, there is full support for LISP customizations, even in the Lite version for 2D drafting.
All this functionality, combined with a low price point and flexible licensing options, make BricsCAD hard to beat.
What BricsCAD AI feature excites you the most?
Try BricsCAD Ultimate Free for 30-days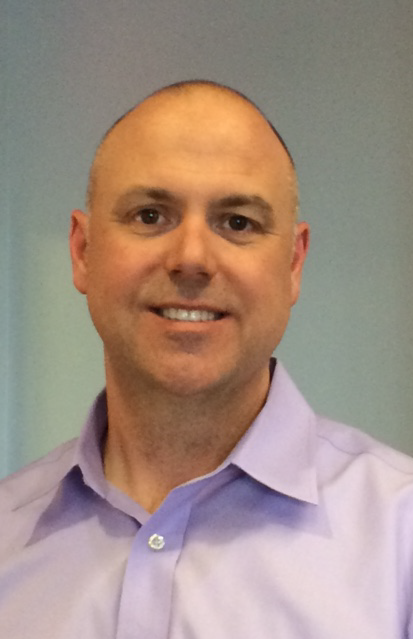 Kevin Vaughan is the Vice President of TAVCO and heads up Sales, Digital Marketing, and E-Commerce channels. With over two decades of experience, he has received various awards for sales performance and channel growth. Published articles focus on AEC technologies including laser scanning, 3D cameras, CAD software, and large format plotters. When he is not geeking out on new technologies, you can find him hanging with his wife and kids, playing guitar, or Scuba diving.