There must be something in the air...AEC companies have begun to CRAVE large format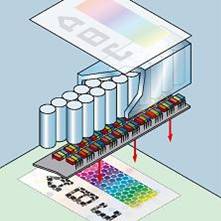 scanners. If you stop and think about it though, it really makes a lot of sense. After all, when your company has a large format scanner, you have the ability to digitize all of your old drawings and blueprints into an electronic format--PDF being the file type of choice. But, how do you decide what is the best large format scanner for your money?
Historically, these wide scanners were very expensive. Because of this, it was almost a luxury for any company to have one. But, just like computers, hard-drives, and cell phones, the price for the newer models has come down significantly. In fact, Contex has released a new 36 inch CIS model that is an excellent choice for an entry-level budget.
Check out the new CaptureLink 36 Repro+, otherwise known as the Contex SD3615:
Incredibly fast monochrome scanning – up to 198 D-size sheets per hour
Color scan speed – 192 per hour
All-wheel-drive (AWD) ensures a perfect grip on your documents to prevent against skewing
Scan-to-Net function allows you to scan across a network
CIS technology lets you scan files face up so that you can see exactly what you are scanning
As mentioned, CIS is the onboard scanning technology in the CaptureLink RePro+. In layman's terms, this scanner doesn't use any cameras. See the comparison here.
Benefits of CIS scanning technology:
Low maintenance – minimal calibrations required
Built to withstand high-volume use on a daily basis
Sleek, lightweight design
How would you best benefit from a large format scanner?