[ Free Consultation ] Are you interested in exploring upgrade options for wide-format printers, but have no idea where to start? Get help from our top tech experts in a free consultation call.
Click Here to Schedule Your Free Consultation Call
When it comes to researching technology, in Google We Trust!
Buyers today generally start their research on the web, and for good reason. There is a lot of content available for them to explore.
So, in an effort to save you a chunk of time, we are providing a comparison between the well-known HP Designjet T730 and the new, popular Canon TM 300.
Canon TM-300 wide-format printer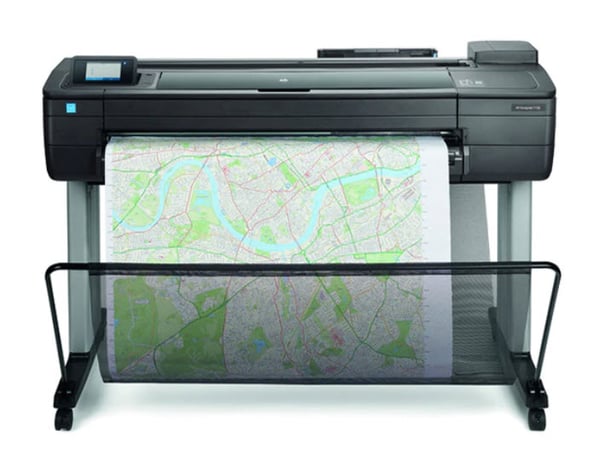 HP T730 large format printer
Print Quality
In a nutshell, the results are mixed. Both units delivered quality output that is the standard both expected and demanded by professionals working in Architectural, Engineering, Construction, Computer-Aided Design (CAD), and Geographic Information Systems (GIS).
The HP T730 produces higher optical densities with magenta, black, and yellow, but the Canon TM-300 delivers better quality overall. Along with higher Cyan densities, the Canon creates smoother circles, crisper text (with no bleed), and sharper overall AEC graphics.
The TM-300 delivers superior color text that is dark, fine-detailed, and legible down to small font sizes, such as 3-pt type size.
Much of the Canon image quality can be attributed to a superior print head design which jets smaller ink droplets (5pl) and a unidirectional feature which eliminates banding on the image file.
Running Out of Ink
The Canon's unique sub ink system greatly enhances the user experience and overall productivity. When an ink tank runs dry and needs replacing, it will still continue to print, pulling ink from the sub ink reservoir.
This accomplishes a couple of things. First, the sub ink format ensures that every drop of ink is utilized. Secondly, the user is capable of replacing the ink tank while the printer is still printing. That means that there is zero downtime. This is extremely beneficial during long print runs.
Alternately, the HP T730 must stop printing to replace the cartridge.
Running Out of Paper
Both the Canon and HP models pause and alert the user when they run out of paper. Once a new roll is installed, the Canon TM resumes printing at the beginning of the interrupted page.
Conversely, the HP cancels the entire job, even if it is in the middle of a multi-page print job. This can be extremely troublesome as the operator must resubmit the job again after carefully pre-determining the the last page printed in order to manually restart the print job from that point.
The Canon advantage is that once the paper is replaced, the printer remembers where it left off and reprints the last incomplete page and continues with the rest of the job.
Inkjet Plotter Feature Set
| | | |
| --- | --- | --- |
| | Canon TM-300 | HP Designjet T730 |
| Max Image Resolution | 2400 x 1200 dpi | 2400 x 1200 dpi |
| Number of Inks | 5 | 4 |
| Ink tanks replaceable during operation | Yes | No |
| Ink-drop size | 5 picoliter | CMY: 6 pl, Black: 12.6 pl |
| Ink tank size | 130 ml and/or 300 ml | Black: 300 ml, CMY: 130 ml and/or 300 ml |
| Borderless Printing | Yes (roll feed only) | No |
| Maximum outside diameter of roll paper | 150 mm | 100 mm |
| Maximum media thickness for roll paper | 0.8 mm | 0.3 mm |
| Media loading format | Top loading | Rear loading |
| Standard RAM | 2 GB | 1 GB |
| Network Interface | 10/100/1000 Base-T Ethernet, Wireless | 10/1000 Base-T Ethernet, Wireless |
Printer Driver Features
| | | |
| --- | --- | --- |
| | Canon TM-300 | HP Designjet T730 |
| Print speed/quality settings | 5 (Fast 300, Fast 600, Standard 600, High 600, High 1200) | 3 (Fast, Normal, Best) |
| Economy Mode | Yes (in fast mode) | Yes (in fast mode) |
| Predefined profles | 6 ( Default, Photo, Poster, CAD (color lines), CAD (monochrome lines), and Perspective GIS | 5 (Default, CAD, GIS, Photo, B/W Photo) |
| Overview of profile settings provided | Yes | No |
| Thicken fine lines | Yes | Yes |
| Mirror Image | Yes | No |
| Multi-up printing | Yes, 2 to 16 | No |
Plus, Canon Bonus Software Included
SMARTWORKS MFP SOFTWARE
SmartWorks MFP software gives you the tools you need to quickly and easily scan to print/file/share large format technical documents.
With a simple to use interface and scan-it-once ability, this software allows for efficient batch scanning and helps create quality scanned images that can be produced in a short amount of time. You can scan to PDF, TIFF and JPEG file formats.
SmartWorks MFP software is more efficient than ever before.
Features:
Scan-to-Multipage PDF
Scan lengths of up to 315" (26 ft) for PDF and JPEG files, and up to 598" (50 ft) for TIFF files
Ability to add custom presets with one-touch retrieval for those often-used settings
Image enhancements for white point adjust, black point adjust, sharpen, mirror, and invert
Fine detail scan feature
Enhanced administrator rights
Full integration with Canon Direct Print & Share cloud software
Files can be moved via a USB storage device
Files can be shared over a network via the Ethernet card
The TM Unified Printer Driver
The TM Unified Printer Driver allows users to print to any imagePROGRAF TM Series large format inkjet, without the need to install additional drivers for each model. This helps make it a hassle-free installation process for multiple devices within the same environment.
The Windows® driver and Macintosh® driver incorporate simplified page setup options, one-touch borderless printing, expanded color settings, and much more into a printer driver that is intuitive and easy-to-operate while still giving even the most advanced users the tools needed to help stay productive.
Direct Print & Share
Sharing ideas has never been easier with Canon's Direct Print & Share software. Direct Print and Share is a cloud portal and batch printing solution that helps you to expand your printing workflow.
This software allows you to upload documents to your cloud account using any WebDAV compliant cloud service, and print the uploaded documents from almost anywhere.
Easily share and/or print .cpfx PosterArtist, PDF, TIFF, JPEG, and HP-GL/2 files, through the user-friendly interface. In addition, you can set-up hot folders on your desktop by clicking the Shortcut Print feature.
Then drag and drop the files you wish to print into these folders and the job will start automatically. You can even set up multiple folders, each with their own customized settings, allowing for multiple jobs to be run with ease.
Thumbnail previews of multipage images and multipage printing of PDFs can also be done with this software.
Free Layout Plus
Nest, tile and create custom layouts before printing your files with this print utility. Use the plug-in feature to print directly from Microsoft Office programs.
Accounting Manager
Accounting Manager software serves as a powerful feature that can help users accurately manage printing costs and other information that is increasingly important in today's economic environment.
With the Accounting Manager software you can track how much ink and paper is being consumed when printing in large format jobs.
Costs can be assigned to ink and paper to determine expenses based on your own "Cost of Goods". Each individual ink tank and each paper type can have its own cost associated to it. T
he user can also input a variable cost that will be added to the total of the print cost.
The data is exportable to a .csv format for Microsoft Excel® so the data can be used for billing purposes. This feature will allow you to determine the cost of each print based on your actual cost.
PosterArtist Lite
Canon's included PosterArtist Lite poster creation software gives users the ability to quickly and easily create professional large format prints and now supports the creation of multilingual posters and tiling!
Users simply follow the program's four (4) easy steps to create posters that can be used in applications such as office Presentations, Trade shows, Retail Signage, and much, much more.
The PosterArtist QuickCopy* feature provides an easy solution for a CanoScan desktop scanner to be used as a copier, making letter-size flyers and documents into full-size posters with a touch of a button.
Device Management Console
This software allows users to continually monitor information such as the printer status and colors being used to print. It also allows printer administrators to centrally control multiple networked printers at once.
This utility software displays the acquired printer information in a neat list for easy visibility.
Printer administrators can be notified via email when an error or warning occurs. No more hassles to get to an installation site of a printer to check on the amount of ink remaining.
Printer administrators can now simply check the amount of consumables remaining for networked printers by operating DMC software from their own personal computer.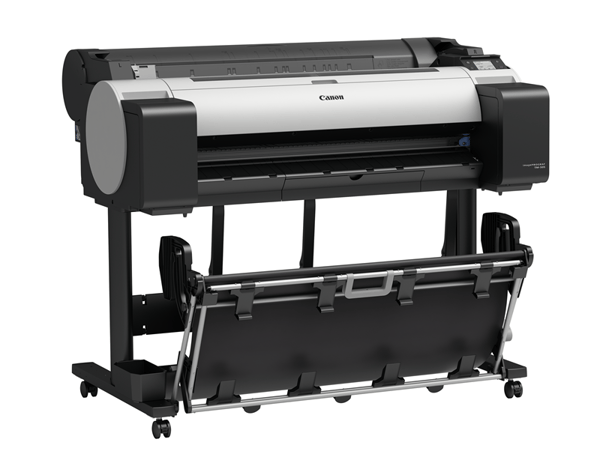 Learn more about the Canon TM-300
Editor's note: This post was originally published in 2013 and updated in July 2019.