Architectural design is something that is constantly evolving. One ever-changing aspect, that has completely redefined the design-build process, is BIM software (Building Information Modeling).
This is achieved through a variety of different software applications, all of which promote the absence of paper.
But, there are still plenty of opportunities where companies need to print construction plans - and the color is absolutely crucial when printing 3D BIM Images.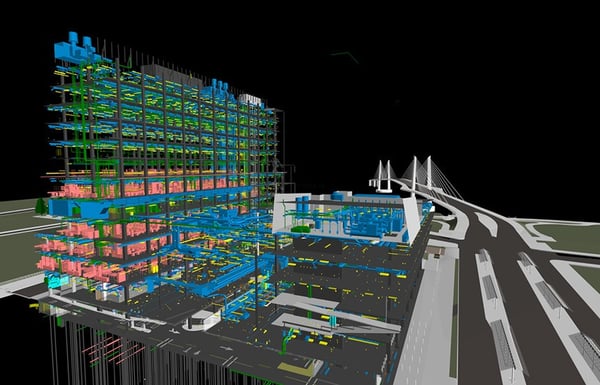 AutoDesk defines BIM as "an intelligent model-based process that provides insight to help you plan, design, construct, and manage buildings and infrastructure."
This collaborative software is now allowing architects, engineers, and contractors to work together in new exciting ways. But, a paradigm shift always forces other changes.
One significant change as a result of BIM is the necessity to print construction plans in full color rather than monochrome.
There are a variety of different applications available for BIM, but the top three are easily recognized:
AutoCAD - specialized toolsets and get access to industry-specific functionality, greater mobility with the new web and mobile apps, and the latest feature updates. It also includes specialized features & libraries for mechanical design, architecture, 3D mapping, and more while working in a familiar AutoCAD interface.
Revit - software built for Building Information Modeling (BIM), helping professionals design, build, and maintain higher-quality, more energy-efficient buildings. Revit allows firms to collaborate and make more-informed decisions earlier in the design process to deliver projects more efficiently.
Sketchup - is an incredibly popular and easy-to-use 3D modeling and design application. It offers a great mix of our classic desktop software, a new SketchUp for Web modelers, and all sorts of options to publish, share, and store projects in the cloud.
Printing BIM Files in Color Research
To explore this, Lyra Research, Inc. (Now Photizo Group) conducted a study that focused on inadequate collaboration in the design-build process. They strived to find ways to reduce construction costs and in doing so, they made a remarkable discovery. AEC companies can actually save money if they print BIM files in color.
Additionally, another study done by the National Institute of Standards and Technology claimed that all the inefficiencies in the building industry accounted for nearly around 2% of revenue per job for each market segment. This may not sound like much, but imagine that the project is a $ 10-million-dollar job. The money lost due to inefficiencies and mistakes could total over $200,000!
Most of these inefficiencies correlate to mistakes made by the recollection and reentry of data being exchanged. Having poor collaboration during the project process also causes this type of communication breakdown. On the other hand, companies using BIM with color reported better ease of collaboration and reductions in project and construction costs.
So, how does this relate to printing? Besides the collaborative aspect of BIM applications, the software also allows designers and estimators to work in 3D. Once 3D is introduced, color has to be part of the equation.
The problem with traditional AEC workflows is that although people work in color on screen, they were relegated to working with monochrome documents.
Sometimes 3D BIM designs are difficult (if not impossible) to decipher in black and white. Color is the crucial element that helps people visualize spatial information as well as see specific, important details. These details are the most beneficial when printed in color on a BIM plotter.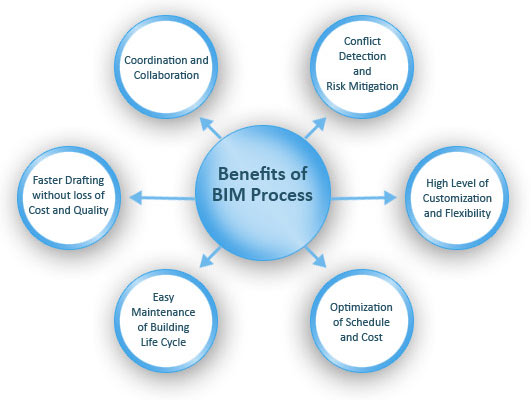 Top Reasons Why more Contractors are required to use and print BIM files in color
Color CAD drawings convey information clearly and reduce mistakes in the field.
Highlighting key information in color can reduce search times and errors by as much as 80%- Reducing (RFIs) Request for information which in return can save thousands on wasted reprints & material.
A Stronger bid equalss more wins! – Studies show that as 65% more information is retained when presented in color versus monochrome!
Full-color projects are more memorable & bring the designs to life for a viewer! Remember visualization – create a visual in your mind because the brain thinks in pictures and concepts, not paragraphs.

Helps ease collaboration and communications between departments handling thousands of documents that need human interaction & interoperation – This cuts massive waste in modern-day construction due to production errors and cost overrides.
It is a given that when a company uses and prints 3D BIM files in color their cost savings go up, inaccuracies are limited, redundancies are reduced, and waste created by old traditional building methods a thing of the past.
An AEC firm using traditional monochrome plans and noticing problems with any of the areas discussed might want to rethink and evaluate how printing BIM posters in color could improve their performance, productivity, and profitability.
Explore plotters perfect for printing BIM Files:
References:
Gallaher, Michael P.; O'Connor, Alan C.; Dettbarn, John L.; Gilday, Linda T. Cost Analysis of Inadequate Interoperability in the U.S. Capital Facilities Industry. National Institute of Standards and Technology. p. iv. doi:10.6028/NIST.GCR.04-867
AutoDesk http://www.autodesk.com/solutions/building-information-modeling/overview
http://www.tavco.net/reducing-construction-costs-lyra-whitepaper
Note: This article was first published in January 2015 and Updated in 2020