Even though the new Canon TX plotters have only been released for a few months, many initial orders were placed and a flood of new TX 3000 and TX 4000 printers have quickly been installed in the field. Likewise, some very encouraging feedback has come back from both other dealers and users alike regarding their performance of these new Canon machines.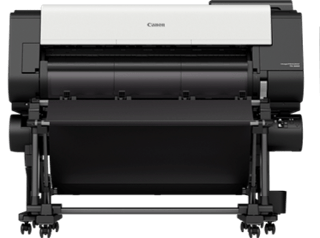 Faster Printing
Even though the technical specs state a faster print speed, it's nice to see that it is not just lip service from Canon. The machines easily produce 3+ D-Size prints per minute when printing in draft mode. This type of output easily matches comparable entry-level LED toner printers. Could this position the TX Series as a viable alternative to a traditional toner-based unit? Perhaps so, but keep in mind, there is still a trade-off.
As an inkjet, the total cost of operation TCO) of the TX Series is still marginally higher than toner technology. At lower volumes, this is nominal and a non-issue. But, as the regular monthly printing demand becomes higher, and monochrome printing is all that is needed, a toner machine, like the Oce PlotWave 345, might still be the better way to go. Time will tell what the exact cost of printing of the TX Series will be, but in the meantime, you can get a basic understanding of the operational cost differential with our FREE Toner vs. Inkjet Cost Comparison Guide. But, one thing is for sure, the Canon TX plotters blur the line even more between inkjet and toner units. And since they have similar performance metrics, the Canon TX looks like a slam dunk in many cases!
The new Pigment Ink is Awesome
Users are extremely impressed with the image quality of the Canon TX 3000/4000. Unlike previous Canon iPF printers which used a combination of pigment and dye inks, the new iPF TX Printers utilize a pigment-only ink set. This new formulation provides awesome black density on solid lines and better bleed resistance in solid fill areas.
The new Canon PFI ink, paired with the updated print head technology, yield even better color accuracy than ever. Users have stated their appreciation that the Canon TX does an excellent job with large color areas. They are elated that it does not experience the same "banding" issues as their old HP plotters.
The pigment ink also has some other unexpected benefits. Besides better UV and fade resistance, the ink also expresses better water resistant properties than ever before. While this seems like a small benefit, Construction Professionals certainly appreciate the this because their plans won't smudge or run because of spills or rain. Plus, many have found that if they choose a more durable media, such as Tyvek or Extreme Bond, their plan sets are virtually indestructible.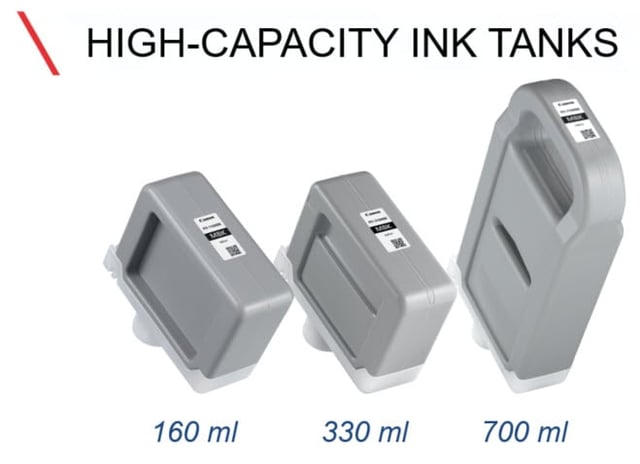 Easy to Use MFP Interface
The new TX 3000 and TX 4000 are available as either a printer-only or as a full-blown multi-function printer (MFP), including an integrated scanner. Although the previous Canon MFP units were well received, the new MFP interface is a welcome changed. The older SmartWorks software on the M40 MFP models worked well enough, but it just wasn't very sleek. Fortunately, Canon and ColorTrac did a great job of making the new program sexy.
The first thing new users notice is the sleek carousel-style navigation menu. Now they scan simply swipe through the different rotating icons to get tot the feature that they need. Plus, with the new software, it is easy to save and recall your preferences such as scan destination, image type, resolution, and more. All advance PDF functions are included, such as saving multi-page PDF files and PDF/A.
More About the Canon TX Series
The new TX Series consists of four new devices, two new printers, and two new multi-function printers (MFPs) which include a TX printer, redesigned scanner, revamped print head, and new ink set and much more. Here's a list of the new configurations:
Canon TX-4000: 44-inch printer
Canon TX-4000 MFP T36: 44-inch printer, with new T36 Scanner, and Controller PC
Canon TX-3000: 36-inch printer
Canon TX-3000 MFP T36: 44-inch printer, with new T36 Scanner, and Controller PC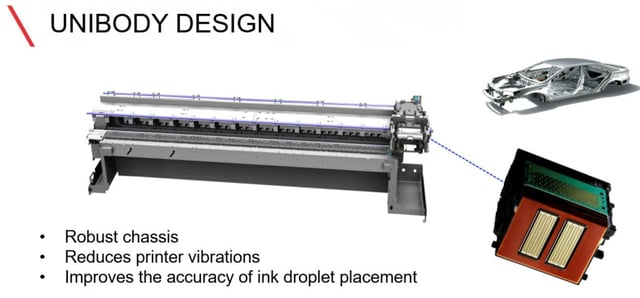 New Core Technologies Onboard
Canon's goal with the TX Series is to seize a sizable market share of the expanding production inkjet technical document space by providing afford-ably priced solutions that produce faster print speeds than ever before. In fact, the iPF TX printers are capable of printing 3 D-size drawings per minute, rivaling traditional LED, toner-based plotters. To reach these new performance benchmarks, a number of new core technologies are at the heart of the system.
High-precision metal platform - When designing the new TX Series, Canon engineers looked outside of the industry for guidance and where they found it might be surprising—the auto industry. Like many of today's cars, the imagePROGRAF TX is built on a unibody design. This produces a very robust chassis and reduces vibrations within the printer. On the surface, this might now seem like a big deal, but reducing vibrations improves the accuracy of the ink droplets, yielding better image quality and allowing for the machine to print faster.
New TD Print Head - The completely new PF-06 print head is a powerhouse, boasting 6-ink channels and 15,360 nozzles. It is designed to work with the unibody carriage for high-frequency ink jetting. The overall control over ink ejection improves the uniformity of ink density and color over all image types. Also the width of the new TD print head is 1.07 inches, so each pass covers a larger are on the sheet resulting in fewer passes of the carriage per sheet. Ultimately, the result is a 15% faster overall printing speed.
Optional Multifunction Roll (MFR) System - Now all Canon printers in this class are capable of upgrading to a 2-roll system, including the 36-inch TX versions. Since this is a modular component, the MFP can be added latter to a single roll system. Obviously, the initial benefit of having a second media roll is having an additional media source. This allows users to have two different sizes or types of media on hand anytime. But, more than that, the new MFP can also be configured as a take-up roll that will easily store a long print run on a roll for later cutting or laminating. The MFR is a very dynamic tool that will help you streamline your workflow in a variety of diffent ways.
High-Capacity Ink Tanks - All imagePROGRAF TX printers offer the ability to use either 160ml, 330ml, or 700ml ink tanks. The best news is that these different sizes can be mixed-and-matched as the user's discretion. So, if you print mostly black ink, get a larger black and keep smaller tanks of the other colors. Pro tip: Your cost per milliliter of ink drops considerably regarding larger ink tanks. So, get the largest size that you can to maximize your value.
Not Just For AEC
Although architectural, engineering, and construction lie at the heart of the TX Series, it is a great solution for education, general office use, and retail. The TDS Pigment Inks are capable of producing stunning photos and graphics for posters and POS displays.
Regardless of market sector, all users will benefit from the included T36 Color Scanner featured on the TX-3000 MFP T36 and TX-4000 MFP T36. This scanner gives users the ability to scan-to-file or scan-to-copy in up to six inches per second—that is twice as fast as a previous Canon MFPs.
Plus, the new and improved scanning software and interface are more intuitive than before. So, anyone can operate the system without having to dedicate a lot of time to user education or training.