[ Free Consultation ] Are you interested in getting a new plotter or large-format multifunction system, but have no idea where to start? Get help from our top tech experts in a free consultation call.
Click Here to Schedule Your Free Consultation Call
When it comes to new large format printing systems for CAD and other technical printing applications, the PageWide XL Series from HP is getting a lot of attention.
It is impressive to watch as pages simply fly out of the printer. This high speed is possible because a new technique called single pass printing. Unlike traditional ink jet machines, that use a reciprocating print head, single pass machines utilize a stationary print head that jet droplets of ink onto a traveling print media.
On the surface, upgrading to the HP PageWide XL may seem like a no-brainer, but take a closer look. There are some limitations to know about before you decide on an upgrade.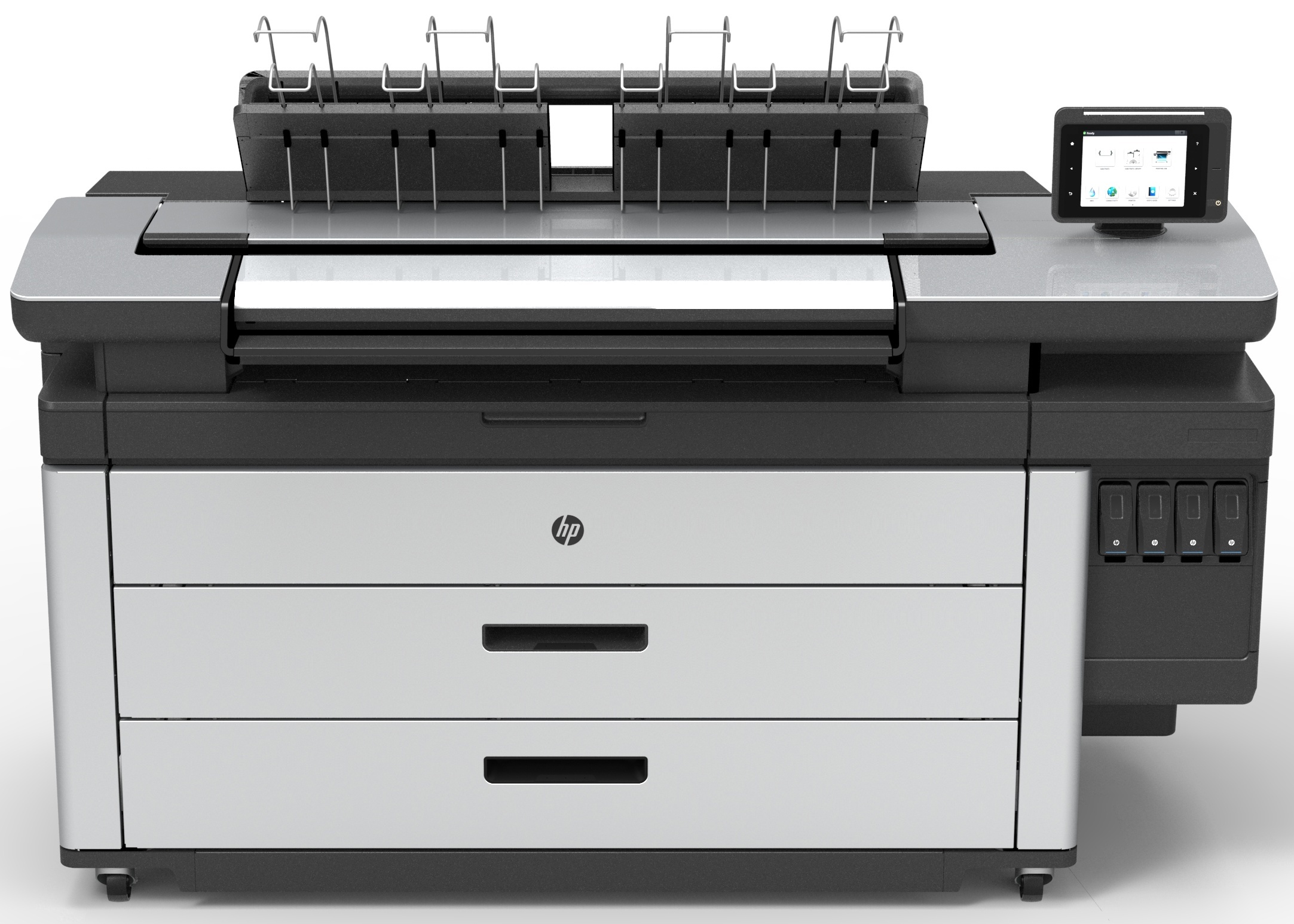 HP PageWide XL Wide-Format Printer System
Although HP popularized single pass ink jet, Memjet created it and refers to it as "Waterfall Technology." This is a wonderful term, because it provides a mental image of exactly how it works. Since ink is applied to traveling media, it is capable of blistering speeds—up to 30 D-size sheets per minute in the largest units.
Waterfall technology - each print nozzle jets ink onto a traveling media source.
PageWide XL Limitations to Consider
They are large
Most high-speed ink jet systems are designed to be commercial printers and are not good fit for traditional office environments. Likewise, their excessive mass can make them difficult to install, particularly when it comes to navigating doors, tight turns, and standard elevators.
This large size requires that all PageWide dealers have a special tilting jack available to move the unit. Likewise, it is also recommended to use two engine hoists to safely tilt and maneuver the printer onto the tilting device for installation.
Furthermore, the machine has to be partially disassembled in order to make it through common doorways.
They are heavy
HP PageWide printers are extremely heavy, weighing more than 1,000 pounds. This can be challenging for typical office environments that do not have concrete or reinforced floors.
Make sure that you office can structurally support such a heavy system beforehand.
High speed may not be necessary
No doubt, one of the main selling points of the PageWide printers is their speed.
HP PageWide XL 4000 - 8 D size sheets per minute
HP PageWide XL 5000 - 14 D size sheets per minute
HP PageWide XL 8000 - 30 D size sheets per minute
However, most AEC offices today average 3,500 square feet per month of printing demand. This new usage number reflects the fact that companies continue to digitize some of their workflow with software such as Bluebeam Revu and PlanGrid.
So, companies simply do not have the need to print the same high volumes as in years past. This negates the need to invest in a new system simply for faster printing.
PageWide is still an ink jet process
Despite the fast output, the drawings are subject to the standard limitations and weaknesses of ink jet prints—drying time might be an issue when larger color areas or full-color sheets are produced.
So, even though the PageWide is capable of printing full-color sheets quickly, what good is it if you have to wait for all of them to dry completely before handling?
Also, ink is not as durable and long-lasting as toner. This can make a difference when taking plans to the field. HP has done their best to remedy this issue by using pigment inks instead of dyes, but in the end toner is still king with regards to fade resistance and water tightness.
Artifacts with full-color printing
Because each print nozzle contributes its ink independently, without follow up passes, it is noticed if it goes out. This results is a line(s) that is easily seen with the naked eye. This type of artifact is very typical with any type of single pass printer.
In fairness, this is not a big issue in relation to simple 2D black/white CAD drawings. But, if full-color maps and/or photos is your thing, the PageWide could deliver less than impressive results.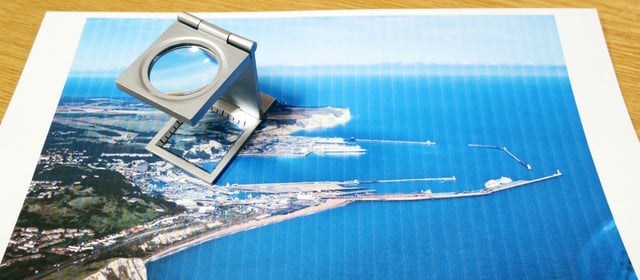 Single-pass ink jet printing lends itself to artifact and banding issues. Notice the repeating lines. Is this image quality good enough for you?
Something else that is not commonly thought about is the available media options. It only makes sense to have a wide range of printing options to support a full-color printing system.
But, regarding a large selection of print media, the PageWide could leave you wanting more. Because of the unit's high speed, HP has specially formulated paper for this machine.
Their current selection includes bond paper, matte film, polypropylene banner, poster paper, and satin poster paper.
If your needs are more exotic and you need more of a graphics punch, you will need to either consider a traditional reciprocating ink jet printer or another technology altogether such as an Océ ColorWave Toner Pearl printers.
Both of these other options will expand your overall printing options. Examples of media available for these that are not possible on a PageWide are: Tyvek, Polyester Fabric, Scrim Vinyl banner, Canvas, Wallpaper, PhotoTex Fabric, etc.
Limited printing width
For some reason, HP decided to limit the print width to 40 inches. This creates some limitations with companies who need to print 30"x42" sheets. Sure, the simple fix for that is to load the machine with 30 inch paper and print the files in portrait mode.
However, because of the orientations of the stacked prints, some companies really like to print ALL files in a landscape position. If HP could have just added another couple of inches…
Built-in scanner is not great
With commercial floor space at a premium, many companies are looking to utilize that real estate for more productive purposes than storing archived plans.
Wide format scanning has rendered flat files obsolete. HP, along with other manufacturers, offer large format scanners as an integral part of their solution and the PageWide is no different.
However, the word on the street is that the built-in scanner in the PageWide system is doesn't deliver the best scan quality. This claim is further supported by the fact that Contex has now included PageWide print drivers in their renowned NextImage Repro software package.
Although, NextImage cannot be loaded or used directly within a HP printer, the application allows Contex users to scan originals and digitally ship them to the PageWide for printing.
This is commonly referred to as scan-to-copy and is something that Contex has supported for years with other printer models. Obviously, Contex saw this as a golden opportunity and decided to capitalize it.
Summary
The HP PageWide is a printing beast - one to be reckoned with. But, it is not for everybody. If your company needs a device that can churn out jobs with great speed, it could well fit your requirements, but there are some limitations to consider.
It is large, heavy, and constrained to only printing on only a few media choices. Plus, if your printing requirements are aligned with the status quo, then your overall demand hovers somewhere between 3,000 and 4,000 square feet per month.
In that case, a PageWide could be overkill; they are designed for a much higher workload. On the other hand, if dynamic printing is what you are after - printing on wide selection of print media, you should take a look at a more traditional ink jet system or another technology, such as the Oce ColorWave 500 series.
Download the FREE ColorWave 500 Guide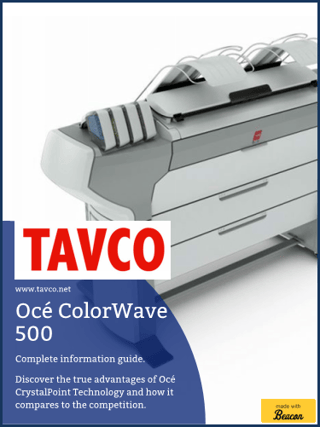 Information Sources: