[ Free Consultation ] Are you interested in getting new CAD software, but have questions? Get help from our top tech experts in a free consultation call.
Click Here to Schedule Your Free Consultation Call
Want to save some money and reclaim your software CAD budget? We covered that in a recent online seminar comparing AutoCAD® to BricsCAD® that covers that topic.
It goes over some general aspects about BricsCAD and states how migrating some of your CAD users to BricsCAD can have an incredibly significant impact to your bottom line.
[ Watch the recording below ]
[ Download a free trial of BricsCAD here ]
Who Benefits the Most from This Information?
Obviously, companies that utilize AutoCAD or similar CAD platform for 2D workflows and some 3D modeling are prime candidates. Although BricsCAD also offers a BIM and a mechanical suite, this information is best suited for groups relying on 2D workflow.
These folks typically rely on an annual AutoCAD subscription, or even a bundle such as the Autodesk AEC Collection. A significant issue that could be plaguing AutoCAD collection users is the thought of not fully utilizing all the applications that you get with that bundle.
We have just talked with some people who, by default, sign up for AEC collections, and they find that they are just not maximizing their effort with those.
What Are the Concerns of AEC Companies Today?
Procore has some great information that they shared recently regarding a poll of many AEC firms. The asked them to identify the most prominent concerns that they have regarding their business.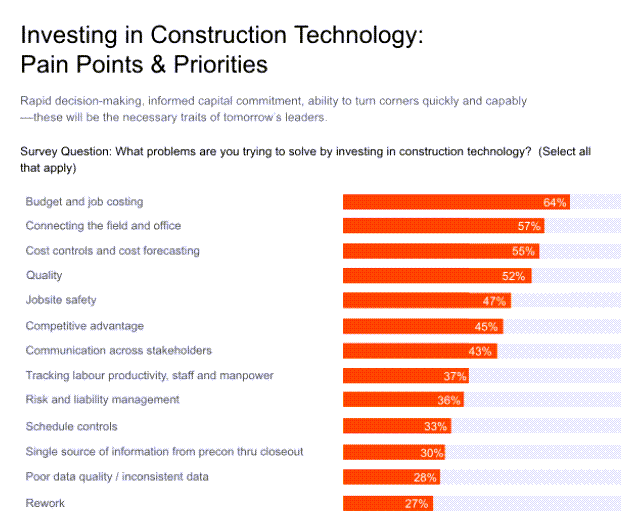 Source: procore.com
Budget and Job Costing was the number one concern of companies across the board. And then Cost Controls was number three.
For AEC companies, a large percentage of their operating overhead is technology, which includes their software for CAD design. And, for an average company, that can be tens of thousands of dollars per year.
So, here are some key points for you to think about, to ensure that you are you receiving optimum value from your current CAD investment. Do you feel that your users are maximizing the features of your current subscription level?
How could reducing your CAD overhead, help your business, and help your bottom line?
Start Saving with BricsCAD
So obviously, we are a little biased here – and think that BricsCAD can be a part of that plan that can help you cut expenses regarding your CAD software budget.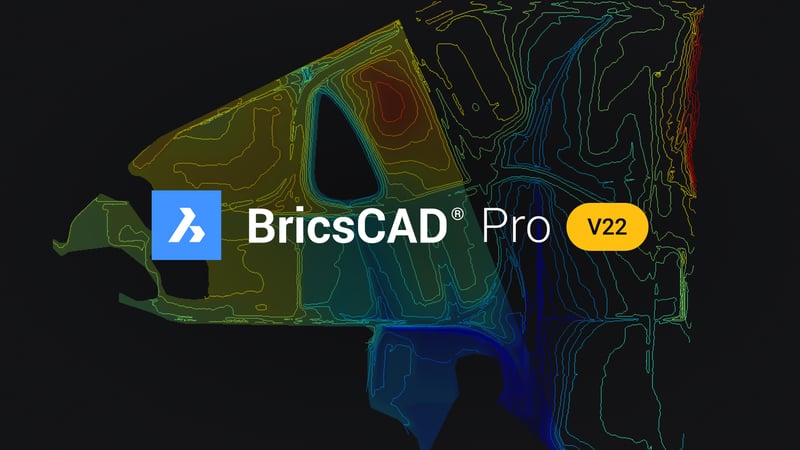 [ Discover more about BricsCAD Pro ]
In case you are not familiar, BricsCAD is a CAD software that looks and feels just like AutoCAD. Some people may find that statement shocking. But try it and see, it is essentially the same program.
It is a full design platform, developed to be very cost effective, and fully customizable. It uses a familiar environment. The user interface contains the ribbons, panels, commands, and everything else that you are used to in AutoCAD.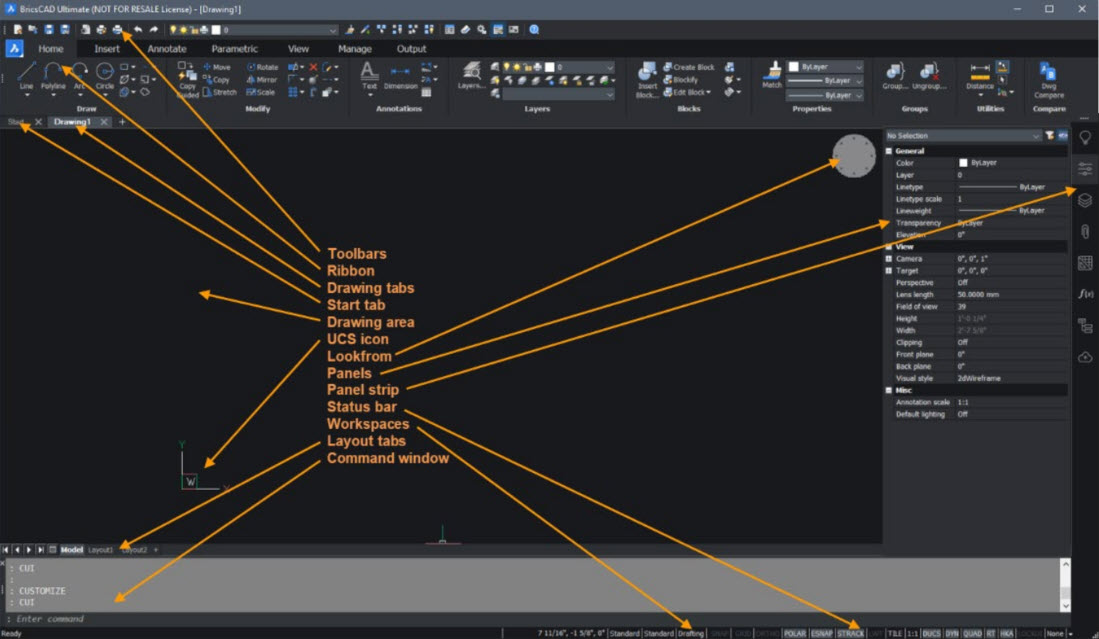 It uses industry standard, DWG files and you can even keep all your customizations, including Blocks, Tool palette, custom layouts, and LISP Routines.
BricsCAD's savings comes down to one thing - LICENSING
BricsCAD has the most flexible licensing policy in the industry, period. While other software companies force you into mandatory annual subscriptions, BricsCAD gives you the choice to rent it via annual subscriptions or you can buy it and own it forever.
Plus, BricsCAD still offers network licenses. This is something that has frustrated traditional AutoCAD users as Autodesk has converted their model to named user license format. Every AutoCAD user is now required to have their own subscription.
The makes BricsCAD network license extremely beneficial when it comes to users needing a small pool of licenses to share among a team. So, in that case, BricsCAD is an awesome option.
Here is a snapshot of what the AutoCAD subscription looks like - taken right from the Autodesk website.

Source: autodesk.com
You can see that it is subscription only, so you are paying this amount every year, per user. Andy, while they are giving you three different options, it is still costly.
AutoCAD Collections
Besides a basic annual subscription, the other thing that Autodesk allows you to do is to subscribe to a bundle of different applications called a 'collection.'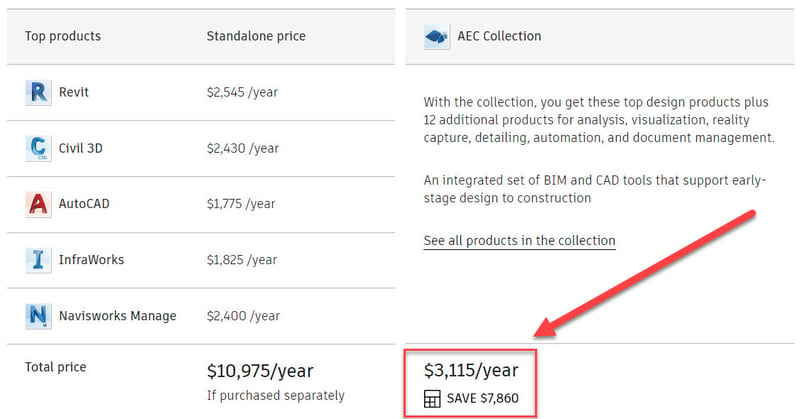 Source: autodesk.com
Though the bundled collection is heavily discounted, it is still a hefty price tag in the form of an annual subscription – over $3,000 per year.
Full disclosure, if you truly utilize multiple applications in the AEC collection, then you can easily justify the expense. However, if you are spending all your time, or most of your time, and AutoCAD, then you are leaving a lot of money on the table.

Incredible Saving with BricsCAD over 5 Years
When comparing a full license of AutoCAD versus the compatible BricsCAD Pro, buying a perpetual seat of BricsCAD, and keeping it current with maintenance is a much better deal.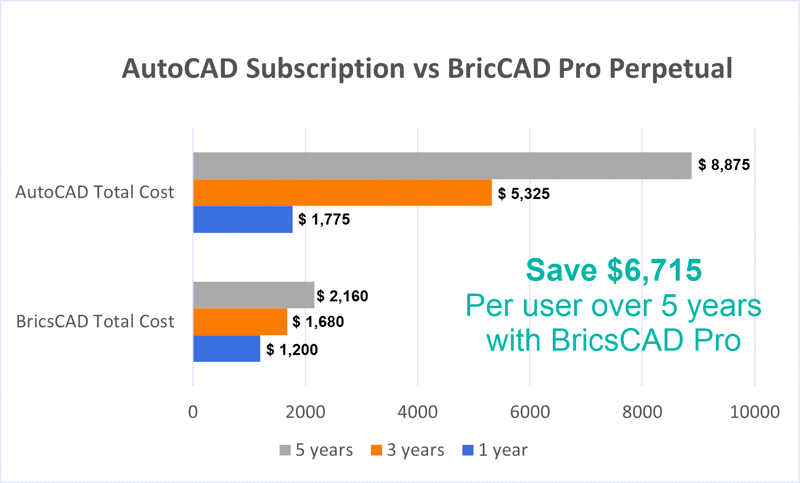 Again, the workflows the same. You are going to stay current with all the software updates and latest versions. And then what you can see is, you know, just over one year, there is already a cost savings. But, once you look at the comparison over five years, you will save close to $7000 using BricsCAD Pro (with maintenance).
Now, what happens when you are paying for 10 licenses, 20 licenses, 30 licenses? Now, we are talking real money, we are talking a significant impact to your overall technology in CAD budget.
And remember, both give you the same functionality, 2D drafting and 3D modeling. Both can run LISP programming and use third party applications. It is just a matter of how much money you want to spend.
AutoCAD Collections
This is where it gets interesting. When you look at comparing BricsCAD to an AEC collection, the results are shocking.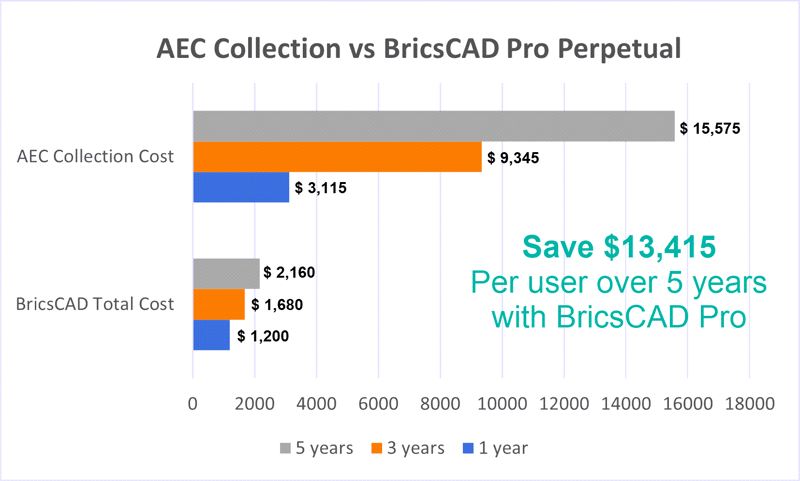 If you are NOT jumping into the various applications offered in the collection, you are wasting money. If you are primarily just doing detail work in 2D and you are consuming a collection, you are spending over $13,000 per user over 5 years.
Think about the impact of this if you multiply this for 10 users. That is $130,000 that you could be recovering.

Implement BricsCAD Strategically
We are realists and recognize that the CAD world is not a black and white issue.
Most companies do not elect to simply dump all their AutoCAD assets to move to something else. That would be like transitioning from Apple and Android. You usually do not jump from one platform to another in one single leap.
However, you can plan implement changes strategically.
Look at your allotment of 2D drafting licenses. How many of those could your siphon off from AutoCAD and migrate to BricsCAD? You can save yourself a ton of money just by doing that.

When does your CAD subscription renew?
If your CAD renewal is within the next 90 days, you should start looking at this. Do some exploring and seeing you know what you can do to save some money.

Takeaway
Licensing models have a significant impact to your software expenses. When it comes to CAD software, you could save thousands of dollars by converting some of your AutoCAD subscriptions to perpetual licenses of BricsCAD Pro or BricsCAD Lite.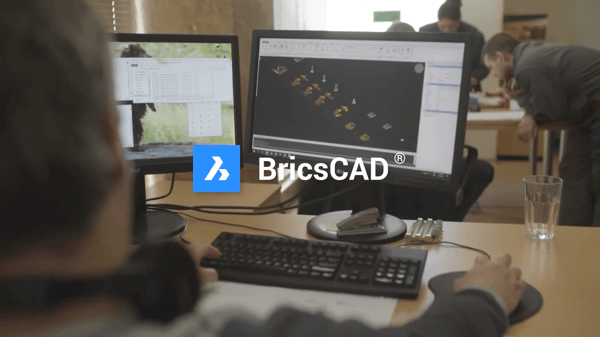 Get started today with BricsCAD by downloading a free trial.

Did you know that BricsCAD works as CAD software for MAC and Linux OS Systems?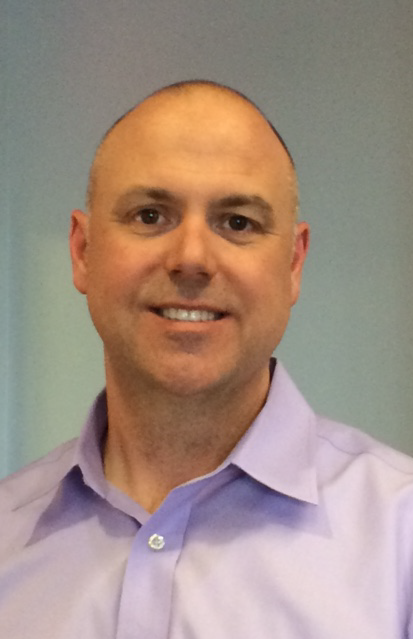 Kevin Vaughan is the Vice President of TAVCO and heads up Sales, Digital Marketing, and E-Commerce channels. With over two decades of experience, he has received various awards for sales performance and channel growth. Published articles focus on AEC technologies including laser scanning, 3D cameras, CAD software, and large format plotters. When he is not geeking out on new technologies, you can find him hanging with his wife and kids, playing guitar, or Scuba diving.