Canon innovations inside
Print everything from construction drawings, GIS maps, posters, signs and more.
Produce great looking documents with Canon LUCIA TD Inks.
Unleash your creativity with free, included workflow and management software.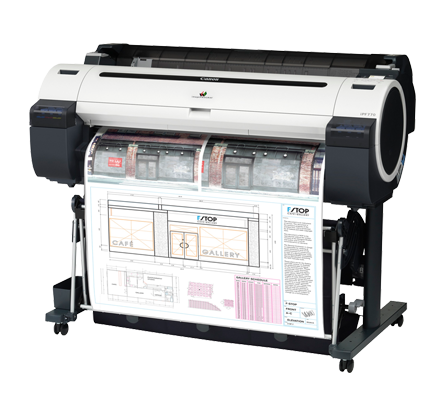 Shop for iPF770/670 now on the online store
Experience High Productivity: The incredibly fast file processing and print speeds allow you get a D-size print out in a little as 28 seconds (Economy Mode). You can also change ink "on the fly" without stopping the printer.
Work in the cloud: The new iPF Direct Print and Share software provides a cloud-based portal that allows users to expand their workflow outside of their local network.
Print Great Looking Reds: The new magenta ink formulation improves the clarity and vibrancy of red lines and images.
Print anything from CAD files to full color posters!
Ideal for businesses, schools, architects, engineers, and others!
The Canon imagePROGRAF iPF770 36-inch and imagePROGRAF iPF670 24-inch large format printers are an affordable model for entry-level users. The iPF770-iPF670 is the printer for your poster and signage needs. The optimal color profile and latest magenta ink will create the vivid and impactful image you need.
The included Sub-ink tank system allows you to use all of the ink in the tank before replacing it, as well as replacing an empty ink tanks on-the-fly without stopping a job mid-print and sacrifice print quality. The iPF670 printer is available as a desktop model or with stand and basket.
Download the iPF670-iPF770 brochure
Read the Definitive Guide to Canon Large Format Plotter Printers