Entry-Level and Low Volume Printing and Scanning of Wide-Format Sheets
Print, scan, and copy construction drawings, GIS maps, posters, and more.
Produce great looking documents with Canon LUCIA TD Inks.
Unleash your creativity with free, included workflow and management software.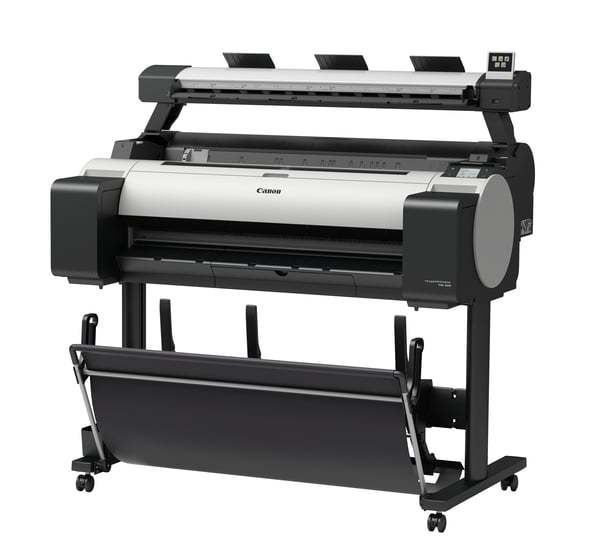 Pictured: Canon TM-300 MFP L36ei - 36-inch wide format multi-function system
Shop for TM Series now on the online store
Simplified Operation: Easy to use for basic print, copy, and scan functionality
Built on Success: Designed on the Canon TM Series (TM 200/300) printer, this new MFP is designed for reliable and efficient operation
Direct Print and Share Application: Cloud portal solution for file sharing and print submission. Bundle files into a print job, view, and print.
Print Plug-in for Microsoft Office: Finally, print wide-format documents directly from any MS Office Application
Simple poster solutions: Canon's PosterArtist Lite software is included free for a simple and complete Poster Creation Solution
Ideal for businesses, schools, architects, engineers, and others!
The Canon imagePROGRAF TM-300 MFP L36ei and TM-200 MFP L24ei, large format imaging systems are affordable scan-to-copy/file systems for low-volume and entry-level users.
With an integrated wide scanner the TM MFP Lei Series is ideal for low-volume subcontractors, primary education, design offices, architectural firms and reproduction businesses.
The lightweight scanner and compact design allow for easy installation in even the smallest environments. The user-friendly control panel has picture icons for easy identification of the scanner operations. Simply scroll left or right to view the different icons, make your selection and press the Green Button!
This system is for those who do not require the advanced functionality of the MFP T36 imaging system. The new Lei Series complements the current MFP T36 product line by providing a product that offers basic scan-to-copy capabilities at an affordable price.
Offering more than just the scan-to-copy functionality, this imaging system gives you the ability to scan to USB, scan to copy and archive, scan to multipage PDF and scan to your PC as well as reduce and enlarge images. With three different quality modes available, you can choose Draft, Standard or Best mode based on the scan/print you are creating.
The TM-300 MFP L36ei is an affordable solution for providing easy-to-use scan-to-copy/file capabilities for the entry-level user. Designed for simple operation, this MFP has intuitive hardware and software making the learning curve minimal for those new to large format scanning.
A versatile system built for the way you work, the imagePROGRAF TM MFP Lei includes:
Lei Scanner (36-inch or 24-inch depending on printer size)
Canon TM-Series Pigment Ink Printer
The TM system comes available with user-friendly software solutions ready to meet your printing needs. Direct Print & Share, Canon's cloud portal solution and batch printing software, is available as a download and allows for files to be uploaded, downloaded, shared and printed from almost anywhere in the world!
Also available is Free Layout Plus – this print utility lets you nest, tile and create custom layouts before printing your files.
You can also use the plug-in feature to print directly from Microsoft Office programs. The Accounting Manager software (PC only) allows you to track job costs, while the Print Plug-in for Microsoft® Office enables for documents created with Word®, Excel® or PowerPoint® to be easily printed in large format.
Creating custom signage has never been easier with Canon's included PosterArtist Lite poster creation software, this easy-to-use software will have you creating professional large format prints quickly in just four easy to follow steps.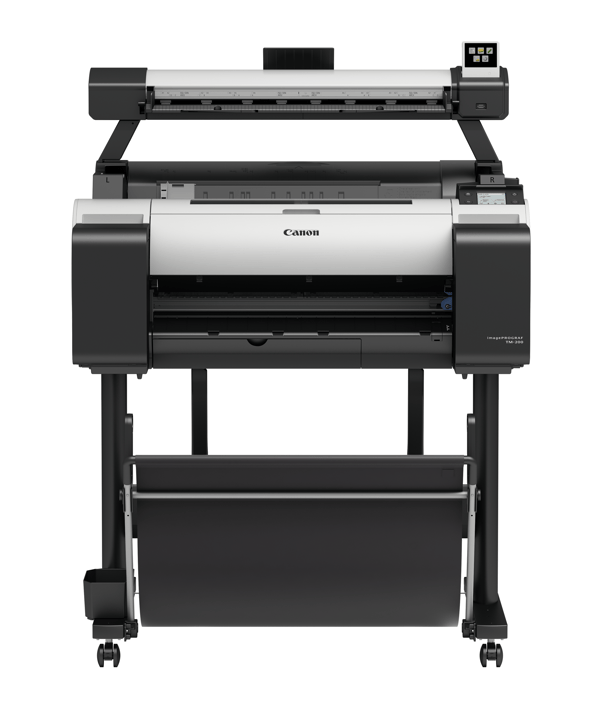 Pictured: Canon TM-200 MFP L24ei - 24-inch wide format multi-function system




This is the perfect system for those who do not require the advanced functionality of the T36 imaging system. The new L series compliments the current T36 product line by providing a product that offers basic scan-to-copy capabilities at an affordable price. Offering more than just the scan-to-copy functionality, this imaging system gives you the ability to scan to USB, scan to your PC as well as reduce and enlarge images. With three different quality modes available, you can choose Draft, Standard or Best mode based on the scan/print you are creating.

The L36ei scanner contains a single component image sensor that is the full width of the scanner and has long life LED Bi-directional illumination. Full width image capture, as opposed to time delayed scanning of separate sections, means less risk of misalignment of scan data. LED's require virtually no warm up time and provide a wide and consistent color gamut, with low power consumption and less potential for shadowing at creases or folds.

TM-Series Large Format Printer

The TM Series is redefining what a Large-format printer is capable of. The Canon TM printer is not only ideal for printing technical documents, CAD drawings and GIS maps, but also posters, signage and displays with the use of Canon's LUCIA TD water resistant pigment ink. Built with Canon developed technologies; 5-color LUCIA TD pigment ink, PF-06 print head, L-COA PRO image processor, along with a clear, intuitive operation panel and nearly 60% quieter than previous models, this printer is an easy choice for the architectural, engineering and construction industries as well as office environments.

LUCIA TD Pigment Ink Set

The TM-300 device features an all-new 5-color TD pigment ink set. This ink was formulated to produce fine lines and sharp text on both inkjet and non-inkjet paper. Combine this pigment ink with water resistant media and you have a printed drawing that can withstand many outdoor conditions, especially outdoor job sites such as construction sites. Available in 130 ml or 300 ml ink tanks. 490 ml of ink ships standard with the TM-300.Fast Printing


With faster printing of multipage files, the TM Series can print up to 144 D sized prints per hour!

Security Feature

The TM Series large-format printers come equipped with several security features designed to help prevent leaks of confidential information:

Secure Communication
802.1x Authentication
SNMPv3
SSL/TLS
IPSec
Functionality Restrictions
Panel Lock by Remote UI
Remote UI Multilevel
Hide IP From Panel
Panel Access Control
Job Storage and PIN Printing
Secure Storage
Secure Disc Erase (Conforms to U.S. Department of Defense standard DoD5220.22-M)
The following functions can be disabled in administrator mode:
Direct USB Thumb Drive Printing
Internet Connection
FTP and Telnet communication protocols
Job Log Look-up
Quiet Operation
The TM-printer is well suited for busy office environments as it is 60% quieter than previous imagePROGRAF printers and offers less distraction in the workplace.
Operation Panel
The TM-printer features a 3" color touchscreen operation panel making it easy to view printer information as well as perform simple operations.
Small Footprint
A good fit for small offices, the compact TM-series has a small footprint for easy installation, access, and operation.
Wi-Fi Compatible
Printing jobs quickly is critical on the work site and in the office. The Wi-Fi connectivity can transfer technical drawing files and help speed up your workflow- perfect for high-volume printing. No Wi-Fi router is needed, which can provide greater freedom during installation.
Print Head PF-06
The 6-channel PF-06 Print Head is engineered to work with the printer's high-speed carriage and high-frequency ink ejection to help facilitate fast printing. This printer boasts Canon's print-head technology that lays down ink with outstanding speed and accuracy. The PF-06 print head incorporates a nozzle orifice shape to help minimize mist spray, producing clean lines and text. The high-precision, high-density print head, with a total of 15,360 nozzles, lays down 5 picoliter-size ink droplets that help produce sharp detail and excellent image quality. The result is consistently accurate 2400 x 1200 dpi output (max.) with fine lines that are accurate to ±0.10% and as thin as 0.02mm.
Sub Ink Tank System
The Sub-Ink Tank System allows virtually all of the available ink in a tank to be used before having to replace it, helping to eliminate wasted ink. The empty tanks can also be replaced on-the-fly without stopping the printer. This is extremely useful during your long print jobs.
Direct Print & Share
Sharing ideas has never been easier with Canon's Direct Print & Share software. Direct Print and Share is a cloud portal and batch printing solution that helps you to expand your printing workflow. This software allows you to upload documents to your cloud account using any WebDAV compliant cloud service, and print the uploaded documents from almost anywhere. Easily share and/or print .cpfx PosterArtist, PDF, TIFF, JPEG, and HP-GL/2 files, through the user-friendly interface. In addition, you can set-up hot folders on your desktop by clicking the Shortcut Print feature. Then drag and drop the files you wish to print into these folders and the job will start automatically. You can even set up multiple folders, each with their own customized settings, allowing for multiple jobs to be run with ease. Thumbnail previews of multipage images and multipage printing of PDFs can also be done with this software.
The TM Unified Printer Driver
The TM Unified Printer Driver allows users to print to any imagePROGRAF TM Series device, without the need to install additional drivers for each model. This helps make it a hassle-free installation process for multiple devices within the same environment.
The Windows® driver and Macintosh® driver incorporate simplified page setup options, one-touch borderless printing, expanded color settings, and much more into a printer driver that is intuitive and easy-to-operate while still giving even the most advanced users the tools needed to help stay productive.
The Real Preview feature helps ensure that the print setting and the layout on the roll paper is correct by providing users with real time preview, allowing them to change the print setting even after clicking on "print." The Free Layout Tool enables nesting and custom layouts of images or files of nearly any type (available for both the Windows® driver and Mac® driver).
Free Layout Plus
Nest, tile and create custom layouts before printing your files with this print utility. Use the plug-in feature to print directly from Microsoft Office programs.
Accounting Manager (PC Only)
Canon imagePROGRAF Accounting Manager tracks how much ink and media is being consumed while printing. Costs can be assigned to ink and paper to determine expenses based on "Cost of Goods". You can also input a variable cost that will be added to the total of the cost per print. The data is exportable to a .csv format for Microsoft Excel, from there the data can be used for billing purposes.
Accounting Features:
Log Recording Time
Job Name
Client Job ID
Client Job Submission Time
Job Execution Time
Job Completion Time
Job Completion State
Media Type
Number of completed pages
Media consumption area per job
PosterArtist Lite
Canon's included PosterArtist Lite poster creation software gives users the ability to quickly and easily create professional large format prints and now supports the creation of multilingual posters and tiling! Users simply follow the program's four (4) easy steps to create posters that can be used in applications such as office Presentations, Trade shows, Retail Signage, and much, much more. The PosterArtist QuickCopy* feature provides an easy solution for a CanoScan desktop scanner to be used as a copier, making letter-size flyers and documents into full-size posters with a touch of a button.
* Compatible with PosterArtist and PosterArtist Lite
PosterArtist
For those with more demanding poster creation needs, Canon's optional PosterArtist offers advanced features such as Auto Design, Variable Data, and in-application image editing features, as well as additional templates, royalty-free photos, and clip art. The built-in weblink feature in PosterArtist Lite links you directly to the PosterArtist website for useful hints and tips, and for even more free content for download.

Enhanced features include:
Direct Print & Share cloud portal support
File format to allow for easy sharing of poster files
Visit www.usa.canon.com/posterartist for a free demo version to download.
Device Management Console
This software allows users to continually monitor information such as the printer status and colors being used to print. It also allows printer administrators to centrally control multiple networked printers at once. This utility software displays the acquired printer information in a neat list for easy visibility.
Printer administrators can be notified via email when an error or warning occurs. No more hassles to get to an installation site of a printer to check on the amount of ink remaining. Printer administrators can now simply check the amount of consumables remaining for networked printers by operating DMC software from their own personal computer. You can monitor the status of up to 50 TM Series printers!
Media Configuration Tool
Manage, update and arrange media information in the operation panel and printer driver.
Optimized Module for AutoCAD
This specialized driver is compatible with a variety of AutoCAD software products and helps enable optimal printing productivity and reliability from the AutoCAD software. The module also has a user-friendly interface that includes familiar features such as free layout, test printing, and 1200 dpi rendering. This module is automatically loaded when printing is attempted from AutoCAD, ensuring a smooth workflow with optimal printing results each time.
Apple AirPrint®
The TM Series supports Apple AirPrint, Apple's future standard output process. This application allows users to output from various applications on mobile devices, without specialized drivers and output applications. There are currently no restrictions on file types, so it is now easier than ever to print full quality photos and documents from most Apple products including your Mac®, iPhone®, iPad®, or iPod®. It also features easy discovery, automatic media selection, and enterprise-class finishing options.
Canon Print Service
This software allows users to print from the menus of applications that support Android's printing subsystem. Print PDF files wirelessly via a mobile application for Android tablets and smart phones. In just a few simple steps you can log into the Canon Print Service application, create the JPEG file, send the JPEG file to a TM Series large-format printer and select the "JPEG direct print" function to print your document. Simple and easy to do on-the-go!
Download the full Canon TM-Series brochure
Use the Canon Plotter Printing Cost Calculator