Canon innovations inside
Space-saving and environmentally conscious
Powerful solution for wide-format: Canon iPF printer and integrated scanner
Easy workflow: Cruise through all the Smartworks software functions effortlessly with the full touchscreen monitor
Work in the cloud: The new iPF Direct Print and Share software provides a cloud-based portal that allows users to expand their workflow outside of their local network.
Completely customizable: Pick the printer that suits you best
The Canon imagePROGRAF TX 4000 44-inch represent the next standard in wide-format printer engineering.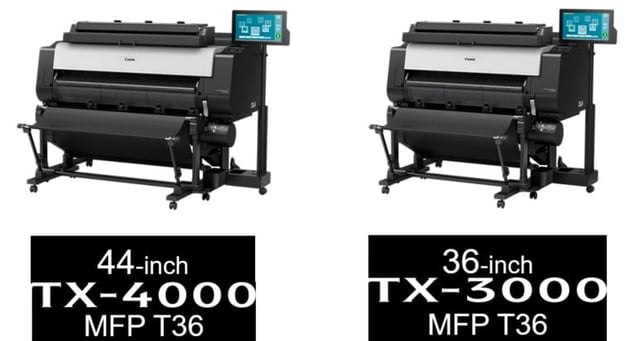 High Capacity Ink Tanks
Available in 160ml, 330ml, and 700ml ink tanks, you have the ability to purchase a combination of ink sizes based on your printing volume.
Sub Ink Tank System
The Sub-Ink Tank System allows all of the available ink in a tank to be used before having to replace it, helping eliminate any wasted ink. The empty tanks can also be replaced on-the-fly without stopping the printer. This is extremely useful during your long print jobs.
PF-06 Print Head
The newly designed PF-06 is a 1.07-inch, 6-channel print head with 15,360 nozzles. Combined with the TX-4000's high speed carriage transfer and ink ejection, this print head allows for ink to be laid down quickly and precisely.
Automatic Media Loading
Media is now loaded automatically in the new TX Series printers. Once a roll of media is placed on the roll holder, the printer will detect a roll has been loaded and begins to feed and adjust the media into optimal printing position.
New Stacker
The new TX Stacker can stack up to 100 sheets of ARCH C, ARCH D, or ARCH E/E1 page sizes for increased productivity.
Download the Canon TX Series MFP brochure
Read the Definitive Guide to Canon Large Format Plotter Printers