imagePROGRAF iPF 710 MFP from Canon USA
OVERVIEW
The 36" Canon imagePROGRAF iPF710 MFP is a powerful scan-to-copy/file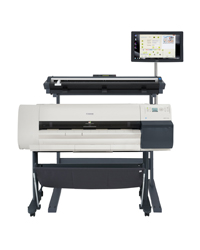 /e-mail solution designed to meet the speed and precision requirements for CAD, MCAD, ECAD and GIS applications, with versatility to handle all-purpose, office applications.

With true 600dpi optical resolution, CIS scanning technology for incredible line definition and accuracy, and room for documents up to 41" wide (40" image width) by any length*, the iPF710 MFP is a versatile imaging solution. And with dynamic preview and a large, simple-to-use touch-screen interface, one-click scanning/copying has never been easier. Comes standard with the ability to scan to PDF, JPEG and TIFF file formats.
The iPF710 MFP printer has on-board support for HP-GL/2 and HP-RTL files, a large LCD panel and operates with a reduced amount of noise, for greater ease of operation and more flexibility in various environments. The iPF710 MFP provides both quality and performance, demanded by today's market. The L-COA controller and the 5-color Reactive Ink system is designed to drive the best quality output at the highest possible speeds. Ideal for architects and engineers, the iPF710 MFP is an ideal solution for any professional with a need for creating, processing and printing complex renderings, CAD drawings, GIS maps and other large-format graphics quickly, effortlessly, and with remarkable detail.
FEATURES & ADVANTAGES
Complete Scan-to-File/Copy/E-mail Solution
This complete workflow solution includes large format scanner, printer, reprographic stand, Dell computer, SmartWorks MFP Software and large touch-screen monitor. A versatile system built for the way you work, the imagePROGRAF MFP comes standard with the ability to scan to PDF, JPEG and TIFF file formats.
High Speed Scanning
Whether its construction plans, drawings, maps or business presentations, speed is critical when deadlines are tight. A powerful production tool for many environments, now you can scan up to ten inches per second at 200 dpi for monochrome and up to 1.67 inches per second for color.
High Precision Scanning
The imagePROGRAF iPF MFP uses CIS (Contact Image Scanning) technology to capture the finest image detail in technical documents, maps, sketches, hand-annotated drawings and complex schematics. With true 600dpi optical resolution, achieve exceptional monochrome performance with very sharp, clean black & white images and high definition color reproduction. And dynamic preview ensures that scans and copies match original hard copy documents every time.
Media Handling
The imagePROGRAF MFP provides room to scan plain paper documents up to 41" wide (40" image width), max thickness 0.012 inches (0.3 mm) by any length*. It's unique paper path returns documents to the front, allowing for a space saving design with front-accessible operation for flush wall installation.
* Maximum scan length varies depending on scan resolution and hard drive space.
SmartWorks MFP Software

SmartWorks MFP gives you all the tools you'll need to quickly and easily scan to copy / file / email large format technical documents. With a simple to use interface and unique scan-it-once ability, SmartWorks MFP allows for efficient batch scanning and ensures that top quality scanned images are produced in the least amount of time. Scan to PDF, TIFF and JPEG file formats.