Check out the
awesome capabilities of the Océ PlotWave 450 & PlotWave 550:
Fast and reliable mid-volume monochrome printing with color scanning.
Save valuable floor space with the compact form factor.
Experience instant productivity with zero warm-up time, effortless roll changing, and a powerful on-board PC controller.
Gives you flexible media options: The Océ PlotWave 450/550 can be configured as either a 2-roll or a 4-roll system giving you a wide range of media sizes at you disposal.
Choose your speed: Take your pick between the 8 D-Size sheet per minute PlotWave 450 or step it up to 10 sheets per minute with the Océ PlotWave 550.
Powerful Processing: The new family of PlotWave systems are powered by the new POWERsync PC Controller. It includes a Dual-Core G1620 @2.7GHz processor, 500 GB hard drive, 4 GB DDR3 RAM, and it runs on an embedded version of Windows 8 64-bit.
Connects with your world: Now interacting with the machine is as easy as using a tablet thanks to the new Océ ClearConnect multi-user panel.
Requires no-warm up time: With Océ patented Radiant Fusion Technology, the PlotWave system requires virtually no warm-up time, making it the fastest printer in its class.
Includes integrated color scanning: Océ Scanner Express adds color scanning functionality to the innovative Océ print engine. Now you can scan markups and annotations and recall the files with full color integrity.
Is rooted in green technology: The PlotWave 450/550 only heats up when printing, when in idle mode, it is cold and consumes almost no energy.
Durable and long-lasting: Robust technology is built to withstand workload of multiple users.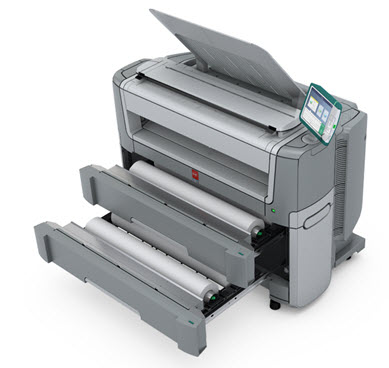 Wide-format printing, copying and scanning just got easier for everyone!