Today's construction jobsites capture hundreds of pictures and videos each week. This volume generally equates to roughly 50GB of data generated for an average sized project. However, most photos and videos are neither organized, nor stored in a centralized location. Commonly, they are only available on employee mobile devices making them difficult, if not impossible, to find and retrieve in the event of a claim or other need.

Smartvid.io's Enterprise Photo & Video Management helps project teams capture, organize, share, and control visual project data from a single source of truth. It can leverage pre-built integrations with construction systems like Autodesk BIM 360, Procore, Oracle Aconex, OxBlue site cameras, Box, or even use Smartvid.io's mobile app to take new pictures in the field.
Project teams can streamline their field documentation time by up to 60% and have on-demand access to project documentation.
Vinnie, the construction-trained AI, makes finding photos and videos across all current and old projects simple - users can search on what was seen "in" the imagery (e.g., steel, ladders, rebar) as well as any other data (e.g., date, project name, creator, and more).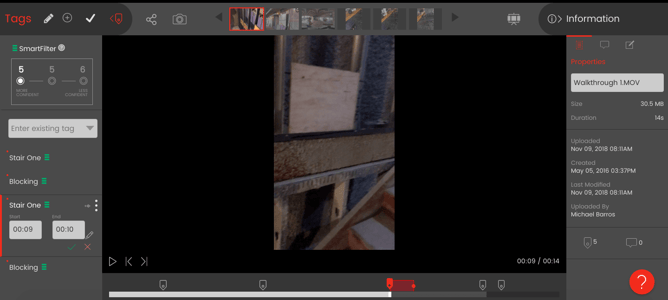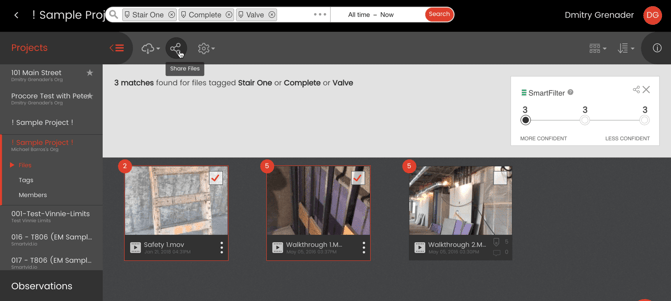 Save time at the project and enterprise level

• Faster image capture via integrations or via mobile app and voice tagging saves 60% of time required for field capture

• Vinnie-based AI-tagging makes photos and videos findable in seconds not hours or days of manual review
Comprehensive storage of and access to all photo and video content

• Aggregate all sources of photo and video content into one, enterprise-class management system, powered by AI

• Pre-built integrations for many common systems collect project content so that it is never lost again

• Enterprise class user and data management Single sign on support for easy enterprise user onboarding
• Scalable - no limits on data or users

• Cloud-based architecture requires no on-premise installation
Request a product demo and/or quote
Smartvid.io Safety Observations