What is BricsCAD CAD Software?

BricsCAD® is the modern, familiar, and cost-effective CAD (Computer Aided Design) platform for everyone who designs, builds and manufactures things. It is a software solution for design and technical documentation.
It is part of the full BricsCAD DWG-based design platform. It is developed to be very cost-effective and fully customizable, with its own LISP capability. It features some amazing functionality that provides a boost in productivity.
As with other CAD programs, BricsCAD can help you draft construction plans and documentation, explore design ideas, visualize concepts through digital renderings, and simulate how models perform in the real world.
BricsCAD is available in various editions, all available on a single CAD platform. This means that all editions can run from within the same platform or software installation. Users gain access to the different editions through license keys when purchasing.
BricsCAD is no-compromise software.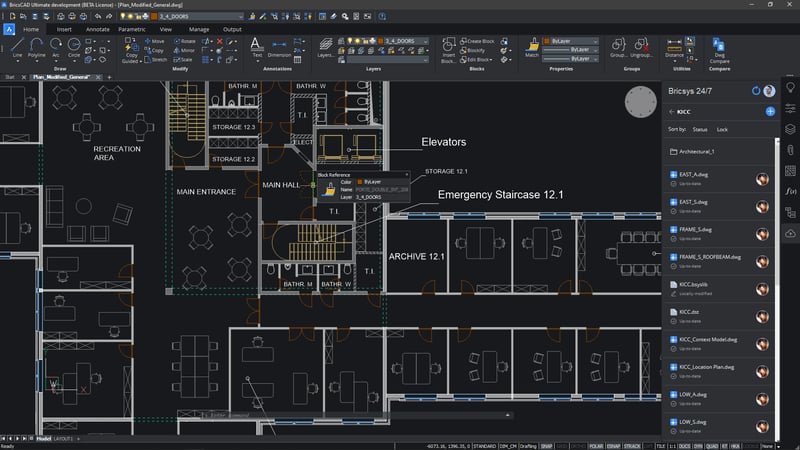 Familiar look and feel for most CAD users
Faster at opening and rendering files than "other" CAD
Keep your customizations (Blocks, tool pallets, sheet layouts, etc.)
Rent or own your software – your choice
Keep your Network licenses to share among users across your enterprise
[ Download a FREE 30-day trial of BricsCAD Ultimate (2D, 3D, BIM, and Mechanical) ]
Shortcuts:
Continue reading along or simply jump to the topic that interest you.

---
Built on DWG Technology
DWG is the standard file format in the CAD industry and DWG is the native file format for BricsCAD.
So, you can open, edit, and save AutoCAD drawings directly in BricsCAD without the need to convert, import, or export. BricsCAD uses the most current DWG file format and saves back as far as the Release 11/12 format. It even supports DXF as far back as Release 9.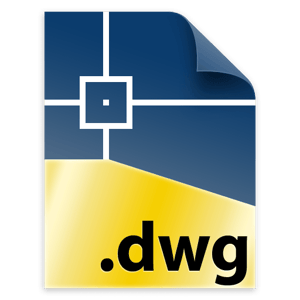 DWG & Other Vector Files

DWG format import/export

Open DWG/DXF/DWT

Save as DWG/DXF/DWT

Export DWF
Non-DWG formats:
IFC: IFC files can be imported/exported via Import/Export command

SKP: Sketchup files can be imported

DGN: DGN files can be imported

SAT: ACIS sat files can be imported/exported via acis-in acis-out

IGS, STP, SLDPRT are not supported in plain BricsCAD, but are imported/exported with use of an optional upgrade module: BricsCAD Communicator. This plugin gives you access to use a wide selection of 3D MCAD modeling formats.
---
2D Drafting
Despite the growing popularity of BIM workflows, there is still plenty of basic 2D CAD work happening in the AEC industry today.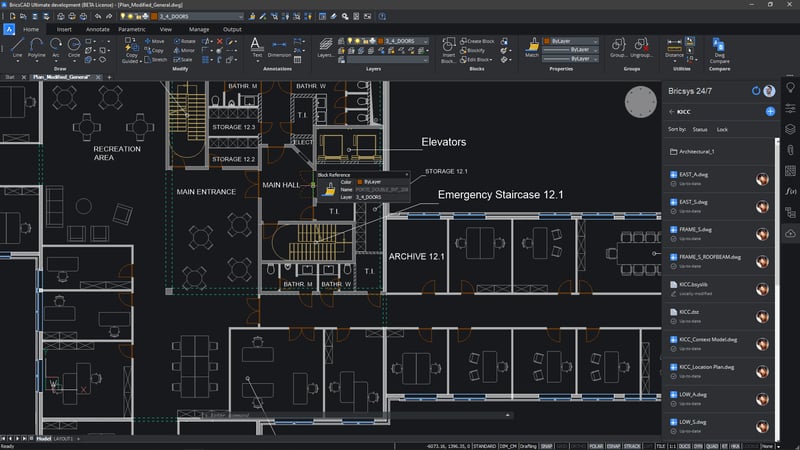 [ Download a free trial today ]
BricsCAD Lite and AutoCAD LT are both solid applications for working with basic 2D drawings. They are also the most economical CAD versions available for each brand.

Both programs include all the fundamental features needed by users, including tool palettes, ribbon interface (with CUI support), XREF (external referencing), plotting in 2D, and much more.

They both allow you to work with blocks, albeit a little differently. AutoCAD LT uses Dynamic Blocks and BricsCAD uses Parametric Blocks. In BricsCAD, you can independently control the parametric values.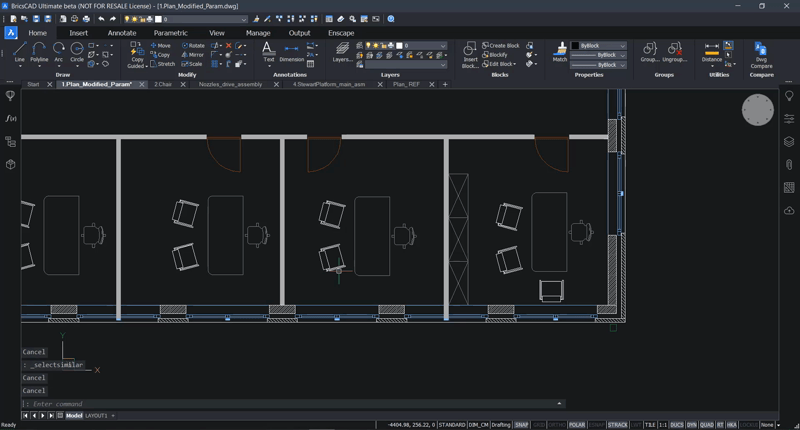 Adding and editing parametric blocks in BricsCAD


---
3D Modeling
When it comes to modeling in 3D, you need to choose to either the full AutoCAD license or BricsCAD Pro. These allow you to work in both 2D and 3D.

Both have 3D drawing capabilities, various camera views, walkthrough navigation, and more.
Designing a 3D model house is a simple as creating some shapes and using tools to push/pull extrusions and curves. This format essentially lets you design first and adjust later.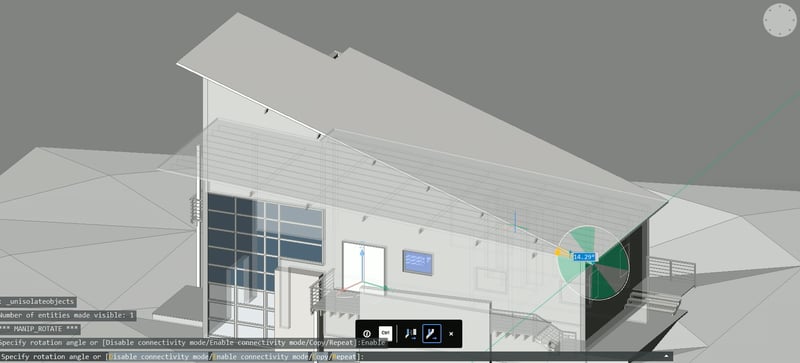 As with all versions of BricsCAD, the full version of AutoCAD supports custom LISP programming with AutoLISP.

3rd Party Plugins
There are literally hundreds of industry-specific, 3rd party applications to install and use inside of these CAD platforms. These include custom apps for electrical, structural, mechanical, HVAC, and more.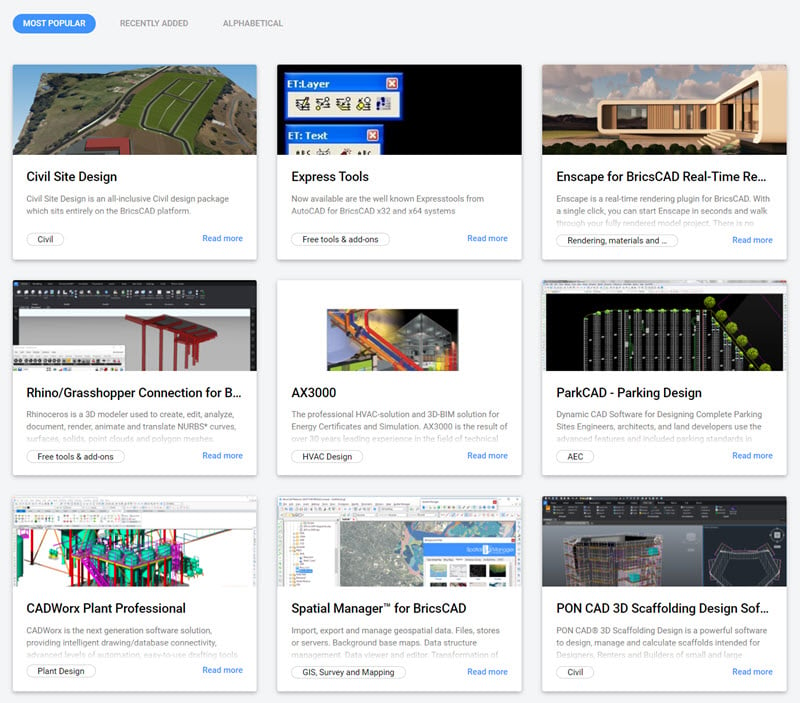 Both regular AutoCAD and BricsCAD Pro fully support these apps. Remember that neither AutoCAD LT nor BricsCAD Lite can run any 3rd party plugins.
Rendering Abilities
If you are designing in 3D then you probably want to generate an impactful image to from your 3D model. Both the full AutoCAD and BricCAD Pro allow you to add lights, makes objects transparent, add materials, and more to produce a presentation-ready image of your project.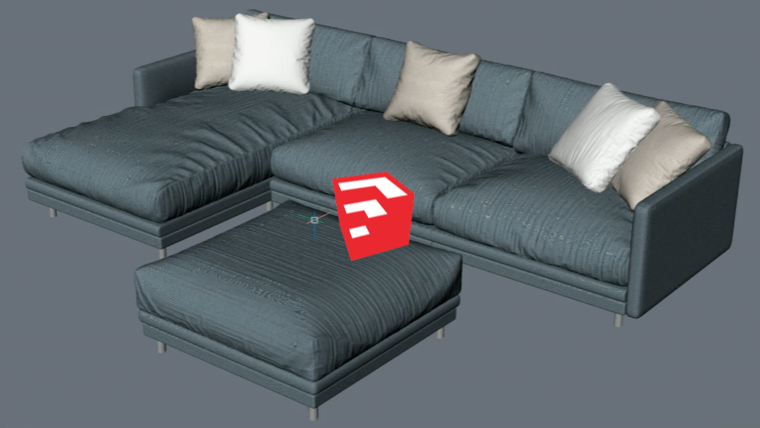 Once your project is rendered, you can save it as a BMP, JPG, or PNG file for easy saving and sharing. Both software applications are equally capable of rendering images from models.
---
Navigation and Interface
Experienced CAD users who try BricsCAD find a completely familiar layout and workflow. If you have used AutoCAD®, or another CAD platform, then you already know BricsCAD. The ribbon interface is extremely familiar. You can leverage what you already know with command line, script, and macro and menu capability.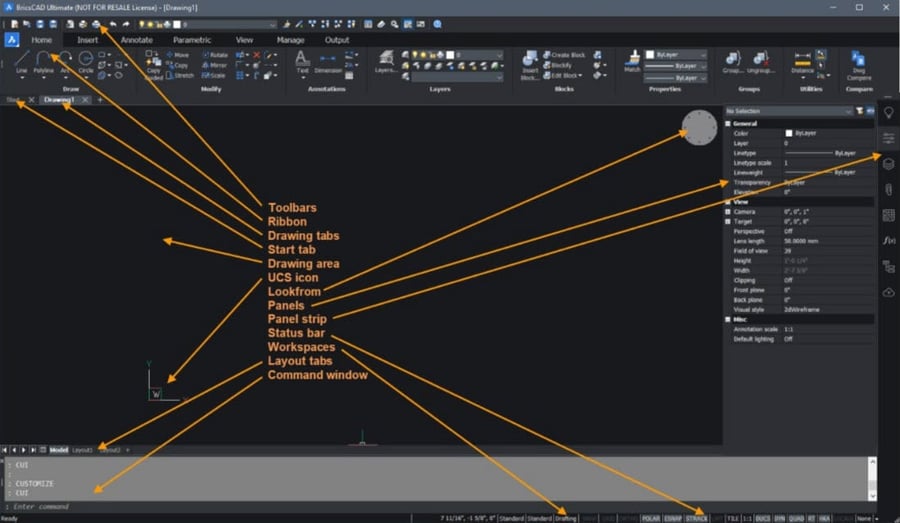 Command line compatible (most command names are the same)

Menu (.CUI, .CUIX) compatible

Macro/script compatible

Support file (.PC3, .LIN, .PAT, .DWT, .SSM) compatible
---
Keep and Use Your Existing Customizations
The CAD experience can be unique for everybody. Users often customize various interface elements to best suit their needs. This includes things like the command ribbons, tool bars, tool pallets, and LISP files. BricsCAD gives you complete control to manage your customizations individually. Prior AutoCAD users can import their exiting CUI files and keep their customizations.

To load a main CUI file, start with one of these actions:
Click the Load Menu tool button () on the Tools toolbar.

Choose Load Menu in the Tools menu.

Type menu in the command bar, then press Enter.

Open the Customize dialog, then click the Browse button.

Open the Customize dialog, then choose Load main CUI file ... in the File menu.

Select the main CUI file dialog displays: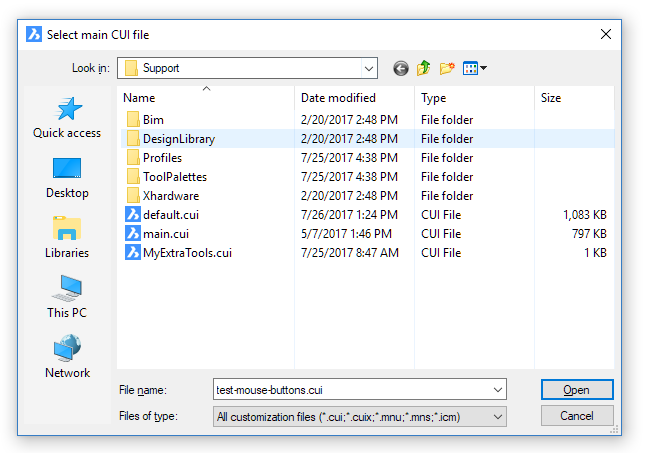 Do one of the following:
Double click a CUI file.

Select a CUI file, then click the Open button.

Tool Palettes
Tool palettes are a quick way of accessing tools in BricsCAD. Whether you prefer ribbons or toolbars, tool palettes provide the best of both worlds. Tool palettes can consist of commonly used blocks, hatch patterns, and commands.
How to access Tool Palettes in BricsCAD
The

ToolPalettes

command opens the Tool Palettes bar.
The

ToolPalettesClose

command closes the Tool Palettes bar.
The

TpNavigate

command displays a tool palette or a tool palette group.
On a tool palette you can add blocks, hatches, and commands in a tabbed window.
Drag a tool from the palette to the graphic screen to launch the related tool.
Import Tool Palettes in to BricsCAD
Open the Customize dialog box.

In the Palettes pane on the Customize dialog box, right-click and choose Import in the context menu.

On the Import Palette dialog, select a folder, then select a palette file (*.btc or *.xtp).

Click the Open button or double click to import the palette.

The palette is added in the Palettes list.

Click the Close button to close the Customize dialog box.

Customize Pallets
Move the cursor to the icon area of the Tool Palettes Bar, then right click. From the menu, select Customize Palettes in the context menu.
---

BricsCAD Flexible Licensing Models
BricsCAD offers the most flexible licensing model in the industry. Now you can choose between renewable annual subscriptions or purchasing a perpetual license and keep it forever. Plus, unlike AutoCAD, BricsCAD still offers network licenses that can be shared among users.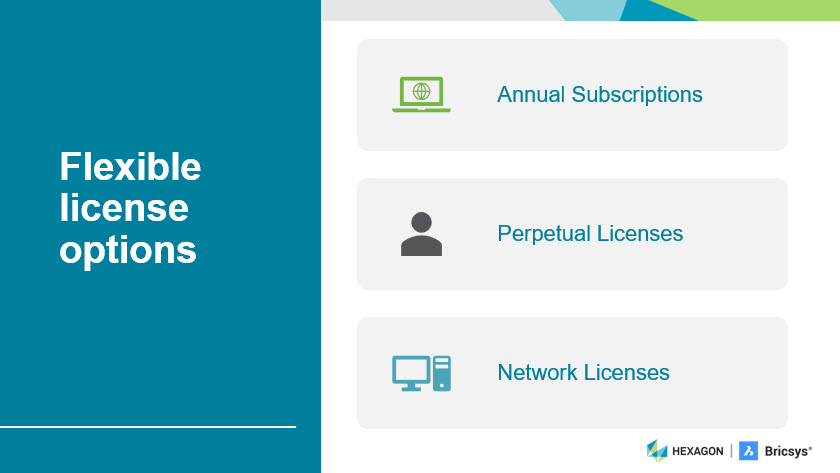 Bricsys has a completely different philosophy about software licenses. They give you the choice to either 'rent' the software via annual subscriptions, or you can still buy and own the software completely. In today's world, this seems like a novel concept, but Bricsys is sticking by it.

Buy BricsCAD once and own it forever.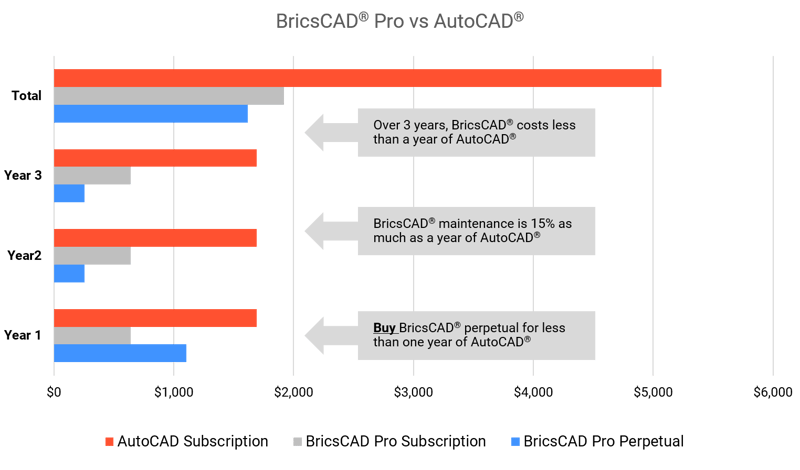 Perpetual licenses of BricsCAD can be kept current through annual maintenance support. If you select this route, the maintenance is the only recurring cost – potentially saving your company thousands of dollars.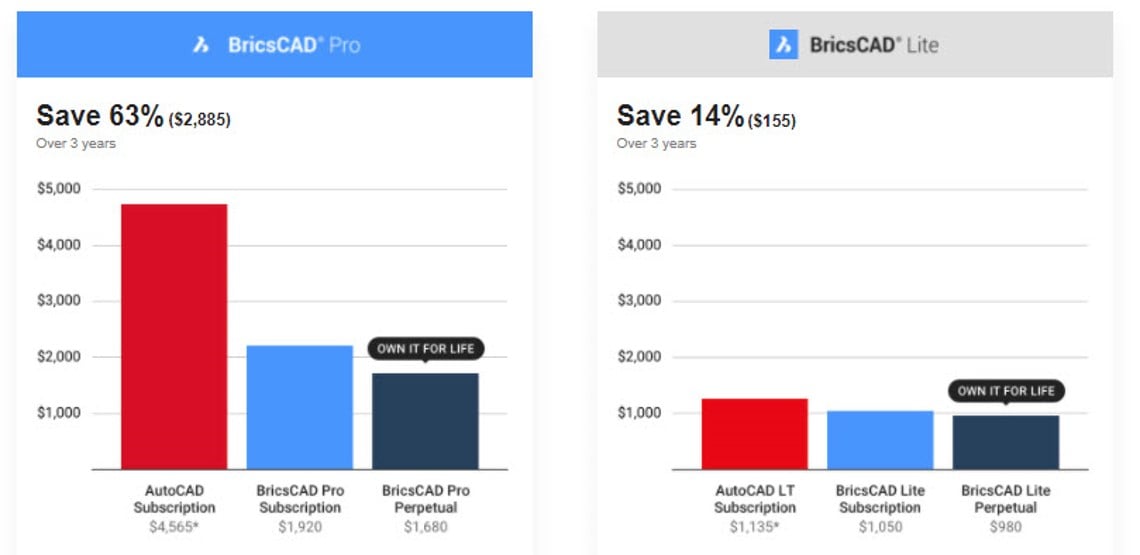 Network Licensing
AutoCAD is killing their Network License option.
BricsCAD, however, embraces network licenses. You can still get a network license of BricsCAD to share among multiple users across your network.

Likewise, this also works great with virtualization. Since COVID, many companies are transitioning to a flexible office/home policy with their employees.
This has further led to the use of virtual machines and cloud enterprises. If this is your situation, BricsCAD works great in this environment.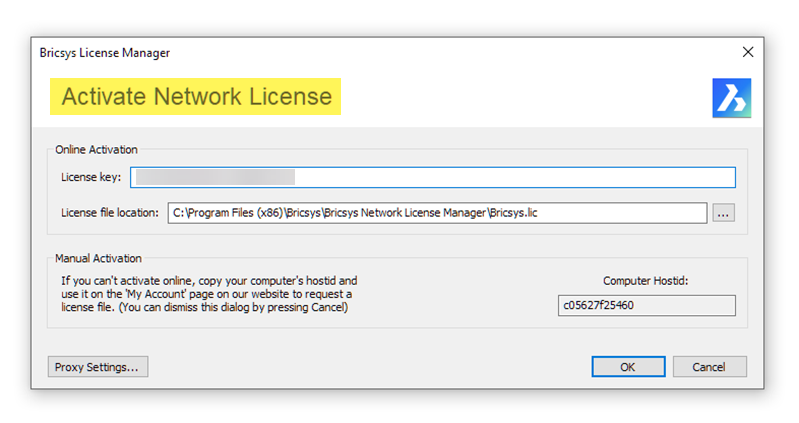 One word of caution though – BricsCAD network licenses are required to share in a network environment, NOT single licenses of BricsCAD.
Because of this, it is best to work with an authorized partner (like TAVCO) to ensure that you are purchasing the correct licenses for your specific needs.
---

Intelligent AI Tools

Today AI (Artificial Intelligence) is everywhere – self-driving cars, robotics, GPS, and even e-commerce deliveries. Today PCs have plenty of computing power and storage to power the tools to run some interesting machine learning applications. Bricsys has harnessed the power of AI to identify similar geometry in your files and provide help with repetitive tasks.

Automatically classify solids as building elements -BricsCAD detects walls, slabs, and columns. Yet, this can be extended to incorporate more specialized types like composites (curtain walls, stairs, roofs, etc.) and subtypes (inner and outer walls, roof slabs, front doors, etc.).

Repair your model – BricsCAD Optimize can repair modeling errors, like small gaps between solids, or other small errors, when trained to do so. Of course, if your design is made to have small gaps between walls, they should be left there. No worries, in BricsCAD the designer always has the final word. You can reverse, overrule, or ignore any design suggestion that you wish.

Create Blocks and Copy Intelligently – onboard tools such as Blockify, MoveGuided, and CopyGuided use the power of AI and machine learning to simply complex drafting issues.
---

QUAD Cursor

The Quad Cusor menu, or QUAD for short, is an alternative to the command line or toolbars, offering a rich set of tools while requiring fewer clicks, without cluttering the screen with loads of grip-glyphs. The rollover tips are a limited set of properties displayed when selecting or hovering over an entity.


To activate the quad, simply hover over an entity, the entity highlights, and the QUAD displays as a single button. The command displayed in this single button is the icon of the last-used command. You can either click this to quickly repeat the last command, as many times as you like. Or you can choose to expand the QUAD to show additional buttons of commands that are commonly used with the highlighted entity.

Using the QUAD might take a little time to get used to it, but it can ultimately save you a bunch of keystrokes as your most common commands are always readily accessible via your mouse.

To toggle the Quad On/Off, do one of the following:
Click the QUAD field in the Status bar (lower right side of screen)

Press the F12 function key

Edit the QUADDISPLAY system variable in the Settings dialog

Type QuadDisplay in the command bar, then choose an option

Click the Close button (x) at the top right corner of the Quad.
---

BricsCAD Manipulator
The manipulator is a versatile grip tool to swiftly move, rotate, scale and mirror selected entities. It allows for very fast and precise intuitive manipulation of an object. It can be used for manipulations in both 2D and 3D drawings. The Manipulator also give you the ability to mirror objects to create copies and/or multiple versions.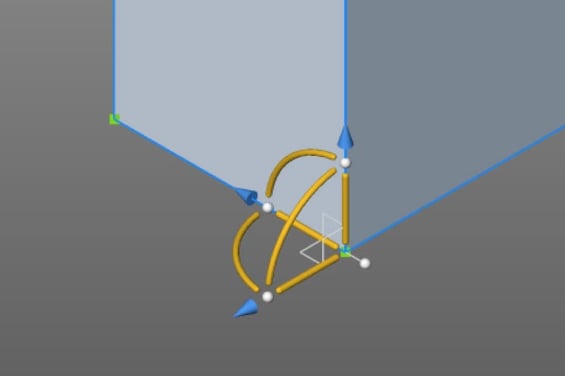 Activate the Manipulator by left-clicking on an object, using a slightly longer click than usual. Just click and hold for a moment. Once the manipulator appears, it has controls to allow you to move it quickly along established axes, planes, or along the radius of an arc. That latter allows you to rotate the object either with a specific degree increment or predefined increments.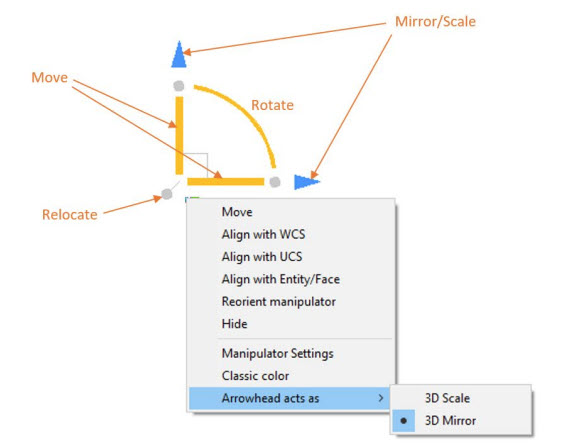 By default, the Manipulator displays at the center of the selection set. To move it, you can select the relocate grip and pick a new base point for the manipulation. As you move it across the drawing, it can automatically align with geometry enabling you to manipulate along any relevant axis. The default alignment is with the current UCS. Options on the right-click menu offer additional controls to reorient and align the Manipulator.
---
COPY GUIDED & MOVE GUIDED

These are AI Guided tools that enable you to automatically align moved/copied entities with relevant geometry using temporary guide curves. You can explicitly select entities to use as guide curves or let BricsCAD determine them based on your selection window.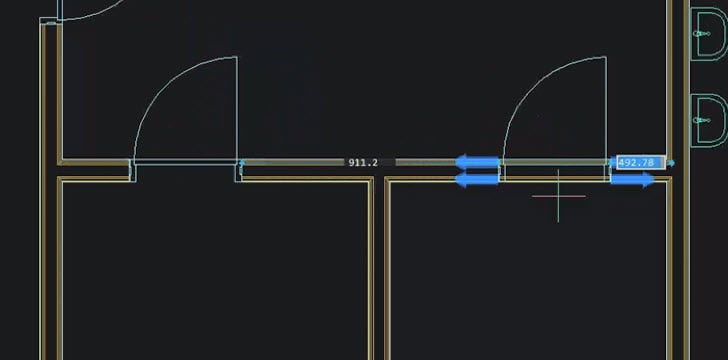 For example, if you use MOVEGUIDED to move a door from one wall to another wall, BricsCAD will automatically orientate, and snap, the door to the new wall. Simultaneously, it will heal the wall's geometry at the location where the door used to be and create a doorway at the new location.

COPYGUIDED works the same way as MOVEGUIDED, except the selected entity is copied rather than simply moved. However, the same AI guide curves are displayed to help you easily fit the entity into a new location with the proper orientation.

Lines or hatches will be healed in the area from where the object was removed. This is done very neatly as BricsCAD creates continuous lines and hatches.
---

Blockify

An amazingly powerful AI tool that automatically takes objects made of polylines and lines and converts them into blocks. This can be applied to 2D entities as well as to 3D solids. Plus, the Blockify tool can search your entire drawing for similar geometries to batch convert these repetitive sets of entities to blocks definitions. Ultimately it can do a lot of work for you in a matter of seconds.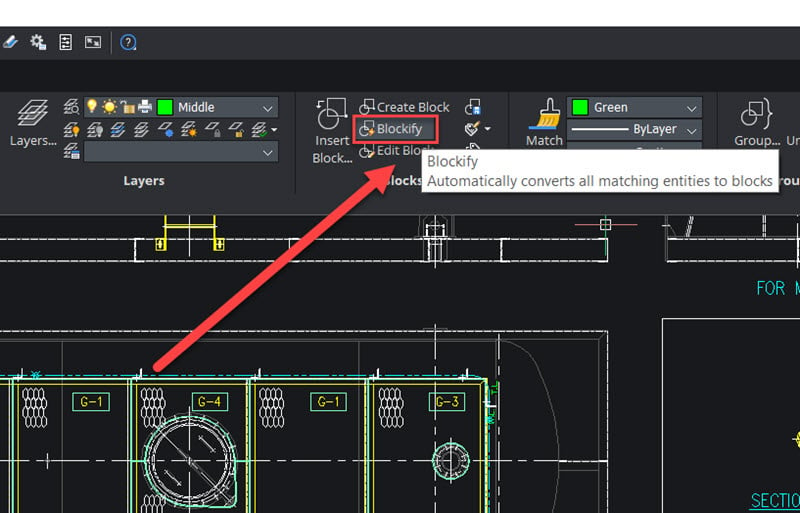 The Blockify tool is intelligent enough to detect matching geometry, even when the entities overlap with others.
In the following example, the geometry from 3 different motorcycles is copied on top of each other. And then, copied again and rotated. Using Blockify 3 times, one for each set of motorcycle geometry, it accurately converts the pile of motorcycle entities into 6 block references.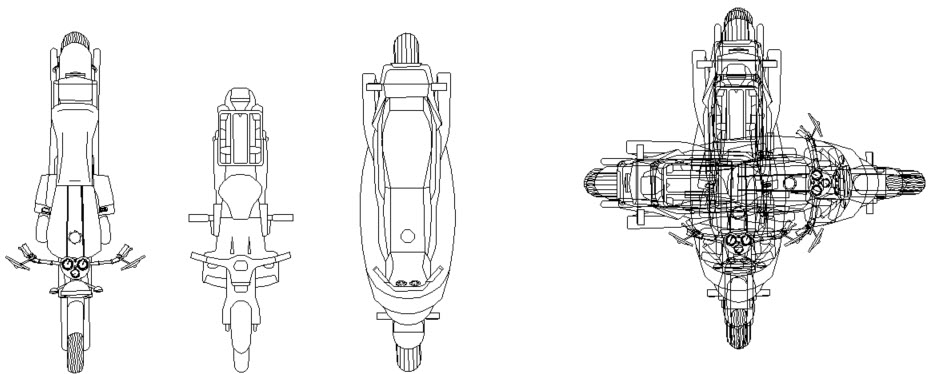 Once created, you can edit blocks with the BEDIT command or by double-clicking on the block you wish to edit. This displays the block entities in a temporary drawing session so you can create and edit a block definition.
---

Dynamic Blocks and Parametric Blocks

Dynamic Blocks created in AutoCAD® can be used directly inside of BricsCAD. Control visibility states and stretch, flip, and rotate just as you would in AutoCAD®. Although Dynamic Blocks can be used, they cannot be edited or authored in BricsCAD. That functionality is controlled by Parametric Blocks in BricsCAD.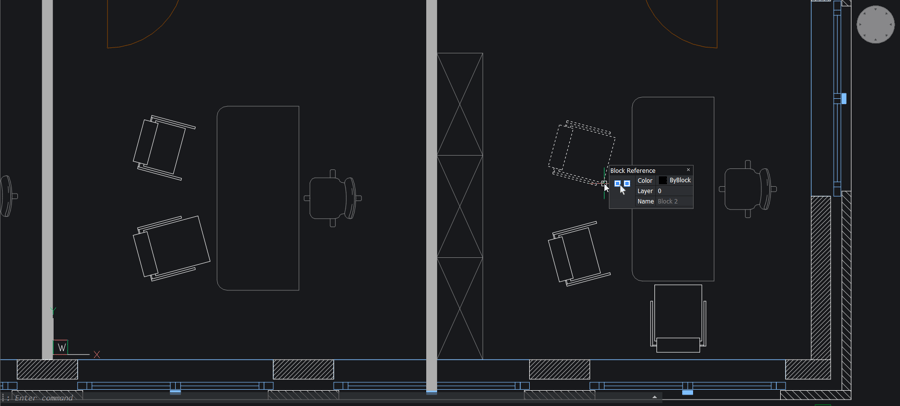 Parametric Blocks work in both 2D and 3D and deliver re-usable geometry that can be defined once and used repeatedly. You can adjust each insert of a parametric block to display with a different length, width and even, visibility state. All from a single block definition.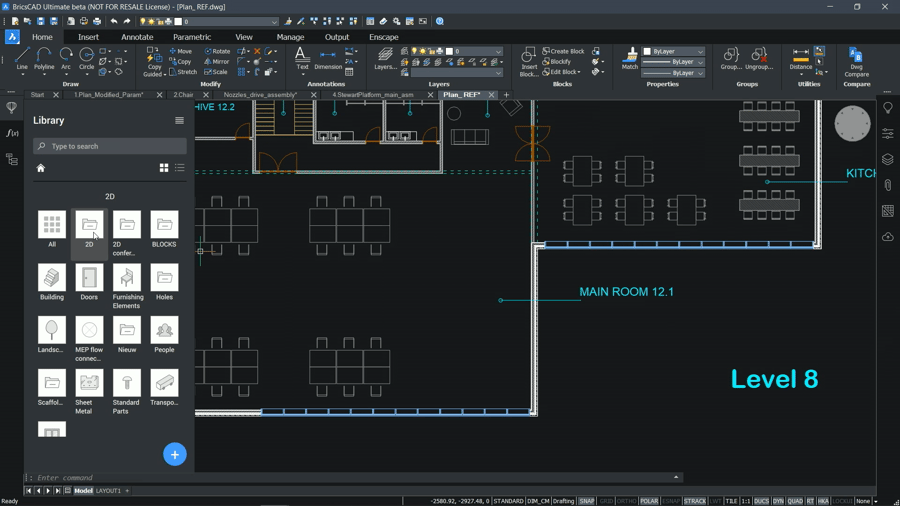 ---

Using Model space and Paper Space

When you first start a drawing session, the initial working area is called Model Space. This format lets you create two-dimensional and three-dimensional entities based on either the World Coordinate System (WCS) or a user coordinate system (UCS). You view and work in model space while using the Model tab.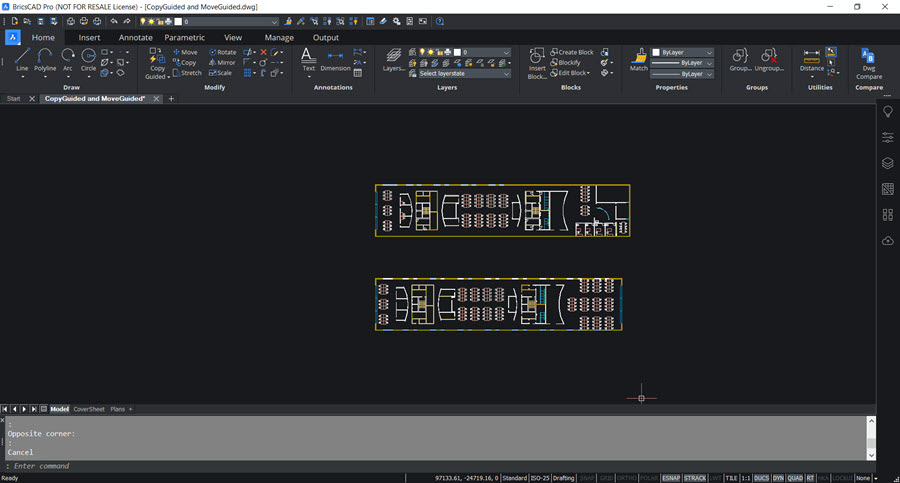 Model space consists of a single view that fills the screen. If needed, additional views, called viewports, can be created. These can show different views of your drawing or 3D model. All viewports are displayed in a tiled manner. You can work in only one of these viewports at a time, but all viewports are updated simultaneously. The Viewports command lets you manage your viewports in model space.

BricsCAD provides an additional work area, called ". Paper space represents a paper layout of your drawing. In this work area, you can create and arrange different views of your drawing like the way you arrange drawings on a sheet of paper. Paper space also allow you to add keynotes, annotations, borders, title blocks, and other print-related entities, which you do not want to see in model space.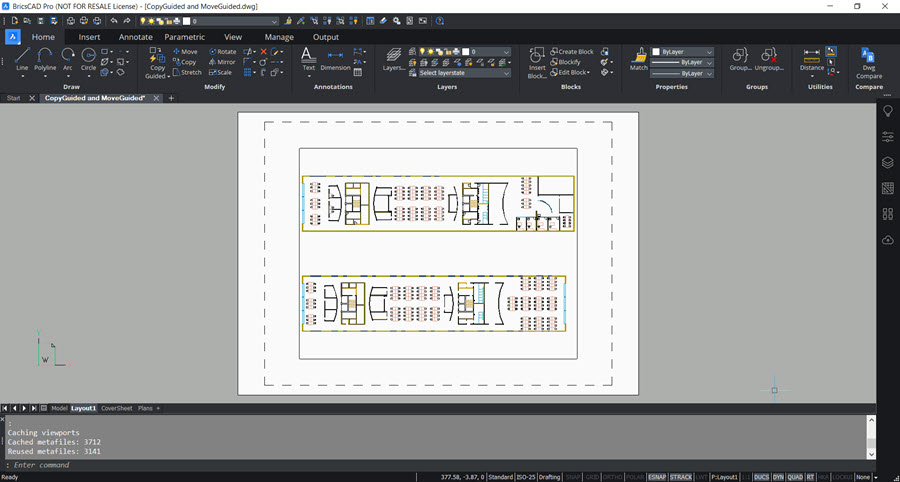 Each drawing has at least one Layout in which you can have one or more Layout Viewports. Such layout viewports are to be considered as a view window on your drawing in model space. Layout viewports can be placed anywhere in a Paper Space layout. Each viewport has its own scale and layer visibility. All viewports in the same layout can be printed simultaneously.
---

Drawing Explorer

See all the data for all open drawings together in one space, the BricsCAD Drawing Explorer. It makes the properties of your drawings easy to navigate and easy to search.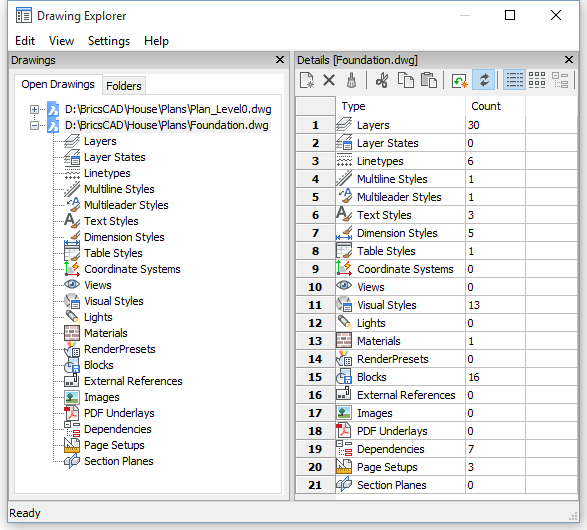 To open the Drawing Explorer
Click the Drawing Explorer tool button on the Standard toolbar.

The Drawing Explorer window opens showing the details of the most recently used category.

Click the Layer, Linetype, Text Style or Dimension Style field in the Status Bar.

The Drawing Explorer window opens showing the details of the clicked definitions category in the current drawing.

Choose Drawing Explorer in the Tools menu, then select a category in the flyout.

The Drawing Explorer window opens showing the details of the selected category.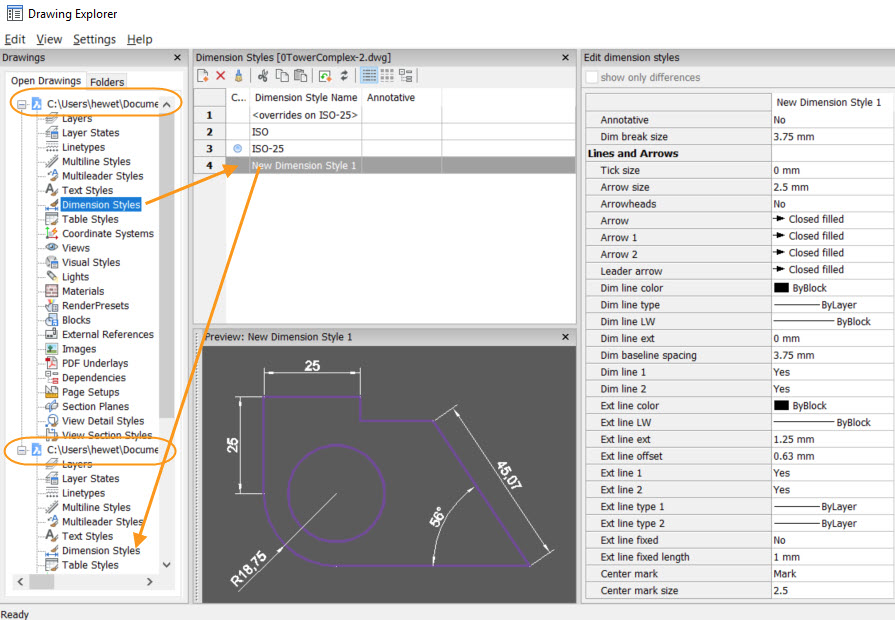 ---

BricsCAD Shape
What is BricsCAD Shape? It is a free version of the BricsCAD modeler to help you conceptualize your designs in native DWG file format. The BricsCAD Shape environment is always available for you to use. The other environments, including Drafting, Modeling, Mechanical, and BIM, are available based on your license level. For example, if you own a license of BricsCAD Classic, you can only launch BricsCAD in the Shape or Drafting workspace.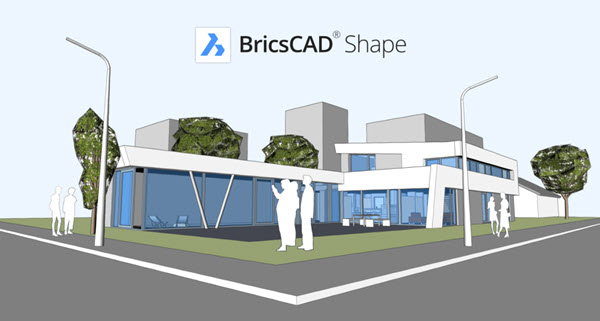 [ Learn more and download Shape for free ]
---
BricsCAD vs AutoCAD

Both programs serve the same function, allowing drafting and design professionals to create design and document designs quickly and efficiently. The applications are nearly identical in appearance. In fact, a casual AutoCAD® user would have to look rather closely at his or her screen to determine which one they were using.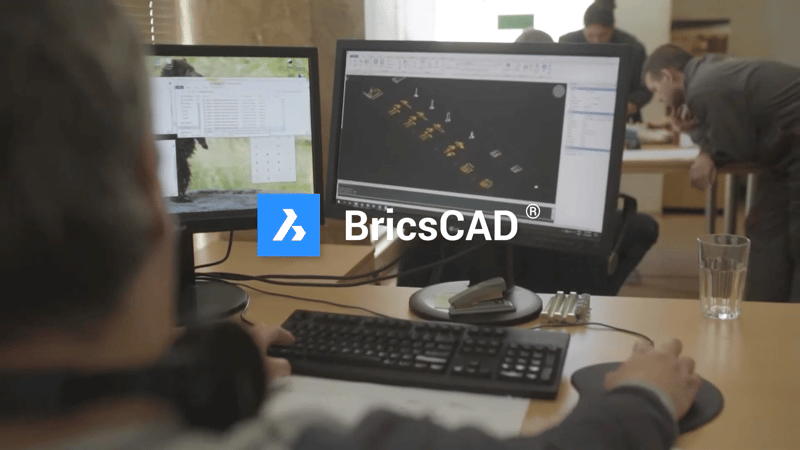 The truth is, the BricsCAD experience looks a feel a lot like AutoCAD, which enables BricsCAD to be a perfect AutoCAD alternative. The navigation is extremely familiar with the same ribbon and tabs layout. However, the BricsCAD layout is a bit cleaner as AutoCAD locates some of the "less often used" tool in a hidden panel under the panel title bar.

Overall, the learning curve of BricsCAD is quite short because of all the similarities with AutoCAD. Most users experienced in CAD can be fully up and running with BricsCAD within a day.

BricsCAD is faster than AutoCAD. Regardless of the size of your drawings, BricsCAD is smooth and responsive.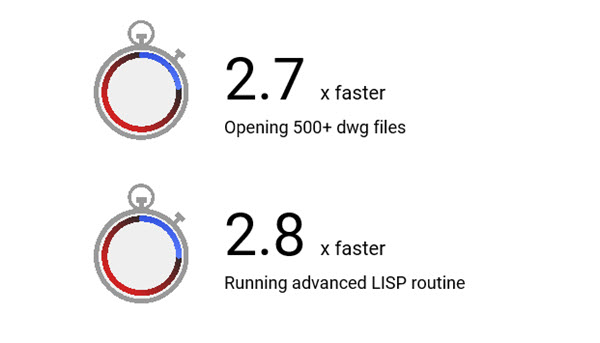 Another contributing factor to the speed of BricsCAD is the multi-threading, multi-processor support of the software programming that allows it to take advantage of today's multi-core CPUs. This results in files opening faster and functioning smoother than a similar session in AutoCAD.
Run LISP in BricsCAD (All Versions)
All versions of BricsCAD can run LISP routines, even the 2D Lite version. Conversely, AutoCAD requires users to get a full version to utilize LISP. With BricsCAD, as an alternative to AutoCAD, you can run LISP programs developed in AutoCAD or other CAD applications, or develop your own with the integrated BricsCAD LISP Advanced Development Environment – BLADE.


BricsCAD is built on Open CAD and the Pro versions and above have access to over 400+ third party applications.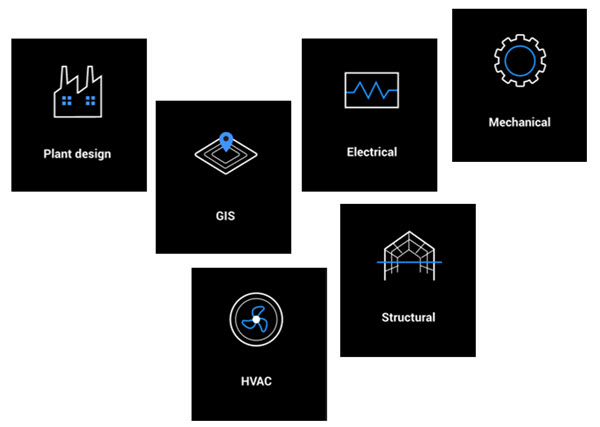 BricsCAD Cost Savings
Overall, BricsCAD costs less than AutoCAD, especially when comparing perpetual licenses of BricsCAD against AutoCAD's mandatory annual subscription model.


Learn more about BricsCAD vs AutoCAD
---

Who uses BricsCAD?
BricsCAD's powerful capabilities are used by a wide range of professionals across various industries. It is used by drafters, designers, architects, structural engineers, automobile engineers, manufacturers, mechanical engineers, electrical, plant engineers, cartographers, geographers, plumbers, chemical engineers, plant engineers, industrial engineers, and production engineers.

Several large corporations have already made the move to BricsCAD as their preferred CAD application. These include MAZDA, Tyco, BASF, Hyundai, Mitsubishi, Bosch, and others.

About Bricsys
Bricsys, a part of Hexagon AB's PPM division, is a global provider of the BricsCAD® brand of engineeringdesign software. We are relentlessly committed to the success of our customers. Bricsys offers its software at a competitive price, with industry-leading product support.

About Hexagon
Hexagon is a global leader in digital solutions that create Autonomous Connected Ecosystems (ACE), a state where data is connected seamlessly through the convergence of the physical world with the digital, and intelligence is built-in to all processes.

Hexagon's industry-specific solutions leverage domain expertise in sensor technologies, software, and data orchestration to create Smart Digital Realities™ that improve productivity and quality across manufacturing, infrastructure, safety, and mobility applications.

Hexagon (Nasdaq Stockholm: HEXA B) has approximately 19,000 employees in 50 countries and net
sales of approximately 3.5bn EUR. Learn more at hexagon.com
Related content:

Sources:
https://blog.bricsys.com/the-potential-of-ai-for-bricscad/
https://help.bricsys.com/hc/en-us/articles/360006539613-Tool-Palettes
https://blog.bricsys.com/new-bricscad-v19-blockify/
https://www.scan2cad.com/cad/autocad-vs-bricscad/