Canon Solutions America continues to experience incredible success with their innovative ColorWave Series as they surpass the 10,000th unit sold. This wide-format system redefined the market with a unique process called CrystalPoint Technology that blends the best of both toner and inkjet printers into one unified printing method. The dynamic nature of this machine allows it to print on an incredibly wide range of different media and produce images that are instantly dry. The Océ ColorWave 500 and ColorWave 700 systems have been tremendously successful for our company as well. So, it was a wonderfully pleasant surprise to see that Canon included TAVCO and one of our top clients, TBG Partners, in their recent press release. Check it out.
10,000 Océ ColorWave Engines Powered with this Technology Now Installed Worldwide
MELVILLE, N.Y., February 7, 2018 - Canon Solutions America, Inc., a wholly owned subsidiary of Canon U.S.A., Inc., Canon U.S.A., Inc. a leader in digital imaging solutions, is proud to announce an important milestone for its long heralded Océ CrystalPoint® technology: 10,000 Océ ColorWave engines, powered by this technology, have been installed worldwide as of December 2017, helping customers work with a vast and dynamic range of high-quality large format print applications.
Learn more about it in our comprehensive equipment guide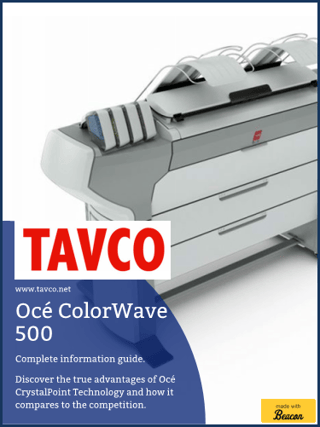 "This accomplishment demonstrates the expansive reach our products can have around the world and is ultimately a testament to the progressive approach we take when evaluating the print market and developing reliable solutions to help our customers experience continued success," said Toyotsugu Kuwamura, Chairman and CEO, Canon Solutions America. "This recognition is not made possible without our valued customers who remain an integral part of our development process and help push our technology forward."
The Océ ColorWave engines are sold and serviced both by Canon Solutions America as well as trained, authorized dealers of Canon Solutions America. TAVCO Services, Inc., a longstanding and loyal authorized dealer for Canon Solutions America, has a customer who stated the following about their Océ ColorWave 700 engine: "TBG Partners received our first Océ ColorWave 700 in June of 2015 and have never looked back," said Greg Nichols, chief technology officer at TBG Partners. "I have to say; these machines are as robust and reliable as our TAVCO service. I have never experienced a plotter I could depend on more or one that manages our workflow more effectively. Our Océ's take everything that we throw at them."
The genesis of Océ CrystalPoint technology began in 2008, when it was first introduced to the industry alongside the product line it still powers and supports today – the Océ ColorWave portfolio. This highly-efficient and robust portfolio comprises a family of versatile and productive large format color printers that help customers of all sizes around the world expand their large format print offerings. Now in its tenth year, Océ CrystalPoint technology offers users the best of both inkjet and toner: crisp, high-quality, waterproof color and black & white prints, even on economical uncoated media and recycled paper. The technology remains as prevalent and important as event, and is ideal for a wide range of applications that include CAD plots, maps and posters.
Why Océ CrystalPoint Technology?
Utilizing Océ TonerPearls, the Océ CrystalPoint technology works on the principle of Solid In - Solid Out. The Océ TonerPearls come in see-through cartridges, allowing users the benefit of seeing the remaining toner level per color in the system. Once the Océ TonerPearls are fed into the system, they are then heated into a gel. Subsequently, the gel is jetted onto the media by the imaging devices. The gel droplets are positioned with extreme precision and keep their shape even on recycled paper, ensuring crisp print quality with no feathering.
A mere few months before its tenth anniversary, the Océ CrystalPoint Technology is still at the core of the newest line of Océ ColorWave products – the Océ ColorWave 500 and 700 large format color printers. Designed to enable a wide range of print applications for print service providers, in-house or remote work groups and central print rooms worldwide, these large format devices feature cloud integration, multiple user support, workflows with security features, optional built-in scanner and a range of integrated output options.
To learn more about Océ CrystalPoint technology and the Océ ColorWave 500, please visit our ColorWave web page.
About Canon Solutions America, Inc.
Canon Solutions America provides industry leading enterprise, production, and large format printing solutions, supported by exceptional professional service offerings. With the technology offerings of the Canon and Océ brands, Canon Solutions America helps companies of all sizes improve sustainability, increase efficiency, and control costs through high volume, continuous feed, digital and traditional printing, and document management solutions. A wholly owned subsidiary of Canon U.S.A., Inc., Canon Solutions America is headquartered in Melville, N.Y. and has sales and service locations across the U.S. For more information on Canon Solutions America, please visit csa.canon.com.
About TBG Partners, Inc.
Founded in 1987 in Austin, Texas, TBG Partners is a distinguished design firm that employs creativity and placemaking expertise to create memorable settings and elevate environments from ordinary to extraordinary. By developing and articulating the story of the place, TBG's project solutions accommodate multifaceted environments that provide meaning and introduce elements of nature into life's moments. The resulting places harmoniously unite artful design with context, purpose and vision. TBG's practice synthesizes the sophisticated design perspectives and creativity of more than 140 dedicated individuals, and our collaborative, hands-on approach ensures that the best ideas from around the firm rise to the top and guide our practice. The result of this organizational framework is an adept, uniquely responsive team that seamlessly unites six offices practicing as one unified firm.
About TAVCO
TAVCO Services, Inc. is a premier provider of wide-format printing equipment and software solutions from Canon, Océ, Formlabs, and Bluebeam Revu. Since 1984, we have supported a wide range of Architectural, Engineering, Construction, Manufacturing, Government, and Oil & Gas companies with new equipment technologies, comprehensive service plans, software, and top-notch service and support. What makes TAVCO different is our extremely focused dedication to wide-format and technical printing systems. We are neither a reprographic shop, nor a typical office copier company. All of our training, knowledge, and experience is specifically dedicated to the technical systems that are mission critical to our clients.
Founded in Austin, TX, TAVCO has evolved to become one of the most dynamic and trusted companies in Texas dedicated to technical printing equipment. With one of the most experienced service teams in the State of Texas, TAVCO is here to keep you printing. Currently, our direct service area includes the cities and surrounding areas of Houston, Austin, San Antonio, Dallas, Fort Worth, and Corpus Christi, TX.
Read the official Canon Solutions America press release

Want to know how the ColorWave 500 can turbocharge your printing?