If your business is dependent on reliable wide-format printing, you need to ensure that your staff can have the performance that they need, when they need it. Whether you are looking to replace an old LED plotter or simply make the upgrade into a toner system from ink jet technology, the Océ PlotWave is a solid contender. Here are 3 reasons why you should consider an Océ PlotWave 360.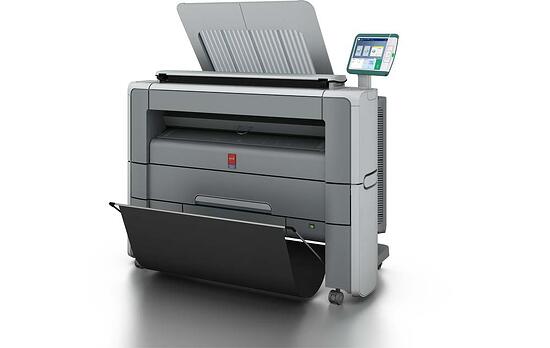 Speed & Performance – Reason #1
In today's fast-paced CAD environment, speed and efficiency is everything. The more efficient you are, the more successful your company can be. Think about a time you had a very important, time-sensitive bid that required you to produce a large set of blueprints yesterday! That is when it pays to have equipment that is always ready. It can make the difference of winning the business or letting your competition take it. Here's how it helps you meet your most crucial deadlines.
No warm up time thanks to patented

Radiant Fusion


Prints 6 sheets a minutes vs 2 a minute standard ink jet

2 x 500 GB hard drives for speedy uninterrupted printing of large, complex files.
Equipment Longevity – Reason #2
Entry-level ink jet plotters are neither designed for large duty cycles nor extended years of use. In fact, the average life expectancy for today's ink jet plotter is only about three years. Surely there are situations where this isn't a big deal, but it could be more of a headache than you think! Consider the time it requires to search, negotiate, and install capital equipment in your office. It only makes sense to invest into a solution that will meet your higher-volume demands for many years.
Océ equipment has been uniquely designed to have a longer life cycle. See a few attributes exclusive to Océ technology
Patent Radiant Fusion vs Heated Fusion pressure rollers

Built with durable metal vs Weak plastic

Less moving components = less parts to replace

All Océ parts & software are designed and manufactured by Océ

which allows for no 3rd party interference or complications.
Intuitive Equipment & Software – Reason #3
Having an easy to use plotter that can be operated with virtually no specific training can make all the difference in the world! Human error can be a big problem, especially in today's work environment when a single person has to do the job of three people! Having a system that is user friendly can save you time, stress, money and help eliminate much of the human error factor.
Clean toner system

-

The completely closed toner system is within easy reach and easy to c

hange. There are no long tubes or open containers to mess with. Toner can even be added "on the fly," while the PlotWave is printing. No more stopping a big print job to replace toner
Neat delivery Tray System-

The top delivery delivers printed drawings on the top of the PlotWave for easy access. Air separation is the process of blowing a cushion of air under each sheet that exits the machine to eliminate any sticking that may happen from static cling. This allows you to print out 50 neatly stacked prints without the worries of paper jams
Océ Color Image Logic Technology

Software- This software runs without any user interaction while making copies and scans. Image Logic automatically cleans up dirty originals by fading out noisy backgrounds as are common with old blueline plans. Image Logic also compensates for light colors and wrinkles to give you excellent results from less-than-perfect original documents.
Océ Clear Connect Multi-Touch Panel

– This is the interface that controls the plotter. It functions much like a Tablet device. You can zoom, swipe, or navigate with a simple touch. The large full-color display also allows you to preview scanned images. It is by far, the simplest user-interface on a wide-format system.
When large-format documents are a critical part of your business, choosing the right equipment for the job can have a positive impact to both employees' productivity and overall operational costs. Although every business is different, it may be wise to do your due diligence and think long-term when considering wide-format equipment. In that case, investing in a reliable and durable system, such as the Océ PlotWave 360 could be well worth it.