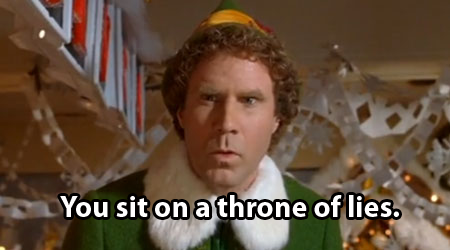 You know that competition is getting fierce when the inflammatory statements start flying. In this case, Kip America Corporation has been exaggerating claims in an effort to support their 800 Series Kip Printer. This model is a direct rival to the Océ ColorWave 500 from Canon. The common ground between these two is that they both use a dry-toner process rather than liquid ink to produce full-color wide-format documents. However, they use completely different technologies that are as far apart as fire and ice. Here are 5 myths that KIP is attempting to spread about the Océ ColorWave and the actual truth behind them.
Monochrome Print Speed
Kip Myth – The Océ ColorWave 500 prints at a slower speed of 3.5 D-size sheets per minute as compared to the 8 D-size per minute of the Kip 800 Series.
Océ Truth – The CW500 is rated for a speed of 4 D-size sheets per minute. Although half the speed, the fact is that the average user of these types of machines only prints 35 sheets per day. Is it really that vital to get those daily prints out in half the time? Probably not. Also, Kip had to give up print quality for speed. So, it really comes down to what you want - lesser quality prints faster or waiting a bit longer for amazing prints.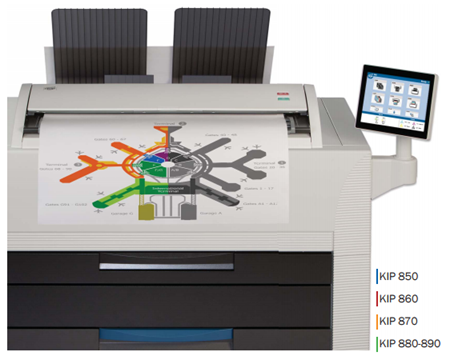 Color Print Speed
Kip Myth – The Océ prints between 1-3 D-size sheets per minute depending on coverage. Variable print speed substantially slows down with high coverage on page.
Océ Truth – "High coverage" is associated with graphics printing. The output of the KIP is not suited for graphics applications. This is because the overall color image quality of the KIP is not breathtaking. The colors tend to look flat and over saturated. Also, because the KIP 800 Series runs at a hot temperature, there are not nearly as media options with the KIP as there are with the Océ. Admittedly, the KIP is a faster printer, but the Océ is much more dynamic. What the ColorWave lacks in speed, it more than makes up for with extra productivity.
Operating Costs
Kip Myth – The Océ CW500 is extremely expensive to operate. Like inkjets, the "wax coated consumables" are costly.
Océ Truth – The entire basis of the ColorWave's CrystalPoint Technology is so that a user can use standard, inexpensive, and uncoated media and still get top-notch results. This format of primarily using standard media will greatly reduce your overall print costs. Plus, the ColorWave is capable of printing on a wide range of premium medias that are just not possible on the KIP, such as Tyvek and Polypropylene.
Sadly, the KIP is limited to ONLY uncoated media. This severely limits your options.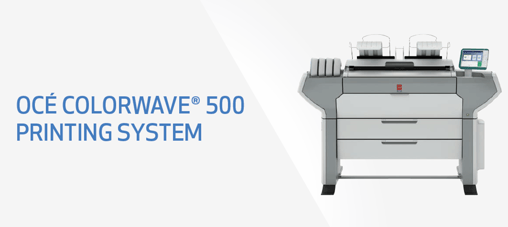 Technology
Kip Myth – Océ uses a "wax-based" melted ink technology.
Océ Truth – The TonerPearls are NOT wax-based. Think of them as solid toner spheres made of a specially-formulated polymer with a crystallization agent that transforms into gel once heated to the appropriate temperature. Secondly, the Océ employs Imaging Devices, NOT traditional print heads.
Unlike inkjet printers, the ColorWave's Imaging Devices are not reliant on any type of liquids or plumbing. The technology is based on solid-in, solid-out process. This means that you can turn the unit off for long periods of time and not worry about the Imaging Devices and other consumables drying out.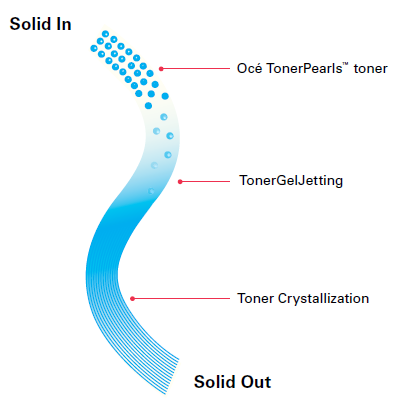 On the other hand, the KIP 800 utilizes a very dated xerographic process including a drum and hot-fusers. Although fast, this process necessitates the need to run extremely hot. This can result in quite an unpleasant machine environment in the summertime if there is not sufficient cooling available.
Ability of TonerPearls to Handle High Heat
Kip Myth – The Océ ColorWave 500's wax-base toner limits the ability to high-heat situations without melting.
Océ Truth – The ColorWave TonerPearls melt at approximately 250°F. If you print is exposed to temperature higher than that, you probably have bigger problems to worry about.
Conclusion
When it comes to the competitive Kip talk track, don't believe the spin. The truth is, the Kip is faster, but the Océ is much more dynamic and diverse. So, the CW500 is not anemic as Kip would like you to believe. In contrast, the Océ, powered by an innovative and patented CrystalPoint technology, is capable of things that make the Kip green with envy – Océ Green! (Inside joke if you've been in the business a while) :-)
Discover the Legendary Océ ColorWave 500