No doubt, the COVID-19 Coronavirus pandemic has completely transformed the landscape of how people live and work. Starting around April 2020, mandatory shutdowns required companies to instantly shift to a remote workforce.
This sudden change propelled the office environment in the future, forcing organizations to figure out how to get work done from remote/home offices, not for merely for convenience, but for necessity. Many were able to embrace this change easily but, not without some unique challenges.
All industries were universally affected, but construction related business have generally weathered the storm better than others. Through it all, construction never really stopped. Some projects were paused, others cancelled, but many simply kept moving forward as planned.
Let's be honest, people have worked from home for years. Technologies like video conferencing, file sharing, and VPN access are nothing new. But, up until March 2020, these platforms simply provided flexibility and convenience - they were not exclusive or mandatory to the overall operation of a business.
Construction crews continue to work onsite with new social distancing measures and hygiene practices. Likewise, most AEC (architectural, engineering, and construction) companies chose to migrate most, if not all, of their non-field personnel to work remotely from home. This has resulted in an unprecedented tidal wave of reliance on technology.
New tools are needed to enhance the remote office experience. Besides standard company-issued PCs, CAD/BIM software licenses, and smartphones, companies also need to consider some additional solutions.
See how technologies such as Bluebeam Revu, Reality Capture Solutions, and small-office plotters can help round out your home-office tech stack.
Collaborate Remotely with Bluebeam® Revu®
Bluebeam Revu is a powerful software application that fully utilizes the dynamic power of PDF files. From digital markups, takeoffs, job management, and even real-time, cloud-based collaboration, Bluebeam Revu provides the right things to help Project Managers, BIM/VDC Directors, CIOs, and Architects make drawings, plans, and documents work smarter.
Learn more about Bluebeam Revu and who uses it
The people who generally get the most from it are Project Managers, Estimators, BIM/VDC Directors, and Architects. There is a lot that these users can do with the software. But, when it comes to working remotely from home, probably the most beneficial feature is Bluebeam Studio. This makes Bluebeam a fantastic work remotely software choice.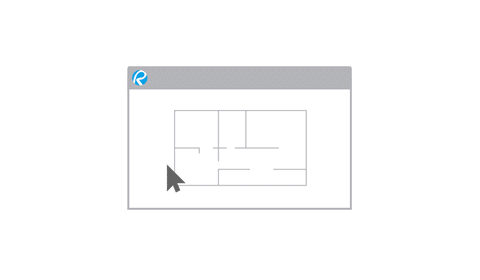 Enjoy a free Trial of Bluebeam Revu
Bluebeam Studio is the completely free, cloud-based collaboration platform that comes with every license of Revu. It enables all project partners and team members to connect in real time.
This connectivity gives all authorized users a single source of truth regarding project files. To achieve this, Studio offers two different way to collaborate, Studio Projects and Studio Sessions.
Bluebeam Studio Projects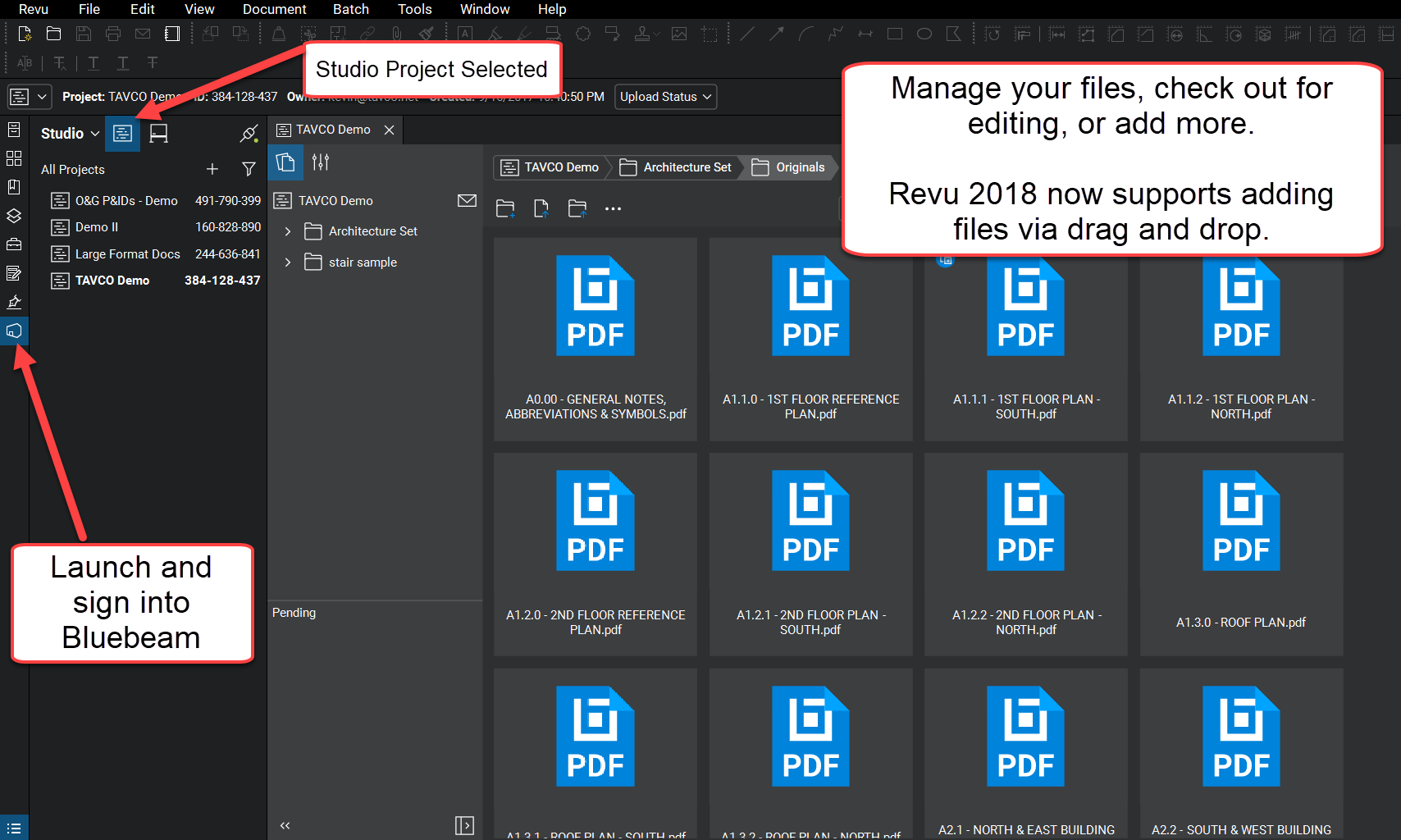 Studio Projects functions like a Project Management platform. Upload your project files and/or directories to Studio and start sharing. Bluebeam will even keep the integrity of your file directory, so there is no need to make any special changes.
You can upload any file type you like including Word documents, Excel Spreadsheets, images, PDFs, DWGs, etc.
Note: Bluebeam Revu will only open and view PDF files. Any other file types will require another software application capable of performing that task.
Once the files are loaded into a project, you can invite anyone you like to be part of that project via email. Once they have permission, they will see the most current version of the file available. So, if any changes have been made, the cloud-based version will reflect that.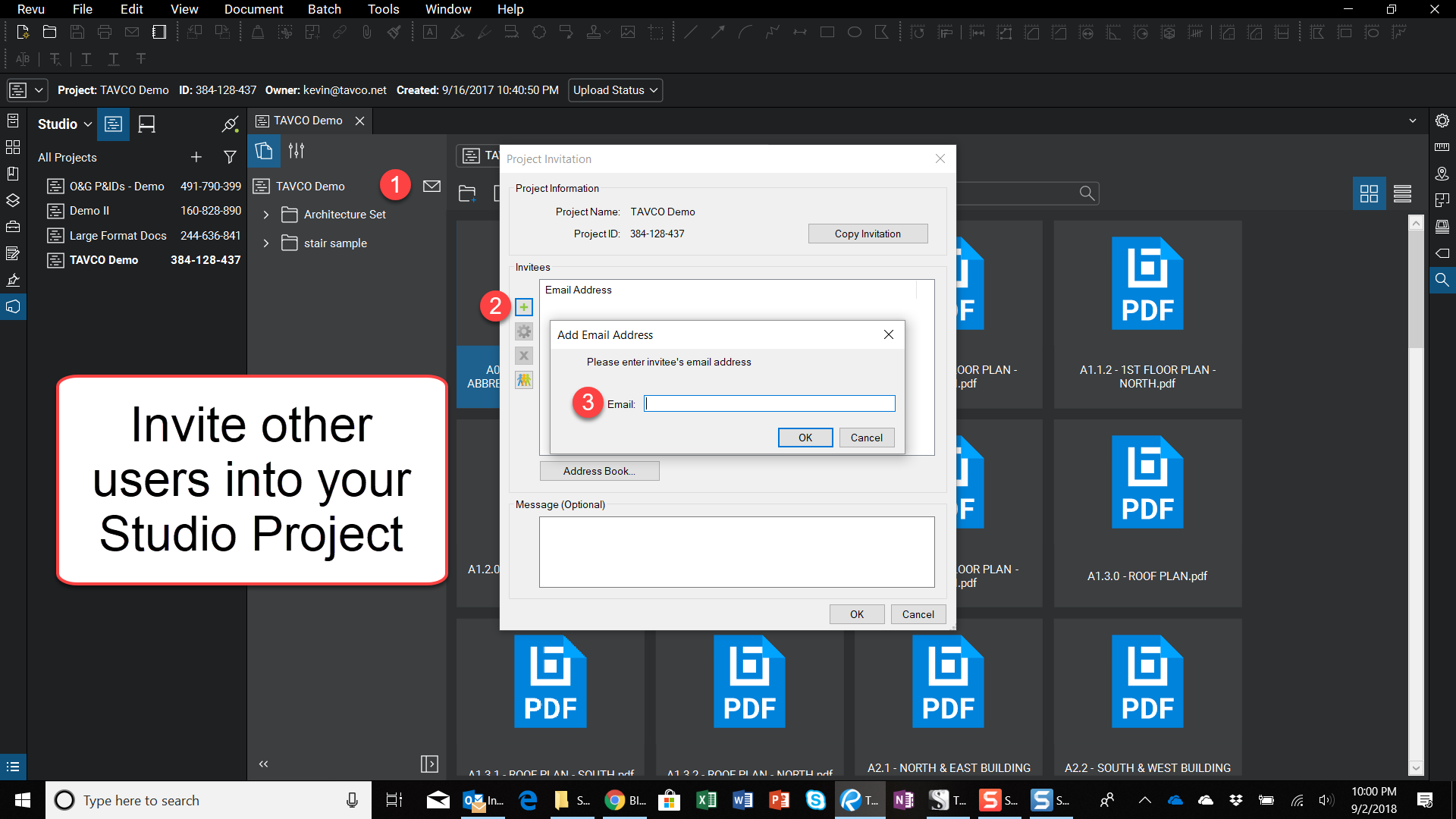 It is important to point out that Studio Project files are controlled though a library process where users need to "check out" files to get control of them in order to make changes or annotations. While the file is checked out, all other users will have view-only access to the latest saved version in the cloud.
Once the file is checked back in the project, it is updated and becomes the latest version of record. Having this type of remote connectivity on a project can be a game changer for employees working from home.
As powerful and versatile as the Studio Project platform is, sometimes it is important to meet and collaborate on a project in real time. That is where Studio Sessions can help.
Bluebeam Studio Sessions
Studio Sessions is a truly powerful collaboration tool that allows you to meet with others live to review and annotate drawings. Think of it as a digital meeting room. You can either created a brand-new session or take any file in Studio Projects and launch a Session.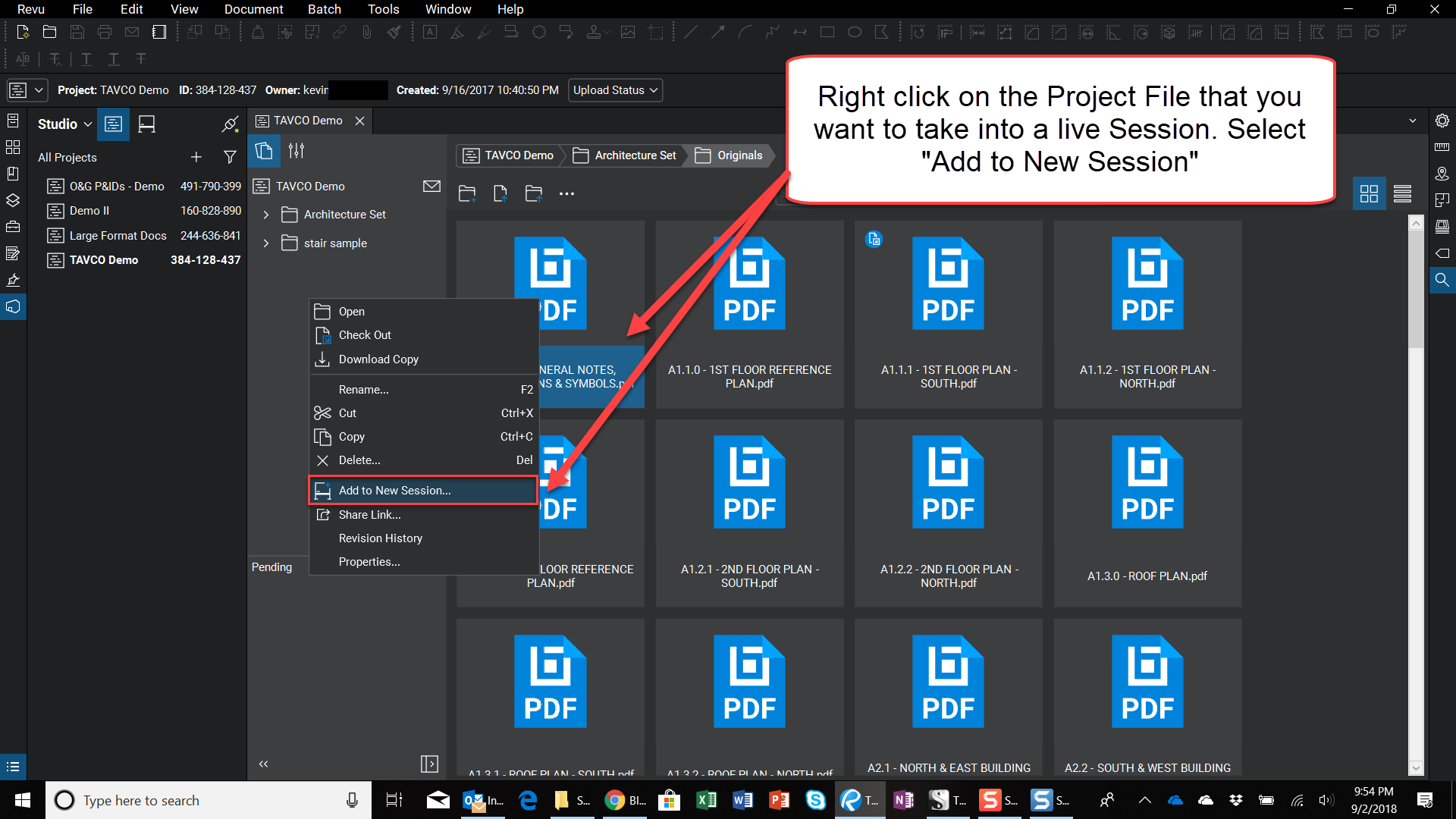 You can add markups to the same PDF document together in real-time using Studio Sessions, or individually at any time while the Session is active.
All markup activity is tracked in the record that links back to the Session PDFs. Plus, there is a built-in chat feature that conveniently allows user to communicate during the collaboration Session.
Learn more about Bluebeam Revu and who uses it
Obviously, Bluebeam is a remarkable tool for working with PDF plans, but how can you better verify and gather information from the job site? Level up the latest reality capture technology.
Reality Capture Solutions
Reality Capture (also known as RC) is technically known as either LiDAR (Light Detection and Ranging)or photogrammetry, depending on the specific technology used. Essentially, it is the digital process of collecting accurate measurement data about real-world conditions.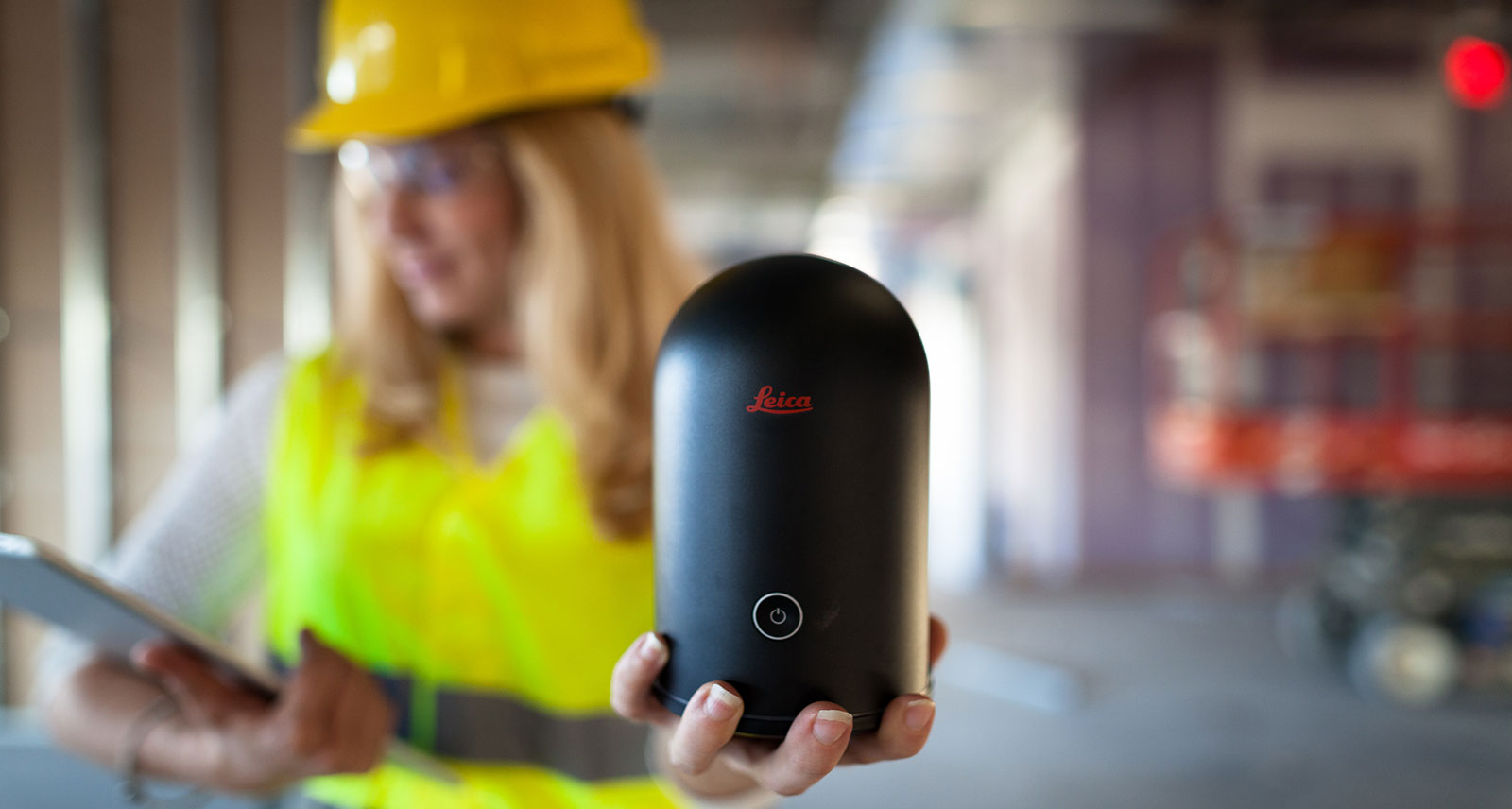 Gathering this data is achieved through equipment that can capture this information, such as a 3D laser scanner, to produce dynamic images and 3D point clouds. Photogrammetry is the process of measuring distances from 2D images. This is usually done through software applications or a dedicated device, such as a Leica BLK3D Imager.
A point cloud is a large set of data points represented in a coordinate system, containing X, Y, and Z coordinates and can also contain RGB values for each individual point. When an area is scanned, hundreds of thousands of points are collected. The resulting image is a point cloud full of vector data which can be very accurately modeled, measured, and imported into BIM applications.

How can Reality Capture help me?
Some construction industry leaders believe that nearly 80% of all existing structures do not exist in a digital CAD environment. Since these older buildings only exist on paper, the process for recreating these structures in CAD are both time-consuming and prone to errors.
Laser scanner measurement is the fastest and easiest way to capture real-world data and import it into a CAD environment. Measurements that used to take a crew of four workers several days can literally be captured in minutes with a construction laser scanner or 3d imager.
No doubt, some companies have already stepped into this realm, either with a 3D laser scanner or a UAV drone capable of this type of imagery. But, for those who have not yet made the move - get comfortable with the idea that it will happen.
These tools are fantastic for working remotely because they greatly minimize both the number of people needed to measure a site and time spent on site. Site verification that used to take a crew several days can now be done by a single person is just a few hours.
Wide Format Plotter for Home Office
While new technology continues to propagate throughout the construction industry, don't discount the value of a traditionally printed architectural drawing. After all, you can't spread out an iPad display on the hood of a truck, and printed plans are not reliant on the quality of a cellular signal.
In fact, many companies who openly embrace digital workflows, still maintain the practice of printing "check sets" of plans. There is something about the experience of viewing full-size printed plans that a digital screen can't reproduce.
As an example, think of when you had to send an important email to a group of people. No matter how many times you review the copy onscreen, you almost always recognize a mistake if you print out the sheet and review it before hitting send.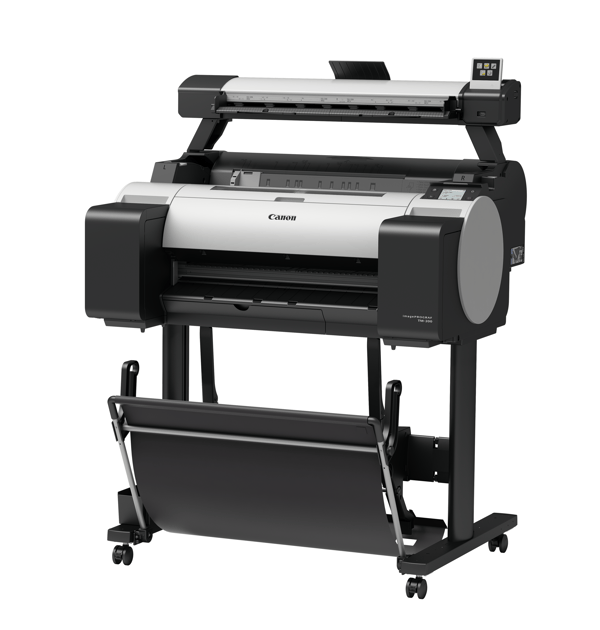 Even though most companies only print a fraction of the plans that they did a few years ago, the need still exists. So, even through your workforce is still remote, having a small, low volume unit handy can be a valuable asset.
Luckily, there are some small, 24 and 36-inch plotters and plotter/scanner MFPs available that perform nicely in a home office environment. [See some remote office plotter options here]
A Lasting Change
One thing is for certain - things will probably never return to the way that they were. AEC companies are taking stock of the situation as most of their workforce has moved to a "work from home" posture as the work remotely policy becomes standard.
Likely, there are elements of this that will remain long after the Coronavirus pandemic resolves. Some reports have even mentioned that an estimated 20% of the workforce will NEVER return to traditional office. Working from home is here to stay.
So, the question is, are you prepared for long-term changes? Do you have the right tools in place to work remotely indefinitely? Maybe it's time to start laying out some battle plans.
How can we help?
During these challenging times, we are prepared to stand by you, answer any questions, and share information that can help you better serve your stakeholders. Please feel free to contact us for anything. Stay safe.
Bluebeam, Bluebeam Revu, eXtreme, Batch Link, and Studio are registered trademarks of Bluebeam, Inc., used under license.