Here's a chance to take a look at two of today's popular low volume CAD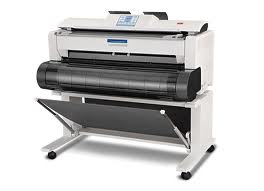 plotters - the
Kip 700
and the
Océ PlotWave 300
.
See thew CAD plotter comparison of these two units. We've broken the details down for you.
Description
Kip 700
Océ PlotWave 300
Océ PlotWave 300 Advantage
Productivity

Mechanical print speed:

2.9 D-size sheets per minute

4 minutes when printing the first print from a cold sleep

Mechanical print speed:

4 D-size sheets per minute

45 seconds when printing the first print out from a cold sleep

Typically, in low volume print environments, the system is not printing continuously. This intensifies the need for instant availability of the system.

The Océ PlotWave 300 uses Radiant Fusion technology. This process comes up to temperature much faster than the Kip 700 and results in more prints out in less time.

Design for Durability


Drum and other internal mechanics are fully exposed when clearing media jams.

The drum and other internal mechanical components are completely enclosed and protected.

Due to exposed components, the KIP 700 is susceptible to expensive drum damage whenever the unit is opened to clear a paper jam. Kip's user manual even indicates that "It is recommended to take off your ring, bracelet, or watch when removing a mis-feed media."
Media Capacity and Handling

1 roll only

1 or 2 media rolls

depends on machine's configuration

The PlotWave 300 has greater media flexibility.

Document Stacking

Front catch basket only. No proper stacking or document collation resulting in messy and mixed-up prints and copies.

Top delivery tray with integrated air-separation system.

Paper output is neatly stacked and easily accessible on top of the printer. No additional floor space is required for a table to sort the output.

The Océ PlotWave 300 was designed from the ground up for neatly stacked and easily accessible document retrieval from the top of the unit. Likewise, the Air Separation Systems keeps documents from hanging up and creating a mess.

The KIP 700 drops its prints into a front catch bin. This leads to unreliable collation and potentially messy output.

Toner Handling

KIP advertises 100% toner efficiency. The added benefit claimed is that no waste toner receptacle is needed.

Closed toner system avoids pollution of system and surrounding work environment.

In practice, because the KIP does not use a waste toner receptacle, waste toner is either re-circulated through the system or emitted into the environment.

Since old toner contaminants are not removed, the KIP 700 requires frequent service to prevent poor print quality and breakdowns.

Intelligent Scanning Technology
None
Océ Color Image Logic technology automatically compensates for wrinkles and background to produce superior results without losing information in light colors.
Image Logic overcomes the limitations of conventional CIS technology scanners to provide the right results the first time, without users having to manually fine-tune complex settings.
Key takeaway advantages of the Océ PlotWave 300:
Faster first print out from a cold sleep
Protected drum and other internal components
Great media flexibility
Top paper delivery system with air separation
Océ Image Logic software enhances the quality of scans and copies
Cleaner toner handling process