Historically, the construction process has been one of the most inefficient work models on the planet. In fact, according to Wikipedia, The construction industry has suffered from a productivity decline since the 1960s while all other non-farm industries have seen large boosts in productivity. The problems in contemporary construction include buildings that are behind schedule and over budget as well as adverse relations among the Owner, General contractor, and Architect.
All of that is changing though, thanks to Integrated Product Delivery, or IPD. This is a collaborative system of people, practices, and business systems that utilizes the skills, insight, and experience of all parties to optimize project results.
One of the primary technologies driving IPD is Building Information Modeling, or BIM. Per Autodesk, Building Information Modeling (BIM) is an intelligent model-based process that provides insight for creating and managing building and infrastructure projects faster, more economically, and with less environmental impact.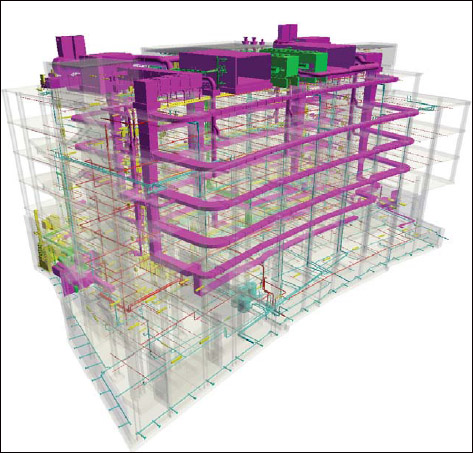 In other words, IPD and BIM projects are created and managed virtually within a software application such as Autodesk Building Design Suite or Revit. This provides numerous obvious benefits—one of the biggest is a new way for all parties involved on the project to collaborate. With BIM, a file can be created, reviewed, edited in real time.
Some interesting stats about BIM
Almost 50% of the industry is now using BIM
20% of all non-users plan to adopt within 2 years
All BIM users plan significant increases in their use
The vast majority of users experience measurable business benefits directly attributable to BIM
BIM needs color to thrive
One of the strengths of BIM is the ability to show spatial information in three dimensions. Once you make the shift from 2D or 3D, though, there is a lot more information to process. Owners and managers generally understand that this new increase will affect things like workstations and servers. But, the one thing that is usually overlooked is the impact that it will have on the individual engineer, architect, or contractor.
For decades, construction drawings have been printed in a 2D, black and white format. But, if you try to print a new, more elaborate BIM file in monochrome, it would be confusing. So, in order to display this information accurately, it has to be done it color.
That means that the days of the legacy black and white plotters of the past are coming to an end. Even though there is a movement to do more work paperless in the AEC industry, we are a long way off before that come to fruition. Clients still want a hard copies and sub-contractors will still need to lay out a set of plans across the hood of a truck at a jobsite. The only difference now is that they will be in color!
IPD and BIM are two very strong reasons why every AEC company should have a color CAD plotter in their enterprise. After all, BIM without color construction documents is like the internet without a color monitor!

Contect sources: Wikipedia and Autodesk