No matter what wide-format system I'm discussing with a client, I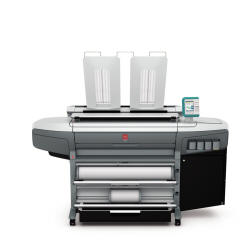 always get asked, "How much does it cost to run it?" First of all, the answer to that question is not always cut and dry. There are many variables to consider such as the types of files printed and the expected print volume.
The design-build industry is moving more towards a full color paradigm. This is because of the introduction of BIM and other 3D technologies; color plans simply communicate more information. With this, there have always been low cost options available like an HP or a Canon printer, but sometimes you need a little more printing muscle. So, regarding CAD and GIS printing systems, the Oce Colorwave is becoming a more popular option.
If your company decided that the Colorwave 300 will provide the horsepower that will best serve your work flow, the next step is to check out the operational cost of the unit.
Again, as with any inkjet printing technology, the output and cost is directly proportional to the types of files that you are printing. See the chart below for a basic understanding.
Keep in mind, it is easy to calculate the cost of consumables - paper, ink, and print heads. The challenging thing is to apply a value for the non-tangible costs such as wasted man-hours or not meeting deadlines.
See the video demo of the Oce Colorwave 300 printing system.
If you found this article helpful, you may want to share it with friends or colleagues. Simply click on one of the social media buttons on the top of the page.