The HP T2300 eMultifunction Printer was released in September 2010 as a compact, large format, printing and scanning solution. Essentially, it is a HP T1120 plotter with an internal scanner. Besides the ability to print, copy, and scan, one of HP's biggest selling points of this system is its ability to work in the "cloud" with HP ePrint and Share. In other words, you can print and scan files using HP's web based submission application.
As you can guess, this new unit generated a nice buzz in the industry when it first came out. But, it has been out for over a year. Does the T2300 still live up to the hype? We don't think so. Here are six areas of concern that you should take a hard look at before investing in the HP T2300 MFP.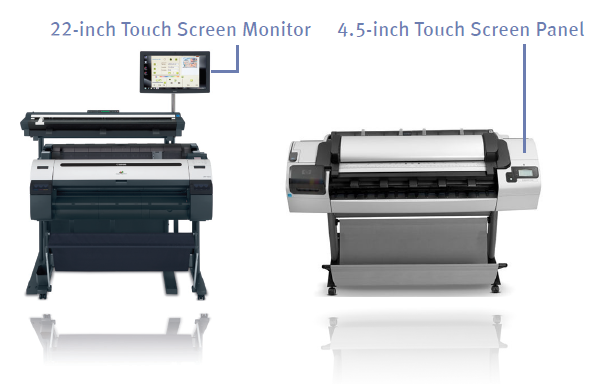 Service Issues: The HP T2300 scanner is physically integrated with the printer. So, if the printer experiences a failure, then the entire system is unusable.
Scan Speed: The HP T2300 MFP can only scan up to 4.5 inches per second. Compared to other competing scanners that are capable of scanning up to 10 inches per second, the T3200 is extremely slow.
Scan Width: The maximum scan width of the T2300 is 36 inches. Many competing large format scanners will scan a maximum width of 40 inches.
Scan-to-PDF: In order to scan to a PDF file, the T2300 has to be upgraded to the Postscript version.
Touch Screen Display: The HP on-board screen has a very small 4.5 inch touchscreen display. This small interface makes viewing and editing large drawings a challenge.
Media Handling: Although compact, the HP T2300 eMFP requires paper rolls be loaded in the rear of the machine. On the surface, the compact design of the T2300 seems convenient. But it is important to keep in mind that the unit will have to be moved every time a new roll is loaded.
Which one of these issues would have the biggest impact on you?