While it may seem tempting to shrug off yard signage in the digital age where social media reigns supreme, high-quality signage is indeed still a big part of real estate. Just as importantly, you don't want to take the budget route by trying to design make your own signs or placing a placard in your window. No matter how talented you are in crafts, it is really worth it to invest in high-quality signs. Think of it as your "Go Big to Sell Home" strategy!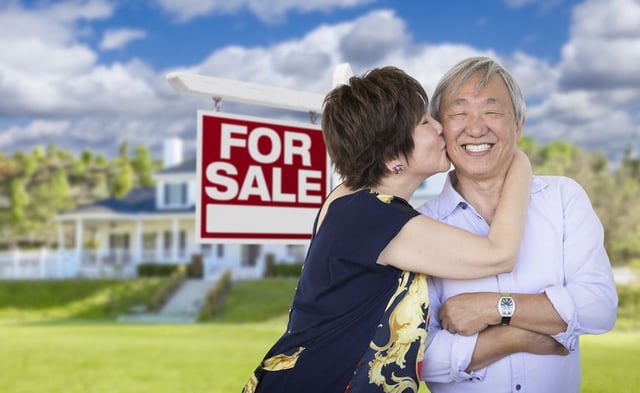 Happy sellers celebrate the For Sale sign in the yard. © Big Stock Photo
Plan Your High-Quality Real Estate Signage with Some Key Points in Mind
Believe it or not, "For Sale" signs are not only still effective, but they are still popular. Buyers, and more importantly their real estate agents, are trained to zero-in on signs in front of homes. People still fall in love with homes on the market during Sunday drives while searching for an open house to visit, so relying solely on the Internet is a pitfall any savvy seller should avoid.
Design a Durable Sign
Ensuring your sign can withstand strong winds, rainstorms, or even an occasional snowstorm is essential, so invest in a sign made of durable materials. Not only do homeowners no want to get a call from their neighbor on the next block that their "For Sale" sign is in their yard, but they should want a sign that will look good and fresh at all times.
Once a homeowner has decided on the real estate agent with whom they would like to list their home, the next discussion point should be about signage. Choosing a real estate agent is more than understanding how quickly they expect to sell a home, but also how effective has their signage been previously. What color scheme do they rely on? Do they pay for high-quality signage as opposed to discount hardware store signage? Homeowners should get to know their agent's signage strategy before listing.
Visibility Makes Your Sign a Must-See
Remember that people will be zooming along on their way to their destination—possibly in the dark—so homeowners should want to make sure their sign is easily visible in various conditions. Ensuring that their lettering is big and bold is an important starting point. Sellers also want to make sure there are no obstructions, such as shrubs, lawn ornaments or a mailbox.
Provide All the Key Information
To avoid any unplanned knocks at your door for more information, put all vital information on your sign, include:
The name of the real estate brokerage and logo
Real estate office phone number, including area code
Agent's website that leads directly to your home's page, if possible
A High-Quality Sign May Just Translate to a Quick Sale
When selling a home, it is usually the main goal of sellers to sell their home as quickly as possible. A well-rounded marketing plan includes not only the best agent, excellent Internet copy, professional photography and video, as well as real-world exposure in the form of high-quality signage. If any homeowner is ready to make their big sale and move, they shouldn't skip such an easy opportunity to catch potential home buyers' attention with a high-quality yard sign.
Looking for an awesome printer for sign graphics? Check out the Canon PRO 2000.