Although the
struggle between inkjet and toner
plotters still very much exists, the lines have been a bit blurred. There are more and more cases now where these two technologies are locked into a head-to-head contest. A good example of this is the clash between the HP Designjet T3500 MFP and the
Océ PlotWave
. Both are capable of plotting, copying, and scanning, but that doesn't mean that they are identical. There are some very distinct technological differences between the two. So, what is the best choice? It depends...what are your specific demands?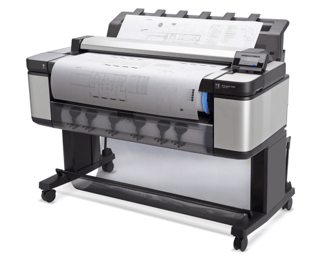 Description

HP Designjet T3500 MFP


Océ Plotwave 345/365


Advantage

Productivity
2 D-size sheets per minute

4 D's per minute - PlotWave 345

6 D's per minute - PlotWave 365

The base-model Océ PlotWave 345 prints 100% faster and the upgraded PlotWave 365 provides 200% faster output. So, if speed is your thing, the Océ PlotWave is a no-brainer.
Media Handling
2 Rolls - 650 foot roll length maximum
1 or 2 rolls - capable of using 500 or 650 foot length maximum
Although the both systems are capable of supporting 650-foot rolls, the amount of physical effort and time required on the T3500 is more intense. Likewise, the HP has quite a challenging paper feed path on the bottom roll. Both rolls on the Océ PlotWave offer automated loading.
Walk-up User Interface

The T3550 interface is located on the front panel of the unit.

4.5-inch color touchscreen
Capacitive touch

The Océ features the ClearConnect user interface.

10.4-inch color touchscreen
Capacitive touch with multitouch gesture control.

The larger Océ touchscreen has several distinct advantages over the small (smartphone-size) HP Interface.


Easy to zoom in/out of preview displays.
Easier to view. In addition to being much larger that the HP display, the ClearConnect panel will tilt and pivot so each user can position it to fit them best.

Scanning Speed

Up to 7.5 ips B&W (200 dpi)

Up to 2.5 ips Color (200 dpi)

Up to 9.6 ips B&W (200 dpi)

Up to 3.3 ips Color (200 dpi)

Measured in inches per second, the Océ PlotWave is 28% faster with B/W scans and 32 faster in color scanning operations.
Standard Output Delivery/Paper Stacking

Integrated Top-mounted stacker

Up to 100 D-size prints
No air separation system

Top Receiving Tray with air separation system (capacity of up to 50 E-size prints)
The HP T3500 MFP is capable of stacking more D-size prints, but it is not spec'd for stacking longer E-size drawings. The Océ can easily stack drawings of various sizes and can also be outfitted with an optional Delivery Tray which increases the stacking capacity by an additional 150 prints.
Copy By Set

No "create set" option

User must print multiple copies of each sheet and hand-collate into different sets.

Océ ClearConnect Panel includes a "Create Set" feature that allows the user to quickly and easily make multiple sets of copies with electronic collation.
The PlotWave includes a workflow option to quickly copy set of hard original documents. The touchscreen interface is very intuitive and this feature can easily be used by a novice user.
Line width

Minimum line width: 0.0028 inches

Minimum line width: 0.0024 inches
The finer, minimum line weight of the Océ PlotWave will provide exceptional CAD image quality and will also help in displaying grayscale more effectively.
Output type
Color inkjet
Black/White toner
On the positive side, the Designjet T3500 can print in either monochrome or full-color. However, it uses an inkjet process which can be problematic especially in idle environments. Otherwise, the Oce PlotWave is built around tried and true Océ toner technology with Radiant Fusion.

Get the Océ PlotWave brochure and watch the demo video