When it comes to picking the best wide-format solution for your business, several factors have to be considered. The challenge is to make all the Pros/Cons make sense without getting lost in the details. Here we lay out data on two popular systems - the Océ PlotWave 340 and the HP Designjet T3500 MFP.
Sure, both will print, copy, and scan, but which will be the best fit for your specific demands. See for yourself.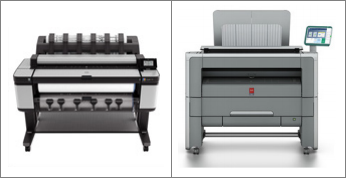 Description

HP Designjet T3500 MFP

Océ Plotwave 340/360

Advantage

Media Capacity

2-roll standard configuration

1 or 2-roll standard configuration

Although both both support media with a maximum length of 650 feet, the HP T3500 requires more physical effort. The Océ PlotWave loading process is much more automated.

Max Print Speed

2 D-size sheets per minute

(120 D-size/hour)

4 D-size sheets per minute

(240 D-size/hour)

The PlotWave prints twice as fast. It is important to point out the the HP is a color printer while the Océ is a monochrome toner machine. However, in the case of standard black/white construction plans, the Océ is much more efficient.

Walk-up User Interface and Operating Software

Front Panel Interface:

4.5 inch touchscreen

Capacitive Touch controls

Océ ClearConnect:

10.4 inch touchscreen

Capacitive touch with multitouch gestures

The HP user touchscreen is essentially the size of a smartphone. Conversely, the Océ PlotWave hosts an impressively larger screen.

Multi-gesture controls on the PlotWave allow for intuitive operation. Plus the ClearConect Panel tilts and swivels for optimal viewing.

The T3500 display is mounted lower on the printer, making it harder for some users to see.

Media Stacking

Integrated Top Stacker

Up to 100 D-Size Prints

Integrated Top Delivery Tray

Up to 50 E-Size prints

Air separation technology prevents long plots from bunching and falling onto the floor

Although, the HP T3500 is capable of stacking more D-size prints, it is not specified as capable of stacking longer E-size prints.

So, if your work requires the printing of 30x42 or 36x48 drawings, the Océ PlotWave will provide a better overall platform. Also, the PlotWave can be configured with an additional flat stacking tray to accommodate an additional 150 E-size documents.

Print Quality

600 x 1200 dpi

Plain paper/ fast mode

600 x 1200 dpi

Standard bond paper

The Océ PlotWave 340 prints consistently at 600x1200 dpi. The HP T3500, while capable of higher dpi resolutions, resorts to 600x1200 dpi when printing oon plain paper in Fast mode.

The T3500 reduction of resolution is needed in order to achieve the published maximum print speed of 2 D/minute.

Copy Full Sets of Drawings

No "Create Set" option

In order to print collated copies of complete sets of drawing, the user needs to print multiple copies of each page and hand collate

Select "Create Set" option on the Océ ClearConnect Interface.

This allows the user to simply choose to make multiple copies of "complete sets" or single pages.

The Océ PlotWave includes a workflow option to quickly and easily copy sets of technical documents.

This option is simply selected on the ClearConnect user interface.

Line Width

Minimum printed line width:

0.0028 inches

Minimum printed line width:

0.0024 inches

Both units neatly stack prints on top of the printer. With Oce air seperation, mixed sizes will not get hung up

Scan Speed

7.5 ips (B/W 200 dpi)

2.5 ips (Color 200 dpi)

9.6 ips (B/W 200 dpi)

3.3 ips (Color 200 dpi)

Measured in inches per second, the Océ scanner has 28% faster scanning vs T3500 in B/W and 32% faster in full-color.

Job Submission Software

HP SmartStream Software for HP Designjet printers

Choice of options:

Océ Direct Print Lite (10 seats)

Océ Direct Print Pro (25 seats)

Océ Publisher Select (Free software)

HP SmartStream limitations include:

Limited printer support (T and Z series today)

Higher cost of licenses - Only one single PC seat per paid license, so any additional seats will cost and additional license.