As AEC workflow becomes more and more digitized, more demand is created for end-users to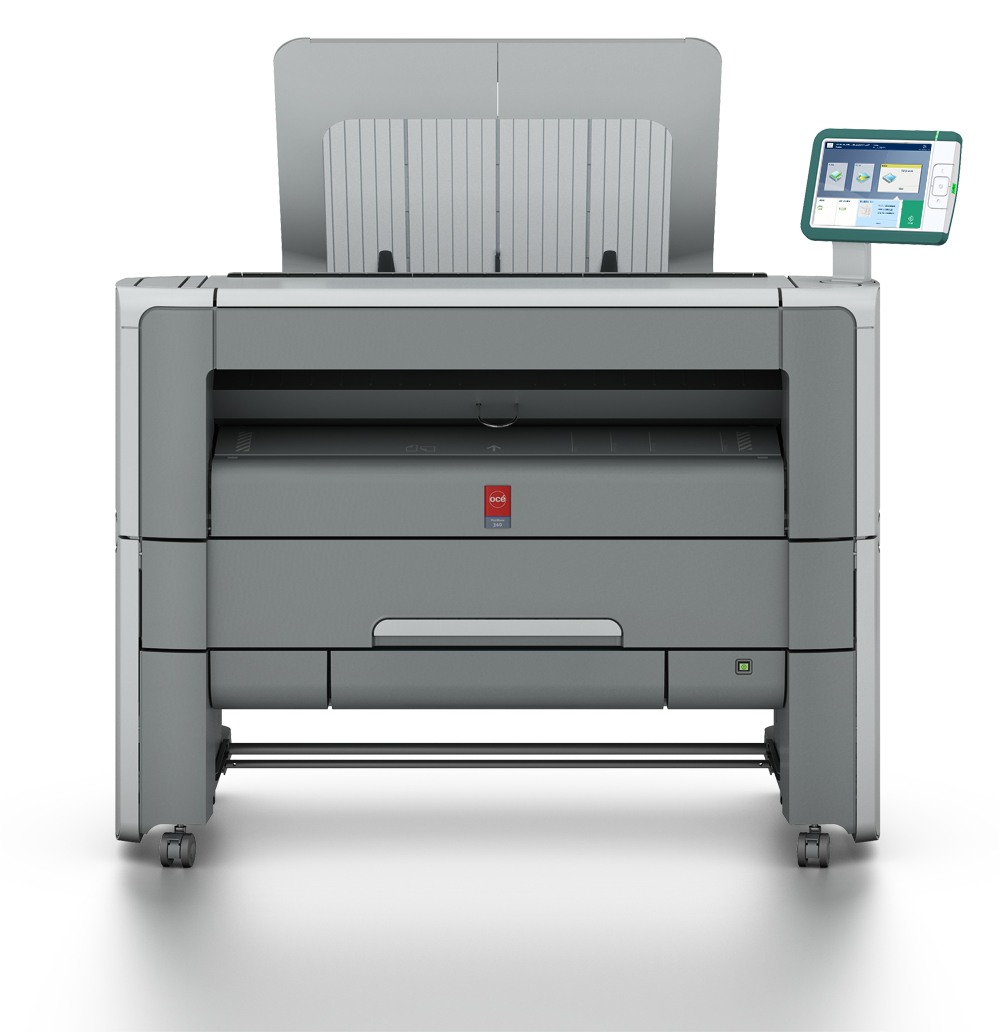 print their own bid sets. Most sub-contractor situations do not call for continuous, non-stop printing, they do need a way to quickly have access to their drawings.
This type of demand has increased the value of smaller wide-format, toner-based printing systems throughout the industry. Two rival units are the Océ PlotWave 340/360 and the KIP 7100 printer. See how they compare.
Description

Kip 7100

Océ Plotwave 340/360

Advantage

Productivity
6 D-size sheets per minute
4 D's per minute - PlotWave 340
6 D's per minute - PlotWave 360
None when considering the PlotWave 360
First print out
4 minutes for first print out from cold sleep.
40 seconds for first print out from cold sleep - same for both units.
Low volume print environments generally do not require continuous printing. Therefore, instant availability is an important factor. Both Océ PlotWave systems offer a must faster start time from a cold state.
Design for durability
Drum is exposed when clearing media jam.

Machine is built mostly with plastic parts
Completely enclosed and protected drum.

Heavy duty durable materials.
Océ's robust build quality ensures long lasting use, especially with non-delicate walk-up users.

Due to exposed components, the KIP 7100 is susceptible to expensive drum damage whenever clearing a jam. According to the KIP's user manual, "It is recommended to take off your ring, bracelet, or watch when removing a mis-feed media."
Intelligent Scanning Technology
None.
Océ Color Image Logic technology automatically compensates for wrinkles and background to produce superior results without losing information in light colors.
Océ Color Image Logic software overcomes the limitations of conventional CIS scanners to provide the right results the first time, without users having to manually fine-tune complex settings.
Print Quality
600 x 600 dpi
600 x 1200 dpi
Oce Plotwave 300 provides sharper line details smoother grayscales
Direct Print from/ Scan to USB
No
Yes
Oce Plotwave 300 provides the flexibility for a walk-up user to print or scan via a USB flash drive
Standard Output Delivery
Top-mounted stacker
Top Receiving Tray with air seperation system (capacity of up to 50 E-size prints)
Both units neatly stack prints on top of the printer. With Oce air seperation, mixed sizes will not get hung up
Color Scan to File
standard
standard
-
Toner Handling
KIP advertises 100% toner efficiency - there is no waste toner receptacle.

Cannot add toner while the system is printing. Changing toner cartridges can be messy.
Closed toner system avoids pollution of system and surrounding work environment.

Easy to refill toner while running means longer uniterrupted printing.
In practice, because the KIP does not use a wast toner receptacle, waste toner is either re-circulated through the system or emitted to the environment. Theis requires the KIP to be serviced frequently to prevent poor print quality and breakdowns.
Operational Footprint
64" x 68" (30 square feet)
68" x 58" (27 square feet)
Océ Plotwave 360 can be placed in more locations - additional ventilation is not required
Energy Usage & Eco-design
Printing - 1500W
Sleep - 14W
Printing - 1500W
Sleep - 39W

Catalytic converter to reduce ozone emissions
Both units offer low energy consumption, but the Océ PlotWave also offers the added benefits of low heat, low noise, and virtually no ozone emissions thanks to the catalytic converter.
See the entire selection of Océ wide-format systems.