Today's CAD environments are a new kind of animal. New, powerful software applications and large, complicated files are the norm and they can literally choke the life out of an old, outdated plotter. These challenges tend to grind an architecture or construction company's workflow to a halt. In order for these companies to compete and be successful in a heated marketplace, high-stakes deadlines need to be met. To do so, more powerful and sophisticated equipment is needed to meet these challenge head on. One of the new tools that these companies are turning to is a powerful plotter/scanner systems that utilize toner instead of ink jet technology to gain a whole new level of dynamics to their wide-format printing.
In this new space of color-toner wide format machines, there are two primary players, the Kip 800 Series and the Océ ColorWave 500/700. On the surface it seems like a pretty even match, but once you peel back some layers, the Océ simply brings more to the table.

Productivity
Let's be honest about one thing, the new Kip 800 is fast—really fast. It is rated for a print speed of 8 D-size sheets per minute. Sure, that is impressive! However, if you dig a little deeper, you will see that, on average, a typical company prints less than 5,000 square feet per month. Break that down, that is only 42 sheets per day. Under that type of average workload, the Kip is only printing slightly more than five minutes per day! So, unless you need to print all 5,000 feet at once, the speed increase is both marginal and negligible.
Versatility
The ability to quickly print color documents has been gaining popularity among AEC companies. There are many reasons for this, including better overall communication across the entire project team—the better information is presented, the fewer mistakes are made, the less money is spent on waste. Another surprising benefit of having a toner-type color plotter is the ability to print much more than just basic CAD drawings. Many construction companies are finding an extra value to print 3D Revit renderings, aerial images, maps, and other marketing materials.
This is where the Océ ColorWave 500 shines. First of all, the ColorWave is a 42-inch printer while the Kip printer is limited to a 36-inch width output. To some, this doesn't seem like a big deal since most construction plans are either 36-inches or 30-inches wide. But, once the Marketing Department finds uses for the plotter, the 36-inch width of the Kip can be extremely limiting.
Another thing to keep in mind when printing marketing materials, maps, posters, etc. is the need for specialty media. Since the Kip 800 series still relies on traditional pressure-fusion technology, the printer's media selection is somewhat sparse. This is due to immense heat needed to fuse the powdered Kip toner. Think about your basic office color-laser printer, it's basically the same design.
Conversely, the Océ ColorWave 500 uses a completely different process. Patented CrystalPoint technology relies on heating TonerPearls to a gelled state and jetting the liquefied toner onto the print media. In this case, there is no "fusing" happening. The CrystalPoint method allows for a much wider range of print media options, including Tyvek banner, Polypropylene, satin photo paper, satin fabric, and many more.
Earth Friendly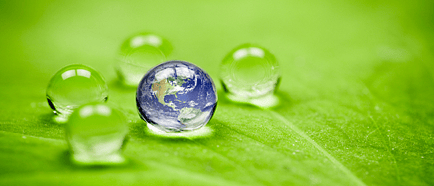 In keeping with the Océ (Canon) standards on environmental consciousness, the Océ ColorWave is designed from the ground up as a sustainable machine. It is important Canon to produce a durable machine that runs clean and promotes a healthy working environment for their client users.
Alternately, this is where Kip runs into more issues. Even though the Kip 800 Series is an ENERGYSTAR certified system, the ENERGYSTAR rating is a bit outdated and most electronics today strive for an EPEAT certification. Guess what, Océ ColorWave 500 is EPEAT certified!
Another important aspect of sustainability is power consumption. Unfortunately, the Kip struggles here. Although the Kip boasts an impressively low 3.0 Watts of electricity consumed in sleep mode, the dream becomes a nightmare once the machine starts printing. At that point, it becomes a monster and hungrily consumes 1,900 Watts of power! That is 5 TIMES the power needed by the ColorWave 500 to print. Brownout anyone?
Size Matters
Admittedly, it is easy to get lost in the "wow factors" of both machines, but at the end of the day, each need to be easy to install and simple to use within your office environment. Again, the Kip printer provides some more challenging requirements.
The Kip 860 and Kip 890 are both massive machines. They weigh anywhere between 1,070 and 1,170 pounds, depending on the configuration. Because of this tremendous weight, they need to be installed on a reinforced concrete floor. On the other hand, Océ ColorWave 500 weighs in at 556 pounds—almost half of the lightest Kip option.
So, if you have small doorways, narrow halls, or tight turns, the Kip could be problematic. For the Kip 800 Series to fit through a door, at least 43-inches of width are required. That could be a real issue since the most common size of business doors are 36-inches.
Takeaways
Admittedly, this is a very biased view of these two printers, but it's nothing but the facts! Overall, the only segment where the Kip printer outshines the ColorWave is in print speed. Unfortunately, speed is hardly the most sought after attribute in today's modern CAD environment. Quickly processing and efficiently printing large, complex files are much more pressing issues. Plus, having a much more dynamic platform that is capable of much more than just standard CAD printing, has become paramount. Overall, when it comes to overall performance, reliability, and environmental sustainability, there is no comparison to the wealth of benefits that the Océ ColorWave 500 offers.