Look around and you will see that architects and engineers are incorporating more color data into their designs these days. This is largely due to the flourishing influence of BIM applications such as REVIT and Bentley. Likewise, research has shown, time and again, that color details reduce mistakes and greatly increases communication as compared to the traditional black/white format. This new approach has demanded that these companies now print their plans in full-color. Most AEC companies already have a wide-format color plotter in place, but what happens when the work load exceeds the capabilities of that plotter? They could always get a second one, or a third. But, perhaps, it time for a complete paradigm shift. In that case, see how the ColorWave Océ wide format plotter is providing a radical shift from the old inkjet school of thought.
First, a quick word about inkjets
Before dissecting all the differences between inkjets and Océ ColorWave machines, it is only fair to give inkjet the proper love. When it comes to photo-quality and/or museum quality printing, traditional inkjet gives you fantastic results. Normally, high-end graphics are printed on a machine that uses 8 or 12 different color channels. The extra colors provide a much wider color-space which allows the machine to accurately replicate millions of colors. However, these are not typically the types of plotters that you find in the average architect or construction office. Conversely, the standard, general-purpose plotter uses a 4-color profile: CMYK (Cyan, Magenta, Yellow, and Black).
Of course, several variants of these CMYK-based printers exist. For example, Canon iPF printers use two different blacks, a dye and a pigment, while HP utilizes a dedicated Gray ink. However, CMYK color theory is the basic science behind both of these. Just don't expect 12-color results out of a 4-color machine.

Revolutionary CrystalPoint Technology
Instead of using liquid ink, the ColorWave 500 and 700 models use a patented process called CrystalPoint Technology. This is where color TonerPearls (small toner spheres) are melted via an imaging device and then jetted onto the print media. In contrast to inkjet machines, the only time a liquid is present in the ColorWave is when the TonerPearls are in momentarily melted state. Otherwise, it is a completely solid process.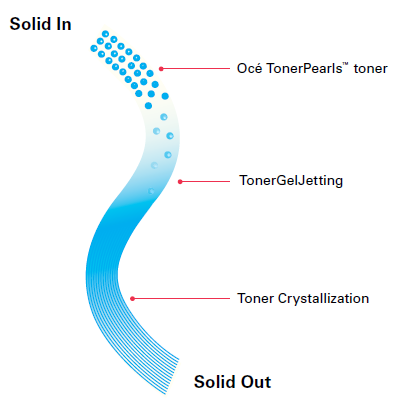 The inkjet process, on the other hand, begins and end with liquid. As you may have experienced, liquid ink can present some common problems and challenges:
Inkjet inactivity can result in expensive print head failures or ink can seep into other parts of the machine. With inkjet plotters, the best practice is to print "something" at least every few days. Otherwise, ink can dry in the nozzles and/or clog in the plumbing lines.
The output quality of inkjet technology is completely dependent on the media that is used for printing. For example, if a full-color map needs to be printed, then a heavy-weight bond or photo paper should be used. Otherwise, the ink will oversaturate the paper and the final product will not look very good at all.
Inkjets also require many more supplies. All inkjet plotters, regardless of manufacturer, will need ink, print heads, paper, and a maintenance cassette (tray or cleaner) in order to function. If you have to manage a fleet of wide-format printers, this can be a logistical nightmare.
The ColorWave Difference
Although the ColorWave toner originates as a pellet rather than a powder, the final product has similar properties to the more traditional powder process. Toner will not streak or bleed in the case of getting wet. Most users can immediately identify with this if they are in the habit of highlighting information on a construction plan printed on an inkjet plotter.
Another beneficial aspect of toner is evident when users print a black/white image. Regarding the ColorWave system, only black TonerPearls are consumed. Nearly all ink-type printers will consume some color ink when printing black/white files. For example, HP Designjets traditionally render all grayscale with a green tint.
Unlike inkjets, the media type used in the ColorWave does not determine the final print quality. This is because CystalPoint technology enables the toner to instantly crystallize on the surface of the print media. Comparatively, Inkjet plotters require the ink to be absorbed into the media. This is why full-color inkjet prints look horrible on lower grade papers. A heavier weight substrate is needed to fully accept the extra ink needed for maps and posters. Conversely, ColorWave Océ plotters are capable of printing full-color posters on regular, 20-pound engineering bond without sacrificing any print quality.
Failure is Not an Option
Anyone experienced with inkjet plotters knows the frustration of a print head failure, which results in wasted time and a wasted print. Most inkjet machines will only alert you when there is a complete print head failure. In other words, when the plotter can no longer function.
Alternately, the Océ ColorWave plotters are equipped with PAINT Technology (Piezo Acoustic Integrated Nozzle Technology). This is a unique Océ technology that monitors the consistency and quality of the printed output. It incorporates a very sophisticated blend of internal diagnostics, maintenance, and error corrections to overcome common nozzle issues that occur with standard inkjet technologies. Oh, and PAINT is deployed in real-time, even while printing.
More Paper Options = More Printing Options = Mo' Better
The availability of more paper rolls is incredibly beneficial to those who need to print various sizes interchangeably, such as 24"x36" and 30"x42" prints. Regarding a single roll plotter, the paper has to be manually changed before each new job requiring a different size. Obviously, plotter manufacturers have responded to this demand with more 2-roll printer options on the market. Canon and HP alike, both have various models to pick from. But, what happens when 2 rolls is still not enough. What if you need more?
The ColorWave 500 comes standard as a 2-roll version, but can be upgraded to a 4-roll roll capacity. And if you really need to kick it up a notch, the ColorWave 700 can hold an incredible 6 media rolls. More rolls gives you more choices, regarding both size and type. This comes in handy for installations where various sizes of Tyvek, film, or another exotic media is needed in addition to the normal paper selections.
Wrapping it all up
There will always be a place for basic inkjet plotters in the architectural, engineering, and construction sectors. They are tried and true performers. But, there are times when more printing power is needed. In those cases, the Océ ColorWave 500 and ColorWave 700 are worthy of a look. They are both powered by the cutting-edge CrystalPoint technology, which uses a dry process to generate great looking prints—everything from black lines to full color sheets. Having this type of technology readily available, lets you print it right the first time, every time.