Maintaining a fleet of hundreds of wide-format systems is quite a task. Our service team stays busy keeping up with preventive maintenance contracts as well as occasional emergency calls. But, the truth is, many machine failures can be prevented by diligent end-user care. To help keep your Océ or Canon plotter running smoothly, the TAVCO Service Team compiled a list of the most common errors along with the top plotter tips and tricks to keep your equipment working smoothly.
Change the Waste Toner Container
Every carton (box) of Océ toner includes two bottles of toner and one replacement waste toner receptacle. The purpose of the waste toner container is to deposit the residual toner dust from the drum after every print. So, over time, this container fills. Often users get busy or simply forget to change the waste toner container resulting in a toner back up that can damage internal components, leading to an extensive and possibly expensive service call. So, be diligent and change the waste toner every other time you add new toner to the Océ plotter.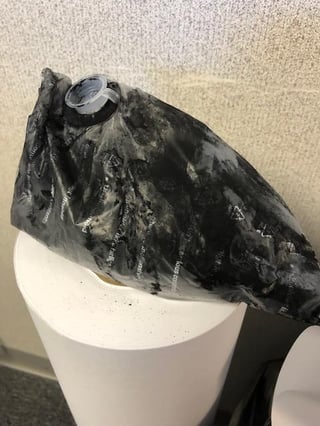 This Océ TDS-Series waste toner bag is overfilled and about to pop. This resulted in a toner backup inside the machine that caused damage to various parts as the toner became impacted.
This Océ ColorWave 500 waste tray wasn't changed for a long time and the waste toner built up to a point to where it contacted the imaging devices and caused damage.

Keep Your Plotter Dust Free
This almost sounds too simple to be true, but, if dust accumulates on the outside of the printer, it will easily migrate inside the machine. Internal dust build up can lead to a wide-range of issues including caking on the charge wires, loss of lubrication with moving parts, and heat build up on logic components. All of these conditions can quickly lead to an equipment failure.
Humidity is a Killer
All machines, toner and inkjet alike, are designed to operate in an indoor, low-humidity environment. When used in a high-moisture space, the operating dynamics of the machine are affected because paper acts like a sponge and literally soaks in moisture and swells. This can cause significant problems including paper jams and print quality issues. These could appear as smearing prints, dark backgrounds, or weird splotches on the prints. High humidity can also damage the internal developer in toner-based, causing it to clump. Bottom line—humidity is bad. Keep your plotter in a controlled environment.
Excessive humidity caused this developer (internal consumable) to clump together into charcoal like pieces. Once this happens the developer is ruined and has to be replaced.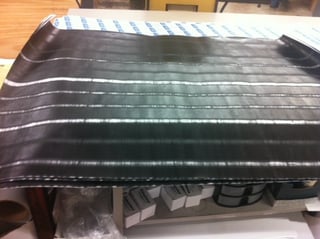 High levels of humidity can cause significant print quality issues. This dark sheet is a result of over-toning influenced by an ultra-moist environment. Proper climate control is a must.
Keep Your Glass Clean
With regards to large-format scanning, the number one service issue is the presence of lines on copies or scans. A dirty scan glass is usually the prime suspect in this case. This is because, if your scanning surface has particles, tape, white out, or other material stuck to it, a long, solid line will appear on your sheet. The good news is, this is an easy fix. Simply keep scanner glass clean. Although most scan glass can be cleaned with household window cleaner, our techs want to stress that you DO NOT spray cleaner directly on the machine. Instead, spray a cloth or paper towel and gently rub the scanning area until clean.
Be Careful Removing Paper Jams
Take your time when removing paper jams from Océ units if they get a paper jam. Be sure to open the panels that pull the internal mechanics away from the drum allowing for more space so the paper can easily slide through the paper path. Excessively pulling, tugging, or jerking the paper out of the machine could potentially damage the drum which could be a costly accident as misuse damage may not be covered under a service contract. Also, removing jammed paper with undue force could potentially move the internal guide fingers out of position. If this happens, the machine will generate an error code and will not function until they are replaced in the correct position.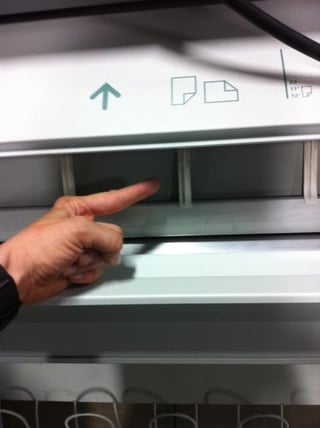 Paper guide "fingers" on this older Océ TDS system are out of position. They should be located behind the metal plate. This happens when a user forcefully removes jammed paper from the machine. The result is that the paper will need feed properly through the printer and an error code will display.
Just Keep the Power On
Believe it or not, one of the most troublesome things that could happen to a Canon plotter is just sitting there idle, with the power turned off. This is because the printer is programmed to self-monitor and self-maintain its own health. Yet, some low-volume users think they are saving money by saving power when they turn off the unit. But, the truth is, without power, the unit will not be able to keep ink flowing and protect the print head. If the plotter cannot monitor itself and perform self-maintenance, the microscopic nozzles on the print head can dry and clog. This can ultimately lead to a premature print head failure, which is quite costly.
According to TAVCO Service Coordinator, Adrian Hutchens, "consistently keeping the printer powered off can lead to the printer's purge unit pushing extra ink through the print head every time the machine is turned back on. This can result in clogging which can quickly fill the maintenance cassette and cause excessive wear and tear on the print head itself, shortening the life of the part." So, the best advice from our Tech Team is to let the machine plugged in and turned on 24/7 so the print head and ink are properly managed and maintained.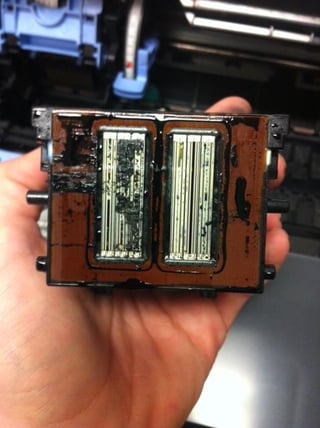 Clogged nozzles and caked ink on this Canon print head are a result from turning the machine off for extended periods of time. When it powers up again, the purge unit overcompensates and flushes more ink than normal through the print head.
Have other questions for the TAVCO Service Team?
Gain a wealth of information: Get our FREE Plotter Information Guides
Related content: 3 Things That You Can Do To Keep Your Plotter Healthy