Zero Turn Wide Format Productivity Center
What is it...and why so effective?
Anyone who has spent long hours scanning multiple set of documents knows how much of a hassle it can be to constantly move or rotate yourself to grab the next page. Likewise, the incremental time it takes to reach around to grab a document can result in a large amount of wasted time over the project.
Now there is a better way!
The Zero Turn Wide Format Scanner Productivity Center is a single-footprint holding table for documents that are waiting to be scanned. Plus, the unit includes mounts for a flat panel display and a keyboard/mouse tray.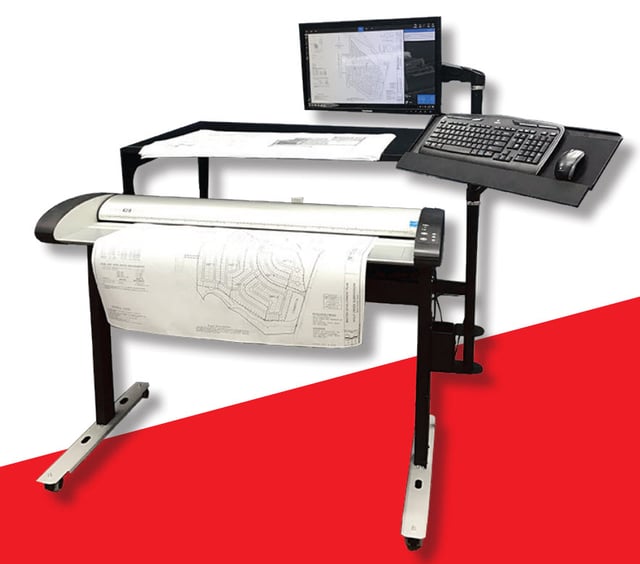 Increase operator productivity
Complete "one touch" document handling and processing. Everything is within the user's arm reach.
Professional, non-evasive approach to providing the operator with an instant visual confirmation of scan quality and easy access to the keyboard and mouse.
Operator can easily load documents into the scanner without losing line of sight to their display monitor.
Enhance your efficiency
One-piece vertical design maximizes the impact on commercial real estate.
Only occupies 25 square feet of floor space including the scanner, flat panel display, and keyboard/mouse tray.
Monitor and keyboard can be mounted on the left or right side of the unit and are completely adjustable for each user.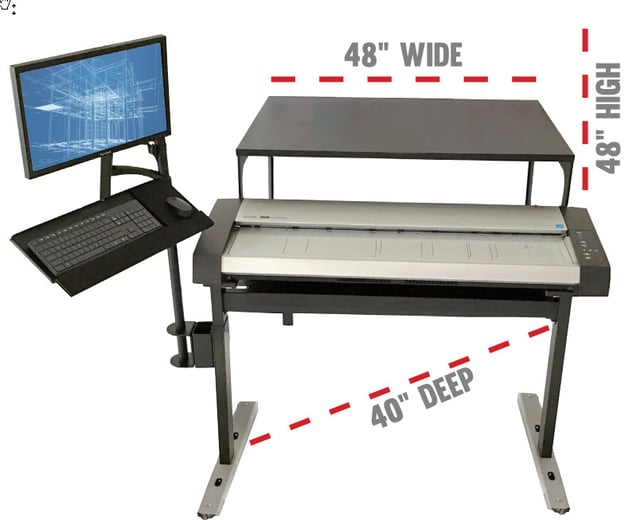 Download the Zero Turn Productivity Center Brochure