Contex HD 5450 Wide Scanner
Designed for high-volume productivity for business-critical imaging tasks.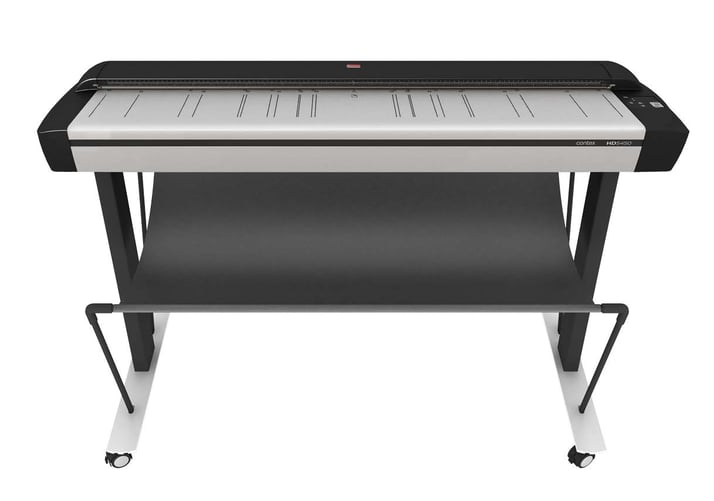 Wide and long ...
Artwork, maps and other color- and detail-rich documents are reproduced to perfection, without any document length limit. You don't have to scan the material in several parts and then stitch the images together afterwards.

You have a consecutive processing of any number of scans, and software settings you can personalize to ensure the same scan, copy and color settings every time.
Proven technology
A combination of 48-bit color, 4-channel CCD technology, full-size professional camera lenses and advanced image data processing algorithms creates a superior image quality. With image processing performed inside the scanner, your PC is free to run software applications more efficiently.

The Contex HD5450 wide format scanner is fast and steady with up to 12 inch/second scanning speeds. Truly a workhorse that can handle very large originals with speed and ease. The HD5450 gives you a great performance and a high return on your investment.
Various media and thickness
Do you have thick, mounted or other sensitive or specialized documents? No problem. Automatic Thickness Adjustment Control (ATAC) technology lets you scan documents up to 0.6" (15 mm) thick and monitors pressure on the document surface.
Key features
54-inch ultra-wide design captures oversized documents easily
48-bit color and 16-bit grayscale image data capture from 4-channel CCD technology with lenses from Fujifilm
Exceptional ultra wide productivity, scanning up to 258 Arch E-size color documents per hour (214 A0/hour)
Scan-to-Net function for scanner sharing over a network, and sending files to remote PC's
All Wheel Drive (AWD), a precision paper feed tracking system, ensures a perfectly straight scanning path and distortion-free scans
SnapScan technology: Scan - Enhance - Save
Download the Contex HD 5450 Scanner Brochure
Take you scanning to the widest level possible