Canon Wide Format Guide
Canon imagePROGRAF large-format and multi-function printers are at the forefront of the large-format equipment industry. Specialized customer solutions and applications range from fine art and photography to production printing, technical documents, and general-purpose poster making.
Learn more about the complete product offering from Canon Print Systems. Discover how a new Canon plotter printer or MFP solution can take your wide-format printing to new heights.
---
Shortcuts
Read along or jump to the topic that interests you.
---
Overview of Wide Format Printing
Large format printing is usually generalized as anything printed over 24 inches wide. Construction documents strongly connect to wide prints, but many companies and organizations also utilize them. Retail businesses print POS signs, hospitals make information banners, and schools produce classroom posters.
Plus, given technological advancements and lower acquisition costs, printing significant documents is easier and more approachable than ever. This has undoubtedly grown the influence of large format equipment in other industries, but besides print shops, architecture, engineering, and construction (AEC) remain a staple user of inkjet machines.
CAD Printing and General Purpose
Construction costs are rising yearly. Companies must find ways to compensate for those rising costs, whether looking for cheaper material vendors or letting some employees go. Therefore, looking at the areas where you can save without losing the project's integrity is essential.
Digital imaging workflows and processes in AEC have changed significantly over the years. In the past, print shops printed and distributed plans to construction companies. Plots are increasingly shared electronically through email or online plan rooms. This shift has led contractors to need an efficient way to print their plan files for themselves instead of relying on outside resources. Although a growing motivation exists to transition to a paperless workflow, printing is still necessary. AEC firms need a holistic solution for printing and scanning large-format plans.
Surprisingly, it is still common practice for subcontractors to "outsource" their wide-format printing. While some larger printing companies can provide services at a lower rate, often, many subcontractors will utilize the "walk-in" services of a local printing provider. These types of companies provide great services but at very inflated rates. Simply put, contractors pay for these locations' convenience and not the work's quality. Depending on the volume of activity, it only takes a few trips to the print shop to justify the investment of a new plotter or MFP.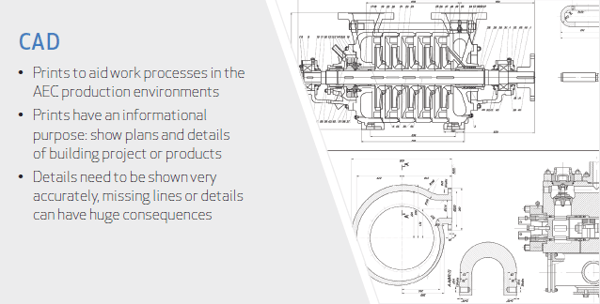 CAD Plotting in Color – A Growing Need
Traditionally, CAD and construction drawings have been sparse, 2D monochrome images that cover approximately 5% of the page. A monochrome printer may work fine if your company still relies on those drawings. Unfortunately, the options for an actual black/white device are diminishing. Traditional toner-based systems like the Canon PlotWave Series are the only remaining monochrome options.
However, technological advancements are redefining how firms approach the design-build process. BIM workflows through Revit and Navisworks are changing how people work in AEC. The entire project can be built virtually from beginning to end with BIM. With all this new data injected into the workflow, color printing is becoming vital for better communication. So, a color plotter would be a good asset for printing color data if you use BIM in your workflows.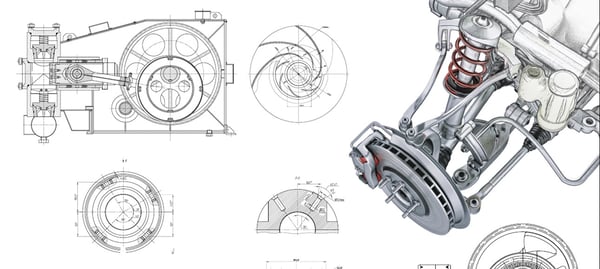 ---
Canon TM Series Plotters & MFPs - Entry-Level CAD Printing & General Use
The TM Series is a good launching point for small offices looking to acquire a wide-format device. It is relatively small compared to other competitor models, is easy to use, and redefines what large-format printers can do.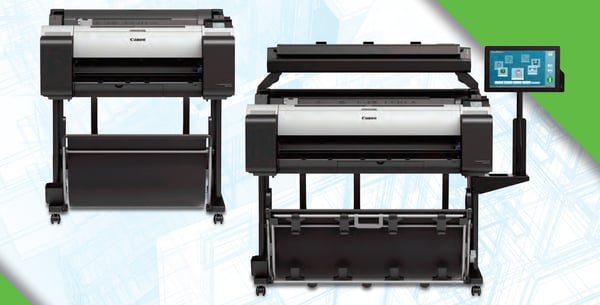 The TM-300 or TM-305 inkjet roll printer is ideal for printing technical documents, CAD drawings, GIS maps, posters, signage, and displays. One of the new advancements of this series of printers is the incorporation of Canon's LUCIA TD water-resistant pigment ink. Built with Canon-developed technologies, the TM-Series has a 5-color LUCIA TD pigment ink set, the latest PF-06 print head, an L-COA PRO image processor, and a clear, intuitive operation panel that is nearly 60% quieter than previous models.
It is also common for companies to need scanning capabilities for digitizing existing physical copies and plotting files. Rather than purchasing a separate third-party scanner, Canon offers several multifunction printer (MFP) configurations, including both the plotter printer and large format scanner.
The TM-series Scan-To-Copy/File/Share system is Canon's entry-level family of devices that provide fast, high-quality, large-format image capture-to-output. More than just the sum of its parts, the versatility of the product helps make it stand out. This multi-component system allows the user to be more productive by being able to print and scan at the same time. The open architecture of the computer can be used to load additional programs, among other things. The printer's ability to print on various media lends itself to uses in many departments and applications.
TM-Series Plotter Printer Models:
TM-200: 24-inch printer
TM-300

: 36-inch printer (no internal Hard Drive)

TM-305

: 36-inch printer (internal 500 GB Hard Drive)
TM-Series MFP models
TAVCO Tip: Though the TM-300 and TM-305 models appear very similar, there are several distinct differences. The TM-305 includes the internal 500GB Hard Drive, which greatly enhances the printing performance of the machine. Plus, the HDD greatly expands the reporting capabilities of the free Accounting software. The TM-305 will keep a record of the last 500 print jobs, while the non-HDD version only records the last ten prints.
Also, the TM-305 boasts a USB port for printing/scanning directly to a USB Thumb Drive. Regarding print stacking, the TM-305 offers the latest stacking tray version, allowing you to print up to 100 sheets and have them stacked flat for easy retrieval.
Please note that the TM-300 does not offer ANY of these features, so if you are in the market for this type of solution, the TM-305 provides a lot more value for the money and is a better buy, especially for a workgroup CAD printer.
Download the TM-Series Brochure
---
Canon TX Series Plotters & MFPs - Professional Workgroup CAD, GIS, & Mapping
The TX-Series is the best solution when more performance is required, especially in professional workgroup settings. Developed to expand the production of the aqueous inkjet technical documents market, the imagePROGRAF TX-Series Large-format printers are equipped to satisfy the diverse needs of architects, engineers, construction, GIS, and other professionals.
With speeds as fast as 3D-sized drawings a minute, stacking of up to 100 sheets, wireless printing capability, automatic roll loading, and an optional Multifunction Roll Unit, the Canon TX printer offers greater productivity, usability, and document access control sought in the CAD industry.
TX Stacker
Built for high productivity and increased flexibility, this stacker can stack up to 100 sheets of documents of mixed sizes, including ARCH C, ARCH D, or ARCH E/E1sizes. The variety of configurations that the TX Stacker can be positioned into helps to make prints easily accessible to pick up for on-the-go printing. The TX Stacker can be folded up when not in use to conserve space.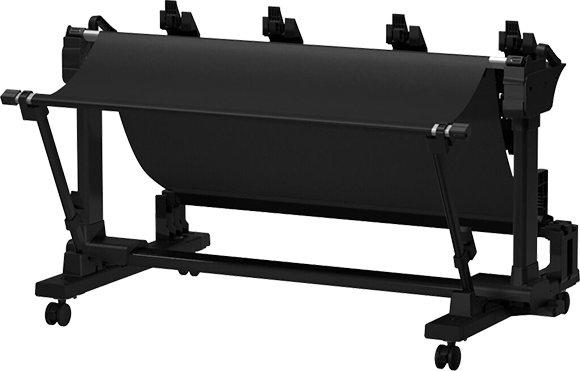 Optional 2nd Roll Unit
The optional Multifunction Roll System is a versatile media handling solution that enables a second roll of media to be loaded on the printer or configured as a bi-directional media take-up unit. The optional second roll unit allows instant switching between different media types or using two rolls of the same paper for up to 3900 sq. ft. of printing of large, consecutive runs. As a take-up unit, the operator can use this option to rewind longer printouts with the print surface on the outside or inside of the roll.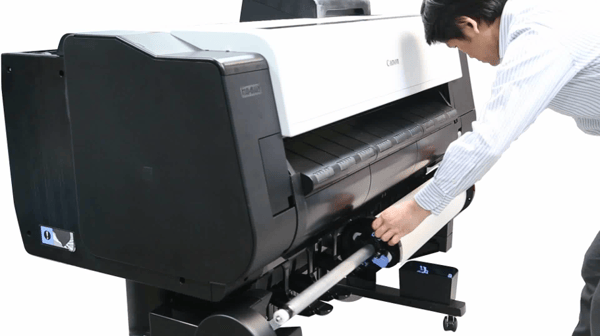 LUCIA TD Pigment Ink Set
The TX-3000 features an all-new 5-color TD pigment ink set. This ink was formulated to produce fine lines and sharp text on inkjet and non-inkjet paper. Combine this pigment ink with water-resistant media, and you have a printed drawing that can withstand the outdoor conditions of a construction site.
Available in 160 ml, 330 ml, and 700 ml ink tanks1, you can purchase a combination of ink sizes based on your printing volume. 970 ml ships standard with the TX-3000.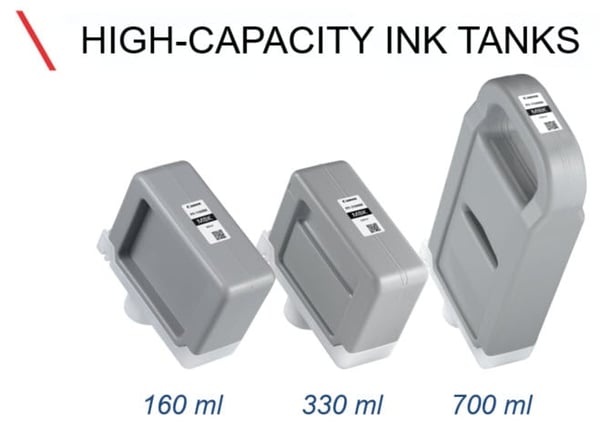 PF-06 Print Head
The newly designed 6-channel PF-06 Print Head is engineered to work with the printer's high-speed carriage and high-frequency ink ejection to help facilitate fast printing. This printer boasts Canon's print-head technology that delivers ink with outstanding speed and accuracy. The PF-06 print head incorporates a nozzle orifice shape to help minimize mist spray, producing clean lines and text.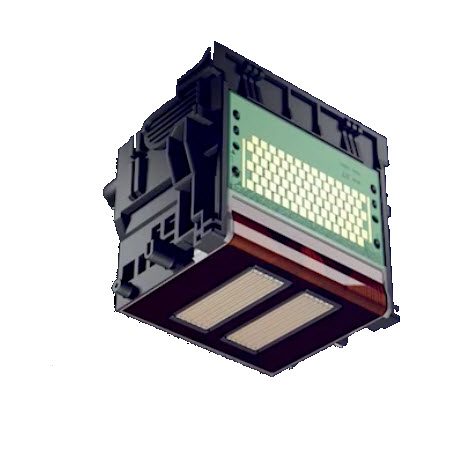 The high-precision, high-density print head, with 15,360 nozzles, lays down 5 picoliter-size ink droplets that help produce sharp detail and excellent image quality. The result is consistently accurate 2400 x 1200 dpi output (max.) with fine lines that are accurate to ±0.10% and as thin as 0.02mm.
You see, the typical inkjet nozzle has a round shape. Remember that tens of thousands of these nozzles are on the printhead. When ink is squirted from a moving printhead, the laws of physics state that the inertia from the traveling ink will leave a small tail when it contacts the print media. This principle is easily understood with this picture: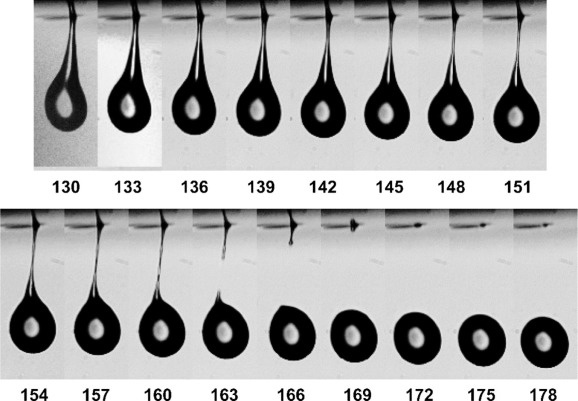 I
image credit: sciencedirect.com
The formation of the typical inkjet tail is easy to envision when the print carriage travels about 50 miles per hour. Because of this movement, even though the ink droplet is only a few picoliters, each droplet can form an ink trail. And thousands of little tails over your image have a noticeable effect on your overall print quality.
Here's how Canon rectified the problem. They changed the shape of the print nozzles. Instead of using a traditional round shape, Canon chose a new "hourglass" design. The thin part of the nozzle aligns with the direction of travel of the print carriage.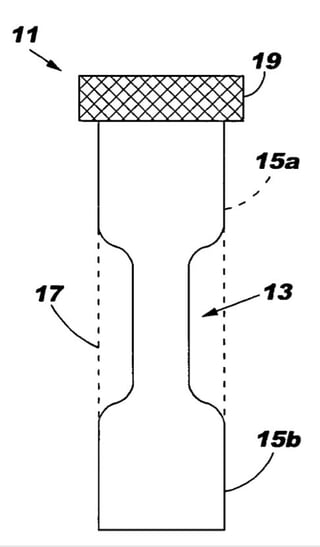 The end result is a greatly reduced tail from the ink droplet and awesome-looking prints! Additionally, there have been major advancements made regarding ink technologies. New pigment-based formulations produce much better color space and are much more durable and resilient than previous dye inks.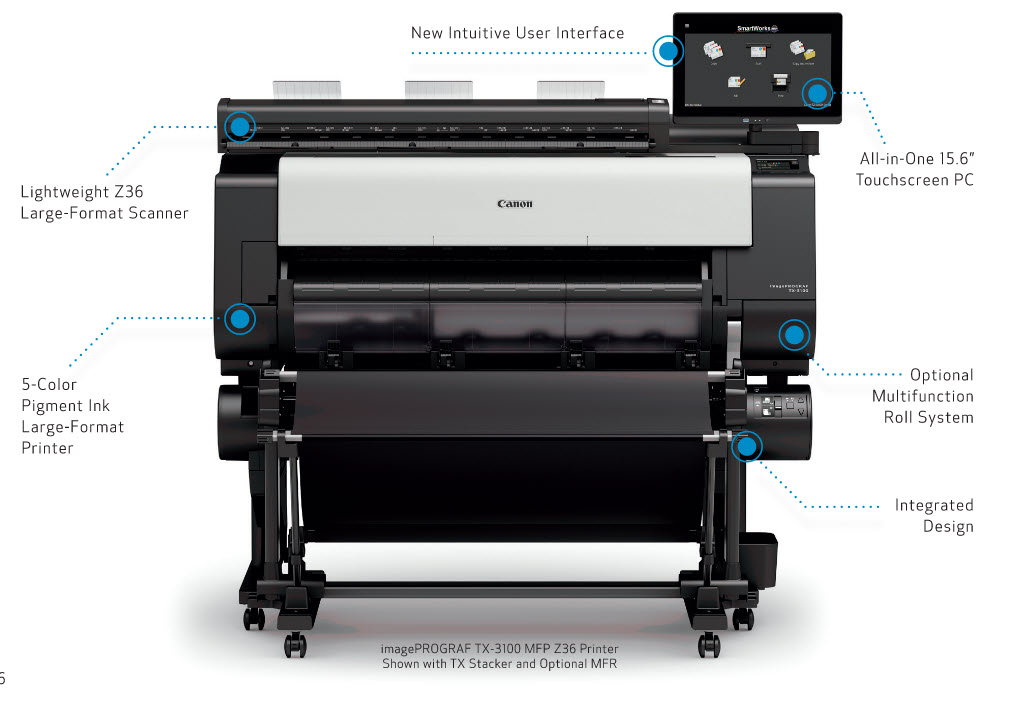 TX-Series Plotter Printer Models:
TX-3100: 36-inch printer
TX-4100: 44-inch printer
TX-Series MFP models
TX-3100 MFP T36: 36-inch printer with advanced T36 scanner and touchscreen controller PC
TX-4100 MFP T36: 36-inch printer with advanced T36 scanner and touchscreen controller PC
Download the TX-Series Brochure
---
Canon TZ-30000 Mid-Volume Plotter
The new Canon imagePROGRAF TZ 30000 is here and is specifically engineered to be the fastest imagePROGRAF plotter ever. It's packed with many new technologies to make your work more accessible than ever. See how the new TZ automation outmatches all inkjet CAD plotters before it.
New Compact Design
You will notice many similarities if you are familiar with the time-tested Canon/Océ PlotWave series. Even though the Canon TZ 30000 is an inkjet printer, it shares a lot of functionality with its toner-based cousin.
The single-footprint chassis holds two internal media rolls, the latest generation color scanner, and an attached all-in-one touchscreen PC controller (Win 10).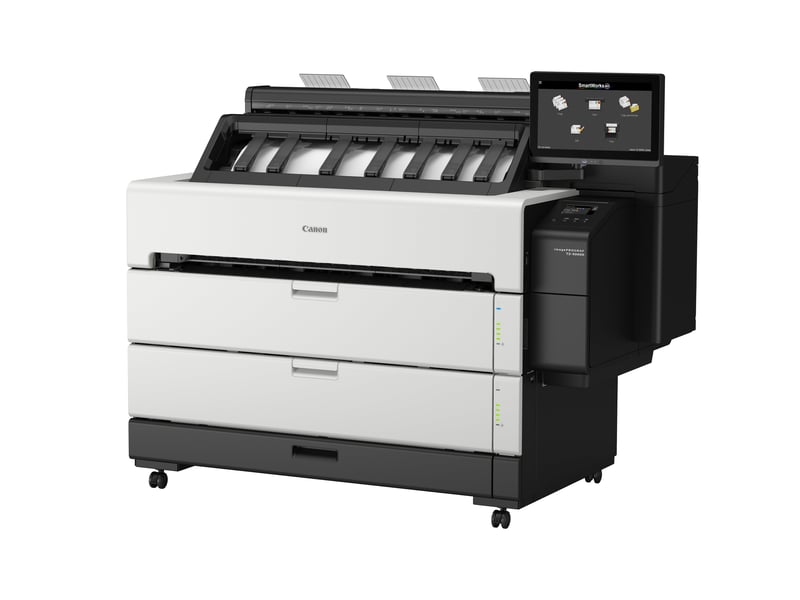 You'll notice that the TZ 30000 system it is smaller than you might expect. The MFP system, with a top-mounted scanner, is only 51 inches tall at its highest point.
Canon did a great job keeping the top surfaces low so all users can easily access everything, including removing prints from the top delivery tray. Even those who feel they are vertically challenged.
Fast Print Speed
By inkjet standards, the TZ 30000 is a fast printer, boasting up to 4 D-size (24x36) sheets per minute. In other words, the print speed is about 14 seconds per page. The rugged design allows you to easily print 244 D-size sheets in an hour.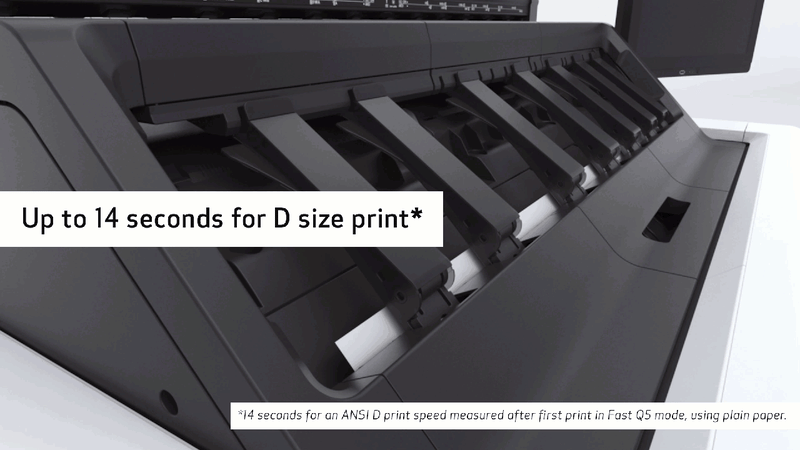 The startup sequence needs to be short for fast print speeds to make an impact. Good news, thanks to Canon's innovative dual processor technology, your first print can be ready in as little as 19 seconds in Print-Ready mode – 45 seconds from Sleep mode.

Integrated Top Stacker
Your days of bending over to untangle a jumbled mess of printed bond drawings from an inkjet printer catch basket are over. The Canon TZ 30000 features an integrated Top Output Stacker that can stack 100 sheets of bond paper. An onboard advanced airflow separation system also helps reduce paper jams while keeping prints neatly in place.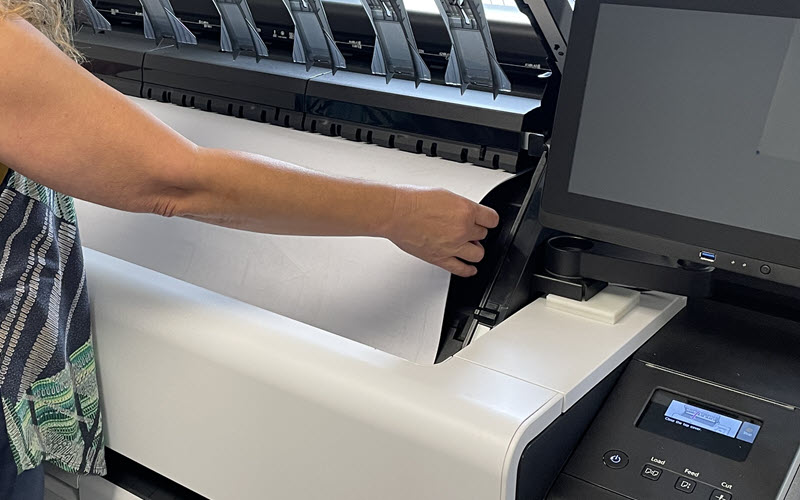 Prints are easily retrieved from the top of the unit. You can even remove sheets while the printer is actively printing. As a precaution, the TZ plotter will pause when the stacker is opened but will resume automatically once the stacker is closed again.

Also, the stacker is fully capable of handling mixed-size sets. So, go ahead and print a set of full-size prints and a half-size set with no worries.

Simplified and Automated Media Handling
It is obvious that Canon spent much time and effort focusing on the end-user experience. This is evident regarding how rolls of paper and other media are managed in the TZ 30000.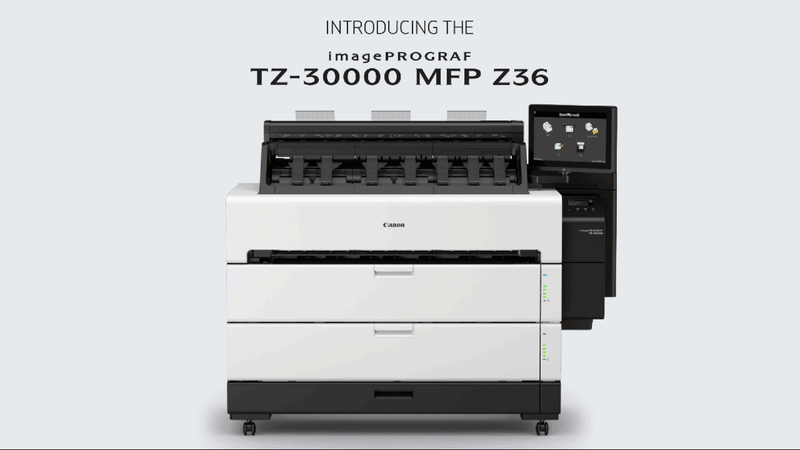 First, the TZ unit comes with 2 media rolls. It is possible to load 500' rolls of paper in each drawer. Likewise, you can use either 2" or 3" core-size rolls. Since the TZ is an inkjet technology, there is an incredible range of media options.
The printer works great with bond paper, photo paper, inkjet film, vinyl banners, and much more.
Loading paper is a breeze.
You load the roll on the spindle, place it inside the drawer, and close the door – that's it! The Canon TZ will automatically spin and load the paper. From there, the imagePROGRAF TZ will automatically sense the media length and width. You only must select the paper type from the printer's touchscreen display.


Plus, the TZ is smart. It learns to recognize the media type and size you typically use and can identify it automatically when you load it.

The printer will auto-switch the media as needed between the two rolls. This happens automatically, so you don't need to worry about manually switching from one roll to another.
Always know how much paper you have available.
Another groundbreaking feature of the built-in Auto Media Detection is LED light indicators on the front of the rolls that instantly show you how much paper remains on the roll. It displays four levels, giving you insight when the paper is running low.
This is an industry-first and pure genius!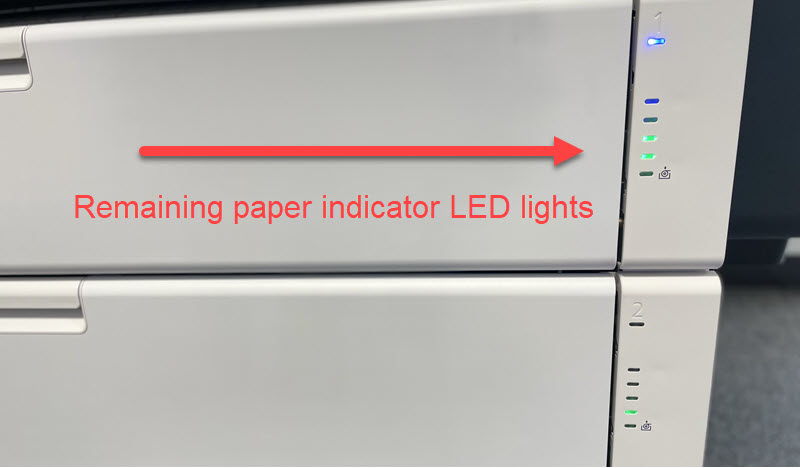 New Generation Smartworks PC Controller
The brains of the MFP (plotter with scanner) version is the new All-in-One Windows 10 PC mounted on the system. This large touchscreen computer comes with the latest SmartWorks MFP v6 software version.
This latest version of SmartWorks is powerful and incredibly easy to use. The large icons provide an intuitive path for anyone to walk up and start using the system correctly.
Directly from the interface, you can print from a USB drive, copy drawings, or scan to PDF, TIFF, and JPEG file formats.

Cutting-edge ink technology
Ink has come a long way over the years. Today, all the Canon imagePROGRAF printers use 100% pigments inks. Why does this matter? Unlike dyes, which are watercolors, pigments are aqueous emulsions of pigment particles. Once the pigments are jetted on the print media, they become permanently bonded to the material.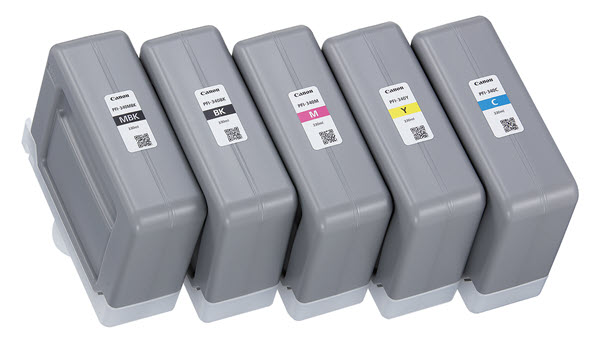 Since the TZ-30000 uses this type of ink, you can always count on your drawings, renderings, and photos to look great. Plus, pigments are fade-resistant and water-resistant. You notice much more durability from these prints than from other legacy inkjet plotters.
The Canon TZ 30000 can use two different size ink tanks – 330ml and 700ml. The best part is mixing and matching these as you like.
ProTip: Using the larger ink tanks drops your per milliliter cost by almost 40%!
[ Shop now for Canon TZ Ink Tanks ]
Loading new ink is super easy. Simply lift the old tank out and drop a new one in the bin. You can even hot-swap the ink tanks while the TZ prints for an uninterrupted workflow.
---
Graphics, Sign, & Poster Printing
It is common knowledge that visual communication is one of the most successful methods of conveying ideas. In fact, research indicates that the use of visual aids typically increases retention of the presented material six times more than when the information is only provided verbally.
This type of technology is readily accessible with a Canon PRO-Series printer. The 8-color and 12-color models can handle the largest, most complex image files and print on an incredible range of media options. So, any imaging or graphics professional can benefit from the ability to quickly and easily create posters on demand. Here are a few examples.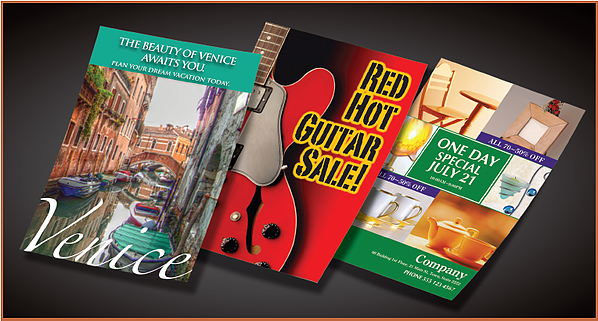 GIS and Mapping
Geographic Information Systems, or GIS, is a computer system that allows you to visualize extensive, quantitative data. That is why GIS data is typically displayed on maps. This technology is commonly associated with engineering and other technical types, but GIS data can be found throughout all industries. Map printing can be found in freight, retail, and social sciences. Any business can benefit from better visual signage.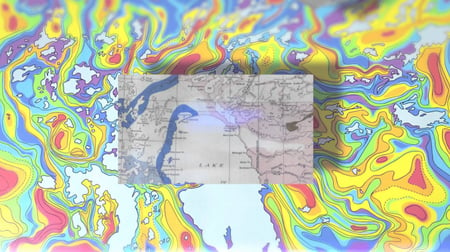 Spatial Analysis and Research
Archaeology
Geography
Cartography
Land Surveying
Oil and Gas Exploration and Production
Public Utility Management
Urban Planning
Landscape Architecture
Because GIS information usually revolves around big data, printing those files can be much more demanding than a typical CAD file; there is much more information to process. As a result, some GIS files can easily exceed the 100MB file size. Luckily, Canon PRO-Series printers are up to the task. Here are some things to remember when looking for a GIS printing solution.
Printing Width of Plotter - Remember, you will be printing maps. The larger, the better. Most companies will need at least a 44-inch printer to print 40x40 aerials. Big maps are fantastic and have a "wow factor" to get you remembered.
Processing Power - GIS files can be HUGE. Sometimes they are in the GB range. So, you better have the processing power to chew through those large files. Also, the processing power needed increases exponentially if your file contains layers. Pro-Tip: It is a good idea to flatten layered files before printing using an application like Adobe or Bluebeam Revu. This will significantly speed up the pre-printing processing time and reduce the chances of mistakes.
Onboard Hard Drive - Be sure your unit has one. This will help significantly with file spooling and help you relieve stress on your network resources. Many graphics printers or map plotters, like the Canon PRO Series, include a large onboard hard drive for print spooling.
RAM - Random Access Memory is essential but can sometimes be a "smoke and mirrors" spec. That is because some plotter manufacturers use virtual memory as a type of RAM. The machine uses a portion of the hard disk to "swap" data to manage memory. The upside to this is a tremendous amount of room for data, but it takes a severe speed penalty. As a rule, as long as you have a hard drive on the plotter, 256 MB of physical RAM is usually enough to get the job done.
Pigment Inks - GIS images are generally displayed for a while. The image will fade quickly if you use a printer with regular dye-based ink. This is because dyes are affected by both ultraviolet light and oxygen. On the other hand, pigments are fade and scratch-resistant. As a result, they will give you much better quality and durability.
Retail Posters
Large-format signage can be crucial to retail stores. Retail poster displays must provide up-to-date information that reflects rapidly changing market initiatives, such as new product information, special pricing, discount offers, and seasonal product specials. Be Dynamic - if you can print your posters, change them often. This will give you an edge over other retail outlets waiting longer for marketing materials to be shipped from corporate.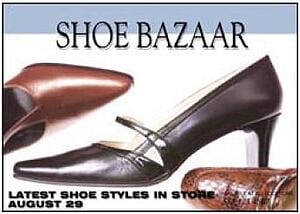 Posters for sales, rebates, and special offers
Notable pricing comparisons with competing stores - what a great way to beat the competition at their own marketing game
Notices on new products and incoming shipments - keeping your consumers informed will help earn their trust.
In-store maps and floor guides
Evacuation route maps
An employee of the month posters
Posters for sales campaigns - be sure to include lots of pictures
Point of Purchase displays
Informational signs for employees
Hospital & Medical Posters
Whether it is a blood drive advertisement, surgery schedule, updated health notice, or the announcement of a newborn, there are many applications for a large-format printer in health care. Posters and displays effectively increase awareness of activities occurring throughout the hospital.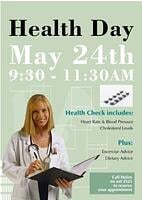 Disease prevention and treatment illustrations
Adhesive banner floor maps and evacuation routes
Notices of upcoming lectures and seminars
Decorations for children in pediatric wards
Physician, nurse, and surgeon schedules
Advertisements for charity events
Eye charts
Education and Classroom Posters
Teachers have personally crafted posters for classes and events for years, which is time-consuming. Although grabbing some construction paper and scissors has been part of the teacher experience for decades, today's educators don't have the time to invest in a handmade poster. Outsourcing printing is another option, but that can be expensive. Most schools have experienced some budget cuts, and printing budgets have been pummeled. Luckily, the Canon PRO Series offers a low cost of operation so that teachers and other educators can quickly produce jaw-dropping posters inexpensively.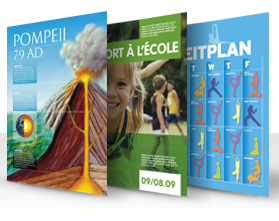 Different versions of printed materials to use for differentiated instruction
Monthly calendars
Job assignment charts
Charts to track assessment results
Response to intervention planners (RtI)
Custom-designed visual aids
Uniquely created classroom-size game boards
Classroom photos and collages
Campus maps and signs
Anything else the staff can dream up…
---
Canon PRO S-Series - 8 Color Printers for Posters & Signs
The 8-color imagePROGRAF PRO S-Series printers are designed for the poster and signage markets. They exceed speed and color consistency expectations in a large format production printer. A new 1.28-inch wide integrated compact print head, LUCIA PRO ink set, a high-precision mechanical platform, and the L-COA PRO high-speed image processing engine achieve a balance between high-speed printing and exceptional print quality.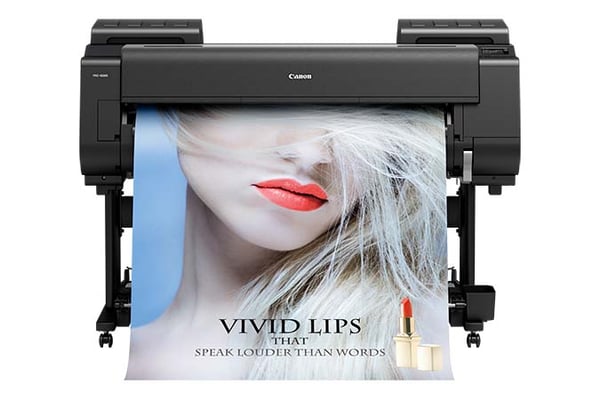 The new PRO 4100S/6100S imagePROGRAF series printers are specially designed for high-volume graphic arts print service providers that need to maximize productivity and manage color across a fleet of printers across multiple locations.
These printers address the unique needs of print service providers and in-plant (CRD) operations competing in the graphic arts production printing market segment. They perform flawlessly as professional photo printers and canvas picture printers.
Anti-clogging technology: The PF-10 print-head with FINE technology generates fast print speeds and reduces clogging.
New LUCIA PRO Ink: an all-new ink formulation with a new microencapsulation process that allows the inks to be even more densely laid down on the media, resulting in increased smoothness of the printed surface.
PRO S-Series Plotter Printer Models:
PRO-4100S: 44-inch printer
PRO-6100S: 60-inch printer
Download the PRO S-Series Brochure
---
Photo and Fine Art Printing
Far beyond the standards of a typical user, photographers and other artists have very high demands, and the Canon PRO Series delivers. Furthermore, this type of printing is very dynamic, as many media options are available.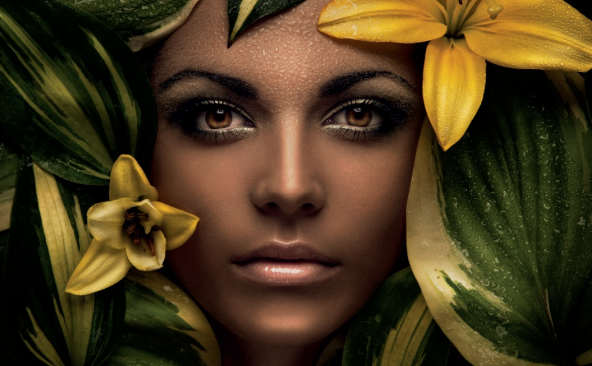 ---
Canon PRO Series
The Canon imagePROGRAF PRO-Series printers are designed to exceed expectations for image quality and color consistency in a large format printer. Using a new 1.28-inch wide 12-channel integrated compact print head, LUCIA PRO ink set plus Chroma Optimizer, a high-precision mechanical platform, and the L-COA PRO high-speed image processing engine achieve a balance between high-speed printing and exceptional print quality.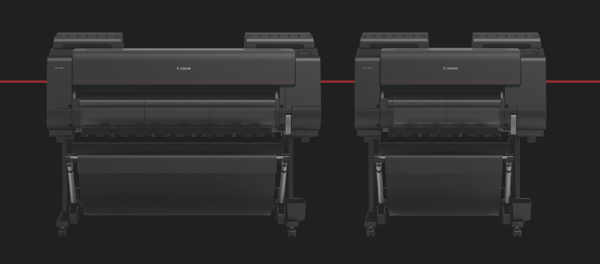 These unique Canon innovations establish the foundation for an ultra-high-quality photography imaging solution available only from Canon print solutions.
Powered by a Canon-to-Canon workflow that links images captured with an EOS Digital Camera and printed on an imagePROGRAF PRO Series printer, the result is a solution that delivers prints that capture the moment and emotion of the original image. The overwhelmingly high print quality produced by this input-to-output solution is called Crystal-fidelity.
PRO Series - Graphics and Fine Arts Printer Models
PRO-2100: 24-inch graphic arts photo printer
PRO-4100: 44-inch graphic arts photo printer
PRO-6100: 60-inch graphic arts photo printer

9 Reasons the Canon PRO-Series Printers Exceed Your Expectations for High-Quality Photo Printing.
#1 - The PRO Series Links Directly to a CANON EOS Camera
Photographers and digital professionals of all types are rejoicing that you can directly link a digital camera to the PRO 2100, 4100, and 6100 printers. This new process, called Crystal-Fidelity, ensures that the original photos' original structure, clarity, and texture are maintained and printed with the highest accuracy and efficiency. At this time, Canon is the only company offering this functionality. Neither Epson nor HP can link directly with a digital camera.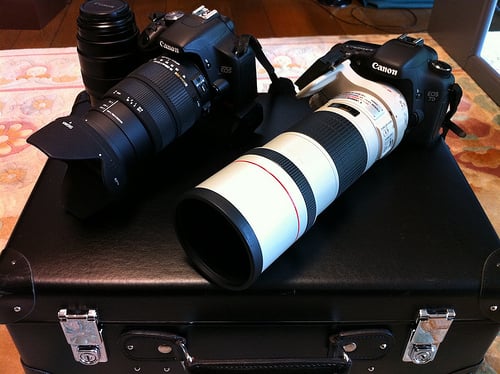 #2 - Lucia PRO 11-Color Pigments Inks PLUS Chroma Optimizer
The LUCIA PRO 11-color ink system features a new formulation with increased pigment density for richer color expression. The Chroma Optimizer further enhances the quality and ensures light reflection uniformity. This unique ink system help enables a broad color gamut with finer details in dark areas and improved gloss uniformity. In addition, Bronzing and graininess are also significantly reduced with the new LUCIA PRO ink set.

#3 - The All-New PRO Print Head
Canon's new PF-10 print head is a re-engineered marvel. This 1.28-inch-wide print head boasts 18,432 nozzles, 27 temperature sensors, and a non-firing nozzle direction system to help ensure control and precision for the highest level of print quality.
Also, clogged nozzles are a non-issue. This is because, on detecting a clog, the sensors stop using the malfunctioning nozzle and use another to compensate for it. This helps reduce ink waste and the need to activate the self-cleaning mode. In addition, to minimize the occurrence of clogs' circumstances, sensors are temperature controlled so that the ink is maintained at the proper viscosity for optimal and consistent ink droplet placement.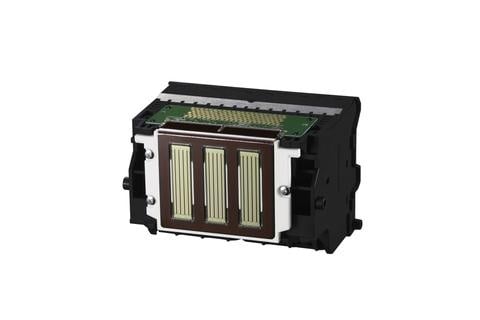 #4 - Built-in Color Density Sensor and Color Calibration System
Color output is optimized by Canon's built-in Color Density Sensor and calibration system. This capability is critical to professional photographers and graphic artists because these printers can reproduce colors reliably and consistently over time.
Canon's Color-Calibration System is simpler and easier to use than competing systems. For example, with Canon's Color Density Sensor, a calibration for one media type is used to make adjustments on the other Canon-supported media—unlike Epson and HP, who require the need for a spectrophotometer and repeat calibrations for every kind of media or print mode. Plus, color calibration on the Canon is fast---it can be done in 10 minutes.
#5 - Innovative and Dynamic Media Handling
Canon's refined media loading system enables a roll of media to be loaded into the printer without directly touching the media with your hands. This is extremely useful for glossy papers that are prone to show fingerprints and smudges. Instead, set the media in the roll holder and lightly rotate the flange to initiate the leading edge of the media to be automatically fed into the assembly.
The optional Multi-Function Roll (MFR) System can also be used as a second media roll or configured as a bi-directional take-up unit.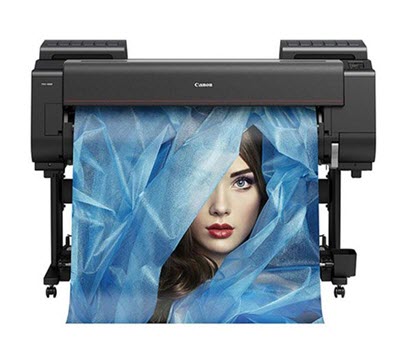 #6 - Versatile Connectivity Options Out of the Box
Today's art studios and design shops need various ways to share data and connect to peripheral devices. So, the Canon PRO Series offers a great variety of connectivity options, including:
Wi-Fi enabled
GB Network ready
Print directly from a USB flash drive
Canon's Direct Print and Share solution
USB 2.0 High-speed port
This combination of connection options dramatically simplifies installation and increases operational freedom.
#7 - Fleet-Wide Printer Management
Canon can control color calibration and printer management for an entire fleet of imagePROGRAF printers in an Enterprise environment.
Device Management Console (DMC) enables users to monitor, control, and calibrate printers from one location.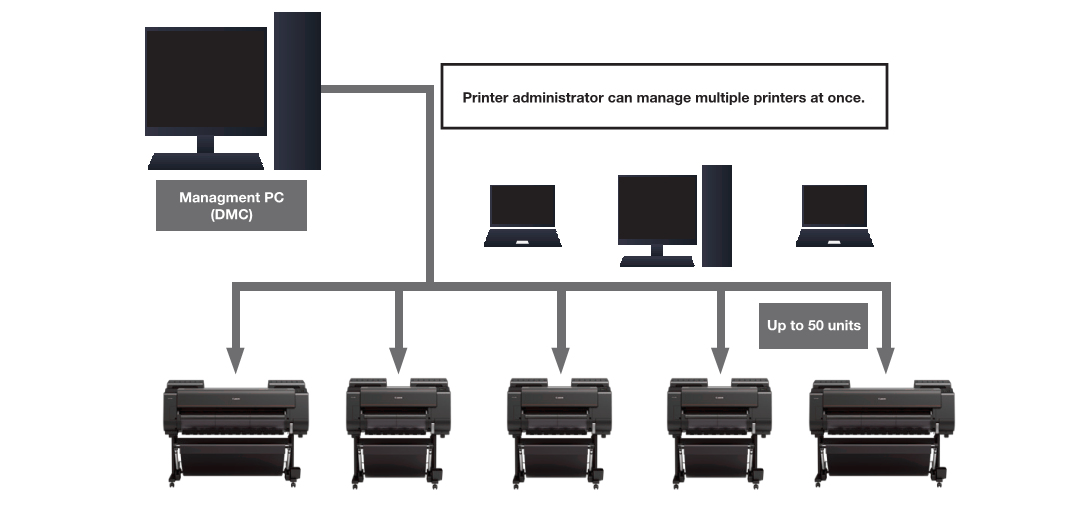 #8 - Software and Workflow Solutions Included
Every Canon PRO Series printer ships with software and digital imaging solutions that further enhance productivity and the range of print applications that can be produced.
Print Studio PRO: Offers features that streamline your printing workflow
Media Configuration Tool: Helps manage print settings and media information
Quick Utility Tool Box: Provides quick access to printer management tools
Print Plug-in for Microsoft Office: Print in large format from Microsoft® Office Applications
PosterArtist Lite: Easily create posters from an archive of templates and clip art
Accounting Manager: Tracks ink and media usage and costs
#9 - Sub-Ink Tank System – Exclusively on Canon iPF Printers
The Sub-Ink Tank System acts as an internal reservoir for the wide format printer to remove all the ink from the replaceable ink tanks before changing them. This helps eliminate any wasted ink and decreases your cost per print. The empty ink tanks can then be replaced on the fly without stopping the printing and ruining the image. This sub-ink technology is only found on Canon iPF printers, including the new PRO 2100, PRO 4100, and PRO 6100.
Download the Canon PRO Series Brochure
---
Canon Software
Canon supports their printers with several, mostly free, robust software applications that allow users to maximize the potential of the imagePROGRAF and PRO printers.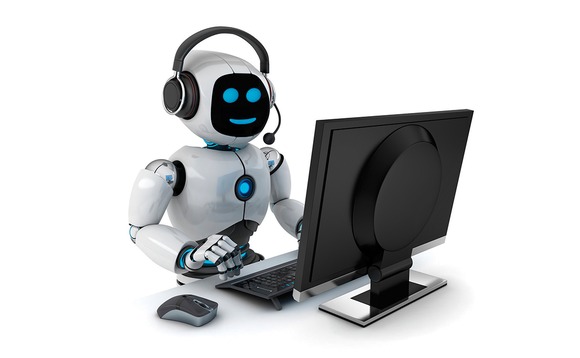 SMARTWORKS MFP SOFTWARE
SmartWorks MFP software allows you to quickly and easily scan to print/file/share large-format technical documents. With a simple-to-use interface and scan-it-once ability, this software allows for efficient batch scanning and helps create quality scanned images that can be produced quickly. You can scan to PDF, TIFF, and JPEG file formats. SmartWorks MFP software is more efficient than ever before.
Features:
Scan-to-Multipage PDF
Scan lengths of up to 315" (26 ft) for PDF and JPEG files and up to 598" (50 ft) for TIFF files
Ability to add custom presets with one-touch retrieval for those often-used settings.
Image enhancements for white point adjust, black point adjust, sharpen, mirror, and invert.
Fine detail scan feature
Enhanced administrator rights
Full integration with Canon Direct Print & Share cloud software
Files can be moved via a USB storage device.
Files can be shared over a network via the Ethernet card.
The TM Unified Printer Driver
The TM Unified Printer Driver allows users to print to any imagePROGRAF TM Series large format inkjet without needing additional drivers for each model. This helps make it a hassle-free installation process for multiple devices within the same environment.
The Windows® driver and Macintosh® driver incorporate simplified page setup options, one-touch borderless printing, expanded color settings, and much more into a printer driver that is intuitive and easy to operate while still giving even the most advanced users the tools needed to help stay productive.
Direct Print & Share
Sharing ideas has never been easier with Canon's Direct Print & Share software. Direct Print and Share is a cloud portal and batch printing solution that helps you to expand your printing workflow. This software allows you to upload documents to your cloud account using any WebDAV-compliant cloud service and print the uploaded documents from almost anywhere.
Easily share and print .cpfx PosterArtist, PDF, TIFF, JPEG, and HP-GL/2 files, through the user-friendly interface. In addition, you can set up hot folders on your desktop by clicking the Shortcut Print feature. Then you can go ahead and drag and drop the files you wish to print into these folders, and the job will start automatically. This makes handling digital image processes a breeze.
You can even set up multiple folders, each with its customized settings, allowing multiple jobs to be run efficiently. This software can also do thumbnail previews of multipage images and multipage printing of PDFs.
Free Layout Plus
Nest, tile, and create custom layouts before printing your files with this print utility. Use the plug-in feature to print directly from Microsoft Office programs.
Accounting Manager
Accounting Manager software is a powerful feature that can help users accurately manage printing costs and other information that is increasingly important in today's economic environment.
With the Accounting Manager software, you can track how much ink and paper is being consumed when printing in large format jobs. Costs can be assigned to ink and paper to determine expenses based on your own "Cost of Goods." Each ink tank and each paper type can have its own cost associated with it.
The user can also input a variable cost that will be added to the total print cost. The data is exportable to a .csv format for Microsoft Excel® so the data can be used for billing purposes. This feature will allow you to determine the cost of each print based on your actual price.
PosterArtist Lite
Canon's included PosterArtist Lite poster creation software allows users to quickly and easily create professional large-format prints and supports the creation of multilingual posters and tiling! Users follow the program's four (4) easy steps to create posters that can be used in applications such as office Presentations, Trade shows, Retail Signage, and much more.
The PosterArtist QuickCopy* feature provides an easy solution for a CanoScan desktop scanner to be used as a copier, making letter-size flyers and documents into full-size posters with a touch of a button.
Device Management Console
This software allows users to continually monitor information such as the printer status and colors used to print. It also allows printer administrators to control multiple networked printers at once centrally. In addition, this utility software displays the acquired printer information in a neat list for easy visibility.
Printer administrators can be notified via email when an error or warning occurs. No more hassles to get to an installation site of a printer to check on the amount of ink remaining. Printer administrators can now check the number of consumables for networked printers by operating DMC software from their personal computers.
Get the Canon Printing Cost Analysis Guide