Learn Tips and Tricks to Become a Bluebeam Rock Star
Download the FREE Revu Tool Kit
Bluebeam® Revu® is a PDF workflow software that give you the smart tools you need to keep your team in sync and get the job done right - anytime, anywhere.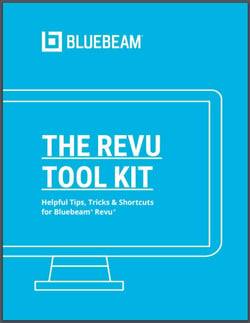 Get the FREE Tool Kit and get over 20 amazing hacks to instantly ramp up your wide-format digital workflow.
You will learn how to:
Automatically auto-size text boxes
Add hyperlinks to your custom markups
Export your PDF plan into a MS Word or Excel format
Draw perfect lines, squares, and circles
Access the internet directly within Revu (Great for quickly checking reference pages)
Create custom keyboard shortcuts

Learn the hacks that Bluebeam Power-Users rely on to quickly annotate and markup your PDF architectural sheets.
See how to edit PDF files to share with your project partners. Discover the best way to add hyperlinks to your drawings.
Having trouble selecting data? Learn how to check to see if your PDF is a scanned document (raster image) or an original vector file.
Export your PDF back into a Word (.doc) or Excel (.xlsx) to make any changes needed in that format.
Share and collaborate in the cloud using Bluebeam Studio Projects or Bluebeam Studio Sessions.
And much more.
Complete the form below to download the PDF Tool Kit.
Get the Ultimate Bluebeam Revu Tool Kit