Learn Tips and Tricks to Become a Bluebeam Rock Star
Download the FREE Revu Tool Kit
Bluebeam® Revu® is a PDF markup and editing software designed specifically for the AEC industry that allows for greater collaboration and efficiency—anytime, anywhere.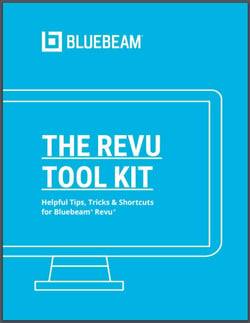 This comprehensive guide will show you 20 amazing hacks to instantly ramp up your wide-format digital workflow.

Automatically auto-size text boxes
Add hyperlinks to your custom markups
Check to see if your PDF is a scanned document or an original vector file
Export your PDF plan into a MS Word or Excel format
Draw perfect lines, squares, and circles
Access the internet directly within Revu (Great for quickly checking reference pages)
Create custom keyboard shortcuts
And much more!
Bluebeam, Bluebeam Revu, eXtreme, Batch Link, and Studio are registered trademarks of Bluebeam, Inc., used under license.

Complete the form below to download the PDF Tool Kit.
Get the Ultimate Bluebeam Revu Tool Kit