Large Format Plotter Dealer - Houston, TX
TAVCO is a Texas-based, factory authorized, sales and service dealer for Océ, Canon, and Contex wide-format products. We carry the complete selection of units to provide solutions for architects, engineers, construction companies, and petroleum firms. This includes plotters, wide-format graphics printers, and large-format scanners. We also provide service, software, paper, toner, and ink.
We proudly provide plotter sales, service, and support throughout the Greater Houston area.
Who we represent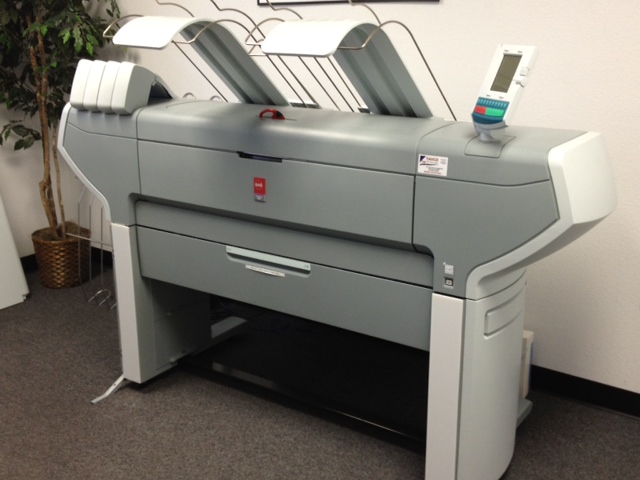 Océ USA: Océ is a leading provider of document management and printing for professionals. The company was founded in 1877 and has become one of the most trusted names in professional wide-format printing systems. With patented technologies such as Radiant fusion, TonerPearls, and Image logic, Océ leads the way with cutting edge wide-format technologies. Océ also spends more in R&D annually than any other equipment manufacturer. The fruits of their labors can be seen in the world class ColorWave 650 TonerPearl printer.
Canon USA: As a global company, Canon essentially makes two things, cameras and printers. That means that their entire business model revolves around imaging systems. By staying focused on these two product lines, Canon has propelled themselves to be a world class organization. In our experience, the Canon iPF wide-format printers are incredible units that easily outclass the inkjet competition.

Océ and Canon - Stronger together: In January 2013, Océ and Canon merged to create an new company - Canon Solutions America, Inc. (CSA). This union created a true global leader in the printing industry. The headquarters for Canon Solutions America is located on Long Island, N.Y., with offices located throughout the United States, including existing key Océ wide format printing systems and production printing systems locations in Chicago, Ill. and Boca Raton, Fla. The CSA comprises over 198,000 employees worldwide. There is strength in numbers!

Contex Scanners: They are the world's largest developer and producer of large format imaging solutions including scanners and software applications. Sold worldwide in over 80 countries, Contex solutions are recognized in a wide range of industries for reliability, value, high performance and superb image quality.

With this collection of best-in-class offerings, you can rest assured that your investment is solid. Please let us know if you are ready to dig a little deeper and find out more about the best system for your needs. Request to speak with one of our wide-format advisors.