Cost of Operating a Canon TZ-30000 [ Calculator ]
This print cost calculator will help you determine the monthly expenditures related to getting and running a next generation Canon TZ-30000 large-format printing system. To use the following calculator, first choose the machine configuration - either a plotter only or a multifunction unit with an attached scanner and controller PC. Next, select your choice of a service contract, pick a lease term, and use the slider to determine your expected monthly print volume (in square feet/month). Determine the total cost of operating a Canon TZ-30000.
Download the Canon TZ 30000 brochure
Download the Canon TZ 3000 spec sheet
---
[ Free Consultation ] Are you interested in exploring new plotter technologies, but have no idea where to start? Get help from our top tech experts in a free consultation call.
Click Here to Schedule Your Free Consultation Call

New Compact Design
The Canon TZ-30000 is a next generation, light production, wide-format printer that retains some qualities long admired with legacy toner-based plotters, like the Canon (Océ) PlotWave series. The TZ is the fastest Canon imagePROGRAF printer to date and is built on a very sturdy platform that is capable of reliably producing thousands of square feet per month. This new design is a promising for companies looking to lower their business overhead costs.
Positioned to meet changing demands
The demand in the large-format printer market has changed quite a bit in the last few years. Traditionally, AEC-related companies printed mostly black/white construction drawings. However, more dynamic printing is needed today. Besides the integration of more color plans, companies are finding way to maximize the benefit of printing on a wide range of different materials, such as sign, banners, and photos. Likewise, the cost of printing with color has actually come down and is essentially in line with toner printers. This has resulted in a lower cost of operating equipment like the Canon TZ machines.
Fast Print Speed
By traditional inkjet standards, the TZ 30000 is a very fast printer, boasting up to 4 D-size (24x36) sheets per minute. In other words, the print speed is about 14 seconds per page. Plus, the rugged design allows you to easily print 244 D-size sheets in an hour. For fast print speeds to really make an impact, the startup sequence needs to be short. Thanks to Canon's innovative dual processor technology, your first print can be ready in a little as 19 seconds in Print-Ready mode – 45 seconds from Sleep mode.

Integrated Top Stacker
No more retrieving a mess of printed bond drawings from a traditional inkjet printer catch basket. The Canon TZ 30000 features an integrated Top Output Stacker that neatly stacks up to 100 sheets of bond paper. An onboard advanced air flow separation system also helps reduce paper jams while keeping prints neatly in place. Plus, removing printed sheets has never been easier.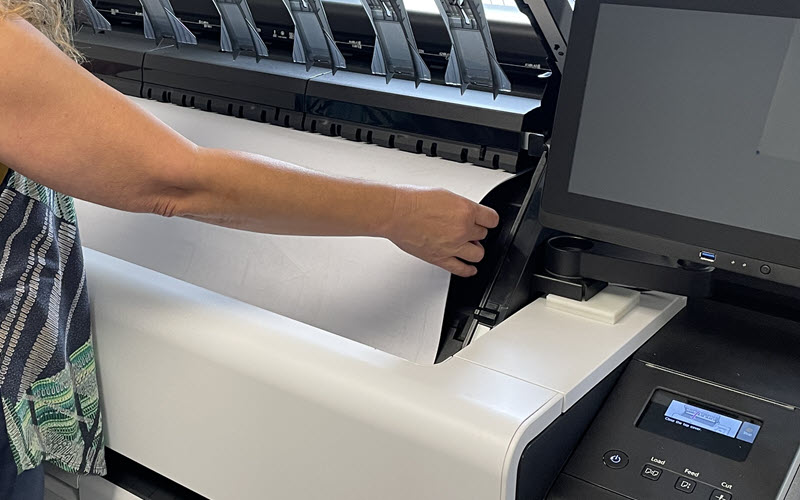 Prints are easily retrieved from the top of the unit. You can even remove sheets while the printer is actively printing. As a precaution, the TZ plotter will pause when the stacker is opened but will resume automatically once the stacker is closed again. Also, the stacker is fully capable of handling mixed-size sets. So, go ahead and print a set of full size prints and a half-size set with no worries.

Simplified and Automated Media Handling
It is obvious that Canon spent a great deal of time and effort focusing on the end-user experience. This is totally evident regarding how rolls of paper and other media are managed in the TZ 30000.First, the TZ unit comes with 2 media rolls. It is possible to load 500' rolls of paper in each drawer. Likewise, you can use either 2" or 3" core size rolls. Since the TZ is an inkjet technology, there is an incredible range of media options. The printer works great with bond paper, photopaper, inkjet film, vinyl banner, and much more.
Loading paper is a breeze.
You simply load the roll on the spindle, place it inside the drawer, and close the door – that's it! The Canon TZ will automatically spin and load the paper. From there, the imagePROGRAF TZ will automatically sense the media length, and width. You only need to select the paper type from the printer's touchscreen display. This greatly minimizes the need to train additional personnel to operate the machine therefore lowering the total operational costs.

Plus, the TZ is smart. The onboard AI learns to recognize the media type and size that you typically use and can identify it automatically when you load it again. The printer will auto switch the media as needed between the two rolls. This happens automatically so you don't need to worry about manually switching from one roll to the other.
Always know how much paper you have available
Another groundbreaking feature of the built-in Auto Media Detection are LED light indicators on the front of the rolls that instantly show you how much paper is remaining on the roll. It does this by displaying four different levels, giving you insight when the paper is running low.
This is an industry-first and pure genius!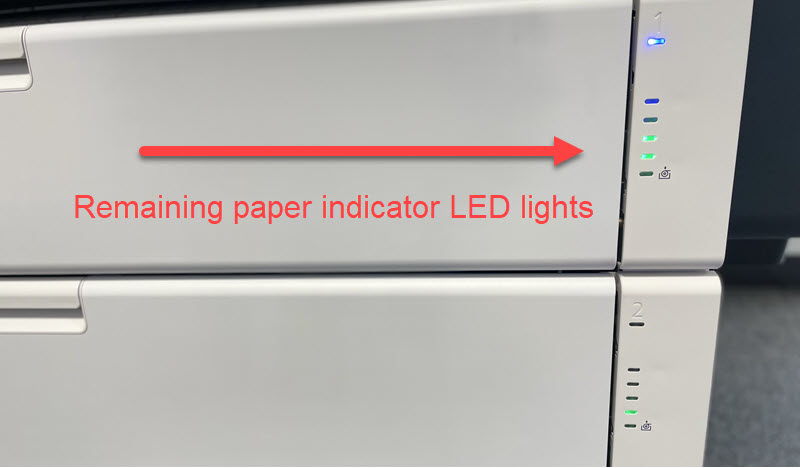 New Generation Smartworks PC Controller
The brains of the MFP (plotter with scanner) version is the new All-in-One Windows 10 PC mounted on the system. This large touch screen computer comes loaded with the latest version SmartWorks MFP v6 software.
This latest version of SmartWorks is powerful and incredibly easy to use. The large icons provide an intuitive path for anyone to walk up and start using the system right way. Directly from the interface, you can print from a USB drive, copy drawings, or scan to PDF, TIFF and JPEG file formats.

Cutting edge ink technology
Ink has come a long way over the years. Today, all the Canon imagePROGRAF printers use 100% pigments inks. Why does this matter? Unlike dyes, which are essentially watercolors, pigments are aqueous emulsions of pigment particles. Once the pigments are jetted on the print media, they become permanently bonded to the material.
Since the TZ-30000 uses this type of ink, you can always count on your drawings, renderings, and photos to look great. Plus, pigments are fade resistant and water resistant. You notice much more durability from these prints than from other legacy inkjet plotters. The Canon TZ 30000 is capable of uses two different size ink tanks – 330ml and 700ml. The best part is that you can mix and match these as you like. TAVCO ProTip: Using the larger ink tanks drops your per milliliter cost by almost 40% - dropping the semi-variable costs of buying ink.
Loading new ink is super easy. Simply lift the old tank out and drop a new one in the bin. You can even hot swap the ink tanks while the TZ is printing for a totally uninterrupted workflow.
[ Shop now for Canon TZ Ink Tanks ]
See the full line of Canon imagePROGRAF plotter and MFP systems
Get a Canon TZ-30000 Quote