Streamline your workflow with the Canon TZ-30000 Large Format Printer
Print up to 4 D-size sheets per minute.
Integrated 100 sheet capacity top stacker.
2 auto-loading media rolls standard.
Print With Speeds That Rival Toner-Based Systems
The Canon TZ-30000 is a 36-inch wide printer capable of printing 4 D-sized sheets per minute. That's up to 244 Arch D sheets per hour. Plus, get your first sheet out in as little as 14 seconds. This outclasses the performance of most legacy LED toner plotters out there.
Get Amazing Looking Prints Every Time
The TZ-series features an all-new 5-color TD pigment ink set. This ink was formulated to produce fine lines and sharp text on both inkjet and non-inkjet paper. Combine this pigment ink with water resistant media and you have a printed drawing that can withstand the outdoor conditions of a construction site.

Save Time with More Paper Capacity
The TZ-3000 plotter ships standard with two media rolls for maximum productivity. The dynamic nature of the machine allows you to load two rolls of 36-inch paper for extra capacity, or mix and match any paper sizes or types.

Easiest paper handling in the industry
The new Canon iPF TZ printers can stack up to 100 sheets of ARCH D or ARCH E size sheets with the Top Output Stacker for increased productivity. The stacker also features Canon's advanced air flow system, with cushions each outgoing sheet with a cushion of air. This greatly reduces the potential for any paper jams and keeps prints neatly aligned.

Scan and Copy Drawings With the Greatest of Ease
The integrated full-color Z36 scanner gives you the dynamic functionality of digitally scanning sheets to a network or cloud-based drive. This scanner is fast allowing you to scan b/w documents at 13"/second and full color drawings at 6"/second. Plus, the intuitive touchscreen controller makes scanning and copying a breeze.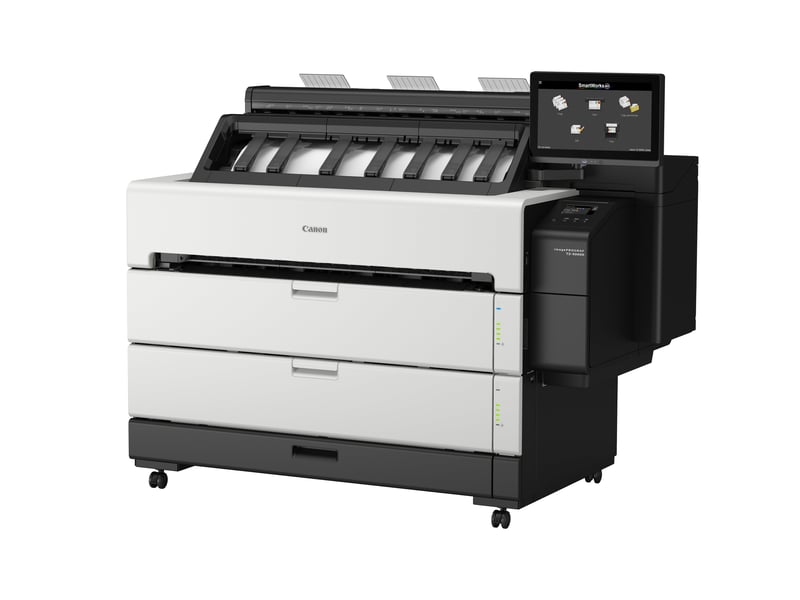 High Capacity Ink Tanks
Canon's LUCIA TD inks are available in either 330ml or 700ml ink tanks, you have the ability to purchase a combination of ink sizes based on your printing volume.
Sub Ink Tank System
The Sub-Ink Tank System allows all of the available ink in a tank to be used before having to replace it, helping eliminate any wasted ink. The empty tanks can also be replaced on-the-fly without stopping the printer. This is extremely useful during your long print jobs.
PF-06 Print Head
The newly designed PF-06 is a 1.07-inch, 6-channel print head with 15,360 nozzles. Combined with the TZ-30000's high speed carriage transfer and ink ejection, this print head allows for ink to be laid down quickly and precisely.
Automatic Intelligent Media Loading
Media is now loaded automatically in the new TZ Series printers. Users simply place a roll in an opened paper drawer and slide the media in the front of the printer. The printer then auto detects media, type, width, and length. The Canon iPF TZ then adjusts the media into optimal printing position.
New Stacker
The new integrated Canon TZ Stacker can stack up to 100 sheets of ARCH C, ARCH D, or ARCH E/E1 page sizes for increased productivity.
Advanced Security Features
The TZ Stacker is loaded with new security features to keep your equipment and your data safe. The internal self-encrypting hard drive completely erases all files with the touch of button. The printer is IPSec, 802.1x compatible and TLS-enabled/disabled encryption capability. Print management can also be controlled with a numerical passcode that must be entered in the control panel to help ensure that only you have access to our prints.
Download the Canon TZ 30000 brochure
Download the Canon TZ 3000 spec sheet
Use the Canon Plotter Printing Cost Calculator
Read the Definitive Guide to Canon Plotters & Printers
See the full selection of Canon systems