Here you will find a collection of links, articles, videos and websites related to a product we offer or an industry that we support. We are here to help. Feel free to contact us if you still have questions.
Bluebeam Revu Training and Support Links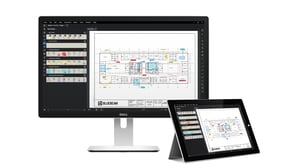 What is Bluebeam Revu and who uses it?
Cheat sheet for Bluebeam Revu shortcuts
How to search plans and documents (text search and visual search)
Easily create and customize markups in Bluebeam Revu
Tips and tricks for highlighting text and other geometry
What is new in Bluebeam Revu 20
Bluebeam Revu General Support (For users with active maintenance)
Leica BLK360 3D Laser Scanner Videos (Reality Capture)
Learn more on TAVCO's 3D Scanner/Reality Capture Page
TAVCO Downloads - Papers and Guides
Large Format Scanner Buyer's Guide - Learn how all large-format scanners are not made the same. There are different technologies to consider. Get top-notch advice for finding the perfect large-format scanner for your specific set of needs.
Wide-format Cost Comparison - Inkjet Versus Toner Costs - Examines the cost variance between the two. This white paper details when an LED toner unit is worth the investment over an entry level inkjet plotter.
Benefits to Leasing - Covers all the variables of equipment leasing. This is a good place to start when considering an equipment lease over a cash purchase.
Considerations for Printing GIS Applications Guide - This Canon Solutions America Guide details how to get the most from GIS print file. This includes best practices for printing techniques, choosing the right quality, the importance of the print media and more.
Canon Product Videos
Canon TX Series - Information video and overview of technical printer series
Canon TX-Series configuration for Category Tracking for service contracts
Canon TM-Series - Overview of basic CAD and technical printers
Canon PRO Series - Information video and overview of graphics printer series
Plotter & Printer Driver Links
Canon iPF Printer Drivers Link
Plotter and Scanner Hardware Manufacturers
Canon Production Printing - A global leader in digital document management and delivery technology offering software solutions, digital printers, copiers, plotters, and scanners.
Canon USA, ImagePROGRAF - Canon offers state-of-the-art large-format printing solutions designed with exceptional speed, flexibility, and quality. With three distinct lines of printers; 12-color for the Photography and Graphics markets, 8-color for the Production market and 5-color for the Technical Documents and General Use markets, Canon has a large format solution to fit your needs.
Contex Scanning Technology - Contex large format scanners and large format scanning software for color and monochrome wide format scanning solutions.
Leica Geosystems - the world leading scene capture solutions provider for public safety applications. Leica Geosystems is the world leading scene capture solutions provider for public safety applications.