Construction technology is a term that can describe any tool, device, or system that is used to produce work in the construction process. This can be anything from a modern excavator, to a UAV drone, to a cordless drill, and more.

Today, in the wake of the COVID 19 Coronavirus, many firms are eagerly looking for ways to improving their workflows to get more work done with both in-house and remote teams. Though some may feel a bit 'forced' to upgrade their processes, all understand that they need to improve they way they collect and share data to stay competitive in the new marketplace.

Construction technologies offered by TAVCO.

Lidar and Reality Capture
Photogrammetry Devices
CAD Software
BIM Software
PDF Markup and Management Software
Artificial Intelligence
Plotters and wide-format systems
LiDAR and Reality Capture
LiDAR is an acronym for light detection and ranging. It is a method for measuring distance using a pulsed laser light to accurately measure ranges and real-world conditions. In AEC, this is also referred to as Reality Capture or RC.


The physical device that captures reality is a 3D terrestrial laser scanner. This is a three-dimensional scanning device that is a non-contact, non-destructive device that captures the shape of a physical object by using only a line of laser light.

The scanner literally shoots a large collection of different data points to create a point cloud, or a large set of data points represented in a coordinate system, containing X, Y, and Z coordinates and can also contain RGB values for each individual point.

When an area is scanned, hundreds of thousands of points are collected. The resulting image is full of vector data which can be very accurately modeled and measured, sometimes with up to .0005 inches of the exact value.
Leica BLK 360 Scanner
The Leica BLK360 captures the world around you with full-color panoramic images overlaid on a high-accuracy point cloud.

It is simple to use with the single push of one button.
The BLK360 conveniently streams image and point cloud data to an iPad or final project data to Cyclone REGISTER 360 via Wi-Fi.
With automated workflows, the BLK360, along with the the software solution of your choice, dramatically streamlines the reality capture process thereby opening this technology to non-surveying individuals.
Simple export of LGS files makes working with point cloud data downstream in the Leica Geosystems and other CAD suites simple and efficient.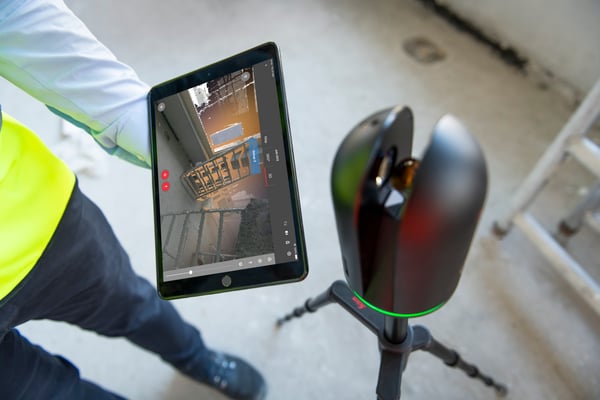 Spend less time processing data and more time creating meaningful deliverables.
Range up to 197 feet
Accuracy 4mm at 10m / 7mm at 20m
Horizontal field of view: 360°
Vertical field of view: 300°
360,000 laser scan points per second
Bluetooth wireless data transfer
Three HDR cameras
Scans in under 2 minutes

Leica BLK360 highlights:
Simple to use
Smallest and lightest imaging laser scanner of its kind
Fast - capture a scan in less than three minutes
---
Photogrammetry
Photogrammetry is the process of obtaining reliable measurements and other information about physical objects and the jobsite information through the process of recording, measuring and interpreting photographic images.

Leica BLK3D is a real-time, in-picture 3D capture and measurement solution. You can literally take a picture and instantly have access to measurable data embedded in the image.

By combining multiple measurement sensors, software, and on-device edge data processing capabilities, the Leica BLK3D makes in-picture measurements with professional-grade accuracy in real-time possible.

Every image captured is a complete and precise picture 3D measurement file. And, its edge computing capabilities eliminate the need for network connections and cloud services.

Professionals can make faster decisions within their daily workflows – whether measuring inaccessible locations, creating floor plans, estimating building installations, documenting construction site progress or creating measurable, as-built documentation.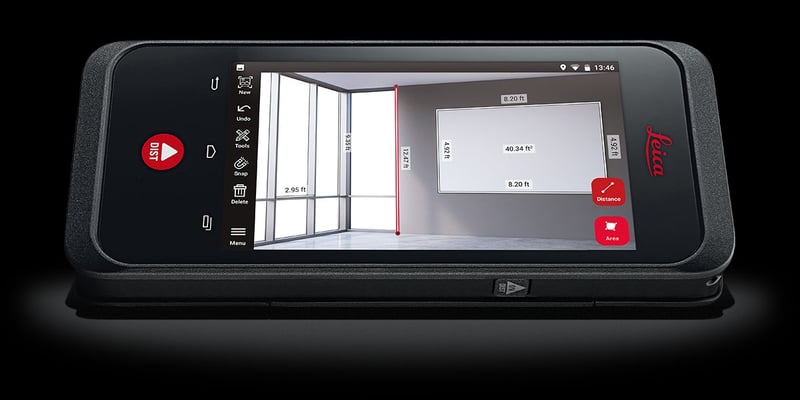 Leica BLK3D highlights:
Take a picture and measure anything in the image
Easily store, organize, and share your images and measurements
Great for RFIs and documenting construction site progress
---
CAD Software
Obviously CAD software is nothing new technology-wise. Ever since the advent of the computer, designers and engineers have used CAD software to perform calculations. Then, when personal computers becoming mainstream in the 1980s, AutoCAD® helped mainstream the .DWG file for 2D CAD work.
Luckily today, there are other options, besides AutoCAD®. BricsCAD by Bricsys is a software application for computer-aided design that allows users to design in 2D, 3D, and Building Information Management (BIM) workflows. The full BricsCAD family of products is offered in five different versions – Lite, Pro, BIM, Mechanical, and Ultimate.
It is an all-in-one CAD design solution that utilizes the .DWG file format. BricsCAD brings an innovative, cost-effective, and familiar multi-platform CAD solution to Windows, macOS, and Linux.
One thing that separates BricsCAD from Autodesk products is that it is available both by permanent/perpetual licenses or annual subscription. Other added flexibility is due to the fact that both versions are available as either networked or stand-alone computers.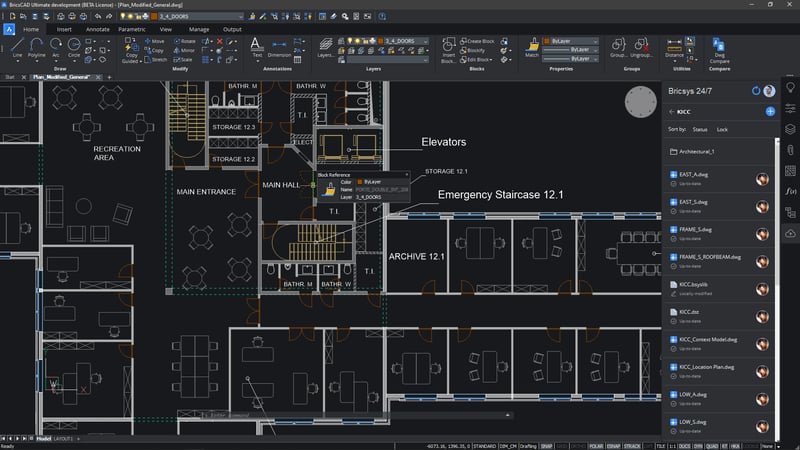 BricsCAD highlights:
Increase CAD speed and productivity
Use one application for all of your design work and workflows
Experience freedom with flexible licensing options
---
BIM Software
Building Information Modeling, or BIM, has become commonplace in the AEC community. At its core, BIM is an intelligent process that optimizes the whole life cycle of a project. This includes all aspects from design, to construction, and can also model ongoing operations and maintenance.
Bundling all of the information does more than showcase the design, it tells the story of the planning timeline so that construction is both more efficient and cost effective.
BricsCAD BIM offers an end-to-end BIM workflow for design, construction documentation, and manufactured building products for architects, engineers, and contractors.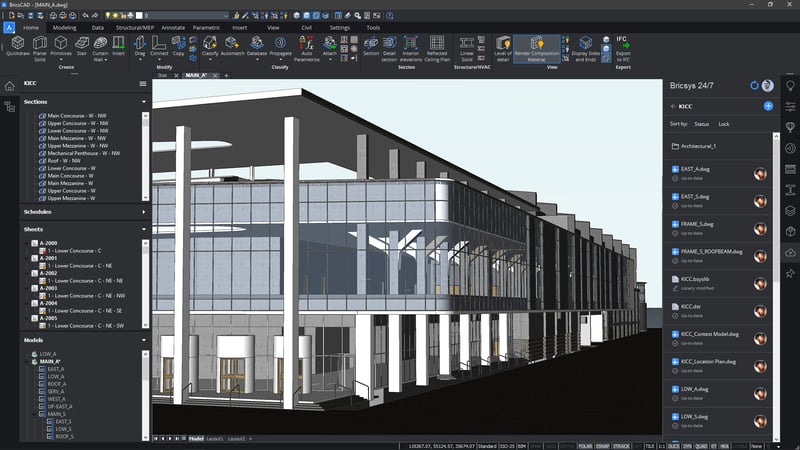 BricsCAD BIM highlights:
Work and design faster than ever
Integrated tools that let you design quickly and easily
Extremely flexible licensing options - own it outright or rent annually
---
Collaborative PDF Markup and Project Management Software
Besides .DWG CAD files, PDF is the most common file type used for construction plans. But, PDF's are much more than a simple file. PDFs actually serve as a container for much more information than just the represented image.
In fact, they are also capable of containing a collection of meta data including annotations, layers, digital signatures, 3D information, and much more.
Both General Contractors and Specialty Contractors need a way to harness the dynamic power of PDF file to mark up, notate, and perform takeoff measurements.
Bluebeam Revu is a software application that allows users to markup, takeoff, organize, and collaborate with PDF files like never before. More than simply a PDF viewer, or annotation tool, Bluebeam Revu is efficiency and collaboration software for anyone who works with technical files.
Bluebeam's built-in tools and functions provide users in these industries a sleek and powerful tool to get work done quickly.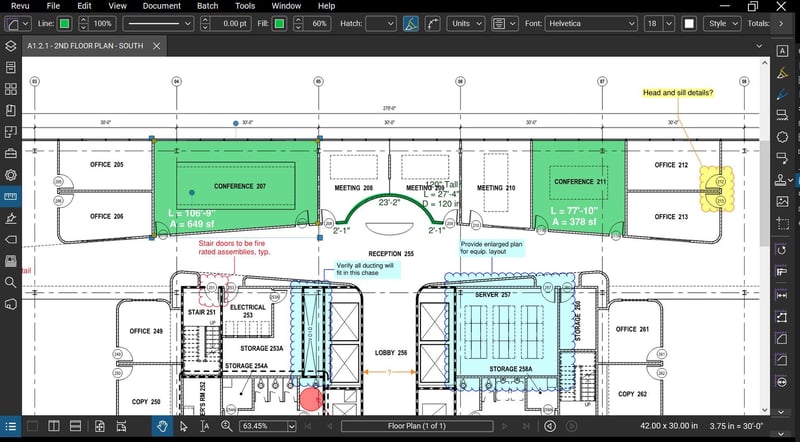 Bluebeam Revu highlights:
Simplify tasks from start to finish
Build better bids with intuitive measurement tools
Keep all of your documents organized including RFIs, submittals, and punch list items
---
Artificial Intelligence
Although it was once only the stuff of science fiction, artificial intelligence (AI) is real and growing exponentially. IBM states that AI is "the ability of a computer to mimic the capabilities of the human mind." It impacts our lives in many ways today - we communicate with it through our smart phones, self driving vehicles, and other household devices.
Now, the power of AI can help construction related companies work faster, more efficiently, and safer than ever before.
Smartvid.io
Smartvid.io is a complete software safety Suite that brings together the best of human and artificial intelligence into a single platform through separate modules for observations, monitoring, and predictive analytics. The platform reduces incident rates across all of your projects by enabling a Predictive-Based Safety approach.
Smartvid.io utilizes images taken via jobsite cameras and helps safety managers and other executives identify up-to-date risk conditions and areas of focus each week. Vinnie, the construction-trained AI, works like a "virtual safety manager", automatically detecting safety hazards on jobsites.
Dashboards and a safety risk assessment report are created to enable cross-project benchmarking for leading risk indicators, such as PPE, workers at height, ladders by type, safety monitoring for fall protection and more.
The powerful AI, "Vinnie," is trained on massive amounts of historical project data and incident reports to accurately predict safety incidents before they happen. Predictive analytics models are built for each customer and specifically tuned for their sources of data and types of construction.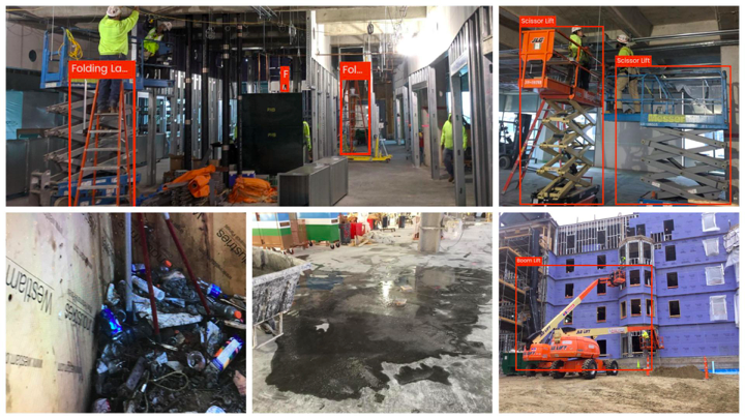 Smartvid.io highlights:
Safety observations
Safety monitoring
Predictive analytics
---
BricsCAD AI and ML Features
Today's CAD workflow can be very complex. Bricsys combats this challenge by programming their BricsCAD software with a built-in AI and machine learning engine to understand and identify similar elements in your drawing and treat them the same way. This intelligent interpretation assistant can provide help with repetitive tasks.
Automatically classify solids as building elements - BricsCAD automatically detects walls, slabs and columns. Yet, this can be extended to incorporate more specialized types like composites (curtain walls, stairs, roofs, etc.) and subtypes (inner and outer walls, roof slabs, front doors, etc.). Or even automatically separate stories and buildings.
Repair your model - BricsCAD's AI can repair modeling errors, like small gaps between solids, or other small errors, when trained to do so. Of course, if your design is made to have small gaps between walls, they should be left there.
Smart connections - BricsCAD BIM allows users to add more details to a model: detailed connections, window types, etc. It's easy to overlook some locations, if you have to add all those details manually. The powerful AI takes care of this for you.
Intelligent copies - Instruct the AI to look at the projects you point to while it intelligently copies and applies certain style elements, such as wall materials, story heights and window styles to your current project. This action can work in two mouse clicks. The first click gets you the suggested model and with the second you approve it.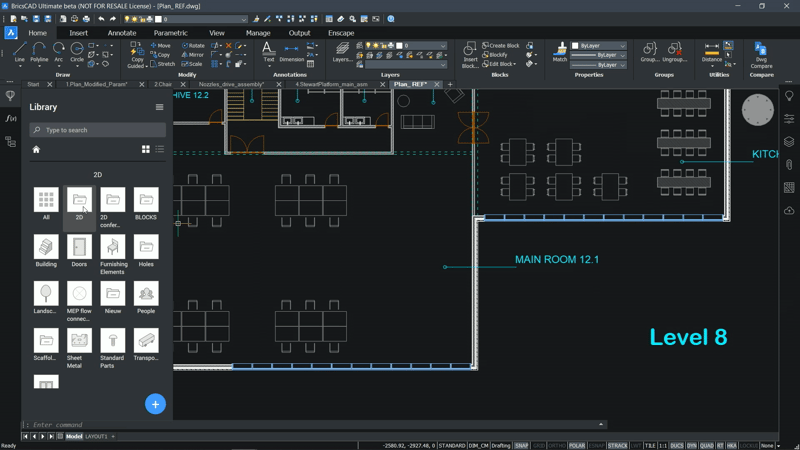 ---
Plotters and wide-format systems
Given all the new amazing construction technologies, it is impossible to dismiss the value of traditional paper plans. Paper construction drawings have been around forever and they will always be needed at various stages of construction.
Companies today generally no longer need large volumes of plan printed. Instead, they need to dynamically use color in their drawings to better communicate information to reduce expensive mistakes in the field.
---
Canon TX Series
Canon TX-3000 and TX-4000 color plotter series is designed to replace both legacy toner-based systems and other inkjet models. The TX-3000 plotter is capable of printing 3 D-size sheets per minute with a brand new durable ink set that is both water resistant and fade proof.
The innovative TX Series is also available as a multifunction plotter/scanner system by adding a 36-inch CIS scanner and controller PC. These combine the latest technologies in one single platform. These powerful systems provide fast printing and scanning for amazing results.
Canon TX-Series highlights:
Print, scan, and copy construction drawings, GIS maps, posters, and more.
Produce great looking documents with Canon LUCIA TD Inks.
Unleash your creativity with free, included workflow and management software
---
Canon TM Series
The Canon TM-300 and TM-305 plotters are redefining what wide format printers are capable of doing. The TM-300 or TM-305 printer is not only ideal for printing technical documents, CAD drawings and GIS maps, but also posters, signage and displays with the use of Canon's LUCIA TD water resistant pigment ink and fine art papers.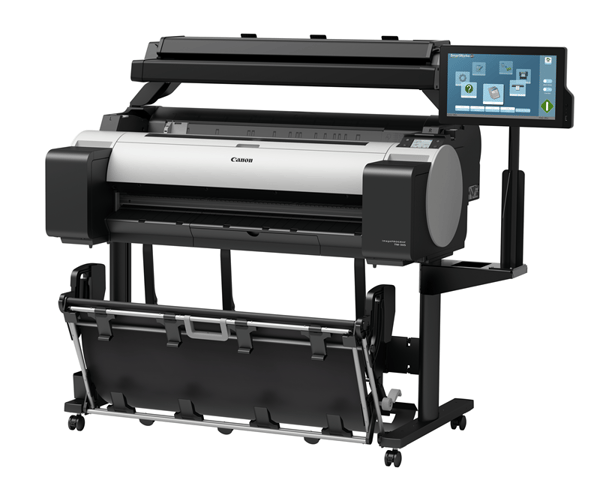 Canon TM-Series highlights:
Print construction plans with ease
Make posters, banners, and other marketing collateral
Maximize your value with extra free, included software applications
---
Have questions about TAVCO's construction tech? We'd love to help
Questions? We'd love to help.