Chances are if you work in construction, you have probably heard of Bluebeam® Revu®. Although it is now a construction industry standard, there are plenty of people who just don't know what it is or what it does.
Bluebeam Revu is a software application that allows users to markup, takeoff, organize, and collaborate with PDF files like never before. Here's how.
More than simply a PDF viewer, or annotation tool, Bluebeam Revu is efficiency and collaboration software for anyone who works with technical files.
This applies to a wide range of industries, including construction, architecture, engineering, manufacturing, and energy related companies. The built-in tools and functions provide users in these industries a sleek and powerful tool to get work done quickly.
Because of this, many AEC professionals have switched to Bluebeam Revu as their default PDF software.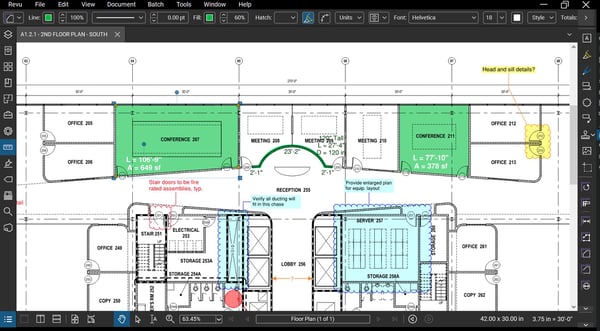 Shortcuts
Read along or just jump to the topic that interest you.
Built on a Powerful Foundation
The power of Bluebeam software is founded in the dynamic nature of the PDF file format. Although common, PDFs are much more versatile than most people know.
PDFs actually serve as a container for much more information than just the represented image. In fact, they are also capable of containing a collection of meta data including annotations, layers, digital signatures, 3D information, and much more.
All of this additional data can be edited, organized, and managed easily with Bluebeam software. In fact, the integrated Markups List offers the functionality of a spreadsheet, such as Microsoft Excel, right inside the PDF file.
This gives users the ability to filter markups by subject, sort notes, assign responsibilities, and more.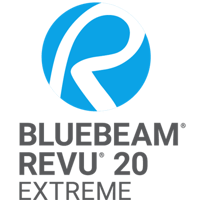 Get Your 30-day Free Trial - No Obligation

Because all of this extra data can be stored within the framework of the PDF file format, that information can be manipulated and managed. Bluebeam Revu takes full advantage of this and allows users to capitalize on this to maximize productivity, increase project predictability, and minimize risk.
---
"More than simply a PDF viewer, or annotation tool, Bluebeam Revu is efficiency and collaboration software for anyone who works with technical files."
---
Working Remotely (COVID-19 Update)
As the COVID-19 coronavirus pandemic swept the world in early 2020, many people were mandated to quarantine, at home. This directive had massive impacts to both the economy and our society as a whole. Construction related companies, however, were offer a bit of relief as they were deemed "essential business" and allowed to keep working.
This allowed most construction projects to continue - although with strict modifications and constraints at the jobsite. As social distancing became the norm, the landscape of construction sites changed drastically. Person-to-person distance requirements, wearing of face masks, and mobile hand washing stations became standard practice.
Besides changing policies and procedures at job sites, construction office and admin staffs changed completely. Instantly, there are a shift to migrate and conventional office into a new, modern remote office.
This shift to a home office is a perfect fit for Bluebeam. As a software tool, many users simply either acquired new licenses for their home workstations or simply migrated their Bluebeam license to another computer. Once installed and set up, Bluebeam Revu allowed these users to operate like before. Plus, with Bluebeam's integrated cloud, Bluebeam Studio, collaborating with project partners never missed a beat.
[ Download a FREE 30-day trial of Bluebeam Revu ]
Who Uses Bluebeam Revu?
Although there are many different types of Bluebeam users, there are are a few primary positions within architecture engineering and construction companies who are the primary driver's of Bluebeam within their organization.
Project Managers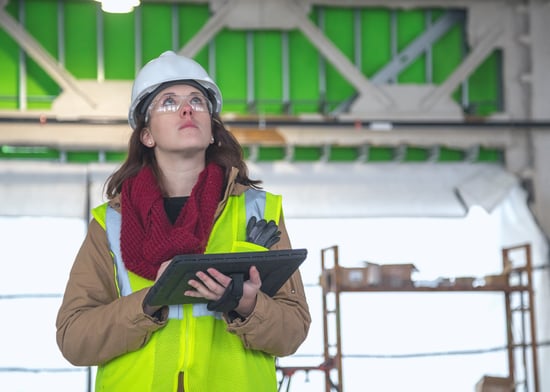 Project managers typically oversee the planning, design, and/or construction of a project from start to finish. They consider themselves the "owner" of the project, so they obviously have a lot of responsibilities. These include communication with both owners and subcontractors, planning, design, and construction.
What Project Managers Need
As the managers of the project timeline, Project Manager need a way to streamline document management and communication across all across all team channels.
Some of the features of Bluebeam Revu that Project Managers love is the ability to have customizable, industry specific markups at the ready.
Bluebeam ships with many standard markup tools on board for easy use, plus the best best in class markup technology makes creating custom markups a breeze. So, no matter if a user needs to simply highlight information and markup the the drawing, they can easily do it in blue beam with just a few clicks.
Bluebeam even has the ability to calibrate the sheet to perform digital takeoffs and measurements.Once takeoffs and markups are completed, the Project Manager can keep track of responsibilities and other important action items with the Advanced Markup List. Assignments can be made and managed and custom reports can be generated with a single click.
BIM or VDC Directors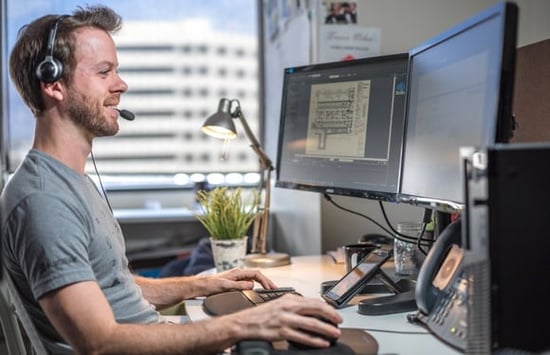 Anyone in the construction business knows that AEC has changed more in the past 10 years then in the previous 50.
New technologies and innovations have led to many advancements throughout the industry. With the introduction of new software platforms, new roles have emerged such as that of the BIM (Building Information Management) or VDC (Virtual Design & Construction) director. This person is responsible for managing the business information modeling and virtual design software applications for the company.
What BIM/VDC Directors Need
The BIM/VDC job comes with its own set of challenges like keeping track of design cost quality for all of the company's projects and agreements that the company has with design firms.
This can be challenging because there always the risk of delays and cost overruns due to the complexity of today's construction projects. BIM/VDC directors are in charge of standardizing processes across projects and work-flows. Plus, they are responsible for defining solution stacks for projects and to bring you to new users on board.
Obviously, these managers are concerned with maximizing value with successful implementations of people processes and technologies across the projects and throughout the company.
Simplify and Work Smarter
Bluebeam helps BIM or VDC directors simplify on-boarding of all new users with a simple to use software that performs all of the functions that they need. These Directors have ability to customize and standardize tools and templates to provide easy navigation and document management for all personnel involved.
Cloud-based Collaboration and Accountability
The freely included and incredibly powerful Bluebeam Studio provides real time collaboration on centrally-located documents in the cloud that are easily shared both internally and outside of the organization.
Studio serves as a single source of truth by keeping the latest versions of plans available to all invited users. Likewise, any file can also be launched in a Studio Session, which functions as a digital boardroom.
This gives users access to the designated files simultaneously regards of their geographical location. Hosting a session with users in Austin, New York, and San Francisco collaborating together at the same time is an extremely powerful tool that help BIM/VDC Directors immensely.
CIOs - Chief Information Officers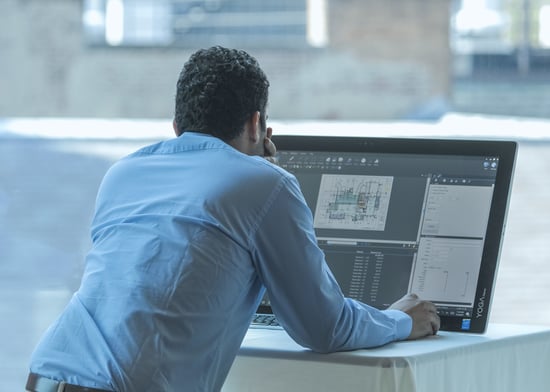 As a member of the executive team the CIO or Chief Information Officer wants to incorporate the best technology for the company in order to improve performance increase efficiency. But, they are also concerned about budget constraints and how tech solutions contribute to the company's bottom line.
This often has CIOs moving in several directions at the same time - they wear a lot of hats.
What CIOs Need
CIOs (or CTOs) are in charge of the company-wide tech stack, data security, CAD/BIM/VDC systems, business analytics, business intelligence, and cloud mobility platforms. They are concerned with minimizing security risk and exposure for the entire company.
Plus, just like Project Managers and BIM/VDC Directors, they need to ensure projects are delivered on time and on budget while minimizing risk.
These corporate officers need a way to provide clear communication across all teams. This is why Blue beam Revu is revered by CIOs as some of the top firms in the United States.
It delivers the best in class markup technology and industry specific tools that enable highly-efficient work-flows. Plus, the cloud-based Bluebeam Studio provide a path for improved collaboration inside and outside the organization.
Architects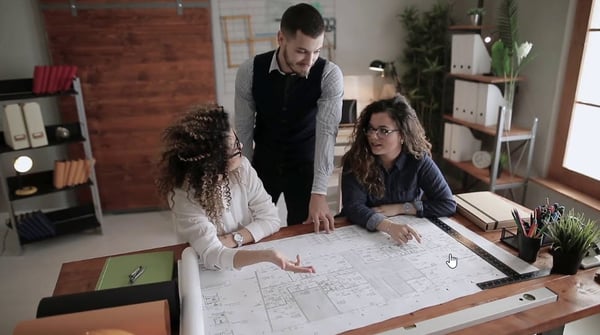 As visionaries of a project, architects rely on powerful tools and applications to help them design, collaborate, and communicate more efficiently with all project partners.
Bluebeam Revu helps architects achieve this by providing a solid digital workflow platform which to better connect the office to the field.
With Revu, architect types can perform punch lists quicker than every - often cutting their time in half. Plus, by sorting and summarizing punch items within drawings, Revu helps teams achieve a 90% completion rate on first back check.
What Architects Need
Better document management - Revu lets architects manage all your project folders and files in one location, so teams can easily access, upload and review the latest documents.
Revu simplifies submittals with powerful markup and editing tools. It also integrates seamlessly into many document management systems to keep projects running smoothly. This a tremendous plus for a project architect of record.
RFIs (request for information) management, Bluebeam keeps them clear and organized with smart markup, hyperlinking, and fantastic tools for visualization.
Bluebeam Revu helps both architects and their project partners stay on track and on schedule.
Estimators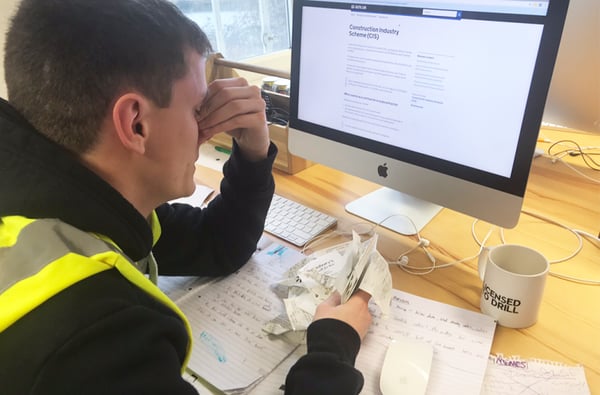 Construction Estimators are responsible for estimating the costs of work of particular projects. They evaluate work by gathering proposals, drawings, specifications, and related documents.
Additionally, estimators spend a majority of their time performing takeoffs, where they estimate the needed resources and materials for the upcoming job. This includes labor, material, and time requirements in order to be able to compute the overall cost of the project.
Bluebeam Revu helps estimators accurate quantity takeoffs and cost estimates are critical to creating competitive bids.
The measurement and takeoff tools in Revu help project estimators capture a project's true scope of the project, giving them a better competitive advantage to win the business.
What Construction Estimators Need
Streamlined Design Review - Revu speeds up design reviews by allowing project partners to mark up and collaborate on the same documents in real time, or any time.
Robust Document Management - Revu lets estimators manage all thier project folders and files in one location, so teams can easily access, upload and review the latest documents.
Best-in-class QA/QC - The markup and collaboration tools in Revu allow for faster, more accurate and more thorough quality reviews.
Your Choice of Licensing Models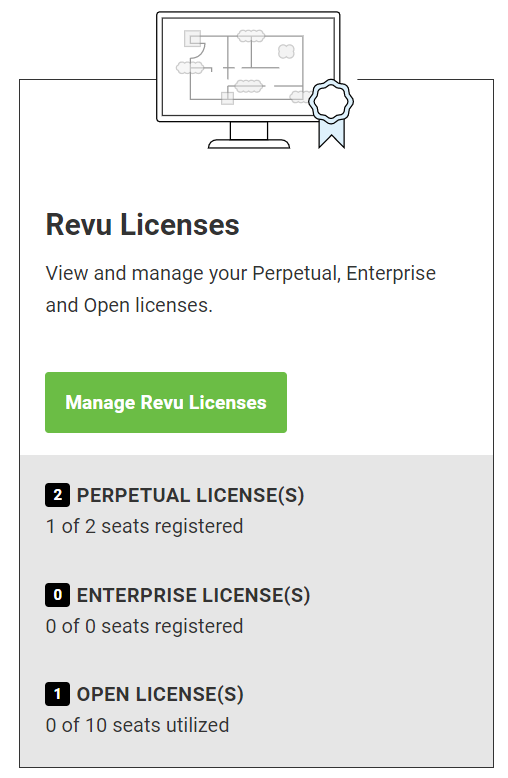 [ Download a FREE 30-day trial of Bluebeam Revu ]
Perpetual Licensing
This is a very traditional format of "you buy it, you own it." Perpetual licenses register Revu to specific workstations. In other words, Revu is licensed to each machine which it is installed.
This type of licensing is quite rare these days as most software companies prefer offering recurring subscriptions rather than static seats.
As stated, once you purchase a perpetual seat, you are not required to do anything else. But, if you want the security of updates, patches, and escalated technical support, you should get Annual Maintenance.
Supplementing Revu with Annual maintenance provides you with all major and minor updates for 1-year from purchase, including the next version release.
Open Licensing
Open Licensing is a floating network license that allows companies to authorize multiple machines without purchasing a seat for each computer.
When Revu is used, a license is checked out from a shared pool of seats, and checked back in when the application is closed.
This allows customers to pay only for the number of active users allowed at any given time. According to statistics, the average ratio is one Open License per 4 users. So, a team of 10 should be able to effectively function with 2 Open Seats.
Download the Ultimate Bluebeam Revu Tool Kit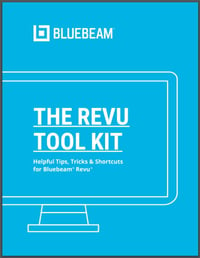 New Revu Enhancements Released with Version 2019
When Revu 2019 was released on October 29th, 2019, On the surface, it may not seem as though very much has changed, but under the hood, But Revu 2019 was completely rebuilt.
The result is the fastest and most convenience version of Bluebeam ever. Check out the improvements.
New Rendering Engine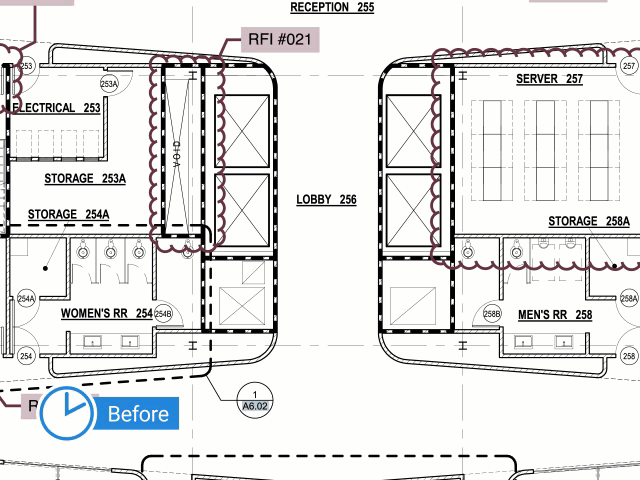 Revu now features a new hardware accelerated graphics rendering engine to the table.
[ Read the Complete Guide to Bluebeam Revu ]
This means that you can pan and zoom through complex linework is faster than ever. Whether the project has 10 markups – or 10,000 – Revu quickly shows you the data that you need, when you need it.
This may not sound like a big deal, but once you see the new versions of Revu in action, you will get it.
Easier Quantity Takeoffs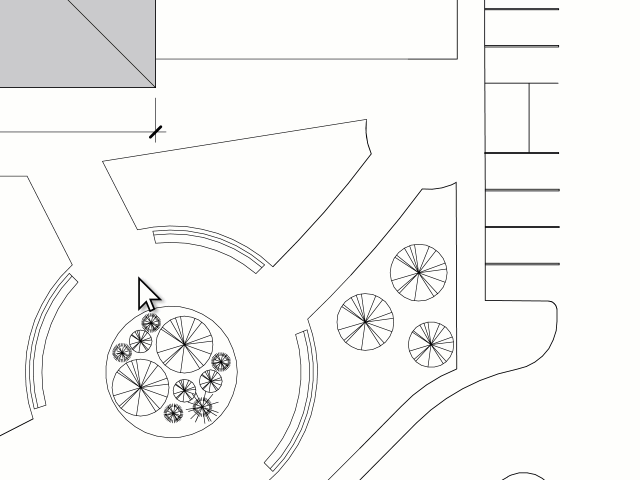 When it comes to onscreen digital takeoffs, the newly improved takeoff features in Revu 3
6will help you reduce errors and rework.
Now when you start taking a measurement, an automatic prompt for the drawing's scale will appear.
This ensures that the scale is correct and that your measurements are correct. Earlier versions of Revu allowed you scale drawings, but you had to either go into the Measurement Settings to set or use the Calibrate Tool and picks two points of a know distance to set the scale.
Once the scale is set, you can quickly reference it in the lower right-hand corner of the screen as well as the page Thumbnails Tab.
Another bonus, that has been missing in previous versions of Revu, is the ability to set independent scale units. For example, if you are doing flooring estimates, some quantities might be required in square feet and other in square yards. Now, for the first time, you have the control to pick different units of measure per each takeoff, if needed.
New Configuration Editor
IT Directors will rejoice over the new, easy-to-use configuration dashboard. It is a user-friendly, lightweight tool that streamlines standardization across the organization.
Previously, customizing settings for deploying Revu across your enterprise required a bit of coding. Not anymore. Now, IT administrators can quickly and easily customize setting with just a few clicks.
Bluebeam Drawings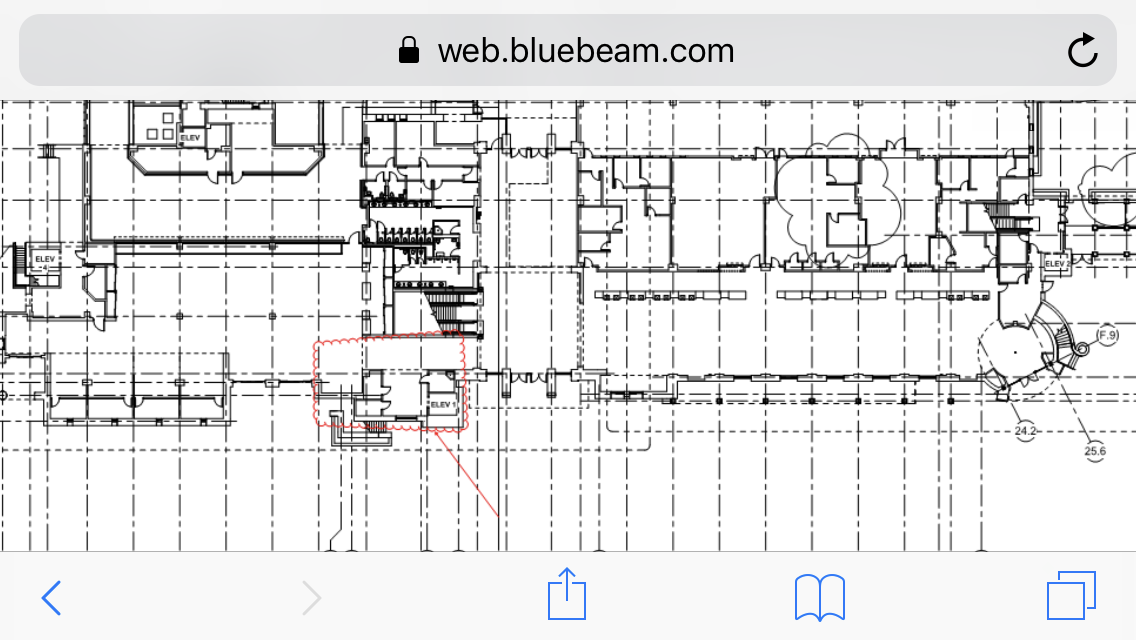 Bluebeam Drawings - a new web and mobile app that gives users the freedom to view drawings for free on any device, anywhere. You simply log in to Drawings from your mobile browser to access your uploaded files.
Or you can download the Drawings App for an even smoother experience. Simply open the app, click on a project, and view the latest, mobile-optimized plans for free.
There is no additional fee to use Bluebeam Drawings, but you are required to have at least Revu 2018, or later, and your annual maintenance must be current and active.
Provided that you meet those requirements, Drawings is ready for you to use right now.
Takeaway
The next time someone asks you, "what is Bluebeam?" You can tell them that Bluebeam Revu is a powerful software application that fully utilizes the dynamic power of the PDF file.
From digital markups, takeoffs, job management, and even real-time, cloud-based collaboration, Bluebeam Revu provides the right things to help Project Managers, BIM/VDC Directors, CIOs, and Architects make drawings, plans, and documents work smarter.
Plus, Bluebeam Revu also performs well as a large-format print submission tool. Markup and annotate your construction plans and print the results directly to a wide-format plotter, such as a Canon color plotter.
Not ready to buy yet? Try it free for 30 days.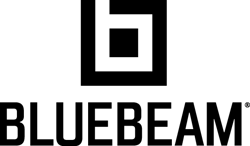 Using Bluebeam® Revu® Software?
More than a PDF viewer, or annotation tool, Bluebeam Revu is an efficiency and collaboration software for anyone who works with technical files. The power of Bluebeam Revu is founded in the dynamic power of the PDF file format. Although common, a PDF file is much more versatile than most people know.
PDFs actually serve as a container that is capable of housing much more data than just the represented image information. In fact, they are also capable of containing a collection of meta data including annotations, layers, digital signatures, 3D information, and much more.
---
Shortcuts
Read along or just jump to the topic that interest you.
---
Navigation
Before diving into any of the advanced features of Bluebeam Revu, it is important to first know the layout of the interface and how to navigate around your files. Luckily, Revu is quite intuitive, but there are some basics that you should get familiar with to get started.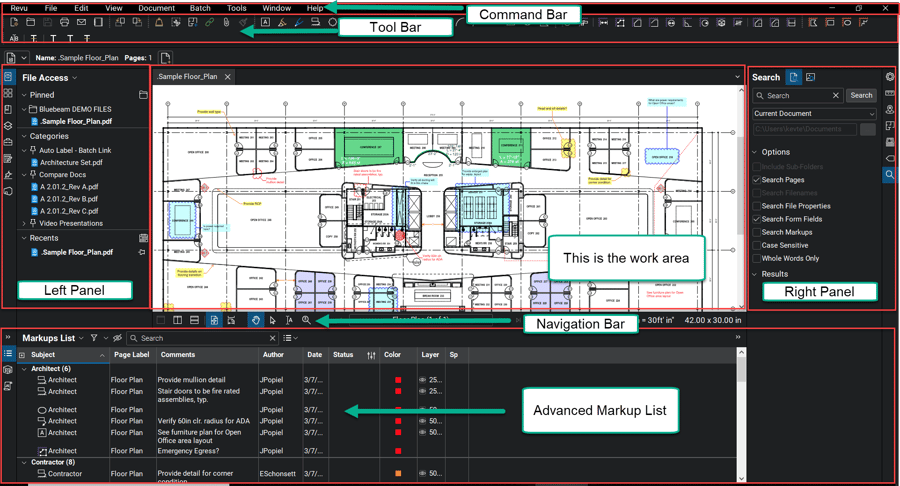 Navigating the interface is done through a various bars and panels. At the very top of the page is the Command Bar where you will find all of the core functions. Via Tools, you can simply toggle on/off the tools that you want displayed. With Tools visible in the Tool Bar, you can also reorganize Tool groups to your liking.
In addition to the tool bar, commonly used commands are readily available from both the left and right panels. At the bottom of the page is the Markups List. This is a record of data regarding each markup or annotation that is made on the page. More than just notes, the Markups List is extremely powerful - giving you the power of Excel speadsheets built-in to your file. This data can be sorted, filters, and even used to generate reports.
Once you get your layout just the way you want, save it as a Custom Profile. Profiles are saved layouts of the interface for created for a specific need. Or you can simply select another of one of pre-loaed Profiles that install with Revu.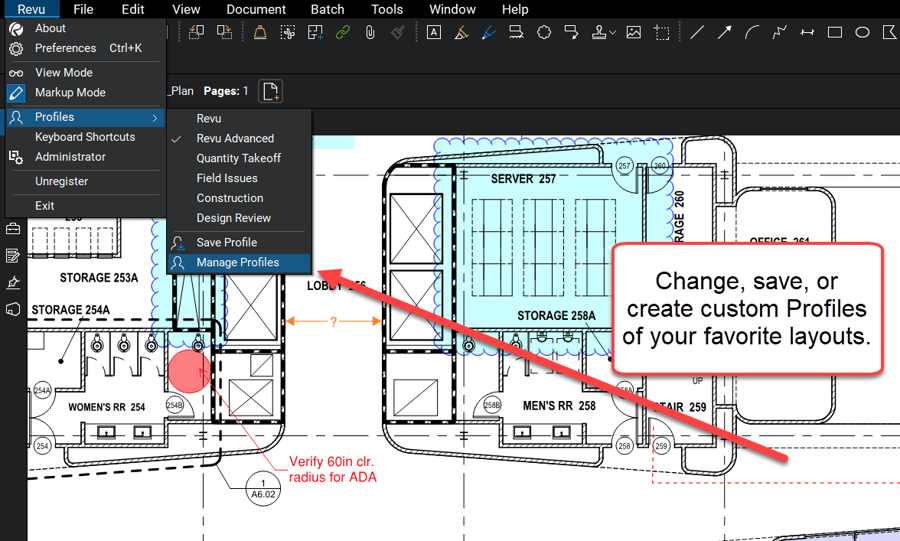 File Access is designed to speed up your productivity. It gives you the ability to quickly recall recently opened files without having to navigate any directories. Plus, you can save "favorites" by pinning them and even creating custom groups.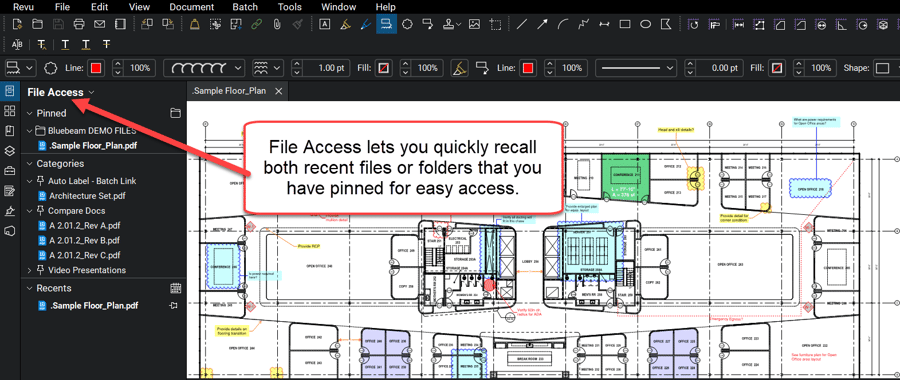 ---
Markups
Bluebeam Revu hosts a wide selection of markup tools ranging from basic text tools, clouds, callouts, plus a lot more. Simply click the tool you need and start making notes on your sheet - it is that easy.
To access Markups in Revu 2019, first head to Tools, and find Markup in the menu. From there, you can simply select the tool of your choice.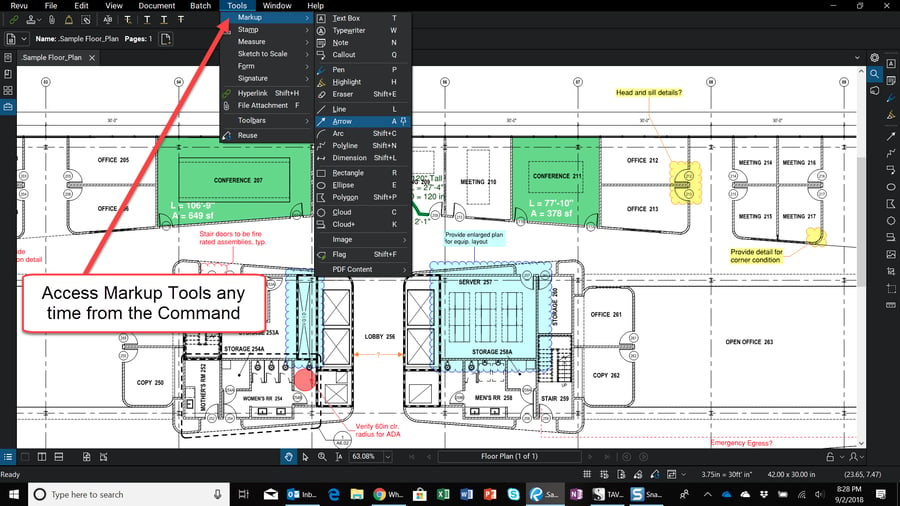 Another way to quickly access Markups (or any other tool) is to customize a toolbar. Navigating to Tools in the top toolbar, select Customize... from the bottom of the menu.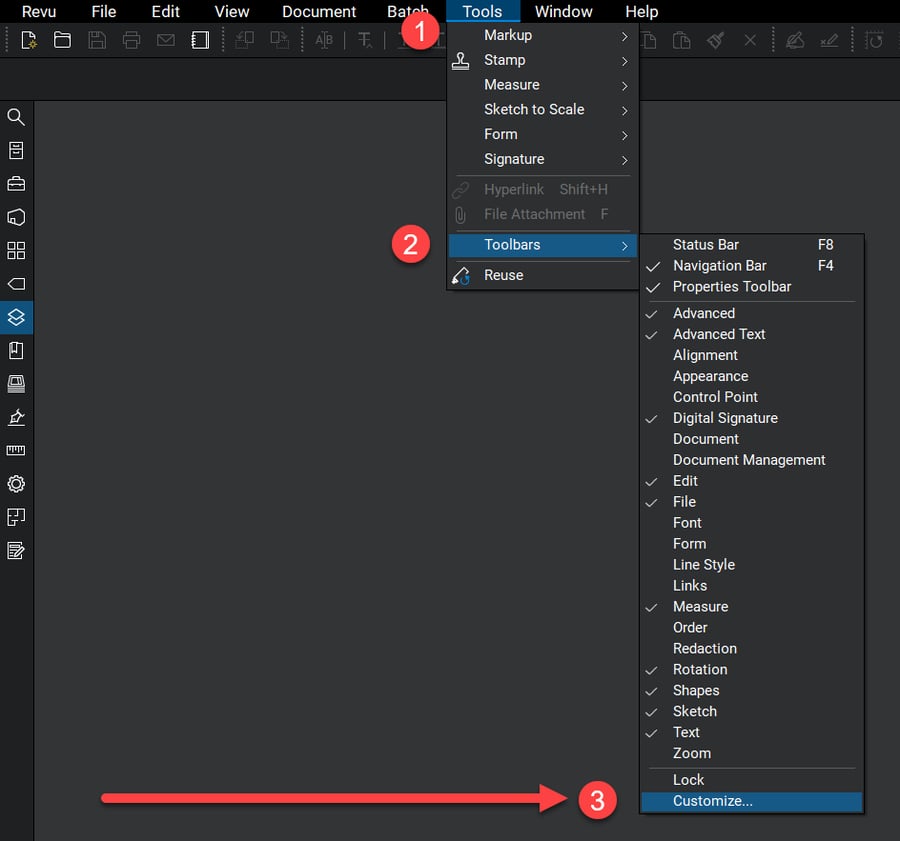 This opens a new window which allows you to customize any of the toolbars as you see fit.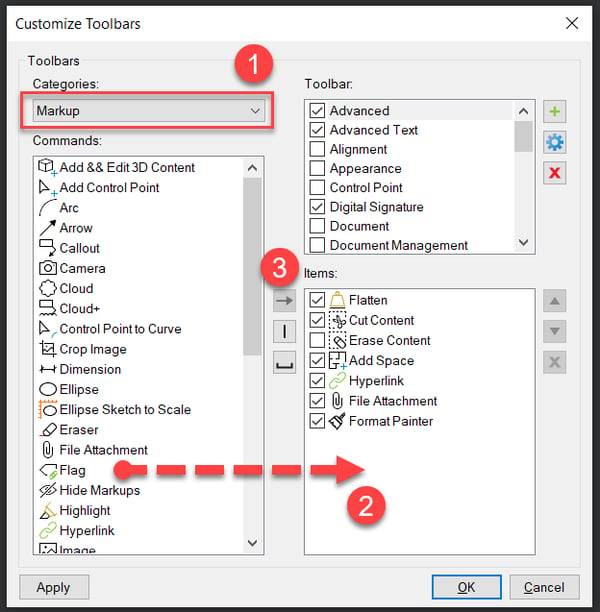 Change the properties of a markup at any time with the Advanced Properties Toolbar. Use this to quickly change the border color, fill, opacity, and more.

Take the Next Step
---
Tool Chest
Now that you have made some markups and changed the properties, save them to use them again. The Tool Chest makes marking up documents much more efficient by storing and organizing frequently used markups for easy use and reuse.
It automatically remembers recently used markups, can reapply a markup in its entirety or just using its properties, and automatically scale tools to fit different drawings without having to recreate the tool to match the drawing's scale.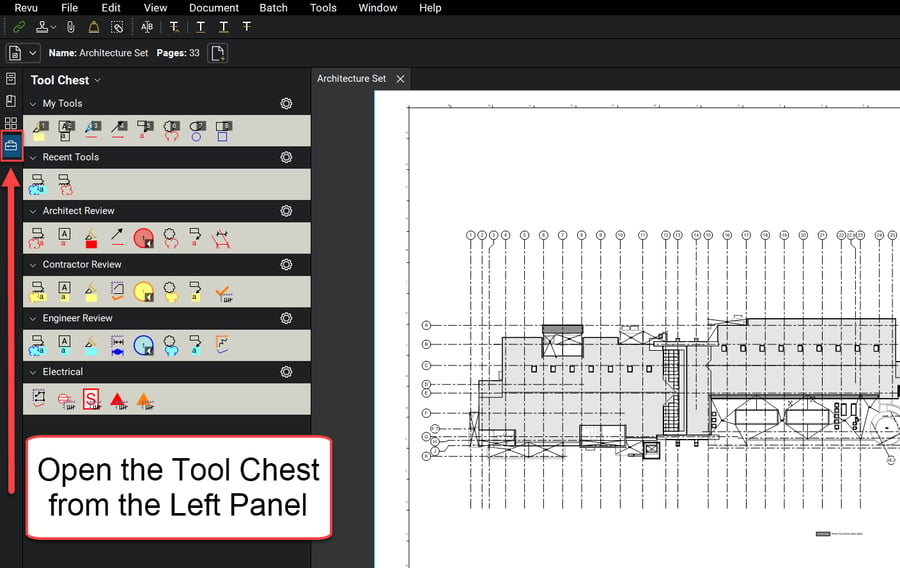 Easily change the size of the Tools Icons in the Tool Chest to best fit your screen by adjusting the slider below.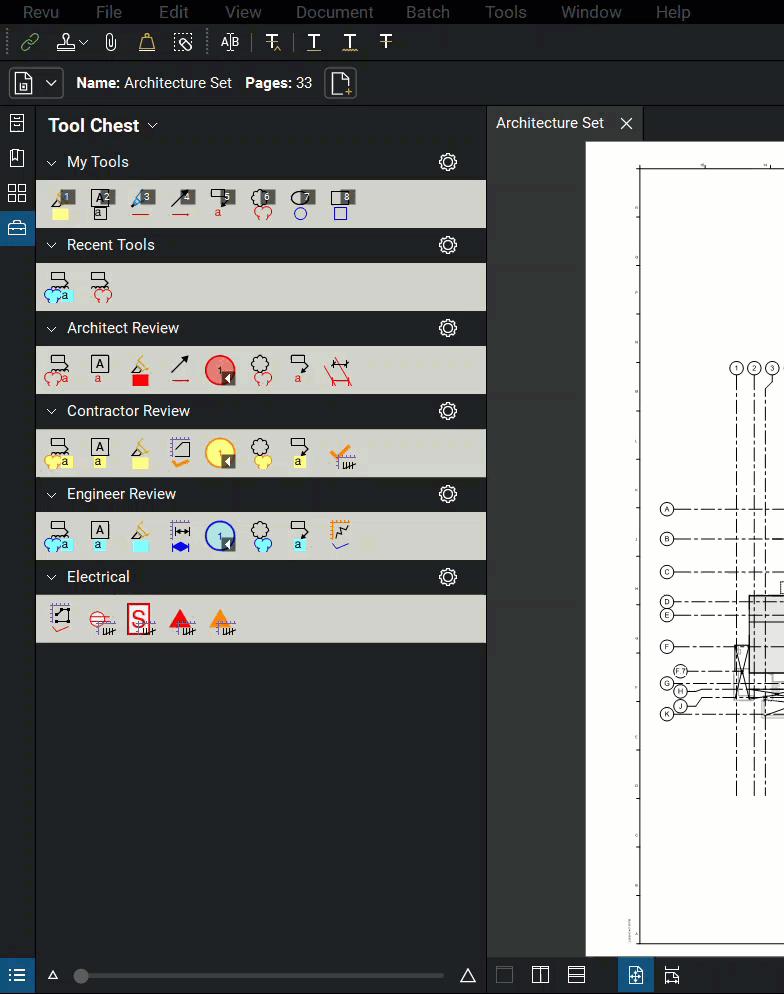 ---
Construction Takeoffs
Construction estimators need ways to quickly and efficiently calculate data quantity takeoffs. With Revu, specialty contractors can use it as takeoff software to complete bid preparation up to 70% faster than by traditional means.
Bluebeam Revu is loaded with measurement tools to help capture a projects true scope to save time and give you a competitive edge. This includes tools for measuring length, polylength, area, perimeter, angle, and more.
To get started with Quantity Takeoffs in Revu, the first thing to do is scale the page. There are a couple of way to do this. You can either manually enter the scale (if it is known), or you can pick a distance of two known points.
Set scale by entering it manually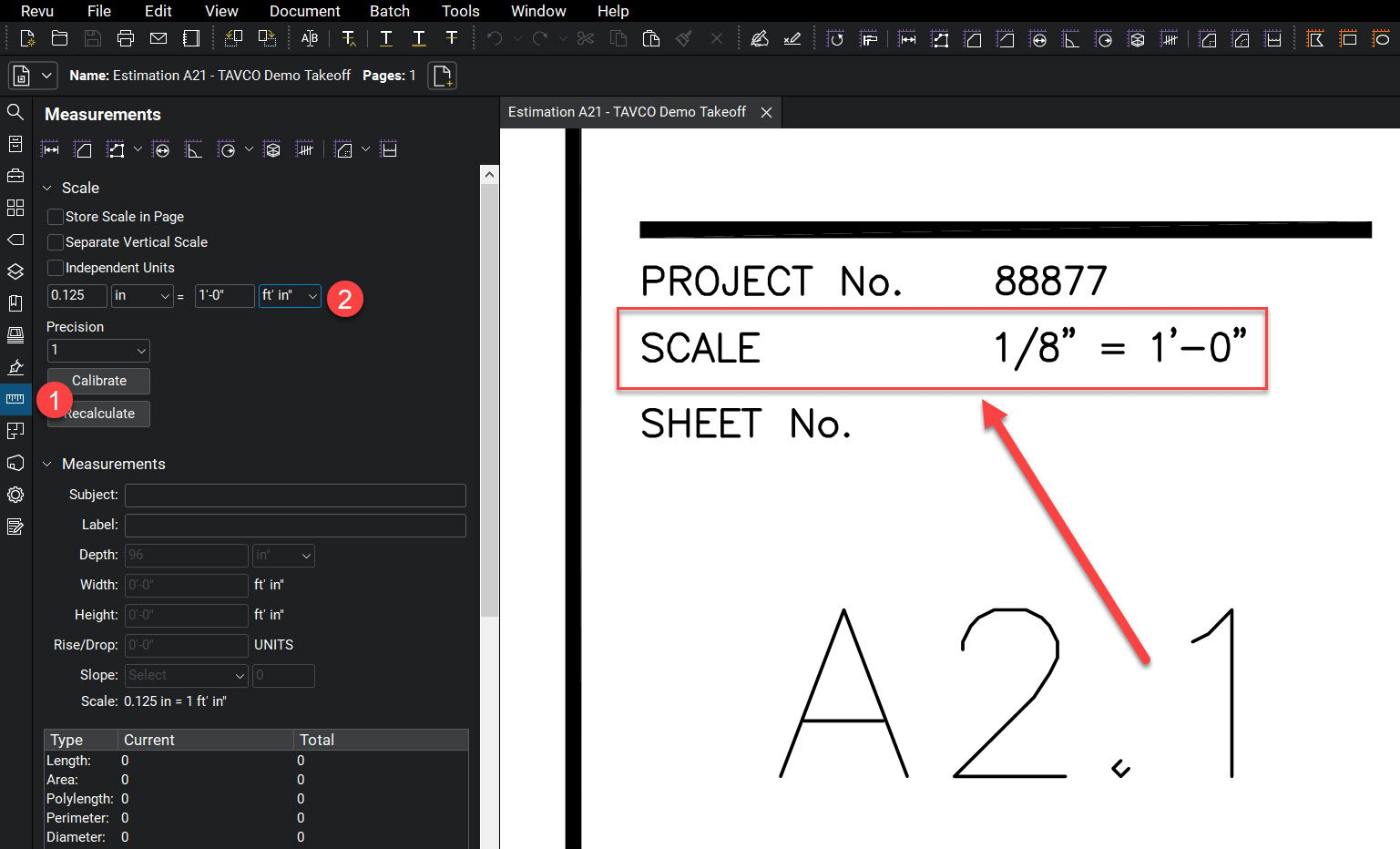 First, select the measurement icon in the left panel. This opens the properties window where the scale can be entered directly.
If the exact scale of a drawing is not known, then measuring two known-distance points is the next best option. To do this, you need to find the Calibration Tool. It is located under Tools → Measure → Calibrate. Or, as shown, in the measurement tools visible in the toolbar.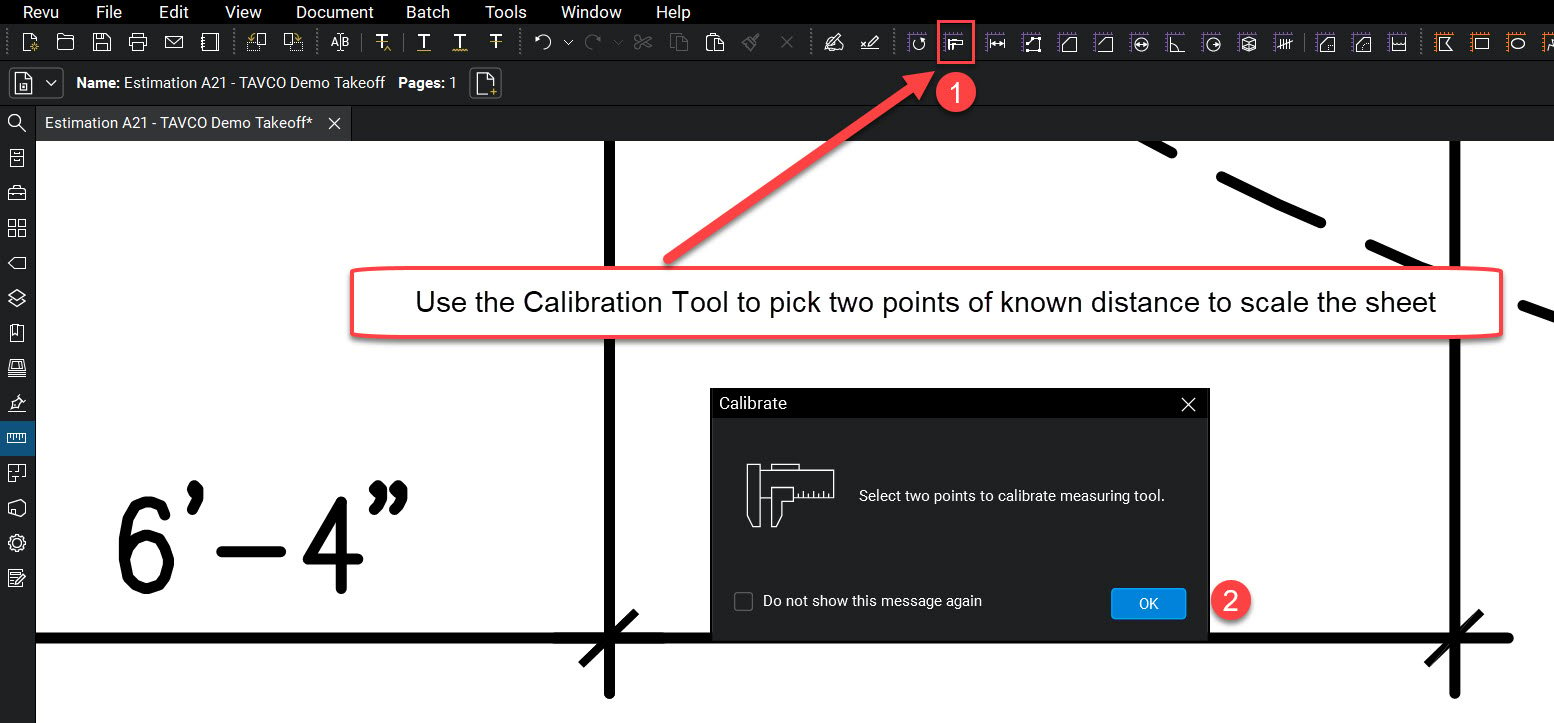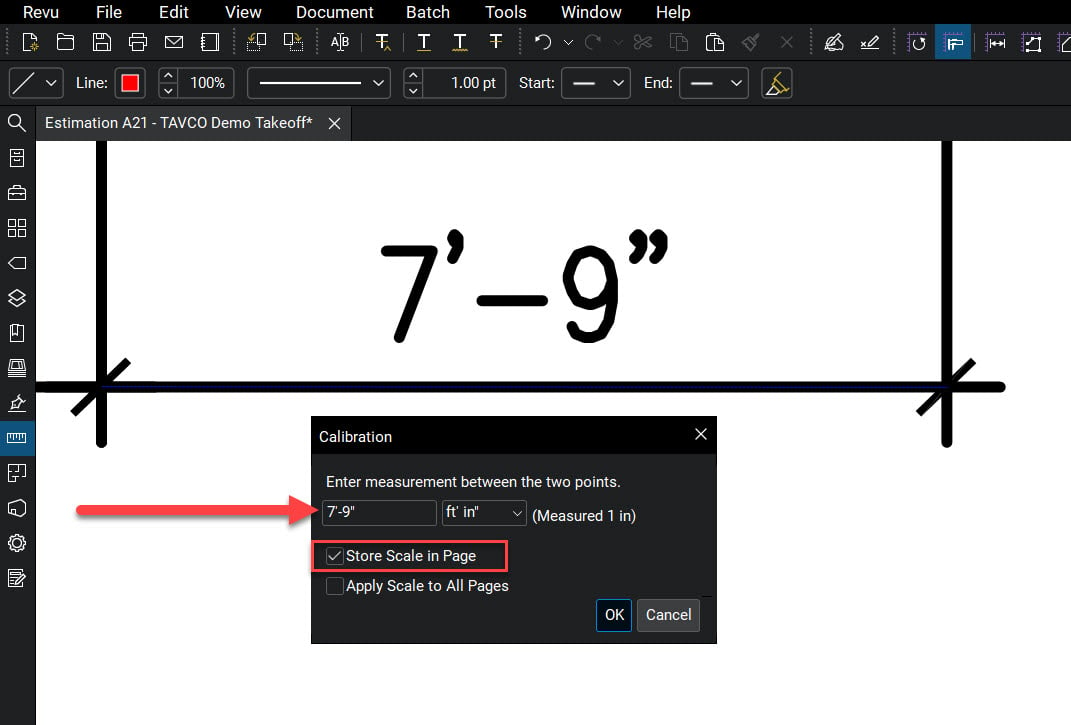 Storing the Scale in Page is a good practice, especially when working with a multi-page set. This will keep you from having to calibrate again.
Now that the scale is set, you can begin performing takeoffs. Here's a quick example of an Area Measurement.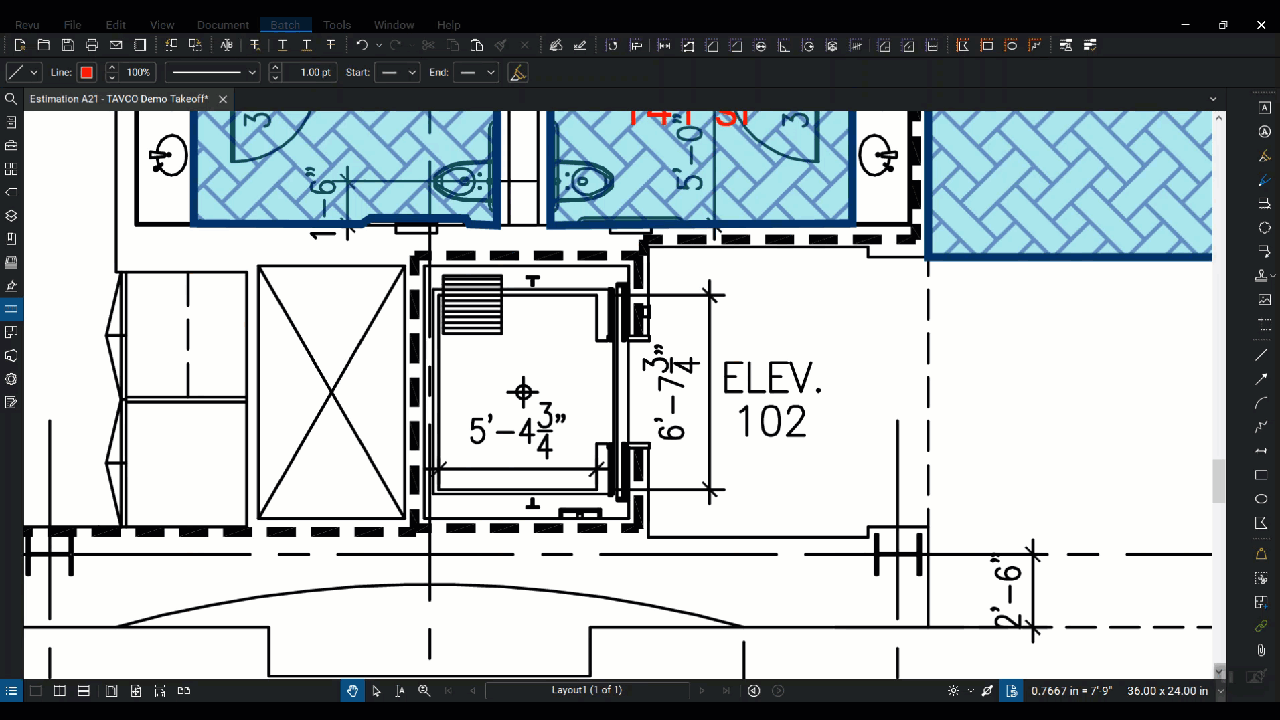 After the takeoff has been made, the measurement and other data is recorded in the Markups List.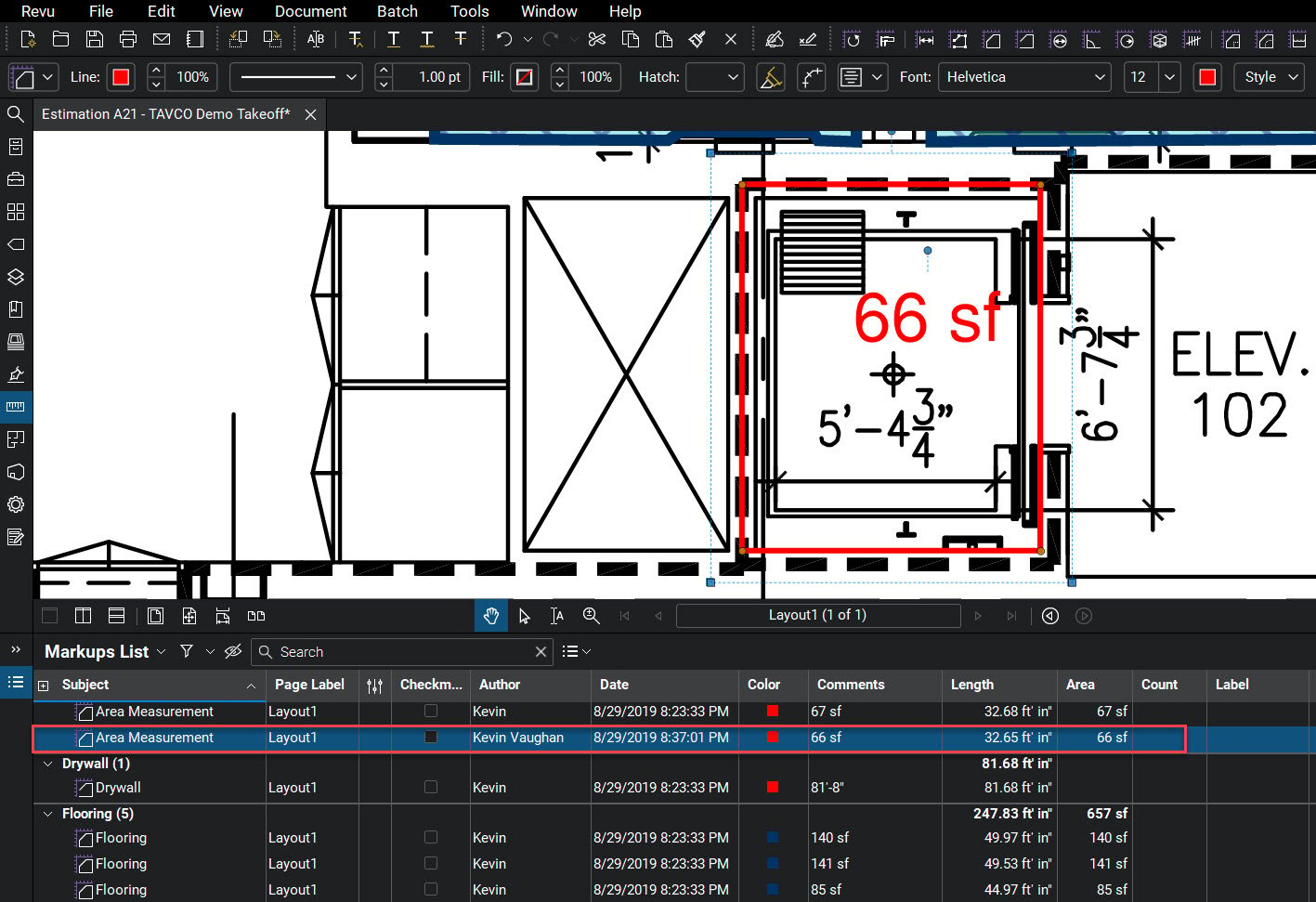 Bluebeam has the right tools for specialty trade contractors
Concrete
Takeoffs are optimized by sharing a standardized set of takeoff tools with your team. It's easy to get a comprehensive summary of concrete work, such as cubic volume of footings, linear footage of formwork and surface area of slabs.
Electrical
Easily apply industry-standard symbols to identify and count electrical items and fixtures, measure lengths of conduit and segmented runs of wiring—including vertical rise and drop—and link your material takeoff quantities to Excel®.
HVAC
Measure segmented lengths of ducting (including vertical rises and drops) and volume of rooms for air flow, and easily scan drawings for VAV devices, thermostats or equipment tags.
Interior Finishes
Finishers love the ability to easily measure width and height of typical finish materials such as interior glazing, wall paneling, ceiling systems, flooring systems, and more when working in Revu.
Plumbing
Navigate and mark up complex bid sets, measure and total the lengths of supply, waste and gas lines—including rises and drops—and seamlessly link your material takeoff totals to Excel®.
Start Performing Takeoffs in Bluebeam Revu
---
Keyboard Shortcuts
Even with the powerful Toolbox feature, markups can keep you busy, especially if you are switching between multiple files and utilizing different common tools. Luckily, Bluebeam comes with a bunch of built-in keyboard shortcuts to further speed up a user's workflow. Plus, with the release of Revu 2019, users now have the ability to create custom keyboard shortcuts.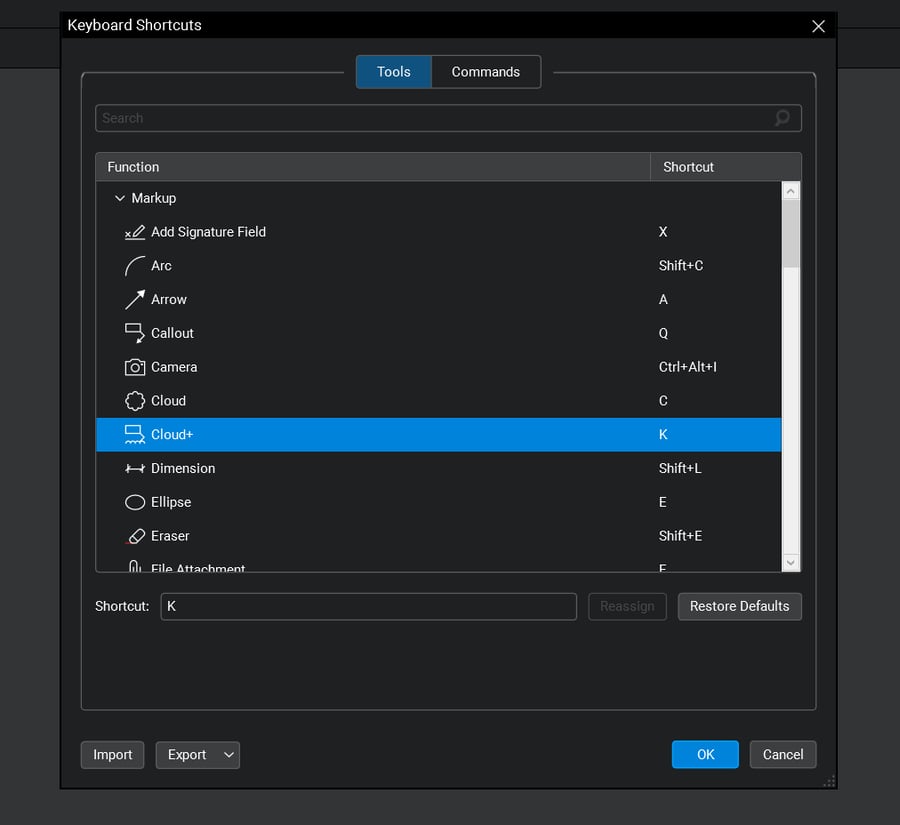 Drawing Markup Shortcuts

Text & Other Markups

| | |
| --- | --- |
| Coud Tool | C |
| Cloud+ | K |
| Ellipse | E |
| Snapshot Image | G |
| Highlight | H |
| Hyperlink | Shift + H |
| Insert an Image | I |
| Line | L |
| Arc | Shift + C |
| Arrow (Create) | A |
| Dimension | Shift + L |
| Polyline | Shift + N |
| Lasso | Shift + O |
| Pen | P |
| Polygon | Shift + P |
| Callout | Q |
| Rectangle | R |

| | |
| --- | --- |
| Text Box | T |
| Typewriter | W |
| Attachment | F |
| Format Painter | Ctrl + Shift + C |
| Paste in Place | Ctrl + Shift + V |
| Group | Ctrl + G |
| Ungroup | Ctrl + Shift + G |
| Polylength | Shift + Alt + Q |
| Measurements | M |
| Dynamic Fill | J |
| | |
| | |
| | |
| | |
| | |
| | |
| | |
View & Navigation

Editing Functions

| | |
| --- | --- |
| Split View Vertical | Ctrl + 2 |
| Split View Horizontal | Ctrl + H |
| Unsplit View | Ctrl + Shift + 2 |
| Presentation Mode | Ctrl + Enter |
| Zoom | Z |
| Zoom Out | Ctrl + (-) |
| Zoom In | Ctrl + (+) |
| Properties Panel | Alt + P |
| Thumbnails Tab | Alt + T |
| Bookmarks | Alt + B |
| Tool Chest | Alt + X |
| File Access | Alt + A |
| Web Tab (Web Access) | Ctrl + T |
| Search | Ctrl + F |

| | |
| --- | --- |
| Select | V |
| Select Text | Shift + T |
| Insert Blank Page | Ctrl + Shift + N |
| Extract Pages | Ctrl + Shift + X |
| Rotate Pages | Ctrl + Shift + R |
| Deskew | Ctrl + Alt + D |
| Crop Pages | Shift + Alt + O |
| 3D Editor | Ctrl + Alt +3 |
| | |
| | |
| | |
| | |
| | |
| | |
Learn more about Shortcuts, plus 20 essential tips & tricks in the Ultimate Bluebeam Revu Tool Kit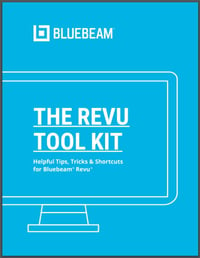 ---
Markups List

After the takeoffs are complete, designs reviewed, and notes have been made, you can manage and track your changes with the Bluebeam Markups List. Each notation made can be filtered, searched, imported and exported.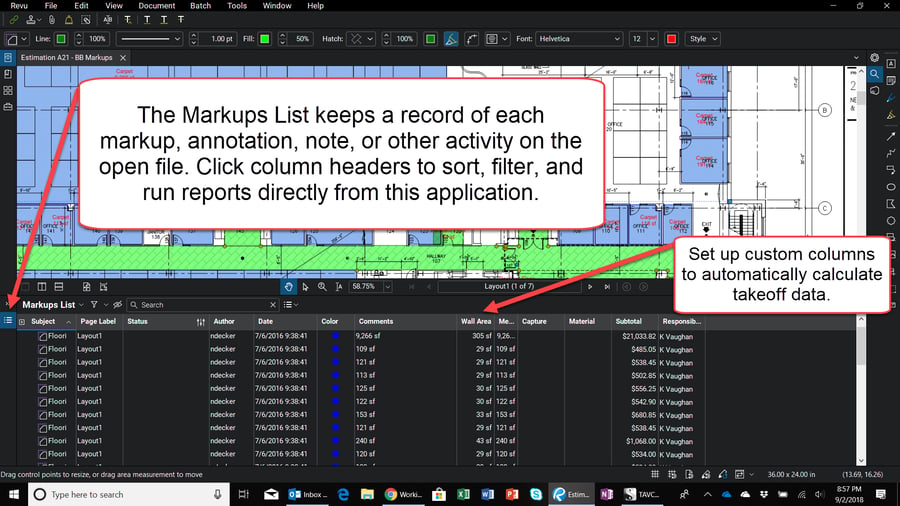 Assign responsibilities and tasks to keep track of changes as they happen. Then run a Summary Report that will highlight and detail each markup on the page. TAVCO Tip: If running a PDF Summary, choose "Amend and Hyperlink to Current PDF" so that each markup in the report will link directly to the markup on the document.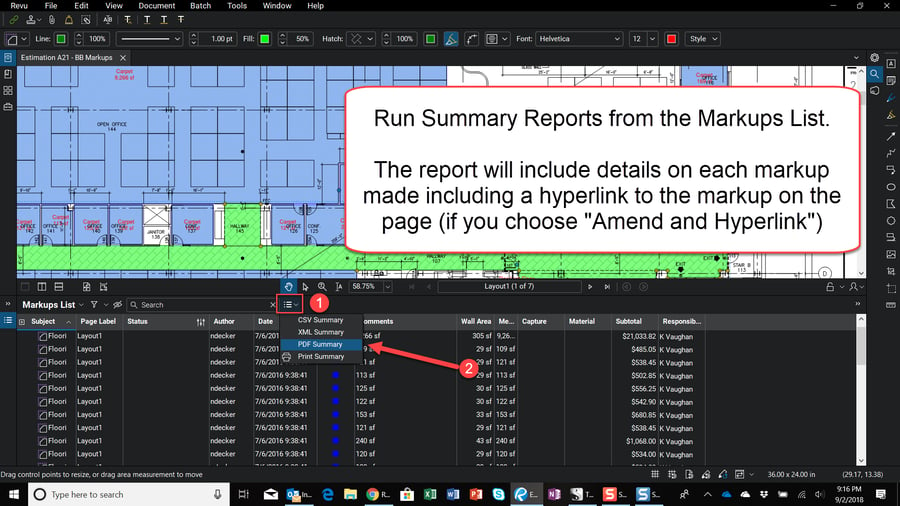 ---
Layers
PDF files act more like a container of data rather that just an image file. Besides the visual drawing, there are lots of different levels of information stored or embedding the file. Bluebeam leverages this additional metadata to maximize the manipulation of this data, including the use of layers.

PDF layers are, like layers in many CAD programs, a way of organizing the content in a document. Think of layers as clear overlays that act as a switch that can be toggled on or off to control the visibility of everything on that layer.

Layers hold content and markups. This data can be moved from one layer to another. Markups can be flattened to a layer, unflattened from that layer, and copied and pasted while retaining their layer. Layers also appear in the Markups list to allow organizing and processing markups by layer.
To get to Layers, use the icons on the Left Panel. If you don't see Layers available, right-click on the Left Panel to choose which Tabs you want to show and/or hide.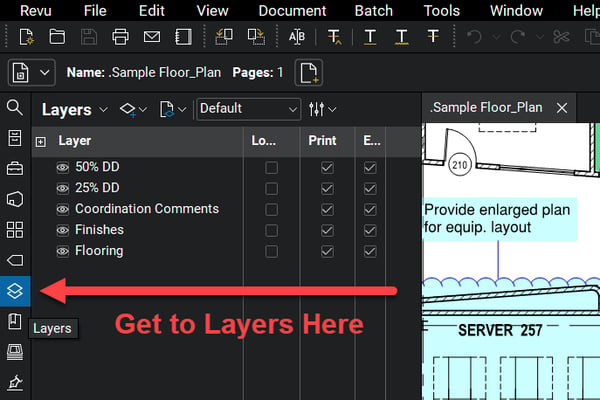 Now that Layers are accessible, you can simply toggle layers on or off in the panel.
Assigning Layers to Markups in Bluebeam is a breeze. Right-click on a Markup and navigate to "Layer" in the menu. From there, you can pick an existing layer or create a new one for the tool.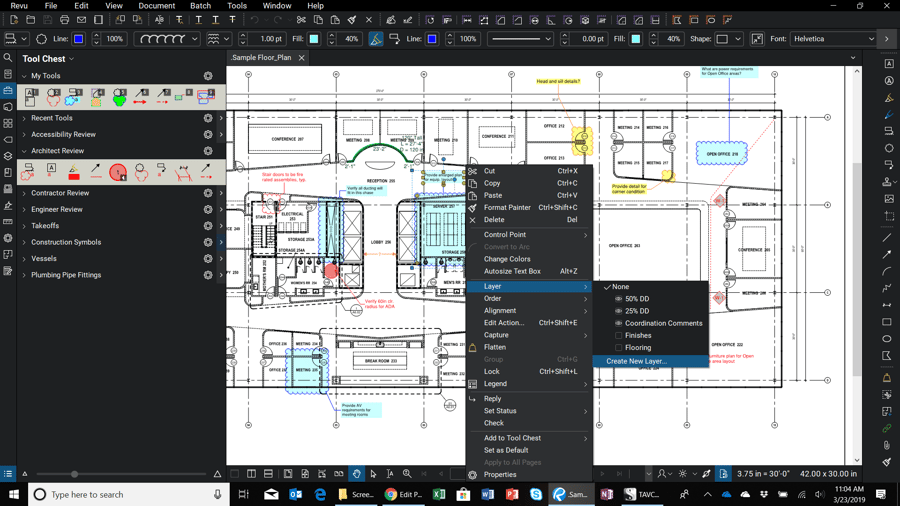 ---
Bluebeam Studio

Bluebeam Studio is the completely free, cloud-based collaboration platform that comes with every license of Revu. Get your team members updated in real time, with Bluebeam Studio through a single source of truth for your team and business partners.

Studio offers two different ways to collaborate.
Studio Projects
Studio Sessions

Studio Projects function like a Project Management platform. Upload your project directories to Studio and start sharing. Bluebeam will even keep the integrity of your file directory, so there is no need to make any special changes. You can even upload any file type you like including Word documents, Excel Spreadsheets, images, PDFs, DWGs, etc. Note: Bluebeam Revu will only open and view PDF files. Any other file types will require another software application capable of performing that task.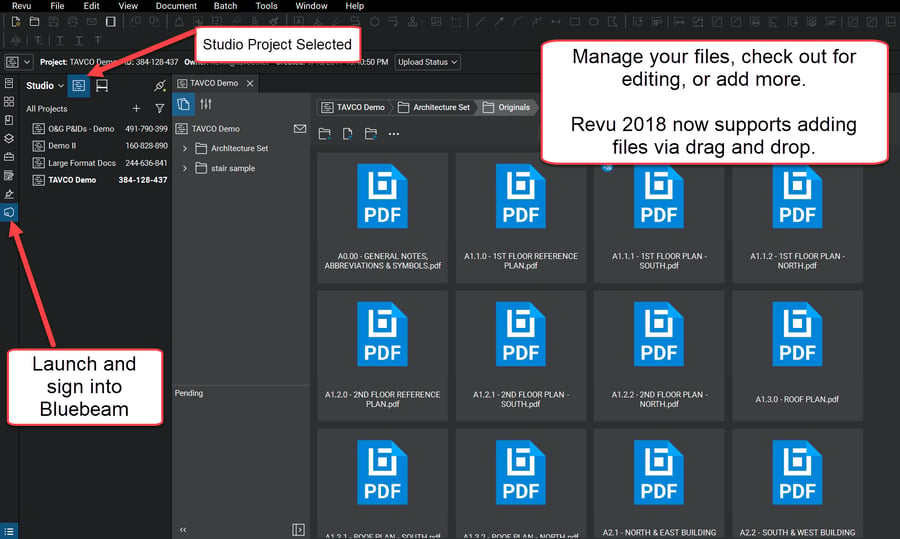 Once the files are in Projects, you can invite anyone you like to be part of that project via email. Once they have permission, they will see the most current version of the file available. So, if any changes have been made, the cloud-based version will reflect that.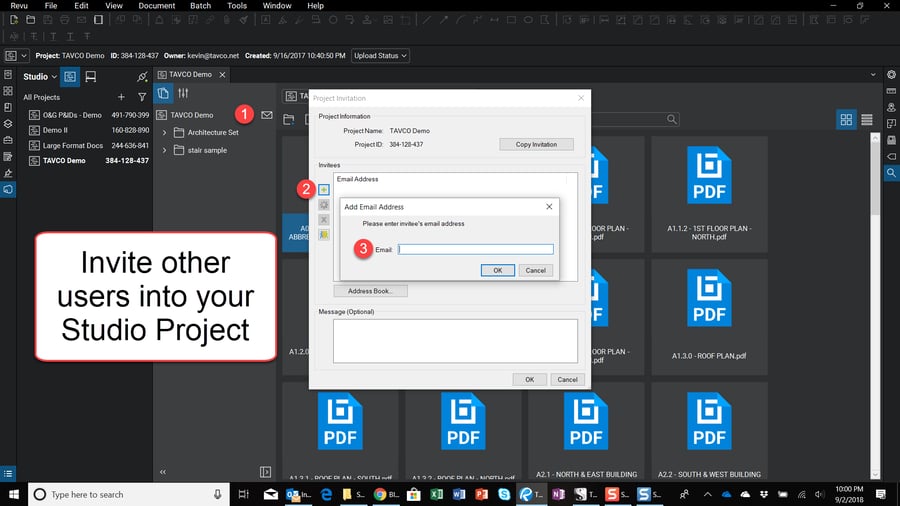 If a user wants to mark up the drawing or make other changes, they will need to "check out" the file, preventing anyone else access to it until it is checked back into Projects.

Studio Sessions is a truly powerful collaboration tool that allows you to meet with others live to review and annotate drawings. Think of it as a digital meeting room. You can either created a brand-new session or take any file in Studio Projects and launch a Session.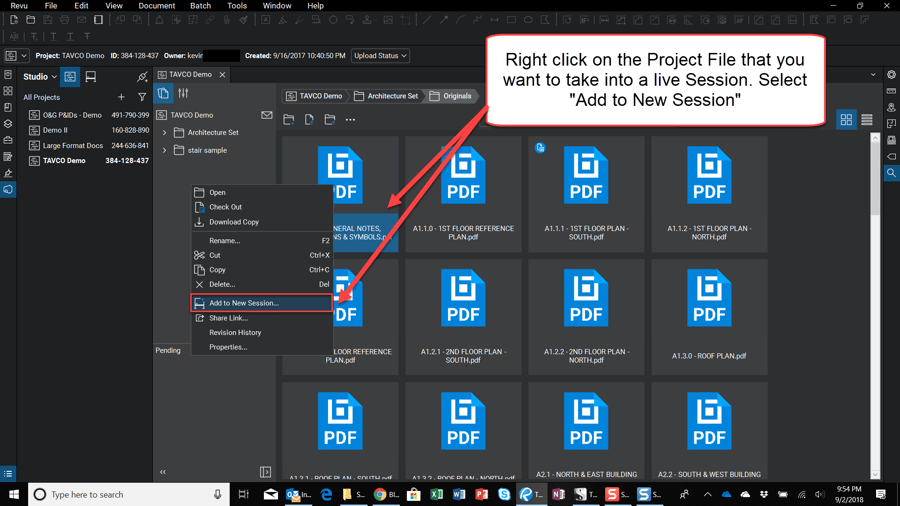 ---
Bluebeam Studio Prime
Sometimes you want or need more control of your files and sharing permissions. This is when you need Bluebeam Studio Prime - a cloud-based subscription that includes all the features of Bluebeam Studio, plus additional administrative functionality.
Customers can control user access to managed Projects and Sessions and download in-depth reports on all their organization's Studio activity.
It also includes access to Bluebeam's API, which supports external application integrations.
Overall Bluebeam's Studio Prime allows customers to take the next step in digital collaboration.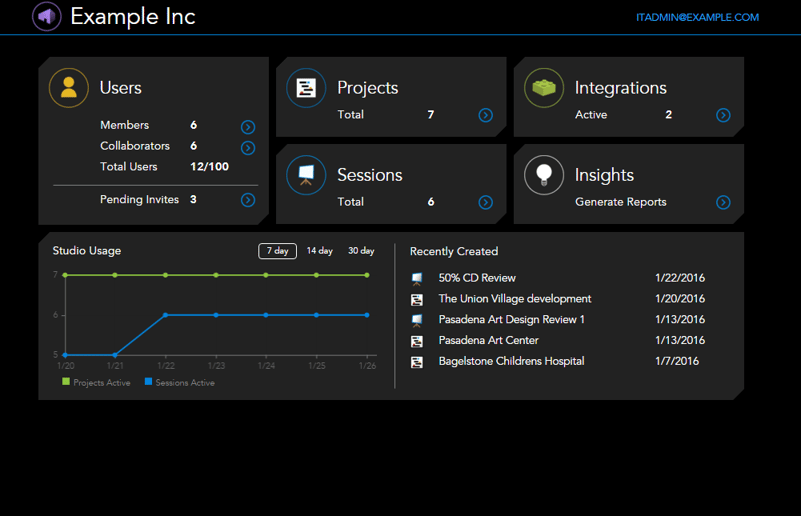 Manage Studio Prime from the simple, yet powerful dashboard.
Gain Full Control of your Project Sharing and Collaboration
Control users with a high-level Administrative Console
See whose online what files they are accessing
Remove user access remotely
Remotely check-in abandoned files back into Project Folders
Work securely with company-level control of Studio Sessions
Configure Folder Automations to perform repetitive tasks for many users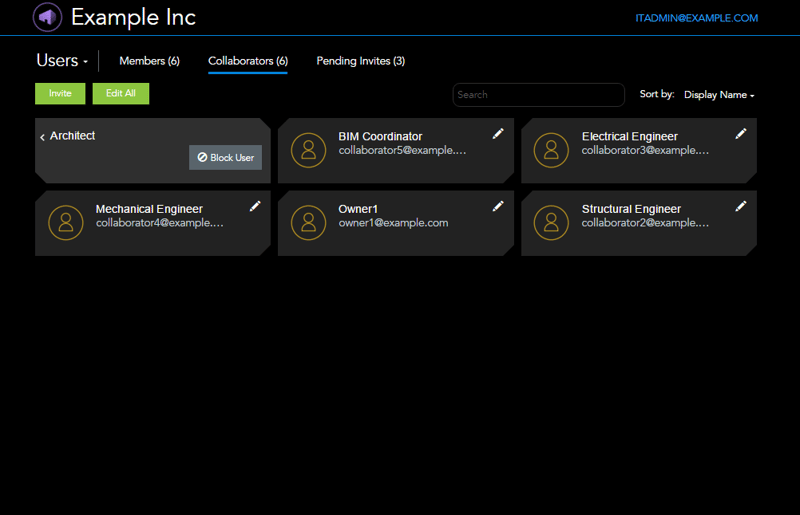 See all the project collaborators who are invited into the Project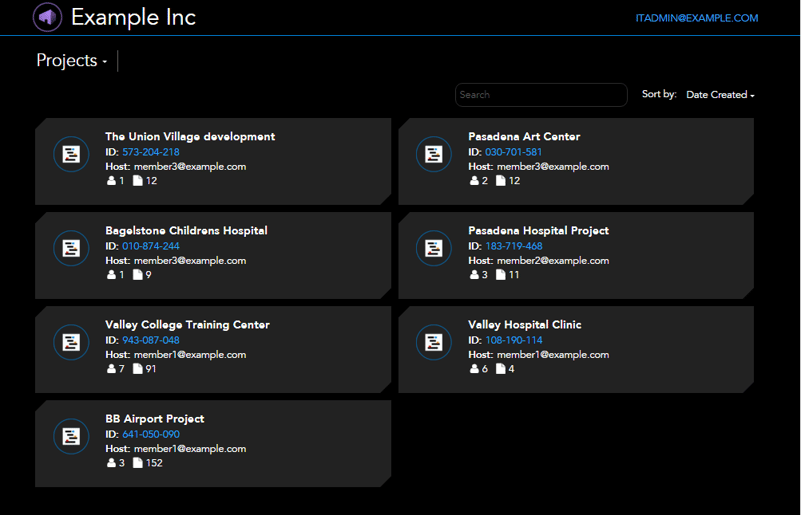 Get a clear overview of all the Project hosted in Studio Prime
Studio Prime Features Beyond the Standard Studio
Control user access to the Studio Platform from an administrative level
Enable software client integrations with the Bluebeam Studio API to support document processing workflows and collaboration with other proprietary DMS
Configure Folder Automations to convert and manipulate source files to PDF
Generate and view in-depth reports and gain visibility into Studio usage
Bluebeam Studio Prime is available via a separate annual subscription in addition to regular licenses of Revu.
---
Bluebeam Text & Visual Search Tool
Construction documents are full of data. Often contractors or other project partners need to quickly search a set of plans to identify specific, important information. Manually reviewing a set of printed plans is laborious, tedious, and prone to mistakes. Luckily, there is a faster and more accurate way - the Search Tool in Blubeam Revu. For those who use it, Bluebeam's Search Tool is a game-changer for working with construction plans.
Enable the Search Tool
Once in Bluebeam, ensure that the Search Tool is accessible. In Revu 2019, simply right click on the left-side toolbar to open a Menu. Under the show command, you can toggle on/off the features that you wish to display. Be sure that the Search Tool is enabled.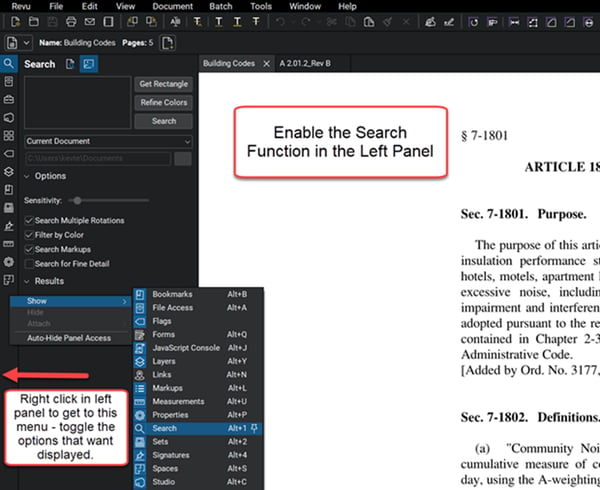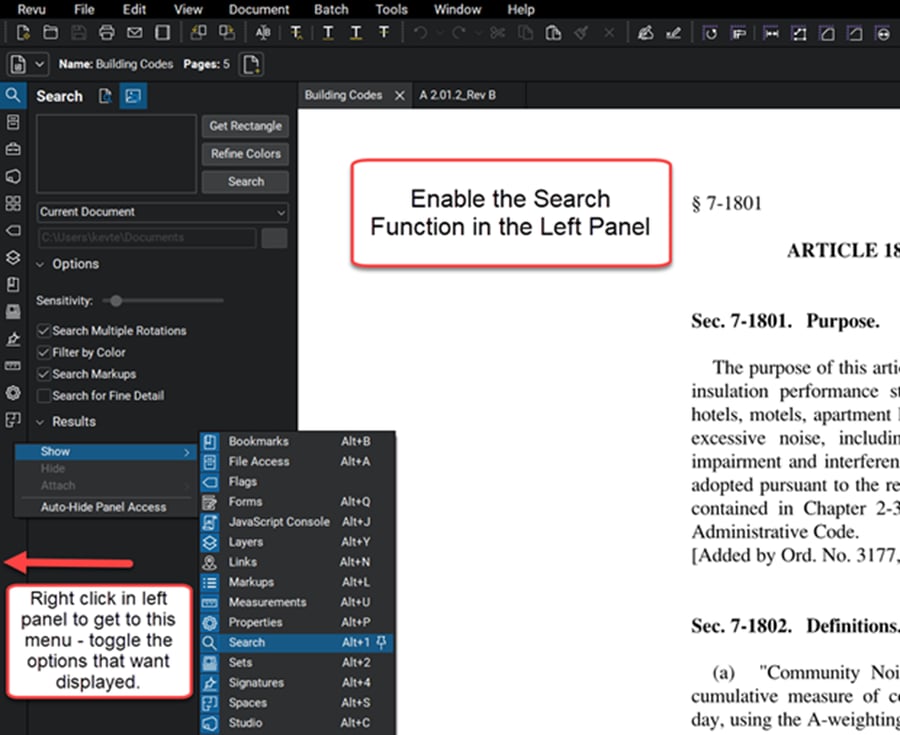 With a document open, and the Search Tool selected, you will see two different icons for Search Methods. The first is Text Search and the other is Visual Search. Both are extremely handy in relation to construction plans. Text search will allow to find character strings, while visual search will use the internal OCR engine to identify selected shapes and objects.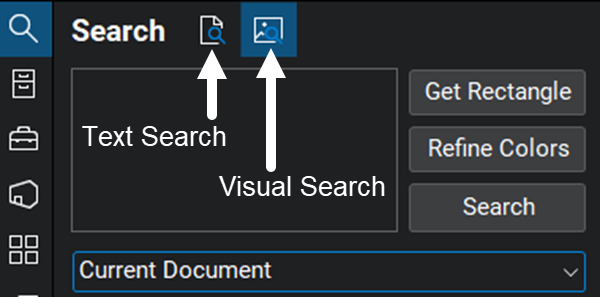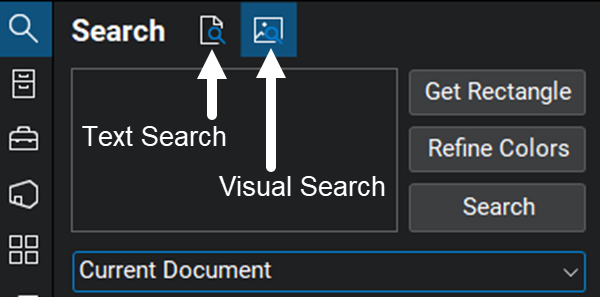 Text Search
For example, consider searching for the term CNEL (Community Noise Equivalent Level) within a document referencing California Building Codes. Once the search term is entered, simply click Search and Bluebeam will do the rest.
The search results display on the lower left-hand side of the screen. From here you can select all (or individual items) and perform further actions.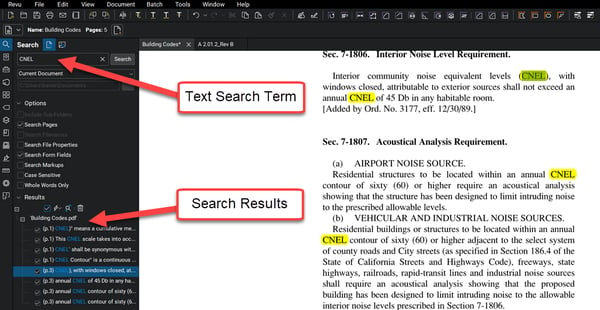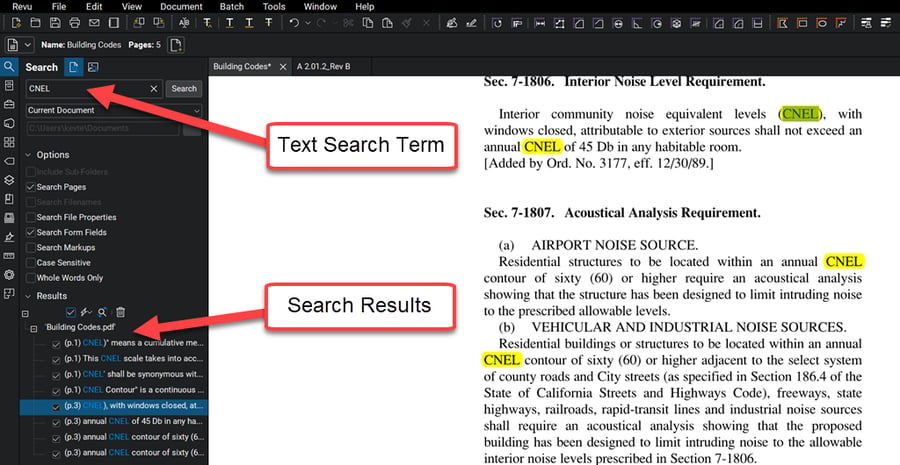 With the search results selected, the Check Options icon will present a menu for further actions including highlight, redaction (eXtreme version only), and other text options. Any of these functions can be applied in bulk with a single click.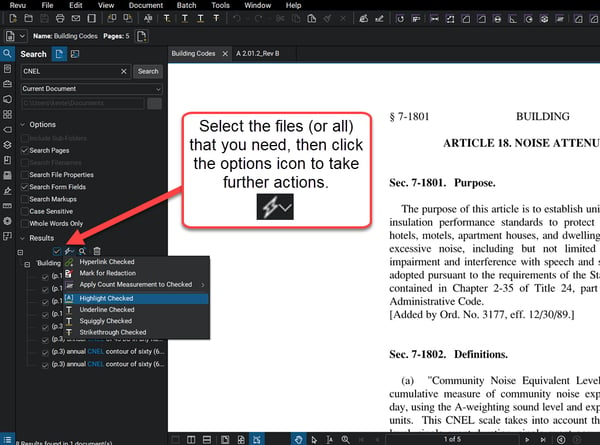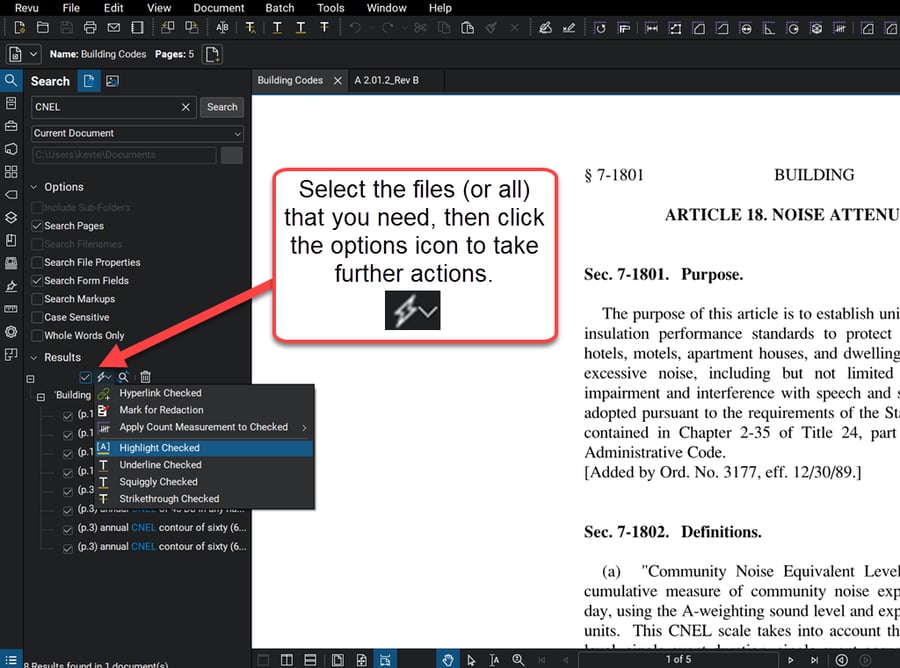 Find and Count the Sinks in Bluebeam Revu
In this example, consider a drawing of a hotel with many rooms and your job is to count the number of sinks in order to provide a bid for this project. You could print out this sheet and conduct a very traditional manual takeoff, but it can be very time consuming. Instead, rely on the power of Bluebeam's Visual Search tool.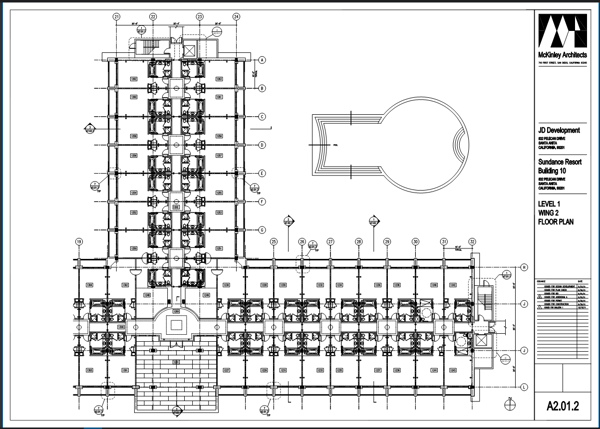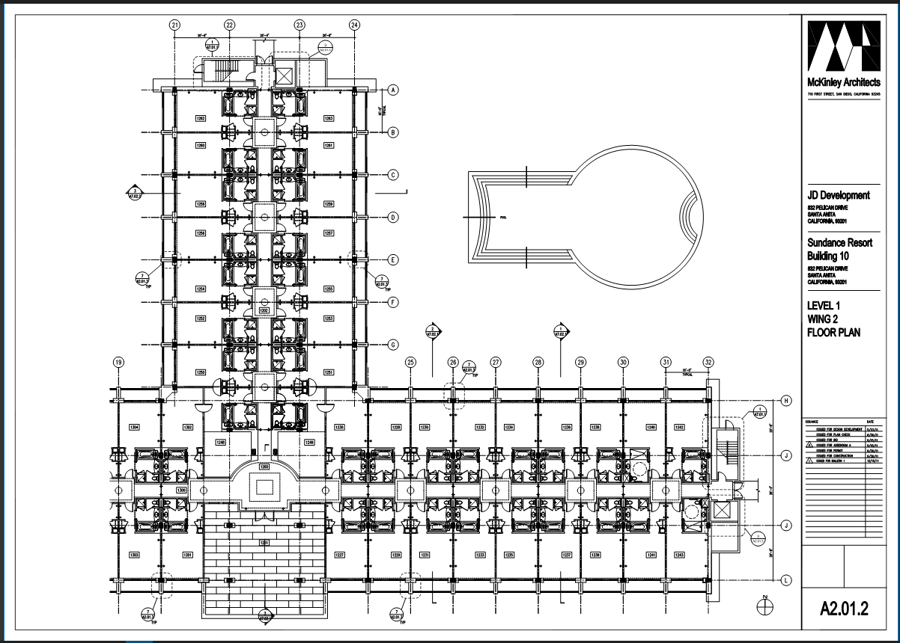 In the Search Tool, select the icon for Visual Search. Then, choose Get Rectangle to draw a box around the option that you want to search for in the drawing. In this case, click and drag a rectangle around a sink on the sheet. Once complete, click Search.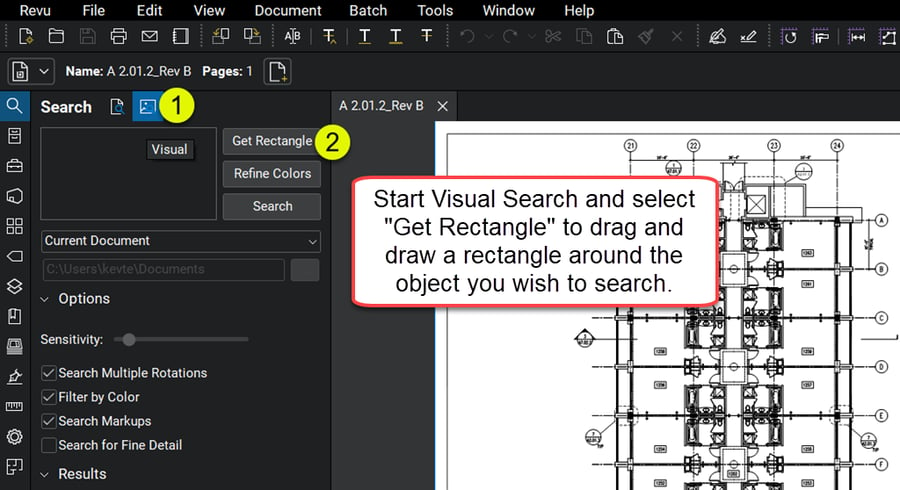 Once the Visual Search is complete, the results are displayed in the lower-left, just as with a Text Search. Likewise, you can select the Check Options icon for a menu of further actions. Like with text, these results can be highlighted or hyperlinked. But, another very powerful function is the Count Measurement tool.
By applying a count measurement, Bluebeam will auto-calculate the number of items and keep of record of that information in the Markups List. Here the data can be tracked, sorted, and manipulated to meet your needs. Custom columns can be created to apply cost metrics to items in the Markups List and reports you can run reports directly from this panel.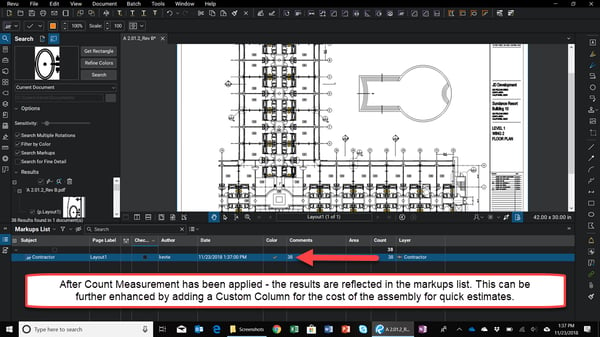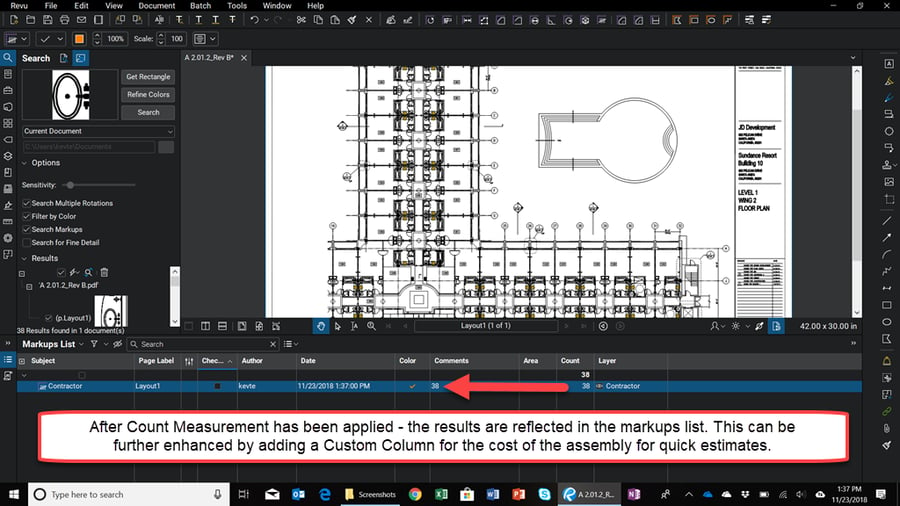 If the Visual Search results are not optimal, you may need to adjust the sensitivity of the OCR profile to best match your situation. This is easily performed by adjusting the sensitivity slider under options.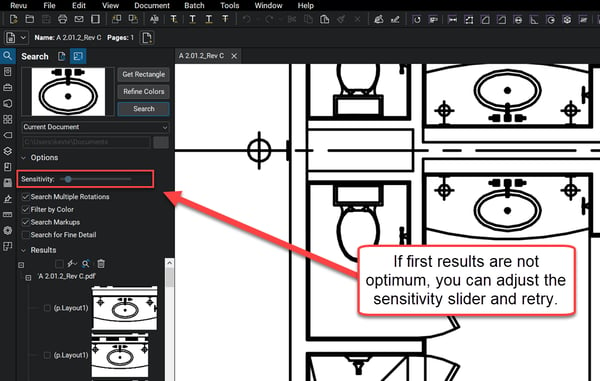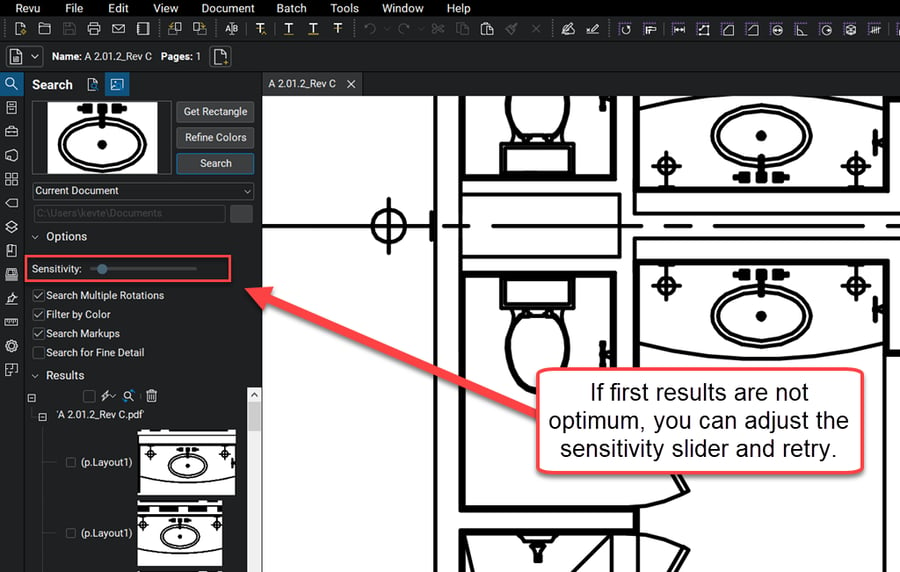 ---
Compare Document Revisions With A Click
When it comes to identifying plan revisions, the manual process can take hours. Luckily, you do not have to lay two printed sheets side-by-side to determine changes. Bluebeam makes it simple with "Compare Documents" and "Overlay Pages. " Both are two powerful, built-in Bluebeam functions for comparing plans.
By using Compare Documents, you simply pick the two files that you want to examine. Once selected, Bluebeam Revu 2019 analyzes the files, pixel-by-pixel than creates a new file that is automatically annotated with cloud markups that highlight the differences. Also, each cloud is listed as a line item in the Advanced Markups list. From here, the reviewer can change or add properties as needed.
While Compare Documents is awesome for reviewing two files, sometimes there is a need to look at several at the same time. No worries, Bluebeam Revu also offers another comparison tool called, Overlay Pages. This uses the "light table" format where the documents are stacked on top of one another in order to identify any changes or issues.
---
Navigating Multipage PDF Plans - Create Page Labels - Batch Hyperlinks
Bluebeam's Functionality
Revu gives construction companies, and related subcontractors, the ability to do some really cool things within the software such as viewing pages as thumbnails, creating custom page labels both manually and automatically, and batch linking the sheets together.
Use the arrows to advance and rewind sheets in the set
Thumbnails Panel
If you want an even quicker and easier way to toggle between sheets, open the Thumbnails Tool in the side panel. The slider at the bottom of the panel lets you adjust the thumbnails to the size of your liking. From these, you can just click on one to jump to that specific page.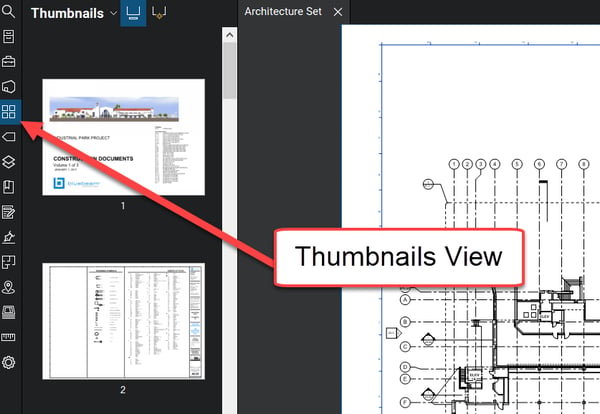 Create Labels that Make Sense and Help Your Workflow
Generally, creators of a multipage construction plan don't put too much effort into renaming the individual sheets. Usually, this is because many different files are usually "binded" together digitally, often with various different applications. This often results in a very basic naming convention yielding pages names such as 1, 2, 3, etc. But, there is a better way and it is super-easy.
From the Thumbnails View, select the Create Page Labels function from the top of the Thumbnails tab. Since there is no other sheet name data to reference, you will want to choose the Page Region selection.

This will use the OCR functionality within Bluebeam to grab the data from the title blocks in the plans. Simply draw a box around the area where you want to grab the information that you want.
Once completed, all of the pages should have the correctly associated page names. So, from the Thumbnails view, you can see both the images and the names of the sheets. From here, you can find the sheet that you need, click on the thumbnail, and directly navigate to that sheet in the set.
Get to Your Floor Plans Quickly with Bookmarks
Now that Page Labels have been created, it's a snap to quickly organize these by bookmarks. From the side panel, jump into the Bookmark Tool. Note that (at any time) you can right click and choose Add Bookmark on any open document.

Right click on any open document to quickly add a bookmark.
However, if you have a large set of plans, with many pages, you want a quicker way to do this. Go into the Bookmarks Tab and look for the Create Bookmarks icon at the top of the panel.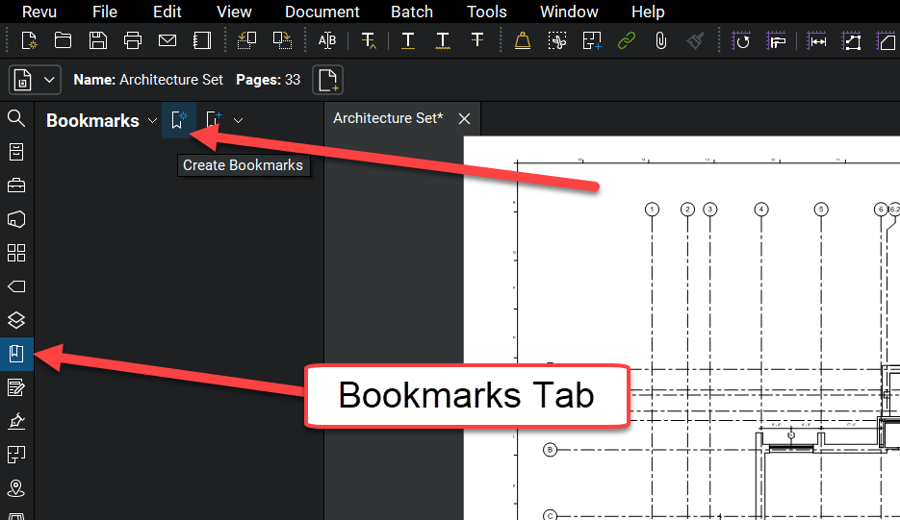 Bookmarking pages allows you to quickly jump to the page that you need.
Hyperlink Pages for Greater Functionality
In the eXtreme version of Revu, you can create hyperlinks for callouts between pages. This gives you the ability to simply click a linked callout and jump to the referenced page. To do this via a batch method in Bluebeam Revu eXtreme, go to Batch in the top Command Bar and select Batch → Link → New.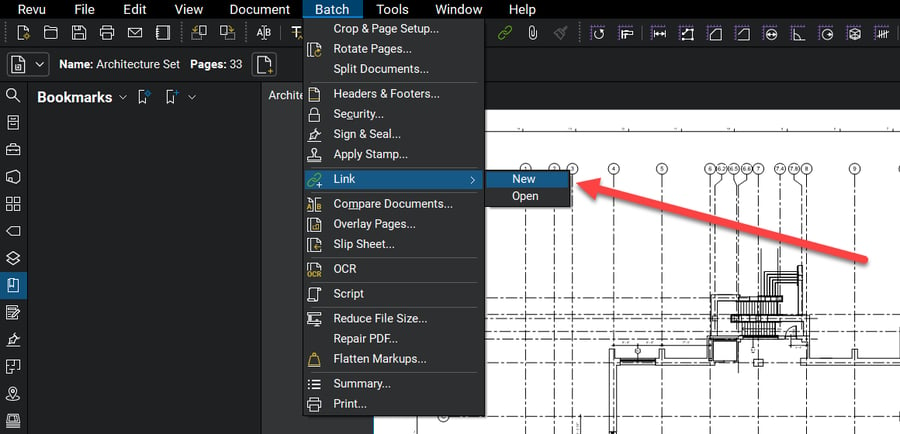 Next, add the files that you want to link. If you already have the file open, pick Add Open Files. Otherwise, feel free to include any additional files that you choose. Then you need to pick your search source, either by Region or Page Label. Tip: If you have already created Page Labels in Thumbnails or Bookmarks, this is the easiest way.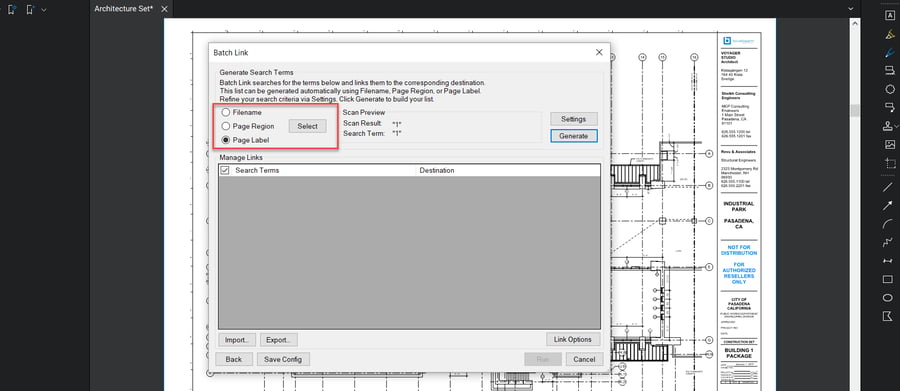 A good practice is to go into Link Options and make sure that you choose to Include Appearance Properties of the links. This way, the links can be automatically highlighted for easy reference. After this, Generate Links to get a preview of what's going to be associated with the links. Select Run to complete the linking operation. Once this is completed, the connected callouts will link to the appropriate pages. This allows users to easily jump to referenced pages with a simple click.
---
Get even more info about Bluebeam Revu
Already using Bluebeam Revu? Contact us to renew your annual maintenance and/or consolidate multiple licenses under a single serial number.
Bluebeam, Bluebeam Revu, eXtreme, Batch Link, and Studio are registered trademarks of Bluebeam, Inc., used under license.
This article was first published in 2018, but is now updated with new content