If you work in AEC - architecture, engineering, or construction, then you know the way you handle construction drawings has changed dramatically over the years. In the old days, bid sets were printed and distributed by print shops to general contractors and subcontractors. Now, almost all plans are shared electronically via email or some type of online planroom. Obviously, this has resulted in a drop in demand of large volume printing. Traditional reprographic shops have been hit hardest by this change. But, wide-format printing is not dead, it has just shifted.
In many ways, software applications such as Bluebeam or Planswift have created some "paperless" workflows, especially on the front-end of a project. More specifically, this is the estimating phase and there are a lot of tools available to do all of the work needed on a computer screen. If there is any printing is done on the front-end, that burden is now put directly on the subcontractor bidding the jobs. So, they are now faced with a choice: print their own plans or outsource the work.
There are certainly PROS and CONs for both. But, one element that needs to be included in the cost benefit analysis is the value of time. For example, a small mechanical company might elect to simply outsource their prints to the nearest strip center copy shop. Sure, it's convenient and there is no overhead, but what is the true cost of doing that? If that business owner was truly honest with himself or herself, they would realize the amount of time that was consumed driving to and fro and waiting around.
From this point, AEC companies typically realize that there is a value to having their own plotter/scanner and begin their search for a new wide-format system. But, this can be a daunting task. After all, which technology makes the most sense, ink jet or toner?
Invest in the Right Technology for the Job
Before you can effectively determine what type of plotter would suit you best, you need to fully analyze your needs. Too often, buyers only have one criterion—to buy the least expensive plotter available. While this position is certainly understandable, it doesn't mean that it is the best business decision. Not to be cliché, but the old adage is certainly true, "you get what you pay for."
The ugly truth is, sometimes when you purchase a plotter based on the lowest price, it can end up costing you more overall. Printers, small format and large format alike, are designed to function within a certain volume parameter. Once you exceed the limits of that parameter, the maintenance and usage costs will exceed the expense of a bigger system. So, it is imperative that you estimate your monthly volume as accurately as possible beforehand.
Fortunately, we have done the hard work for you. Download a copy of our white paper that compares toner vs inkjet plotter technologies. You will be able to quickly and easily analyze some data to determine which printing technology provides the most cost effective solution to meet your needs.
The True Costs of Wide-Format Printing
Ink Jet Plotters: On the hardware side, these are the least expensive, but they cost considerably more to operate, especially at higher print volumes. Keep in mind the "razor and blades" mentality of the ink jet manufactures—their business model is built solely on the sale of consumables. It has even been rumored that HP sells their printers at a loss because they will more than make it up in consumable revenue.
Printer replacement costs should also be a factor of your long-term strategy. Inkjet plotters tend to not be nearly as durable as their toner counterparts. In fact, the lifetime expectation of ANY inkjet plotter should be 3-4 years.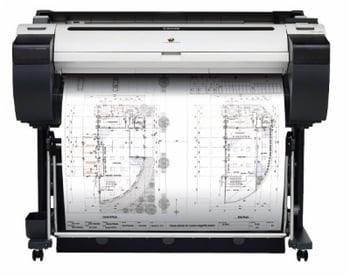 LED Toner Plotters: These units tend to be more expensive than their ink jet equivalents. But, they they make up for the difference in speed, productivity, and durability. For example, Océ wide-format systems are rated for 7-10 years in the field. Keeping a piece of equipment for that long of a term dramatically impacts the return on investment (ROI) of the equipment. The one caveat to an LED toner plotter is that they only print in black/white. The new dynamics of BIM and other applications almost demand integration of color prints.
Color-Toner Technology: This is a newer option, but one that has a very promising future. For example, the Océ ColorWave 500 uses color TonerPearls as the jetted material. This gives the machine the unique ability to function as a toner plotter but with the full-color performance of an inkjet. It's actually pretty amazing to see.
Final thoughts
New technology is everywhere in AEC. On-screen estimating software, BIM, and new printing technologies are all changing the process for many companies. If there is one common thread with all of these changes, it is the integration of color information into printed plans. So, do your research, but make sure that you are identifying all of the variable and keep your vision far enough ahead to anticipate future changes.
Download our white paper to get even more information and our custom comparison charts.
Photo credit: Muffet