If you work in AEC - architecture, engineering, or construction, then you know the way you handle construction drawings has changed significantly over the years.
Traditionally, plans were printed and distributed by print shops to subcontractors for bid sets. Now, more and more, that model has shaped to a digitally distributed system. In other words, the end user is now supplied with an electronic version of the plan set.
This paradigm shift has created a new demand for printing at the end-user leve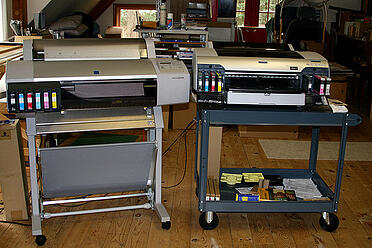 l. These users now need to print their own plans instead of relying on outside resources.
From here, AEC companies typically begin their search for a new wide-format system. So, which technology makes the most sense, ink jet or toner?
This white paper will analyze some data to determine which printing technology provides the most cost effective solution to meet your needs.
It is important to note that many of the wide-format systems available today are multifunction systems—printers bundled with onboard scanners. This article is only focusing on the printing function of these units. So, all of the configurations discussed in this white paper are stand-alone printers with no extra accessories. This allows for a fair comparison between the two types of printing technologies.
Invest in the Right Technology for the Job
Before you can effectively determine what type of plotter would suit you best, you need to analyze your requirements. Too often, buyers only have one criterion—to buy the least expensive plotter available. While this position is certainly understandable, especially in a stressed economy, it doesn't mean that it is the best business decision.
The truth is, sometimes when you purchase a plotter based on the lowest price, it can end up costing you more overall. Printers, small format and large format alike, are designed to function within a certain volume parameter. Once you exceed the limits of that parameter, the maintenance and usage costs will exceed the expense of a bigger system.
The True Costs of Wide-Format Monochrome Printing
See how large format photo printers compare
Ink Jet Plotters: On the hardware side, these are the least expensive, but they cost considerably much more to operate. Keep in mind the "razor and blades" mentality of the ink jet manufactures—their business model is built solely on the sale of consumables. It has even been rumored that HP sells their printers at a loss because they will more than make it up in consumable revenue.
If you consider all the usage elements (paper, ink, and print heads), the resulting cost for monochrome ink jet printing averages $0.15 per square foot. This is the figure that we will use in our comparison charts. (Note: Service costs are not part of this metric.)
LED Toner Plotters: These units tend to be more expensive than their ink jet counterparts. But, they they make up for the difference in speed and productivity.
If you consider all the usage elements (paper, toner, developer, and service), the resulting cost for monochrome toner printing averages $0.09 per square foot. This is the figure that we will use in our comparison charts. (Note: Service costs are part of this unit cost because of the structure of the inclusive service contracts.)
Click the image below to download our white paper to get even more information and our custom comparison charts.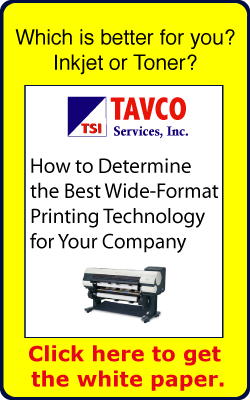 Photo credit: Muffet