[ Free Consultation ] Are you interested in exploring AutoCAD alternatives but don't know where to start? Get help from our top tech experts in a free consultation call.
Click Here to Schedule Your Free Consultation Call
AutoCAD - The Industry Standard
When it comes to CAD design software, the first thing that probably comes to mind is AutoCAD, and rightfully so. It was first released in 1982, giving birth to the PC-based CAD (computer-aided design) movement as we know it. Since then, AutoCAD has become a household name in most AEC firms.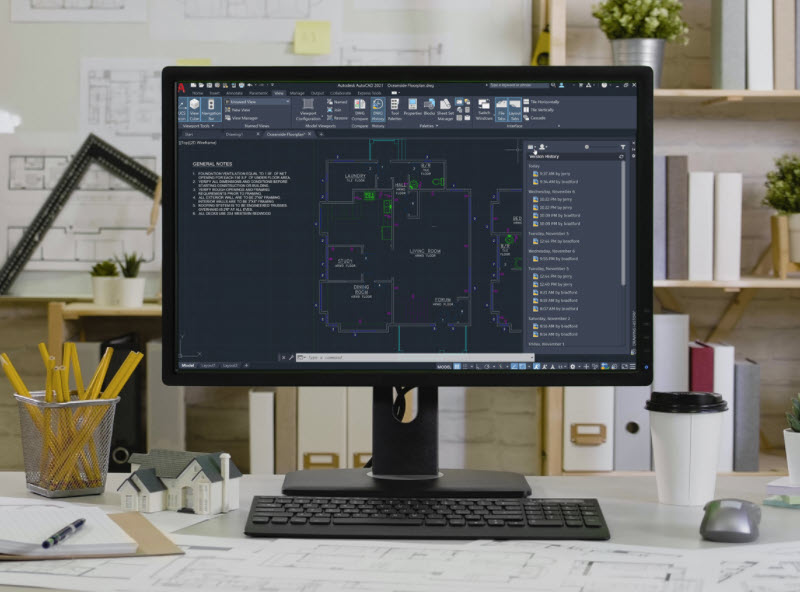 Image source: Autodesk
For many users, AutoCAD is considered a CAD industry benchmark. Its features make it a versatile tool for many industries, including engineering, architecture, graphic design, city planning, and even project management.
Over the years, Autodesk has leveraged the success of AutoCAD to expand its offering into a whole suite of complimentary CAD products such as AutoCAD LT, Revit, Civil 3D, Fusion 360, and more.
Each product can be rented (subscription model) and used independently or as part of an Autodesk Collection. A Collection is a discounted bundle of products that you can rent for $3,115 per year/user.


If you only want to rent AutoCAD, that comes with a hefty price as well: currently, $1,775 per year/user, to be precise. Or you can rent the stripped-down AutoCAD LT for $440 per year/ per user.
Unfortunately, Autodesk eliminated the ability to purchase perpetual licenses of their products several years ago, and the rental model is now the only option. Likewise, Autodesk decided to kill support for network licenses, so all users must have their subscriptions. This has exponentially increased prices for many subscriber situations.
While many users have stuck with Autodesk and their price increases, plenty of folks are looking for AutoCAD alternatives. And today, there are many options to consider. Rather than getting lost in the spiral of CAD clones, here's a curated list of the best alternative programs to AutoCAD.


AutoCAD Alternative Considerations (Alphabetical order)
---
BricsCAD
BricsCAD is a solid platform for working in 2D drafting and 3D modeling. You will notice similar interfaces between the two products if you are familiar with AutoCAD.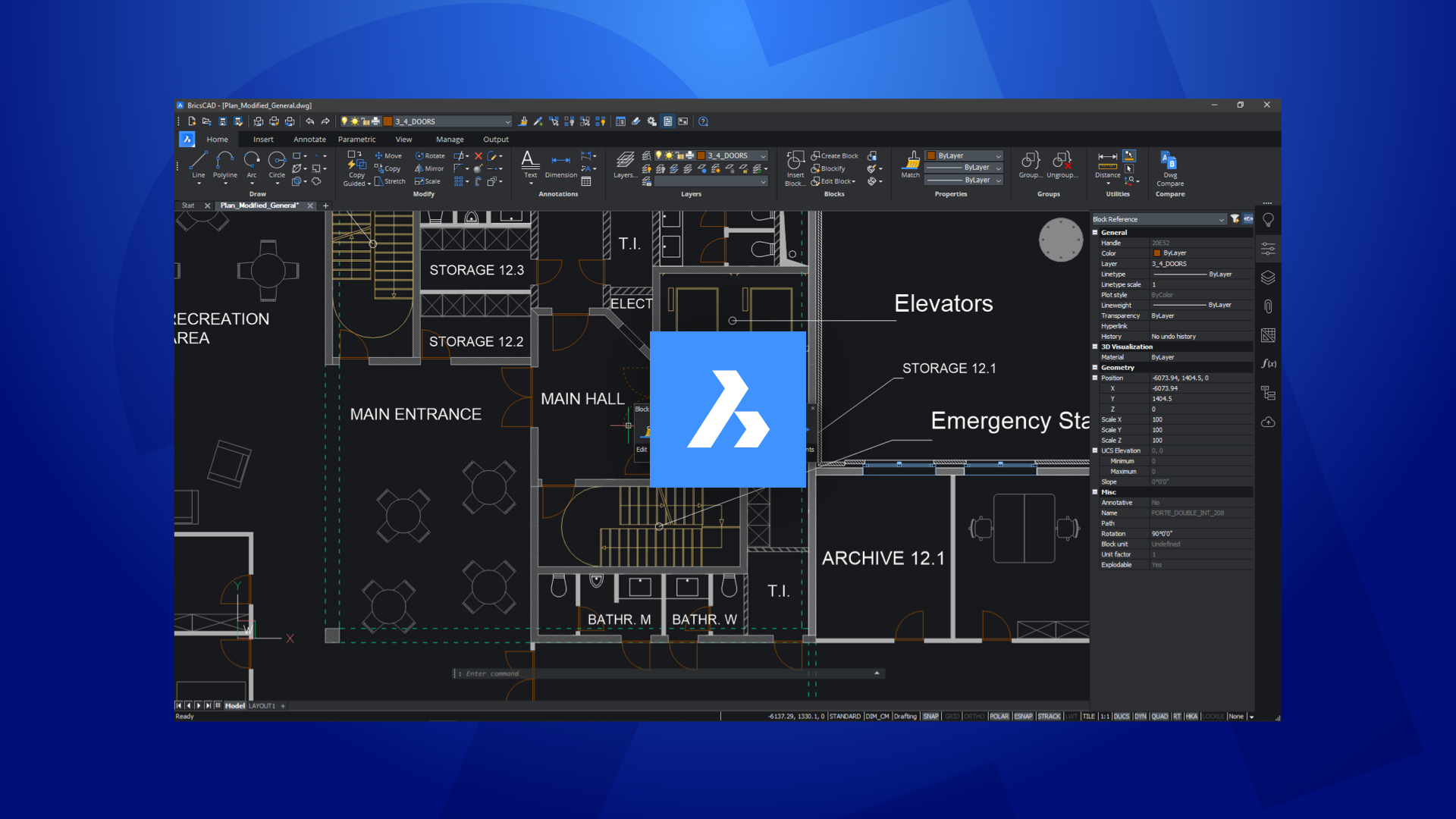 Image source: tavco.net
BricsCAD Pro is a direct comparison to a full license of AutoCAD, enabling you to draw in both 2D and 3D. Plus, a library of over 400 third-party applications (plug-ins)can be integrated to further improve your user experience and workflow.
Conversely, BricsCAD Lite is comparable to AutoCAD LT. These versions remove 3D modeling and third-party application integration but fully allow you to work in 2D DWG files.
BricsCAD (any version) is fully compatible with templates, blocks, and sheets created within AutoCAD. There is also the advantage of natively supporting LISP programming routines and dynamic blocks.
BricsCAD includes several AI-based and machine-learning tools to recognize your design intent and optimize tasks. These tools included Blockify, Move Guided, Copy Guided, QUAD Cursor, and more.
Note that BricsCAD supports both annual subscriptions and perpetual licenses. Likewise, network licenses are still offered and supported. This has become instrumental as many companies migrate to remote offices and utilize virtual machines.
---

CMS IntelliCAD
CMS (CAD Manufacturing Solutions) IntelliCAD was designed as an intelligent, full-featured CAD software platform capable of serving as an alternative to AutoCAD. It is fully programmable and compatible with hundreds of third-party solutions.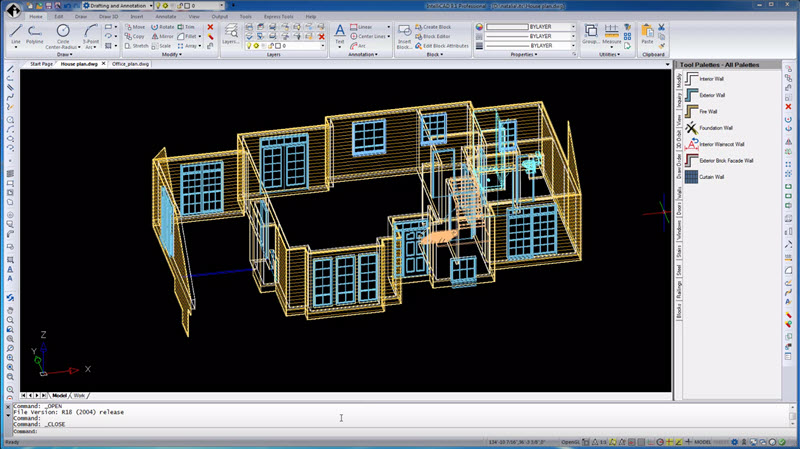 Image source: IntelliCAD
IntelliCAD supports 2D and 3D modeling functions, including BIM support and LISP compatibility. It works natively with DWG, DGN, STEP, IGES, and PDF formats. And also, like AutoCAD, IntelliCAD supports digital signatures.
The intuitive layout uses a ribbon-style menu common across many other CAD programs. The built-in, photorealistic rendering capabilities are on par with AutoCAD. Architects and Designers find the rendering application quite useful.
IntelliCAD comes in various versions and, similarly to BricsCAD, is available as either an annual subscription or a perpetual license. The cloud-based "Easy Run" version is available via a yearly subscription.
---
DraftSight
DraftSight is also positioned as an AutoCAD alternative. Their website boasts that Draftsight provides "World-class CAD with greater performance and flexibility at the best price on the market."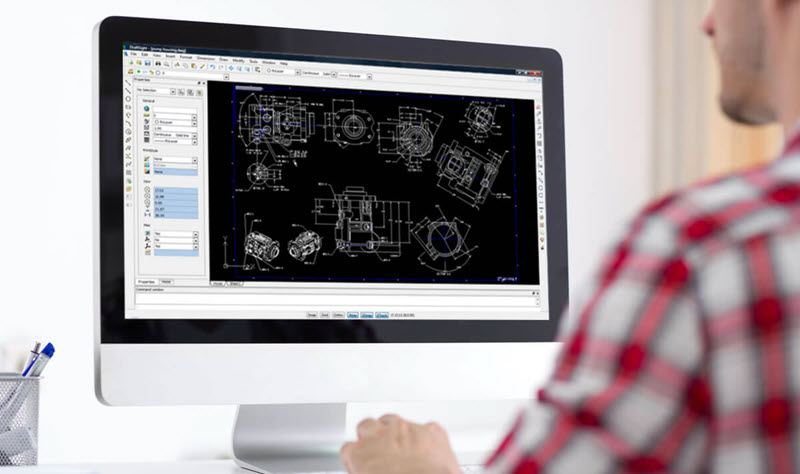 Image source: Javelin-tech.com
Draftsight CAD software is a 2D and 3D design software developed by the French company Dassault Systèmes, which produces SolidWorks.
Like other platforms, this software provides an easy transition from AutoCAD by offering a familiar user interface. You'll find the usual assortment of drawing tools, modifying tools, and layers.
DraftSight is also capable of natively working with AutoCAD's dynamic blocks. In addition, it can easily compare designs, add hardware symbols, and even append PDF files to the project file.
Draftsight is available via an annual subscription. The least expensive version only works on 2D drawings and costs around $199 annually. For 3D modeling capabilities, you must choose Draftsight Premium for $499 per year.
---

FreeCAD
FreeCAD is an open-source CAD program committed to parametric 3D modeling. It is made to design objects primarily and uses real-world units, be it microns, meters, inches, or feet.
FreeCAD offers the tools to produce, export, and edit solid, precision models. You can also export them for 3D print-ready files or CNC machining.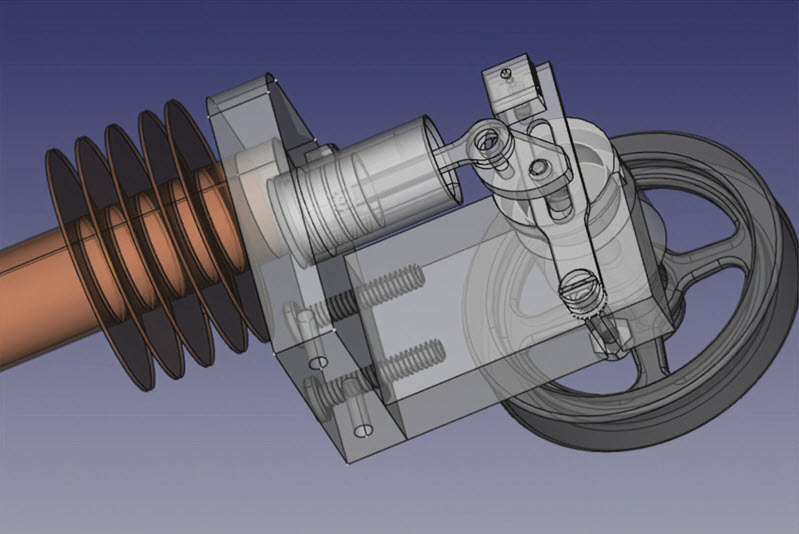 Image source: freecadweb.org
DWG files can be easily imported. You can also work with various file formats, including STEP, IGES, OBJ, STL, DXF, OpenSCAD CSG, and more.
FreeCAD is more of a mechanical engineering tool than a 2D drafting software. So, FreeCAD could be more challenging to use unless you are into designing parts and assemblies.
However, as the name suggests, FreeCAD is free to download and use. And, with a bit of tweaking, it can be modified through plug-ins, making it possible to shape it towards your needs.
---

LibreCAD

LibreCAD is another free, open-sourced CAD software that offers high quality. It supports Windows, Apple macOS, and Linux, making it versatile.
It is a 2D modeling program that grew out of QCAD CE and is trendy among Linux users, in need of a free tool to read DWG files. LibreCAD is resource-light and can operate on average hardware. Plus, it is available in over 30 different languages.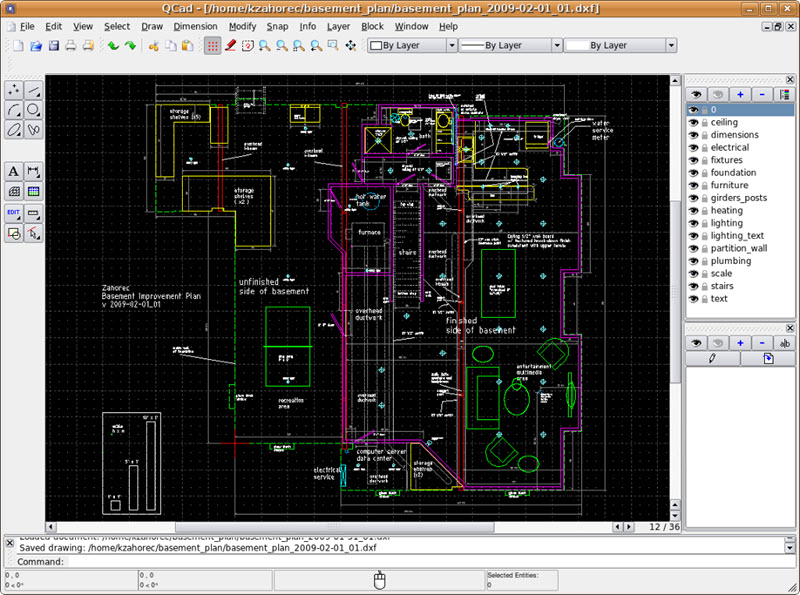 Image source: LibreCAD.org
The interface is like AutoCAD's but simplified, by comparison, offering a more friendly alternative to the beginner user.
An extensive LibreCAD community of users can all pitch in and contribute to the open-source development of the software.
---
NanoCAD
NanoCAD is a professional-grade multi-purpose drafting software developed by Nanosoft. According to the company's website, NanoCAD has a familiar interface, powerful drafting and design tools, native DWG compatibility, and an open API.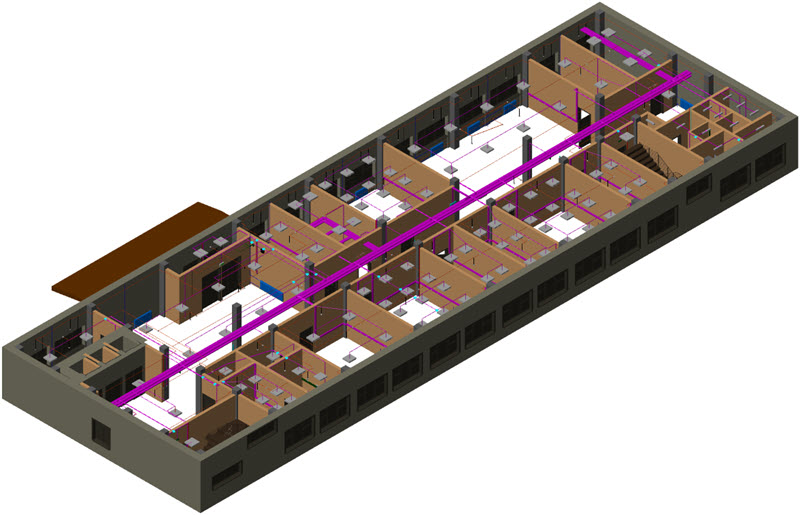 Image source: nanoCAD.com
The basic version of nanoCAD is free to use and share but to get more advanced functionality from the program; you need to upgrade to nanoCAD Plus.
NanoCAD PLUS gets you closer to an actual AutoCAD workflow than the basic nanoCAD. A more advanced version supports Autodesk Inventor-style tools for 3D solid modeling with 2D constraints.
It also offers a command line and some UI elements that are familiar and comfortable to users who are used to other compatible CAD applications.
NanoCAD, like other software, used the industry standard DWG (*.dwg) file format. It uses this file type natively, so any drawing created in nanoCAD Plus can be used in most other popular CAD systems.
The free versions are exclusively for 2D drafting, while the Pro and Mechanical versions include parametric 3D modeling tools and an extensive library of standard parts for the latter.
---
SketchUp
Formerly known as Google SketchUp, the current SketchUp is now owned by Trimble, a leading company in the Geospatial space. Although SketchUp is a powerful 3D modeling platform, it remains an excellent choice for both beginners and CAD experts.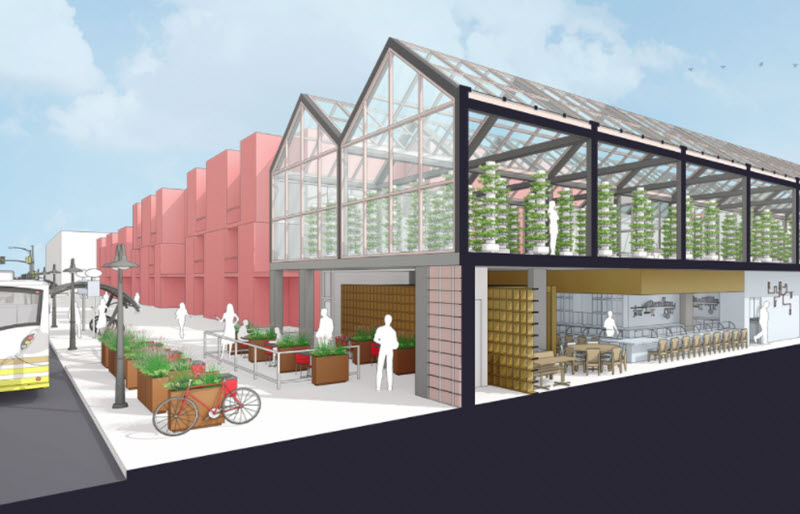 Image source: sketchup.com
SketchUp is oriented towards 3D modeling and other architectural applications. It is easy to use and has an extensive database of user-created models that anyone can download. This 3D Warehouse has thousands of models created by individual users and furniture manufacturers that can be easily downloaded and incorporated into your projects.
The free, trimmed-down version, SketchUp Free, is a freeware version that runs entirely in the cloud. While it is free to use, it lacks many features that SketchUp Pro offers. So, you need to consider the Pro version to do any design work.
Some primary features of SketchUp Pro include importing/exporting CAD files, producing construction drawings, generating lists and reports, using solid modeling tools, and many more. You can find the complete comparison between SketchUp Free and SketchUp Pro here.
---
Conclusion
There is much overlap between the comparable applications. Although AutoCAD is the industry giant, not everyone can justify the massive budget required to keep AutoCAD with the new named user licensing format.
There are some solid contenders out there that offer similar features and workflows, and they are all worth a look. You can see that most premium options are migrating to a subscription-based model like AutoCAD. So, you need to consider the licensing cost and the features that your team needs.

Which CAD software solution do you think suits you best?



Sources:
https://all3dp.com/2/best-autocad-alternatives/
https://www.maketecheasier.com/best-autocad-alternatives/
Common CAD questions addressed in this article:
What is AutoCAD?
AutoCAD, what is it used for?