Here's the scenario: You are a Project Manager at construction company who just can't find enough time to handle everything. There are project meetings to attend, sub-contractors to coordinate with, submittals, site visits, RFIs and other looming bid deadlines. No doubt, things are hectic. So, if there was a way to save some time, you'd jump right on it. Luckily, Bluebeam Revu provides you a way to quickly markup, edit, and revise your construction plans, saving you a bunch of time to take care of those other things. Check out how easy it is to customize markups using Bluebeam Revu.



Bluebeam Revu Revu is a software application that allows you to create, markup, edit, and collaborate with others using PDF files. It also gives you the ability to create custom markup and measurement tools to rip through bid estimates.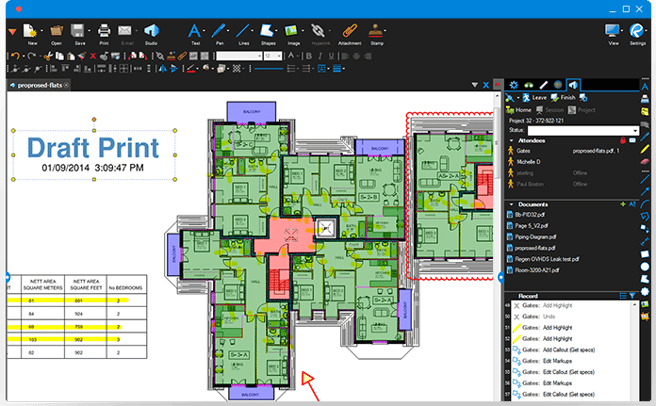 It's easy to edit the details of each markup so that they display just the way you want. For instance, change the Cloud Tool to create a markup with a bold blue outline and a red fill at 40% opacity. Adjustments are made from the Properties tab or via one of the tool bars. Once you are in the properties menu, it is easy to change any of the properties that you wish:
Markup color
Fill color and opacity
Text size, font, and color
Hatch patterns
Curves
An added bonus, Bluebeam Revu also includes a Markups List that keep track of all edits and annotations in real-time. This ensures complete accountability as this gives you the ability to sort, filter, and generate reports based on any of the content that you want to see.

A best practice is to enter information about the author and/or subject in addition to the visual properties. Doing so will allow you to further segment your project data via the Markups List or a Markup Summary Report. For instance, in the subject line, you could enter the discipline that is making the markup (i.e. architectural, electrical, structural, etc.).
How does Bluebeam Revu help you and your team get more work done?

Try Bluebeam Revu yourself free for 30 days!
Explore these popular links about Revu on TAVCO.
What's Bluebeam Revu and Who Uses It?
Definitive Guide to Bluebeam Revu
How to Search Construction Plans with Bluebeam Revu
Shortcut Cheat Sheat for Bluebeam Revu