[ Free Consultation ] Are you interested in exploring photogrammetry and 3D images in your workflow, but have no idea where to start? Get help from our top tech experts in a free consultation call.
Click Here to Schedule Your Free Consultation Call
Capturing and documenting conditions at a worksite just got easier. In fact, getting accurate measurements and dimensions at a jobsite is as easy as taking a picture on your mobile phone. The Leica BLK3D is a state-of-the-art handheld device makes it possible to capture 3D measurements from 2D photographs and will forever change how you capture onsite conditions.
The BLK3D is ultra-portable, about the size of a large mobile phone. It includes dual stereo cameras that mimic the binocular vision of human eyes, with a field of vision of 80 degrees each.

This tool is perfect for architects and skilled construction trades that need fast and accurate measurements, but not necessarily full models. This new digital platform replaces the need for manual measurements and documentation processes that formerly relied on tape measures, distance meters, photos, and written notes.

It is incredibly easy to operate, so architects, builders, site managers, civil engineers, window fitters and others can all use the device with very little training.

Reality Capture

The BLK3D 3D camera utilizes a process called stereophotogrammetry. The two onboard cameras take two simultaneous images of the same object from two different positions. The innovative BK3D software then compares the two and uses photogrammetry to establish distances.

In the case of a multi-shot, the camera will digitally stack the different images to build a much more accurate picture.

To get started with reality capture, select that command from the main BLK3D menu. You simply take the pictures you need. In the display, you will notice a gray mask area. For best results, frame the object you want to measure inside of this mask area.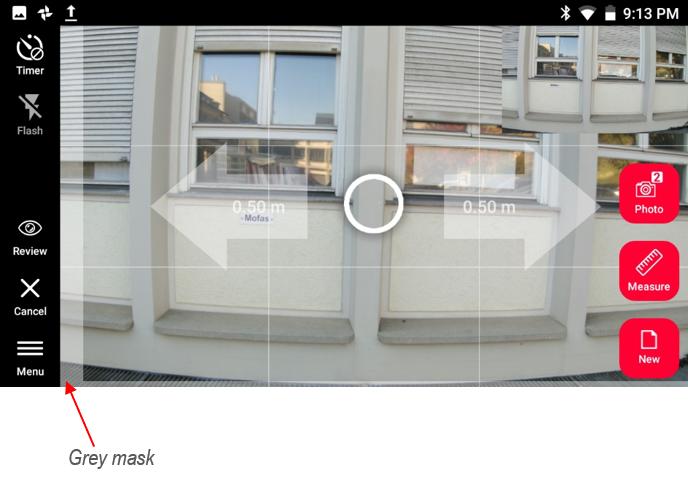 Also, ensure that the image is properly displayed in the PIP (picture-in-picture) display. This is the viewpoint of the second camera. Doing this gives the best information to the photogrammetry software.
[ Learn more - How to Perform Reality Capture with BLK3D ]

Taking Measurements

When it comes to taking measurements, you can take both linear and area on the device itself. However, many BLK users find it beneficial to use the BLK3D Desktop application (License sold separately). This lets you simply focus on taking pictures at the jobsite. Then, when you return to the office, you download the images to do any measuring, sharing, or publishing of the data there.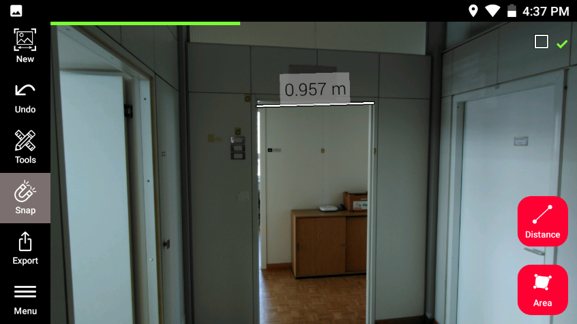 To measure on the device, just select a couple of points to get a measurement. Once a distance line is created, you can click on the line and zoom into the points to tighten things up.

You can also take area measurement with pictures taken on the BLK3D. The process is the same as before. Just pick your points, zoom into the target points, adjust as necessary, and you are ready to go.
Sharing information

Once you have captured some pictures and taken measurements, we can now share those results with any of our project partners or customers.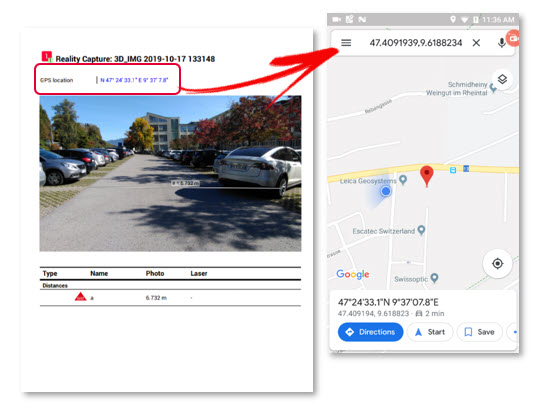 Start by going into the Organizer on the BLK3D. Navigate to the picture that you wish to share and open it. Clicking the Share icon presents you with a choice of how you wish to share the information. You can share your file as a PDF, JPG, or as a clickable published link (If you have a BLK3D Publisher license).

For example, of you choose PDF, once the document is ready, you can open it to review. It will be pre-formatted and includes your company information, location, and some other info. Images are included as well as all the different measurements that were calculated.
Laser Measurement

The BLK3D also functions as a laser measurement tool. Taking laser measurements is extremely easy and adds an exceptional added value to enhance both the Reality Capture images as well as sketches (if you have a Sketch & Document license for the BLK3D).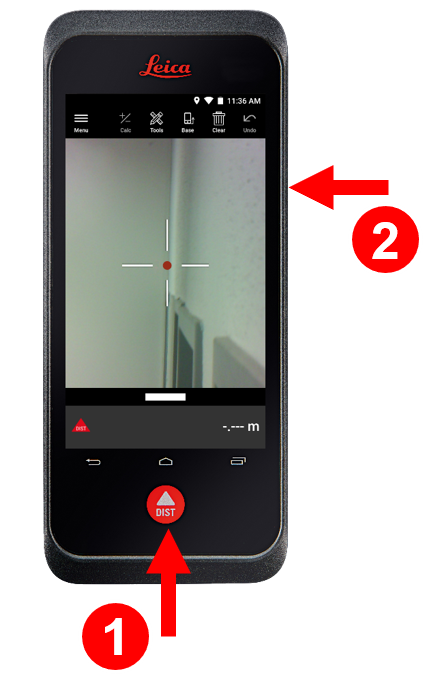 When you engage the Laser function from the main menu, the laser actives on the device. Once in place, you can see the laser displayed on the target location. Likewise, it is also displayed on the screen, so there is no guess work. Just click and capture.

There are several automated functions supported by the BLK3D laser measurement system. You can verify measurements in Reality Capture Images or used one of the other built-in functions such as Smart Horizontal, Area Measurement, or Volume Measurement.

Likewise, you can attach the BLK3D to a Leica DST 360 tripod accessory (sold separately) for P2P (point-to-point) measurements. This allows you measure large areas, such as a building façade, or any other distant object.
[ Learn more - How to Laser Measure with Leica BLK3D ]
Sketching Floor Plans

Mobile Sketch and Document is an optional software subscription available for the Leica BLK3D. At less than $150 per year, it a fantastic bargain as it opens a whole new world of possibilities with the BLK3D system.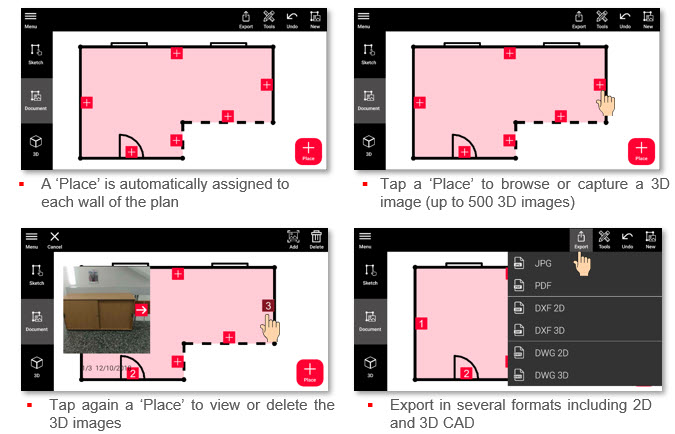 Launching Sketch Plan from the main menu launches some quick tips. This feature allows you to simply sketch out a floorplan, upload a plan, or take a picture of an architectural drawing to take measurements.

You can apply scale to the sketch, identify doors, windows, and other openings. You can also enter or measure a height and convert it into a 3D image.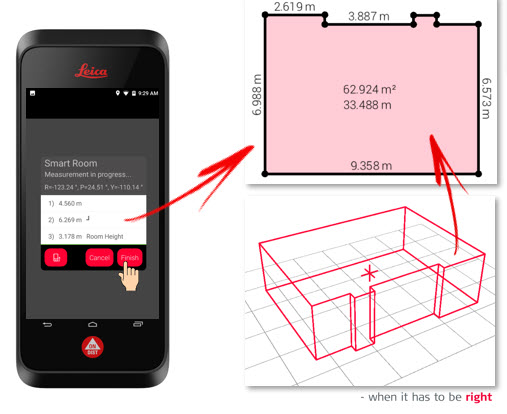 If you simply wish to sketch a plan on the screen, using your finger, start laying out the space by drawing lines. Once you have the basic layout, you can verify the dimensions using the laser. You can also use the camera to take reference pictures when can be measured via reality capture or by the integrated laser. You can also add openings, including doors and windows to your sketch.

Once the sketch is complete, you can share it just described earlier. From the share icon, select PDF and the BLK3D creates the document. Like before, it formatted for you, including information such as company info, project address including a google map, and all the details that we gathered are displayed.
[ Learn more - How to Sketch Floorplan with Leica BLK3D ]
BLK3D Specifications
Dimensions (H x W x D)
180.6 x 77.6 x 27.1 mm (7.11 x 3.06 x 1.07 in)
Weight (with rechargeable battery)
480 g (17 oz)
Temperature range
Storage: -25 to 60 °C (-13 to 140 °F), Operation: -10 to 50 °C (14 to 122 °F)
Charging: 0 to 40 °C (32 to 104 °F)
Tripod adapter
Supports 1/4-20 UNC screw adapters
Article No.
869073

Technology

Operating system
Android 7.1.2 (Nougat)
Processor (with integrated GPU)
Snapdragon 820E QuadCore (2.35 GHz)
RAM Memory
4 GB
Real-time Processor
STM32F446
Screen
5.0" IPS, HD 720x1280 LCD capacitive multi-touch screen, chemically strengthened, brightness: 450 cd/m2
Stereo camera
Pixels: 2 x 10 MP (15.8 cm diagonal base line), Field of view: 80°, Focal length: 4.0 mm (22 mm in 35 mm equiv. in 1:1), Aperture: F3.0
EDM camera
Pixels: 2 MP, Field of view: 14°
I/O
USB Type-C 1.0 for data transfer and charging (waterresistant), integrated speaker and microphone
Keyboard
Three physical buttons (Power, Laser/Photo capture, Photo capture), four touch buttons (Back, Home, Recents, Laser/Photo capture)
Additional sensors
Compass, 3D accelerometer and 3D gyroscope
Laser class
2
Laser type
655 nm, 0.95 mW

Storage

Internal storage
64 GB (equals 14000 single-shot or 5000 multi-shot 3D images)

Communication

Bluetooth® Smart
Bluetooth v4.1 and v2.1, Radiated power: 1.78 mW (BLE)
Radiated power: 10.00 mW (BT classic), Frequency: 2402-2480 MHz
Wireless LAN
Standard: 802.11 b/g/n, Radiated power: 6.31 mW
Frequency: 2412-2472 to 2412-2462 MHz
GPS
A-GPS and GLONASS

Power Management

Battery
Rechargable battery pack Li-ion, (3.80 V, 3880 mAh, 14.7 Wh)F
Power management
AC adapter (input: 100-240 V AC), External charger (input: 100-240 V AC) (optional)
Charge time
< 3.5 h (with AC adaptor), < 5h (with optional external charger)
Operating time
Typical capture: 4h / 220 multi-shot captures

1
Continuous capture: 2.5 h /1000 single-shot captures1
Laser measurements: 6.5 h / 9500 laser measurements
Auto power off after 3 h in sleep mode

Laser Distance Measurement

Accuracy with favourable conditions4
± 1.0 mm (0.04 in)
Accuracy with unfavourable conditions5
± 2.0 mm (0.08 in)
Range with favourable conditions4
250 m (820 ft)
Range with unfavourable conditions5
120 m (394 ft)
Smallest unit displayed
0.1 mm (1/32 in)
X-Range Power Technology™
yes
Ø laser point at distances
6 / 30 / 60 mm (10 / 50 / 100 m)

Tilt Measurement

Measuring tolerance to laser beam7
± 0.2°
Measuring tolerance to housing7
± 0.2°
Range
360°

P2P Measurement with DST 360 (Optional)

Working range vertical sensor
-64° to > 90°
Accuracy vertical sensor up to
± 0.1°
Working range horizontal sensor
360°
Accuracy horizontal sensor up to
± 0.1°
Tolerance P2P function at distances (combination of sensors and distance measuring) approx.
± 2 mm / 2 m, ± 5 mm / 5 m, ± 10 mm /10 m°
Levelling range
± 5°

Software Options Overview

BLK3D Mobile (included)
Reality Capture, Laser, Organiser, 3D Image export to pdf and jpg
Sketch & Document Option (optional)
Sketch Plan , P2P Measure, Smart Room, Plan export to pdf, jpg, DXF and DWG (2D/3D/raw)
Autodesk BIM 360 Option (optional)
Work with Autodesk BIM 360 Docs projects

6
BLK3D Desktop Base (optional)
Organiser, Measure, working with plans
3D Model Option (optional)
3D Modelling on 3D Images incl. export to DXF and DWG (3D)
Publisher Option (optional)
Publish 3D Images to BLK3D Web
Autodesk BIM 360 Option (optional)
Work with Autodesk BIM 360 Docs projects

6
Minimum system requirements
Windows 8.1, 10 with 64-bit; 6 GB RAM
1) Wi-Fi® off, Bluetooth® off, flash off, screen brightness 50%.
2) Applies to 100 % target reflectivity (white painted wall), low background illumination, 25 ºC.
3) Applies to 10 to 100 % target reflectivity, high background illumination, - 10 ºC to + 50 ºC.
4) Tolerances apply to ranges from 0.05 m to 10 m with a confidence level of 95%. The maximum tolerance may deteriorate to 0.1 mm/m between 10 m to 30 m, to 0.20 mm/m between 30 m to 100 m and to 0.30 mm/m for distances above 100 m.
5) After user calibration. Additional angle related deviation of ±0.0.1° per degree up to ±45° in each quadrant.
6) Valid Autodesk BIM 360 subscription required.
7) Tolerances apply to 2D measurements up to 3m in length (<20° depth).
See the all the Leica options for Reality Capture - 3D Scanners