The PDF file format is now an industry standard for large-size floor plans. The reasons for this are pretty obvious. PDFs are commonly used, they are familiar, they can include embedded meta data, and they can be protected by robust security properties.
These dynamics have made PDF files universally used throughout the construction industry. But, when it comes to dealing with a multipage set of plans, organizing the pages to quickly get to the specific information you need, can be challenging at times.
No worries, Bluebeam Revu software is a perfect cure for your multipage PDF blues.
Bluebeam Revu Enhances Your Digital Workflow
Before getting deep in the details, let's shed some light on what Bluebeam Revu is, exactly. Bluebeam is a PDF file efficiency and collaboration software for anyone who works with technical files.
This applies to a wide range of industries, including construction, architecture, engineering, manufacturing, and energy related companies. The built-in tools and functions provide users in these industries a sleek and powerful tool to get work done quickly.
Bluebeam's Functionality
Revu gives construction companies, and related subcontractors, the ability to do some really cool things within the software such as viewing pages as thumbnails, creating custom page labels both manually and automatically, and batch linking the sheets together.
Use the arrows to advance and rewind sheets in the set
Thumbnails Panel
If you want an even quicker and easier way to toggle between sheets, open the Thumbnails Tool in the side panel. The slider at the bottom of the panel lets you adjust the thumbnails to the size of your liking. From these, you can just click on one to jump to that specific page.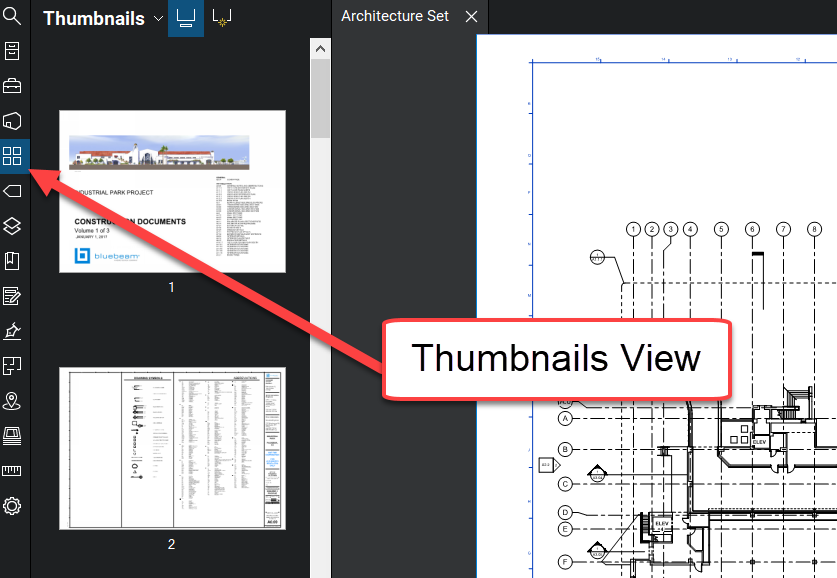 Create Labels that Make Sense and Help Your Workflow
Generally, creators of a multipage construction plan don't put too much effort into renaming the individual sheets.
Usually, this is because many different files are usually "binded" together digitally, often with various different applications. This often results in a very basic naming convention yielding pages names such as 1, 2, 3, etc. But, there is a better way and it is super-easy.
From the Thumbnails View, select the Create Page Labels function from the top of the Thumbnails tab. Since there is no other sheet name data to reference, you will want to choose the Page Region selection.

This will use the OCR functionality within Bluebeam to grab the data from the title blocks in the plans. Simply draw a box around the area where you want to grab the information that you want.
Once completed, all of the pages should have the correctly associated page names. So, from the Thumbnails view, you can see both the images and the names of the sheets. From here, you can find the sheet that you need, click on the thumbnail, and directly navigate to that sheet in the set.
Get to Your Floor Plans Quickly with Bookmarks
Now that Page Labels have been created, it's a snap to quickly organize these by bookmarks. From the side panel, jump into the Bookmark Tool. Note that (at any time) you can right click and choose Add Bookmark on any open document.

Right click on any open document to quickly add a bookmark.
However, if you have a large set of plans, with many pages, you want a quicker way to do this. Go into the Bookmarks Tab and look for the Create Bookmarks icon at the top of the panel.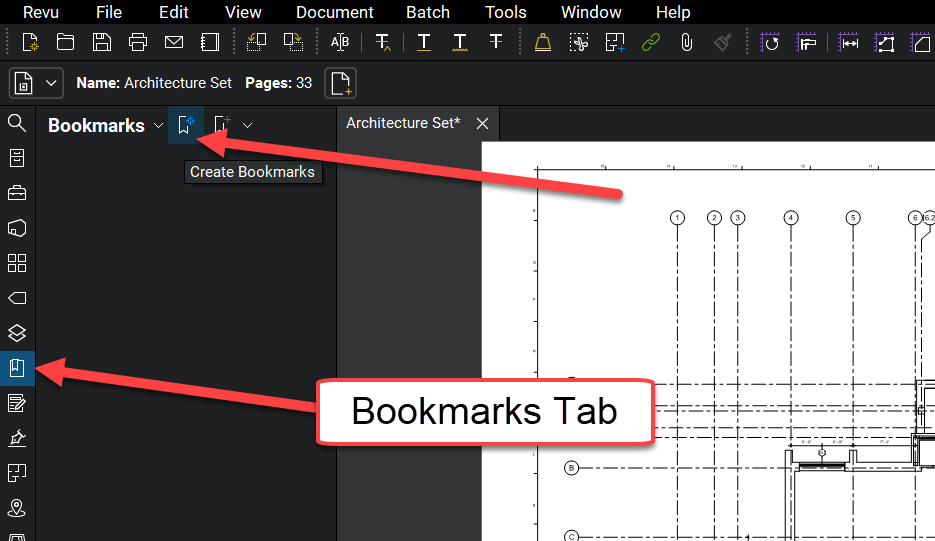 Bookmarking pages allows you to quickly jump to the page that you need.
Hyperlink Pages for Greater Functionality
In the eXtreme version of Revu, you can create hyperlinks for callouts between pages. This gives you the ability to simply click a linked callout and jump to the referenced page.
To do this via a batch method in Bluebeam Revu eXtreme, go to Batch in the top Command Bar and select Batch → Link → New.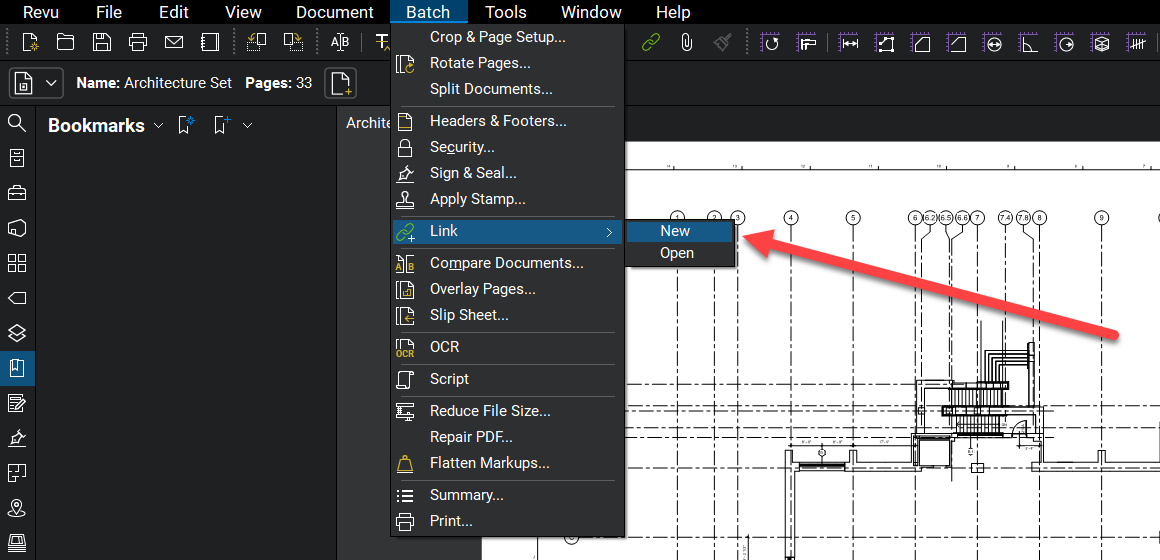 Next, add the files that you want to link. If you already have the file open, pick Add Open Files. Otherwise, feel free to include any additional files that you choose.
Then you need to pick your search source, either by Region or Page Label. Tip: If you have already created Page Labels in Thumbnails or Bookmarks, this is the easiest way.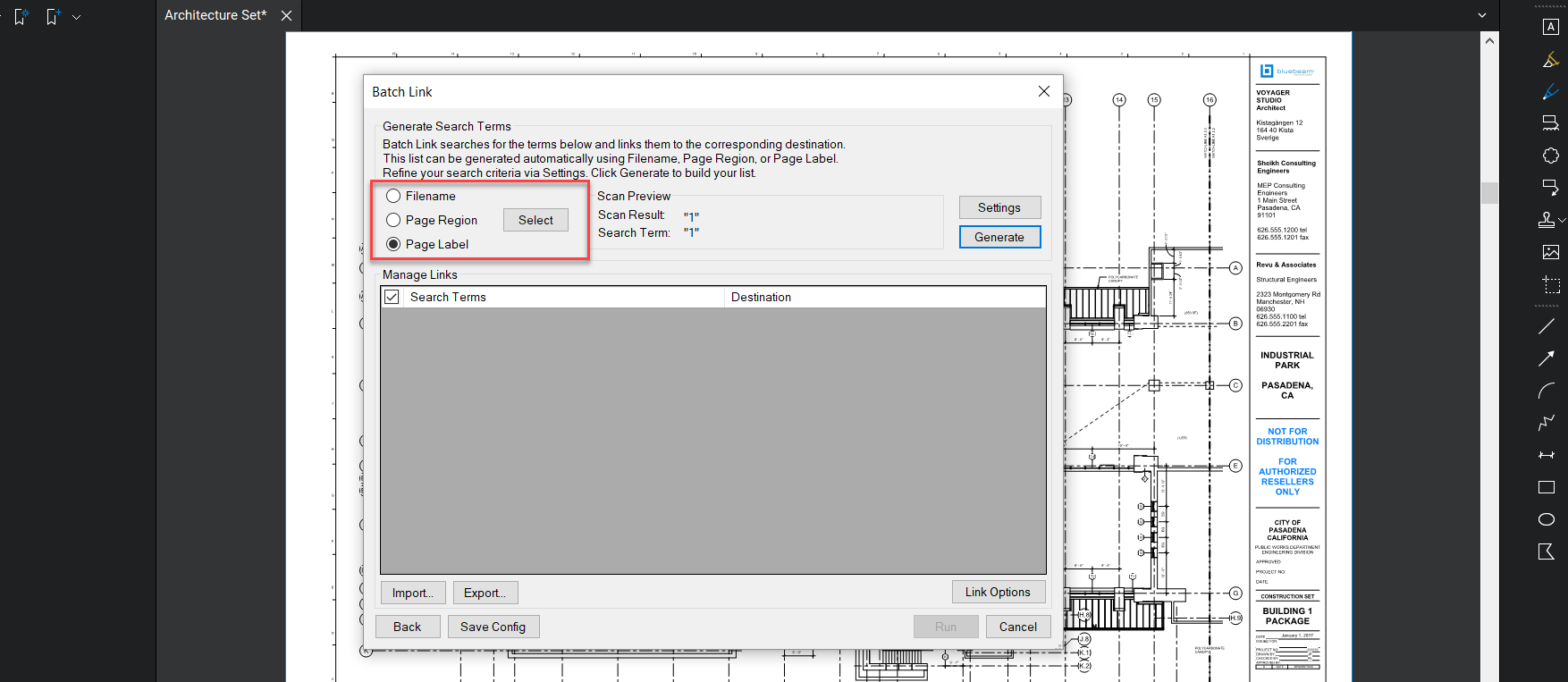 A good practice is to go into Link Options and make sure that you choose to Include Appearance Properties of the links.
This way, the links can be automatically highlighted for easy reference. After this, Generate Links to get a preview of what's going to be associated with the links.
Select Run to complete the linking operation. Once this is completed, the connected callouts will link to the appropriate pages. This allows users to easily jump to referenced pages with a simple click.
Final thoughts
Bluebeam Revu is an incredibly powerful application that can help you master multipage PDF floor plans and other construction documents.
The Thumbnails View provides the flexibility of managing sheets and creating custom page labels. Bookmarking pages gives users the ability to toggle between pages with a single click.
And, batch hyperlinking offers people a way to associated related pages and jump to that content quickly and easily. It is no wonder that the most influential construction companies have embraced Bluebeam Revu as their "go to" application.
Download a FREE 30-day trial of Bluebeam
What is Bluebeam Revu and who uses it?