When it comes to construction projects, Subcontractors (Subs) are the heart and soul of any job. General Contractors and Architects rely on their Subs (HVAC, plumbing, lighting, electrical, concrete, etc.) to complete the project on time and under budget. So, efficiency and productivity are the keys to subcontractor success.
But, it is a changing world and some subcontractors have issues adapting to some of the shifting business dynamics within the construction industry. The entire construction workflow us much more digital. Though this change has dramatically decreased the need to print hard copies of construction drawings, the need still exists.
Plotting needs have certainly changed, but have not gone away completely. In fact, construction-related printing is still very vital, but dynamic. So, every contractor should have access to a wide-format plotter, for a variety of reasons.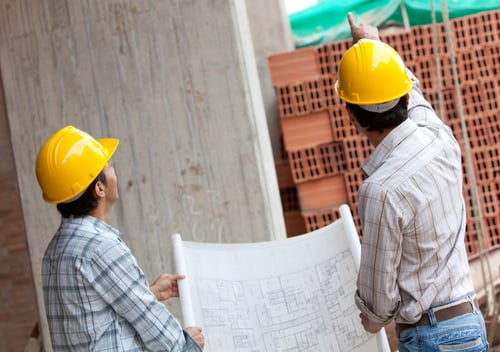 One thing that has changed over the years is the process of how construction plans are shared and distributed among companies.
In the past, when a General Contractor or Architect needed to bid a new job, they would print multiple sets of the plans and distribute those hard copies to the subcontractors. The Subs would then use the drawings to take measurements and estimate the time and materials needed to complete their portion of the job. But now, that practice is handled much differently.
Architects and General Contractors migrated to using PDF files to save both time and money. They can dispense these files digitally via an online plan room or actively access and update them in a cloud-based application such as Procor or Bluebeam Studio. This enables them to quickly share the file with their Subs and other parties while greatly reducing overhead.
Essentially, instead of the legacy "print then distribute" model, the new process is a "distribute electronically then print" model. Although efficient, this has put a burden on subcontractors because they are now responsible for getting their own plans printed.
Outsourcing printing to a reprographics company is an easy option, but it quickly becomes expensive and it takes away all control from the contractor. Outsourced prints are also subject to the reprographer's terms regarding turnaround times and revisions. Therefore, many subcontractors are discovering that the process of outsourced printing is prohibitive to their operations.
There is another solution – a subcontractor could print their bid sets themselves. That is because it is easy for a construction subcontractor to get their own wide format system so that they can print their own plans on their own terms. Plus, these systems are simple to use and can be deployed as a shared resource among an entire estimating team.
Why Wide Format Printers for Construction Subcontractors
Time is Money – Subs have plenty to keep them busy. So, dedicating extra time to make multiple trips to a reprographer or quick-printer does not fit in well with their workflow. By simply installing a large format printer in their office, they can save both time and money. Moreover, they will have complete control of their printing by having a way to produce plans "on demand."
It's a Numbers Game – More Bids Equal Winning More Work – By increasing the number of jobs that a subcontractor can bid, the more jobs they will win. Having instant access to wide format printing needs can be a game-changer for some small subcontractors who are looking to grow.
Accuracy is Critical – There is no doubt that measurements need to be "spot on." In the fast and furious world of construction, there is no time to second guess your proposal. It has to be right the first time, every time. Today's wide format printers and scanners are able to produce plans that are extremely accurate so that the integrity of the scale remains intact. This results in a high level of precision so that the estimator can make accurate measurements effortlessly.
Takeaway
Just because the technological landscape has changed, doesn't mean that Construction Subcontractors have to be left behind. Today's wide format devices are both powerful and extremely easy to use. Most print using very basic print drivers can be accessed through any software application. So, integration and deployment are not giant obstacles. So, get a wide-format system and print yourself some more business.
Article originally published in 2014 and updated in 2021.